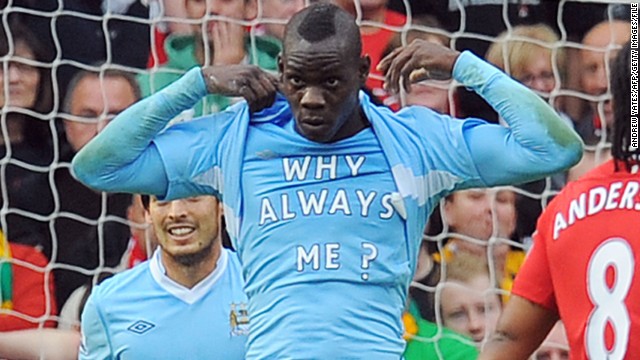 Mario Balotelli is returning to English football with Liverpool after agreeing a move from AC Milan. Balotelli, who left Manchester City for Italy in January 2013, replaces Luis Suarez at Anfield.
Balotelli, 24, scored 30 goals in 54 games for Milan and was an integral part of the Italy side which reached the final of the European Championships in 2012.
Balotelli, who was part of the Italy side which failed to get out of the group stage at the 2014 World Cup, endured a mixed time in the English Premier League. While he scored 30 goals in 80 appearances, a number of disciplinary issues affected his game.
Balotelli scored the winning goal when Italy defeated England 2-1 at the World Cup in Brazil. He will now team up with Liverpool's English contingent which includes Steven Gerrard, Raheem Sterling and Daniel Sturridge.
Balotelli is something of an online phenomenon with the forward boasting 2.84 million followers on Twitter, while also takes to Facebook to share various pictures with his fans.
Balotelli has been targeted by racists on many occasion during his time in Italian football. In May 2013, Balotelli told CNN he would leave the field of play if he suffered more racial abuse.
'Why always me?'
Super Mario
Magic Mario
Heading back
Social media star
Hitting back
STORY HIGHLIGHTS
Mario Balotelli joins Liverpool from AC Milan
The Italian striker previously played in England with Manchester City
Balotelli is famous for his off-field antics
He struggled with ill discipline while at Man City, brawling with the team's coach
Follow us at @WorldSportCNN and like us on Facebook
(CNN) -- Look out Liverpool, Mario Balotelli has arrived.
As famous for his larger than life demeanor as he is for his goalscoring exploits, the mercurial striker has completed his move from AC Milan to the English Premier League club.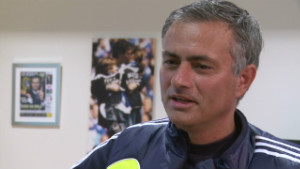 Mourinho on the enigma of Balotelli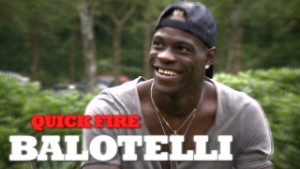 Balotelli on tattoos, women and food
He joined on a long-term deal, Liverpool said on its website Monday wit the fee reportedly around $26.5 million.
"I'm very happy," Balotelli told the club's official website. "We've been talking about coming here and now I'm happy to be here.
"Liverpool are one of the best teams here in England and the football is very good here.
"It's a great team with young players, and that's why I came here."
The Italian is well known to English football fans after a turbulent two-and-a-half-year stint with Manchester City, where he helped the team to a first league title in 44 years while also gaining a cult following for his off-field antics.
But Balotelli could be just the man Liverpool needs to help spearhead its Premier League and Champions League challenge following the departure of last season's top scorer Luis Suarez to Barcelona.
"Suarez's exit left a hole in the side in terms of his goals but more than that, it also left a hole in terms of Liverpool losing a player idolized by the Kop," Jim Boardman, writer for Anfield Road and The Anfield Wrap websites, told CNN.
"Few players are idolized at Anfield to the same kind of level that Suarez enjoyed but Balottelli is in prime position to take that crown.
"There are question marks about his temperament but Liverpool are signing a 24-year-old established Italian international, a different proposition to the teenager Manchester City courted, the youngster Jose Mourinho said was unmanageable.
"Every signing is a risk but at £16 million in today's market that risk is far smaller than the ones taken a few transfer windows ago when Liverpool paid £35 million for Andy Carroll and Chelsea paid £50 million for Fernando Torres.
"Balotelli will bring joy to Anfield, whether it's more from his natural talent as a comedian or a goalscorer remains to be seen, but the chances are it'll be both."
Myriad myths surround Balotelli's stay in Manchester -- tales of bonfires, darts and a women's prison to name just three -- but his disciplinary issues are indisputable.
In his final days as a City player, he was involved in a training ground brawl with the team's then manager Roberto Mancini.
Balotelli scored 14 goals in 30 league games for Milan last season in a disappointing campaign for the Italian club, which finished eighth and failed to qualify for Europe.
Now the 24-year-old is back in England, having left the country in January 2013 to sign for Milan.
Balotelli will be tasked by filling the sizable hole left at Liverpool by Suarez's departure for Barcelona.
The Uruguayan scored 31 league goals last season as Brendan Rodgers' team finished second in the table. Balotelli found the net 20 times in 54 Premier League games during his time with City.
"This transfer represents outstanding value for the club and I think we have done a really smart piece of business here," Rodgers told Liverpoolfc.com.
"There is no doubting Mario's ability; he is a world-class talent and someone who, for such a young age, has vast experience of playing at the very highest level.
"He has scored goals in the Premier League, in Italy, in the Champions League and for his country at international level.
"I believe we have the infrastructure, culture and environment to get the best out of him and help him achieve his true potential. We are a strong group here, committed to hard work and he will benefit from being around it.
"I am looking forward to working with him and helping him learn more, improve and progress as a player. I'm sure the supporters will make him feel very welcome."
According to Jose Mourinho, who coached Balotelli at Inter Milan, "Mario was good fun."
Speaking to CNN in 2012, Mourinho said: "I could write a book of 200 pages of my two years with Mario. The book would not be a drama, it would be a comedy."
Balotelli's sense of humor has never been called into question, while he also indulges his adoring fans.
Recently he posed for a selfie with two supporters who ran onto the pitch during Milan's friendly against his former club City in Pittsburgh.
But his relationship with the sport's fans has also been sorely tested.
A match between Milan and Roma in May 2013 was stopped temporarily after spectators racially abused Balotelli.
He later threatened to walk off the pitch if he was subjected to similar taunts in the future.
Read: Balotelli happy he left England