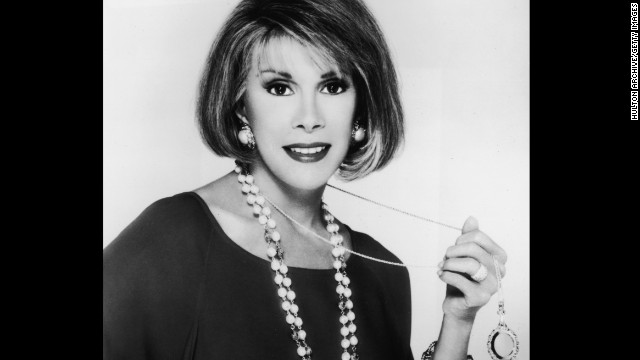 Comedian Joan Rivers died Thursday, September 4, a week after suffering cardiac arrest during a medical procedure, her daughter said. She was 81. Click through the gallery to look back at her career.
Rivers' big break came in an appearance on Johnny Carson's "Tonight Show" in 1965. It was the beginning of a relationship that would include dozens of appearances as guest and guest host.
Rivers followed her Carson breakthrough with appearances on talk and variety shows. Ed Sullivan had her as a guest in 1966.
Rivers hit a peak in the 1980s, headlining in Las Vegas and becoming a regular guest host on the "Tonight Show."
Rivers is famed for her quick wit, which she often uses against herself.
Rivers later hosted talk shows of her own. Here, she chats with Dolly Parton.
She starred on the daytime "Joan Rivers Show," for which she won a Daytime Emmy, for five seasons, from 1989-1994. Here, she poses with her dog, Spike.
Rivers wanted to be an actress when she was young, and she fulfilled that goal after her success as a comedian -- though sometimes playing herself, as she did on "Nip/Tuck," with Julian McMahon, left, and Dylan Walsh.
Rivers and her daughter, Melissa, have been regulars on awards show red carpets, critiquing celebrity fashion with lines both generous and cutting.
Rivers talks with Tim McGraw and his wife, Faith Hill, at the Grammys in 2005.
Rivers with Tina O'Brien at the British Academy Television Awards in 2007.
Rivers was a star among comedians, admired for her longevity and wit. She attended the Mark Twain Prize ceremony in 2008. The honor that year went to the late George Carlin.
Kathy Griffin is one of many comedians who can cite Rivers as an influence. Like Rivers, Griffin is known for mocking celebrities at various events. Here, she and Rivers share a stage during a Rivers roast in 2009.
Rivers proved herself to be quite the savvy businessperson by winning a season of Donald Trump's "Celebrity Apprentice." Trump and his wife, Melania, join Rivers at the season finale in 2009.
Katie Finneran and Rivers attend the Broadway opening after-party of "Promises, Promises" at the Plaza Hotel in New York in 2010.
Rivers, a fashion lover, attends the LensCrafters' reveal of Sunglass Fashion Crimes in 2011.
In February 2013, she attended the Dennis Basso Fall 2013 fashion show. Alongside her, from left, are Martha Stewart, Star Jones and Kelly Bensimon.
After a falling-out with Johnny Carson, Rivers didn't return to the "Tonight Show" until earlier this year, when Jimmy Fallon took over as host. She was a guest on Fallon's show on February 17.
Rivers officiates the wedding of William "Jed" Ryan, left, and Joseph Aiello at the Plaza Athenee on August 15 in New York.
Joan Rivers through the years
Joan Rivers through the years
Joan Rivers through the years
Joan Rivers through the years
Joan Rivers through the years
Joan Rivers through the years
Joan Rivers through the years
Joan Rivers through the years
Joan Rivers through the years
Joan Rivers through the years
Joan Rivers through the years
Joan Rivers through the years
Joan Rivers through the years
Joan Rivers through the years
Joan Rivers through the years
Joan Rivers through the years
Joan Rivers through the years
Joan Rivers through the years
Joan Rivers through the years