It's official! Apple sets event for Sept. 9
STORY HIGHLIGHTS
Apple sets Sept. 9 as date for an event
Company could unveil the iPhone 6 and a smartwatch
iPhones reportedly will have bigger display screens
Invitation teases: "Wish we could say more"
(CNN) -- Apple has set Sept. 9 as the date for a big announcement.
What will the company unveil?
"Wish we could say more," reads an invitation sent to media members on Thursday.
Multiple reports over the past few months have suggested that Apple plans to roll out two versions of an iPhone 6 this year, with screens that are 4.7 inches and 5.5 inches, when measured diagonally.
Is bigger really better for Apple?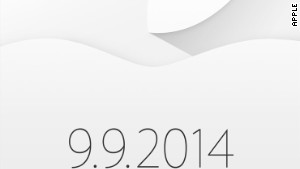 Apple's invitation to a Sept. 9 iPhone event teases more -- possibly a long-awaited smartwatch.
That would be a massive leap from the iPhone 5S and 5C's 4-inch screens and an apparent move to battle competitors like Samsung and HTC who have been making bigger phones for years.
But the "say more" tease prompted immediate speculation that new phones might not be all that's on the agenda. The safest bet is that a long-anticipated "iWatch" smartwatch will be introduced as well.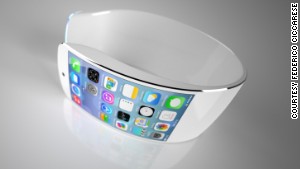 Do you want to wear your phone?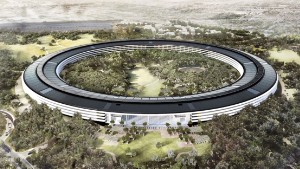 See Apple's new spaceship campus
Apple was granted a patent for a smartwatch in July and reports have suggested now is the time for its debut. The device, which will compete with existing offerings from Samsung and other top competitors, is expected to have a heavy focus on health and fitness apps.
The Apple event will be at the Flint Center for the Performing Arts, a 2,400-seat venue in the company's hometown of Cupertino, California.
Apple has traditionally rolled out new iPhones in the fall, in advance of the winter holiday season.
Today's five most popular stories
Part of complete coverage on
Apple
September 20, 2014 -- Updated 1644 GMT (0044 HKT)

Here's a look at what you need to know about Apple, Inc.
September 10, 2014 -- Updated 1517 GMT (2317 HKT)

After the unveiling of two new iPhones and a heavily anticipated smartwatch, Apple gave guests some supervised hands-on time with the gadgets.
September 9, 2014 -- Updated 1537 GMT (2337 HKT)

Here are 5 things you probably didn't know about Apple - the world's biggest company.

Security measures on mobile wallets may make them a safer option than plastic credit cards.
January 27, 2014 -- Updated 2128 GMT (0528 HKT)

As the Macintosh computer reaches its 30th anniversary, look back at some of the advancements Apple has made since then.
September 5, 2014 -- Updated 2255 GMT (0655 HKT)

Steve Jobs' vision for making "the best office building in the world" is coming to life in Cupertino, California.
September 17, 2014 -- Updated 1703 GMT (0103 HKT)

IOS 8 isn't the radical upgrade that iOS 7 was, but it has a handful of new features that you're bound to enjoy. Here's a look at a few of our favorites.
September 8, 2014 -- Updated 1518 GMT (2318 HKT)

After ceding the smartphone and tablet size war to competitors like Samsung for the past few years, it appears Apple has finally decided that bigger is better.
August 6, 2014 -- Updated 1453 GMT (2253 HKT)

Apple might be readying its largest iPhones ever. It could mean one unequivocally crappy thing for all of us: The extinction of great, casual one-handed games.
August 6, 2014 -- Updated 1356 GMT (2156 HKT)

Apple and Samsung have agreed to end their international patent disputes around the world except in the U.S.
June 23, 2014 -- Updated 1804 GMT (0204 HKT)

Here's one way to make your iPhone hacker-proof: Ask hackers for advice.
June 2, 2014 -- Updated 2027 GMT (0427 HKT)

Apple announces a new "homekit" for smart home devices, iOS 8 and more at WWDC14. CNN's Dan Simon reports.
March 5, 2014 -- Updated 1745 GMT (0145 HKT)

People wait in long lines to get their hands on new Apple devices. But they drag their feet when it comes to purchasing another piece of technology that could greatly improve their lives: hearing aids.
May 29, 2014 -- Updated 0859 GMT (1659 HKT)

Why did Apple purchaes Beats from hip-hop artist Dr. Dre? CNN's Samuel Burke reports.