Does 'immortal' jellyfish have the secret to everlasting life?
August 29, 2014 -- Updated 1602 GMT (0002 HKT)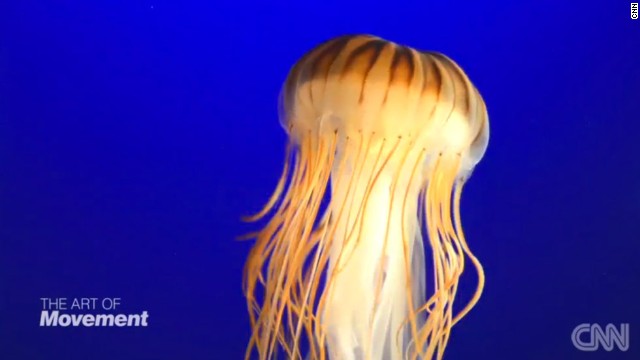 For many beach-goers, jellyfish are a nuisance that blights the seashore. But some scientists believe they could hold the key to immortality.
Professor Shin Kubota is an expert in marine biology and has been studying jellyfish since 1979. One tiny wonder in particular has become Kubota's life's work: the Japanese scarlet jellyfish, popularly referred to by the mysterious moniker "the immortal jellyfish."
Classified under the genus Turritopsis, the Japanese scarlet jellyfish is very small but has an unusual life cycle ...
According to research conducted by Kubota and his students at Kyoto University's Seto Marine Biological Laboratory, an adult jellyfish or medusa will retreat to the sea floor when injured.
Step two is for the medusa to rearrange its cells and morph back into its infant state, a polyp.
The polyp then grows into a new medusa and continues its journey through the seas. Kubota said, "Butterflies fly in the air. Jellyfish fly in the ocean. When jellyfish rejuvenate, it is like (when a) butterfly becomes back to worm."
Lifecycle of the 'immortal' jellyfish
Lifecycle of the 'immortal' jellyfish
Lifecycle of the 'immortal' jellyfish
Lifecycle of the 'immortal' jellyfish
Lifecycle of the 'immortal' jellyfish
Lifecycle of the 'immortal' jellyfish
STORY HIGHLIGHTS
Japanese scarlet jellyfish is known as the "immortal jellyfish"
Professor Shin Kubota is a marine expert from Japan researching its life cycle
He says the jellyfish could be the key to rejuvenation in humans
The Art of Movement is a monthly show that highlights the most significant innovations in science and technology that are helping shape our modern world.
(CNN) -- For centuries, man has been on a quest to find the elixir to eternal life. Alchemists struggled fruitlessly to create the legendary philosopher's stone, a mythical substance capable of turning base metals into precious gold and said to hold the key to immortality.
But perhaps they were going about it the wrong way. Instead of searching for answers on land, maybe they should have been looking to the sea.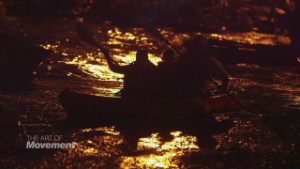 The magic of bioluminescence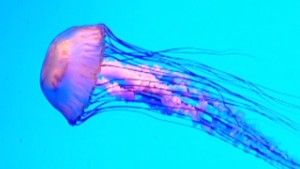 World's jellyfish population booming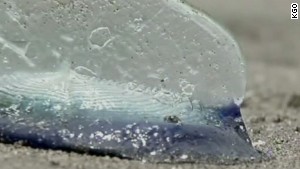 Thousands of blue creatures wash ashore
In the seaside town of Shirahama, in Japan, one man thinks he knows what holds the key to everlasting life: jellyfish.
Shin Kubota is a professor at Kyoto University's Seto Marine Biological Laboratory. He began studying the gelatinous sea creatures in 1979, and there's one type with which he's particularly preoccupied: the scarlet jellyfish.
"They don't die," Kubota says, "they rejuvenate." He adds that they are one of three jellyfish species in japan that are considered "immortal."
"One day in my plankton net, there was a small scarlet jellyfish from (the) south, which had many sharp sticks stuck into its body," he recalls. "I thought 'poor thing' and removed all of the sticks, hoping it may become better and swim again. But it didn't and shrunk. However, it rejuvenated!"
Swimming with sharks, without a cage
It's less immortality and more regeneration, but Kubota believes these tiny marine animals could hold the secret to perpetual life.
When an adult scarlet jellyfish -- or medusa -- is injured, it goes to the bottom of the ocean floor. From there, it morphs back into its infant state, known as a polyp. Then the polyp becomes a new medusa, allowing the jellyfish to move between an adult and infant state in about two months.
Kubota has succeeded in making one jellyfish rejuvenate an incredible 12 times in the lab. But there remain many unanswered questions.
"There should be a key to rejuvenation in the system of scarlet jellyfish," says Kubota. "I'd like to believe it could be applied to human beings, because genetically, jellyfish and humans are not so different."
Watch the video below to see more about Kubota's work at the Seto Marine Biological Laboratory and Japan's "immortal" jellyfish.
Photographer puts you face-to-face with sharks, by swimming uncaged
Ready for this jelly? Strange sea creatures invade beaches
Why are 'mousetronauts' headed to space station?

Today's five most popular stories
Part of complete coverage on
August 25, 2014 -- Updated 1938 GMT (0338 HKT)

For thousands of years, man has looked to the stars in search of answers. Who are we? Why are we here? Are we alone?
November 16, 2014 -- Updated 1510 GMT (2310 HKT)

From the realms of science fiction to science fact, Rosetta mission's scientists succeeded in landing a washing machine-sized probe named Philae on a moving comet.
October 10, 2014 -- Updated 1700 GMT (0100 HKT)

Armed with the most advanced marine technology available, archaeologists have recovered new treasures from the ancient shipwreck.
August 29, 2014 -- Updated 1602 GMT (0002 HKT)

Does the secret to eternal life exist already and live in the sea?
December 17, 2014 -- Updated 1443 GMT (2243 HKT)

Meet KOA=S, a band of spellbinding musicians fusing Japanese cultural icons against a backdrop of rock and musical theater.
November 18, 2014 -- Updated 1134 GMT (1934 HKT)

Earthbound audience captivated as surreal Twitter conversation takes place 300M miles away.
December 5, 2014 -- Updated 1243 GMT (2043 HKT)

The slightest movement by this man's hand can change the behavior of at least 100 people.
November 11, 2014 -- Updated 1541 GMT (2341 HKT)

"A living painting is many things," says artist and designer Aerosyn-Lex Mestrovic. "It's a painting in process, it's a work of film, it's an actual tactile painting."
September 12, 2014 -- Updated 0938 GMT (1738 HKT)

For half a century, "Alvin" has quietly traveled through the seven seas, uncovering the ocean's mysteries.
August 25, 2014 -- Updated 1943 GMT (0343 HKT)

From Earth, the sun appears as a constant circle of light, but when viewed in space a brilliant display of motion is revealed.