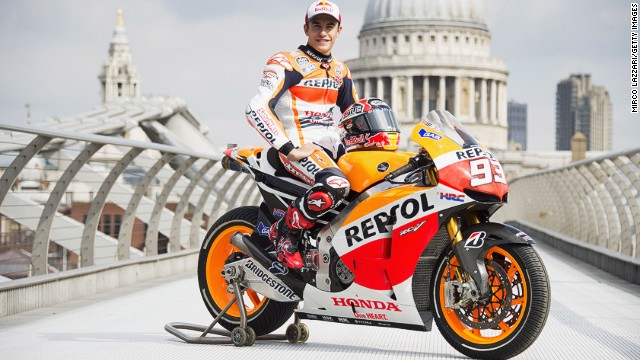 So what was MotoGP man of the moment Marc Marquez doing on London's Millennium Bridge?
Ahead of the British Grand Prix, Marquez became the first person to cross the footbridge on a motorbike to help promote the race.
The Spaniard takes a 77-point lead into the race at Silverstone, as he seeks to defend his world title this year.
After racing across the Millennium Bridge, the Honda rider found time for an interview with CNN's Jonathan Hawkins.
Marquez's 10-race winning streak was halted in the Czech Republic on August 17 as teammate Dani Pedrosa took victory ahead of Yamaha duo Jorge Lorenzo and Valentino Rossi. Marquez finished fourth.
Britain's Cal Crutchlow has endured a nightmare season since leaving the satellite Yamaha Tech3 team for Ducati, winning just 36 points in 11 races.
Crutchlow's compatriot Scott Redding, also off the pace in his debut MotoGP season with the Gresini Honda team, has beaten Marquez before in motorcycling's lower classes.
Fellow Briton Bradley Smith has signed a new contract with the Yamaha Tech3 team after picking up 65 points so far this season.
Millennium man
Crossing the Millennium Bridge
Out on his own
Spreading the MotoGP gospel
Winning streak ends
Crutchlow pain
The man who beat Marquez
New deal
STORY HIGHLIGHTS
Marc Marquez is seeking to bounce back at this weekend's British Grand Prix
The MotoGP leader finished fourth in Brno, ending his unbeaten run in 2014
Honda teammate Dani Pedrosa is only other rider to win a race this season
Yamaha's Jorge Lorenzo seeking his third successive Silverstone success
Follow us at @WorldSportCNN and like us on Facebook
(CNN) -- It was bound to happen eventually. But Marc Marquez has looked so utterly indomitable since the start of the MotoGP season in March, that it still felt strange when it did.
The immaculate Spaniard finally succumbed to racing mortality in the Czech Republic, failing to win for the first time in 2014. The fact that he didn't even make the podium in Brno just over two weeks ago made it seem even stranger.
This Sunday, at one of motorsport's fastest and most famous tracks -- the UK's Silverstone -- Marquez will be seeking to bounce back. What's more, the youngest world champion in motorcycling's elite class is feeling relaxed now that his record-equaling 10-race winning run has ended.
"I feel a little bit less pressure," he told CNN this week, "because nobody will ask me again if I can win all the races."
The brutally quick Silverstone circuit is also one that the ever-smiling 21-year-old enjoys, in spite of the dependably capricious British weather.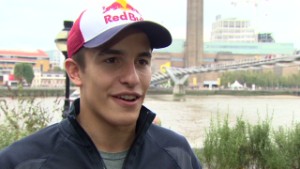 Marc Marquez targets more MotoGP titles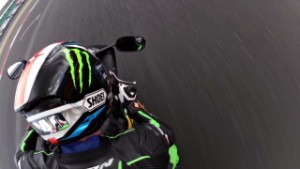 MotoGP riders speed round Silverstone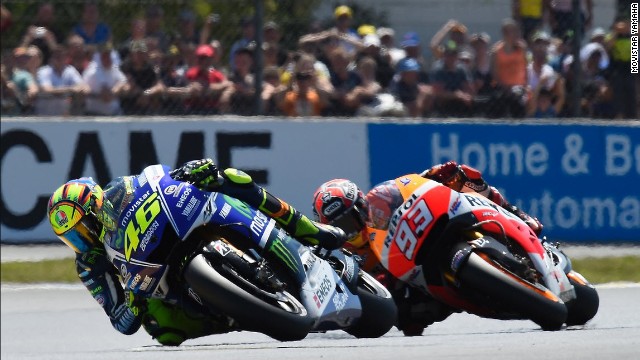 Introducing "The Doctor" of MotoGP -- Valentino Rossi briefly leads Marc Marquez at the French MotoGP on 18 May 2014.
Rossi is a hero in his native Italy and particularly in the Marche region where he was born and still lives. In recognition of his achievements he received an honorary degree in 2005 from the famous university at Urbino.
Rossi's last MotoGP title came back in 2009 with Yamaha -- his seventh at the highest level of motorcycling.
Rossi is on the receiving end of the champagne as compatriot Max Biaggi toasts him after wrapping up a third straight world title in Malaysia in 2003.
Rossi performs a wheelie after taking pole position on his Honda at the MotoGP in South Africa in 2002.
Rossi has also turned his hand to four wheels and drove for Peugeot in the 2002 Rally of Wales GB.
Ever the showman. Rossi produces a sea of burning tire smoke as he celebrates yet another MotoGP victory.
Rossi jokes with a grid girl before the U.S. MotoGP in Indianapolis in 2009.
Rossi's fanatical fans celebrate his 100th grand prix win at the Dutch MotoGP at Assen in the Netherlands in 2009.
Colin Edwards takes press questions in Austin, Texas flanked by former team mate Valentino Rossi.
Marc Marquez celebrates his fifth consecutive MotoGP win at Le Mans with his team.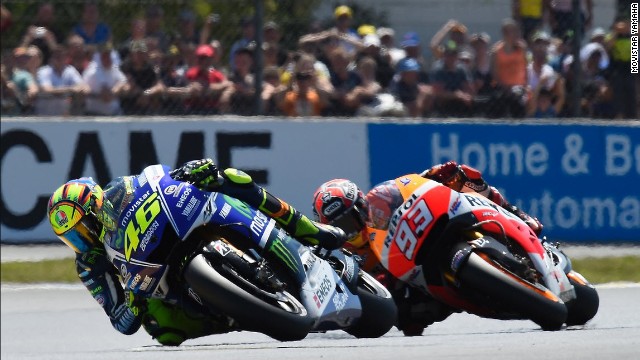 300-up for MotoGP legend Rossi
"I always feel good there, and we try to be ready for rain conditions and for dry conditions because the forecast is really unstable, but this year looks okay -- we will try to enjoy it, and try to do our best," said the Honda rider, who last year finished second at Silverstone in his debut season in MotoGP.
Marquez's teammate and compatriot Dani Pedrosa finally managed to put one over on his young rival in Brno, and goes into the race contented following his first victory since Malaysia last October.
He is second overall in the standings, 77 points behind Marquez with seven races to go.
"We had a great weekend in Brno and a good test on the Monday," said the 28-year-old, who was third here in 2013.
"We had quite a good race here last year, I had to recover some gap to the front but it was good. I'm happy to be here and the weather is looking good, so hopefully we can have a strong weekend."
Former champion Jorge Lorenzo, seeking to improve on two consecutive runner-up finishes, is sensing that the season might be finally coming together for him and his factory Yamaha.
"After three consecutive podiums I feel good," said the Spaniard, who has won at Silverstone three of the past last four years.
"Last weekend in Brno we found some good solutions that surely will give us at least a tenth (of a second) in the next races."
Read: The 150 mph piggyback ride
Almost 160,000 spectators swarmed to last year's British MotoGP, and those gathering this year will dine on an unexpected feast of homegrown riders in the premier class.
Among them is Scott Redding, a rookie MotoGP rider who knows all about beating Marquez -- because he's done it, albeit in the sport's lower classes.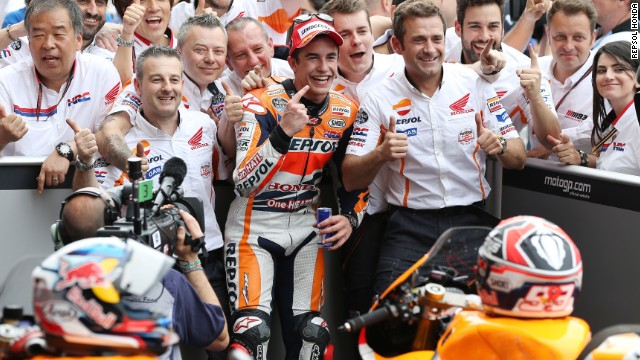 It's been a perfect start to 2014 for Marc Marquez. After winning the world championship in his rookie season last year, he has started the new campaign with back-to-back wins in Qatar and Austin, Texas. Can he make in three in a row when MotoGP returns to Argentina for the first time in 15 years this weekend?
Jorge Lorenzo ran Marquez to the wire last season, eventually having to settle for second place overall. The two-time world champion has endured a testing start to 2014, crashing in Qatar and finishing 10th in the U.S. after a drive-through penalty.
Valentino Rossi was a long-time poster boy for MotoGP, winning six world championships between 2002 and 2009. His form has tailed off in recent years, but the Italian showed some of his old skill by placing second in Qatar.
Dorna is the company which owns the commercials rights to MotoGP. Its CEO Carmelo Ezpeleta is looking forward to seeing the sport return to Argentina at the redesigned and redeveloped Autodromo Termas de Rio Hondo.
Ducati rider Andrea Dovizioso put himself on the podium in Texas and, after a surprise third-place finish last time out, he's looking forward to testing himself on a new, unknown circuit.
Ducati's team principal Gigi Dall'Igna was delighted with Dovizioso's showing in Austin, embracing the Italian after he crossed the finish line.
One rider who hasn't made the journey to Argentina is Ducati's second rider, Cal Crutchlow. The Briton needs surgery on his right hand after crashing out of the Grand Prix of the Americas.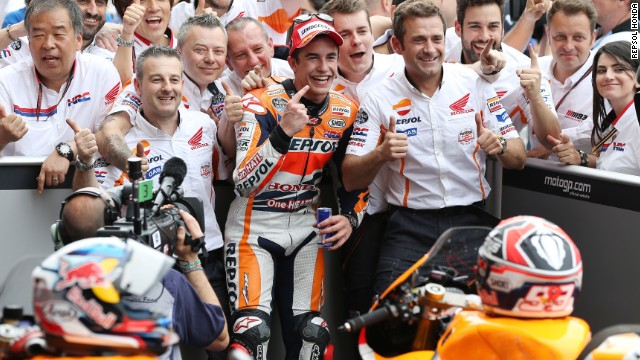 MotoGP returns to Argentina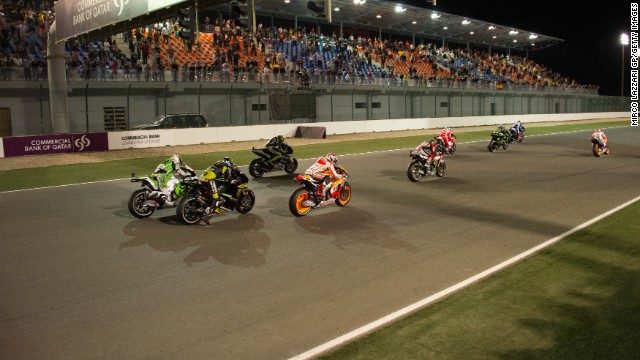 The new MotoGP season gets underway at the Losail Circuit for the Grand Prix of Qatar on March 23. The event is one of the most stunning on the MotoGP calendar, with the race taking place at night time under floodlights. Lying on the outskirts of Doha, the track was completed in 2004 and cost $58 million.
Repsol Honda Team's Marc Marquez will once again be the man to beat. The Spaniard is the bookies' favorite after becoming the youngest ever world champion last year, while he was also the first to land the title in a rookie campaign since 1978. His preparation for the new season has been far from ideal, however, having broken a leg last month.
Tech3 principal Herve Poncharal is excited by Bradley Smith's potential.
Hot on Marquez's heels will be Jorge Lorenzo of Movistar Yamaha MotoGP, who missed out on the title by four points last season and finished in second place. The Spaniard, who won the world championship in both 2010 and 2012, comes into the new season in good form having dominated the recent preseason testing event on the Phillip Island circuit.
Arguably the sport's most famous rider of all time, Valentino Rossi has won seven world titles during an illustrious career, and he would love nothing more than to add to that tally this year. The 35-year-old Italian's last title win, however, came back in 2009, but his fourth-placed finish last season was an improvement on his previous placings of seventh and sixth. The Movistar Yamaha MotoGP rider has also impressed in preseason testing.
Marquez's Repsol Honda Team teammate, Dani Pedrosa, will also be hoping to usurp last year's champion, despite being in the same stable. The 28-year-old, who finished third last season, is MotoGP's nearly man having consistently placed in the top five since his debut campaign in 2006, but is yet to have secured the coveted top spot.
Two more to watch out for are brothers Aleix and Pol Espargaro. Older sibling Aleix, who placed 11th last year, is the more fancied of the two, with Pol new to MotoGP. The debutant does, however, make the step up fresh from 2013 Moto2 world championship success. They are the first set of brothers on the full-time MotoGP entry list since Kenny and Kurtis Roberts in 2004.
The circuit of Jerez, which will play host to the Grand Prix of Spain on May 4, has become one of the season's most popular venues. The track, built in 1986, is set in a slight valley in the south of the country and its good weather, along with some fine scenery, makes for 250,000 happy spectators.
The Grand Prix of Italy, taking place on June 1, is another favorite thanks to the setting of its Mugello circuit. Located in the scenic tree-lined countryside of Tuscany, the Ferrari-owned track is renowned for its greenery, beauty and superb facilities.
The Automotodrom Brno, home to the Czech Republic Grand Prix, is built in a natural bowl, meaning spectators have an excellent view of the race, while the track rolls across forested hillsides. The circuit, located close to the city of Brno, is therefore popular with fans and riders alike, who will sample its delights once more on August 17.
Perhaps the most beautiful of all the circuits on the calendar is Phillip Island, home to the Australian Grand Prix, which takes place on October 19. A track steeped in motor racing tradition, it staged its first races back in the 1920s, while its breathtaking coastal scenery is unrivalled.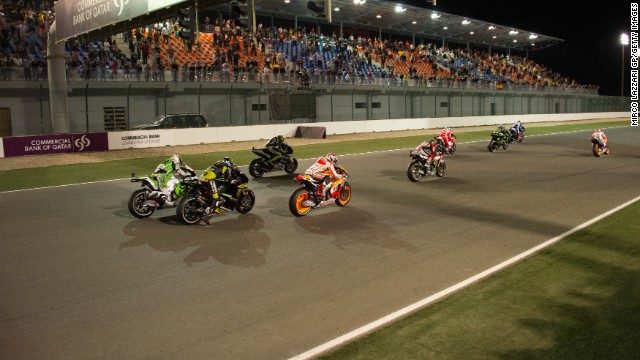 MotoGP season preview
Redding won the Moto2 race here last year, and also triumphed in the 125 cc class back in 2008 as a 15-year-old. He's been on podium four out of six times at his home event.
"I like the character of Silverstone, a fast-flowing track, big open areas, with speed, and that's what gives you adrenaline," the 21-year-old said.
Redding also enjoys the atmosphere of his home crowd: "I don't look at it as pressure. I look at it as support. I feel like every one of the fans that are cheering -- even if they're cheering for Marc Marquez -- it feels like they're cheering for me."
Riding an Open-class Gresini Honda means, however, that he will not be troubling the podium this year -- his bike is way off the pace. "It is a bit annoying and it does disappoint me a bit," he explained.
Rumors that Redding will be riding a factory spec bike next year are welcomed by Marquez.
"I hope Scott is on a factory Honda next year as I think he's got good potential," the world champion told Bike Social. "I enjoyed riding with him in Moto2, he's a really good rider, really aggressive and keeps pushing all the time."
Bradley Smith, riding for the satellite Yamaha Tech team, is currently the Briton most likely to break into the top five. With the ink barely dry on a new contract for next season, the thoughtful 23-year-old is in good spirits.
"I know the team well; I'll be going into my fifth season, I know the bike now, so it's good," he told CNN. "I don't really want to have to learn a new motorcycle and how to ride it."
Smith admits the Marquez domination was embarrassing for his fellow riders, and expects the Repsol Honda man to bounce straight back after his Brno blip.
"It was hard work ... it makes us look rubbish at the end of the day. It's monotonous, it's the same old Marc, Marc, Marc, Marc, which I understand," Smith said.
"I expect him to come out fighting at Silverstone, but now that's given confidence to Dani, Jorge and Valentino (Rossi), that they have got a chance, and there is a slight weakness, and they've just got to keep opening that up."
Last year all British eyes were on the charismatic, straight-talking Cal Crutchlow, who had amazed spectators in 2012 by registering a sixth place from the back of the grid while riding with a freshly broken ankle. Last year's race was disappointing, however, and this year he is enduring an ordeal of a season with Ducati.
"I normally leave here on Sunday night completely smashed on drugs that they've given me from the medical center," Crutchlow joked at a recent media event held by British broadcaster BT Sport.
He puts his British MotoGP crashes down to simply trying too hard: "Problem was I wanted to win too early, I never saved it for the race; I wanted to win the practices."
Crutchlow believes that Marquez's dominance has benefited the sport: "It's not boring, because people were tuning in to see if he'd win again. He dominated most of the races; he was really playing with people."
He also reckons the Spaniard was unlucky in Brno. "We know he had a tire problem, as did a lot of the riders over the weekend, and I think he would have put up a lot more of a fight than he did."
The three top Brits all see positive signs for the future of the sport in the UK. The British MotoGP is moving to a £280 million ($460 million) new purpose-built complex in Wales in 2016.
"It's a fantastic facility, and looks great for motorcycle racing in general," Smith said.
Redding, however, warns that Britain -- and the world -- has a long way to go to match Spain.
"You go to Spain and it's a completely different ball game. I spent the last two years training in Spain, and that's what's changed me as a rider," he told CNN.
"You see riders at the age of six come in on their lunch break from school, go an hour riding and then go back to school ... the passion you get there is unbelievable and it makes a massive difference."
Read: Marquez misses out on record 11 wins