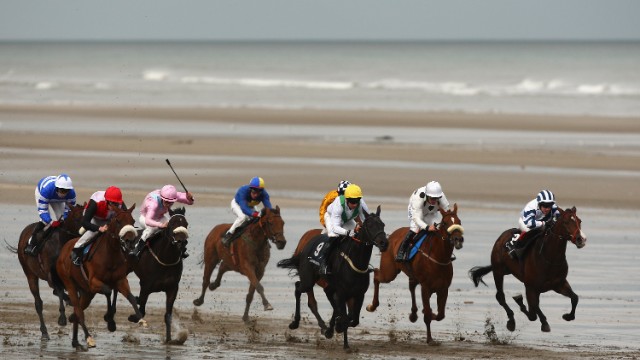 Laytown, just north of Dublin on Ireland's east coast, has held beach racing since 1868.
The course has the only winning post that is in danger of being swamped when the tide comes in.
The novelty of the event attracts thousands of racegoers each year, packing the grandstand.
There is a racing field where stalls and bookmakers are set up, overlooking the temporary race track on the beach below.
The weighing room is different to most race courses, being set up inside a temporary marquee.
The signage is somewhat more rudimentary than you would expect at Ascot, for example.
The going is always soft at Laytown, where the tide recedes barely an hour before the racing begins.
There are six races on the annual card, with 10 runners each, taking place over six or seven furlongs.
The racing goes ahead almost whatever the weather, although storm-water flooding caused its cancellation back in 2002.
On the beach
Tide is high
Long view
Take a punt
Tent town
Sign of the times
Circles in the sand
The magic numbers
Rain or shine
STORY HIGHLIGHTS
Thousands flock each year to see the novelty of a full race meeting on a beach
Star jockeys and celebrities are among the throngs that come to Laytown each year
Racing at Irish course dates back to 1868 and usually runs come rain or shine
Safety measures have been in place since tragedy struck in 1994
Follow us at @WorldSportCNN and like us on Facebook
(CNN) -- The going is always soft and the only permanent building is a toilet block. It's the antithesis to the pomp and pageantry of Royal Ascot ... welcome to Laytown Racecourse.
If you overlook Laytown beach, a mere 30 miles north of the capital Dublin on Ireland's east coast, you would usually see golden sand stretching far and wide, the tide pulsing in and out of shore, the elements battering the coastline and the occasional dog walker.
But for a few hours each year, as has been the custom ever since 1868, it becomes the site of arguably the world's most unique annual racehorse meeting.
Racegoers from all over the globe have attended the September event, including musicians, film stars and royalty, while top trainers and leading jockeys have also played their part.
"There truly is nothing like it, it's truly unique," says Kevin Coleman, who was born and brought up in Laytown and is one of a small team that runs the meeting.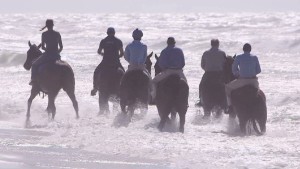 Sun, sea and turf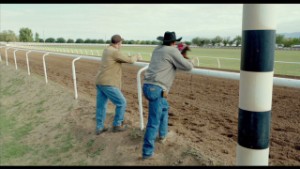 Derby winner celebrated in movie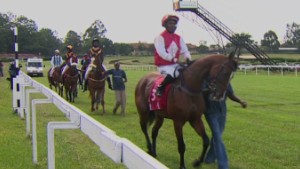 The changing face of Kenyan horse racing
"I think it's the only race meeting in the world that can truly be described as unique. I think there's beach racing in Spain but this is the only one that completely adheres to the rules of racing. But it's a bit less formal."
Forces of nature
Unlike Royal Ascot, where top hat and tails are the order of the day for attendees, Coleman merely asks that punters, of which there are typically about 5-6,000 each year, aim for smart casual.
"My first memory of the racing is coming down to the beach as a child and playing football," he recalls. "The game would start with six of us and then end with 26 by the time various people had finished their tea.
"During the end of the summer, you'd gradually see the beach taking shape for the racing.
"But there was such a mystery about it too as a child, how it all appeared and suddenly happened. In this role (which he has had since 1998), I realize there is no mystery, just a lot of logistics and hard work!"
That is not merely setting up the venue for the event but battling the forces of nature -- the past year the coastal erosion has been even more noticeable. But come rain, shine or even wartime, Laytown has almost always gone ahead.
Its last cancellation came in 2002 when a deluge caused storm waters to overspill, making it no longer safe to start the racing.
"We don't know what Neptune will throw at us on a particular date," Coleman says.
Star attraction
On Thursday there will be six races, each with a maximum of 10 horses and all run over six to seven furlongs, across the width of the beach.
Coleman hopes there will once again be notable names in attendance.
The Aga Khan visited in the 1950s, the actors from movies "The Crying Game" and "Michael Collins," both of which were filmed in Laytown, are believed to have attended, while Neil Hannon, singer with The Divine Comedy, has been a regular.
Celebrities, though, are treated no differently to any other patrons -- who come from as far afield as Australia and the United States.
"We wouldn't know who most of them were and anyway we'd leave them be," says Coleman. "They're all here for the same thing as us, aren't they?"
Belgium's former ambassador to Ireland, Alain Guillaume, was so drawn by a picture of Laytown in the Embassy that he felt compelled to visit.
"It's really something," he said. "I've never seen anything like it. To have horses racing out in the natural environment is wonderful."
It is a meeting that comes with everything you'd expect at a normal course -- the racing rails, winning post, a grandstand, jockey weighing room (though in a marquee) and even now a tent for corporate facilities. Entrance is the same price for everyone, just $10, while you can place a bet with bookmakers there.
But don't expect to see horses of the caliber of Kentucky Derby winners at Laytown.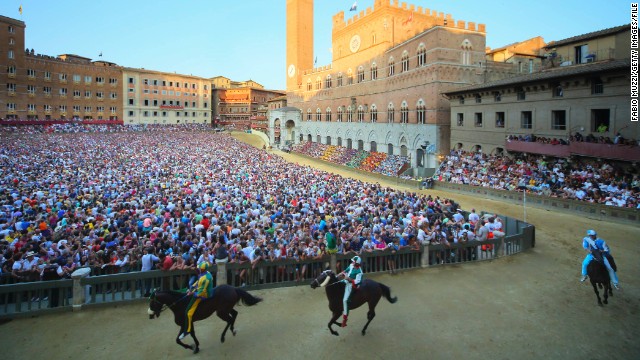 Each year, the pretty city of Siena in Tuscany is transformed into a medieval race track, with around 50,000 spectators cheering on 10 bareback riders. As the dust settles on this year's Palio di Siena, CNN takes a look at five weird and wonderful horse festivals from around the world.
Before the Pailo di Siena riders make their 90-second dash around the city, each horse is blessed by a priest for the race which dates back to the 17th Century.
It might look like the Four Horsemen of the Apocalypse, but these horses leaping over bonfires in San Bartolome de Pinares are part of St Anthony's Day eve celebrations. It is believed the animals are purified and protected during the controversial ritual.
From fire to ice, the White Turf racing festival takes place on frozen Lake St Moritz each year. Here, riders attached to harnesses ski behind their horses in the unusual sport of skijoring.
Head to the island of Sumba in Indonesia and you'll find a far more tropical climate at the Pasola Festival. Gutsy horsemen use blunt spears in a ritual battle believed to boost crops.
The elaborately attired warriors continue at Soma-Nomaoi festival in Japan, where samurai horsemen go head-to-head in three days of competitions.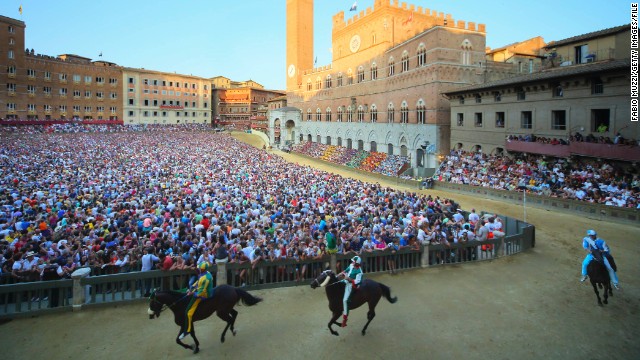 World's craziest horse festivals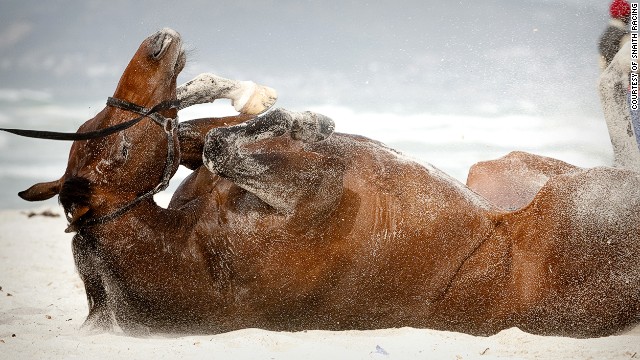 South African trainer Justin Snaith routinely takes his horses down to the beach in Cape Town. "It's the ultimate exercise for both their mind and body," he says.
A trip to the beach helps the horses relax before a big race weekend.
Snaith has enjoyed a highly successful career since becoming a trainer 14 years ago. The 39-year-old recently smashed the South African record for most wins in a season, training 198 winners in 2013.
Snaith also set a new national record for most wins in a day, taking out an unprecedented seven successes at Fairview Racecourse in Port Elizabeth.
"It's quite clear that when they arrive at a racetrack that they're relaxed and that they're ready to just give everything they've got," Snaith said.
"They're hard to get past in a race, and it makes me so proud, it makes me come here earlier the next day, and really just make them feel as comfortable as they can," Snaith says.
It's all about giving the horses what they need, he says, whether it's splashing around in the waves or pottering around in paddocks with their mates.
"A happy horse is a good horse," Snaith says.
"It takes a lot of energy to be a good race horse," Snaith says.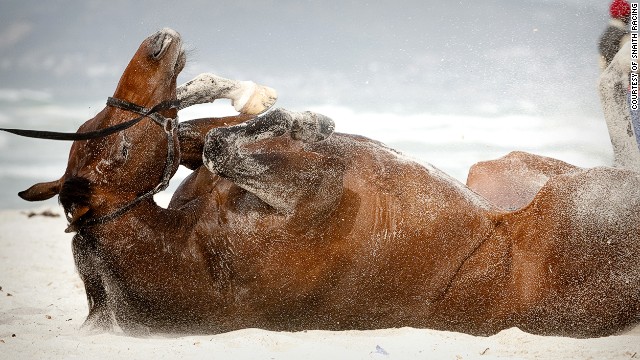 Surf and turf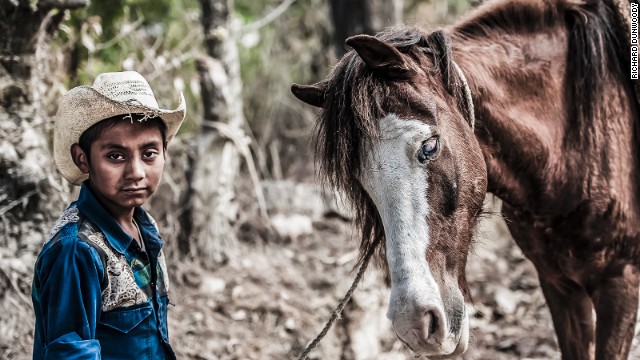 Many of former jockey Richard Dunwoody's pictures have an equine theme, including this of a boy and his blind pony in the countryside near Chimaltenango in Guatemala.
These images were part of a project by animal charity The Brooke -- here working mules and their drivers depart from a brick kiln close to Aligarh, an Indian city near Delhi.
A man drives his horse at full tilt down a dual carriageway with a large load of empty water barrels in Faisalabad, Pakistan.
A carriage driver washes his mule's head in the Nile from a riverboat in Egypt. Tourism is not quite so buoyant in Luxor and drivers are finding it extremely hard to make a living.
Working donkeys at a brick kiln in Gujranwala in Pakistan. The owners take great pride in them, often adorning their bridles with tassels and cloths.
A dehydrated working horse about to be treated at a Brooke clinic in Lahore, Pakistan.
A tired working donkey carrying construction materials in a slum in Delhi, India.
Photography is a complete career change for Dunwoody, who (pictured right) rode Miinnehoma to victory in Britain's prestigious Grand National jumps race in 1994.
Arguably his most famous ride was Desert Orchid, who won the prestigious King George VI Chase in 1989 and 1990.
But Dunwoody insists he doesn't miss the rigors of horse racing and the ensuing falls, such as this one on Spring Hay.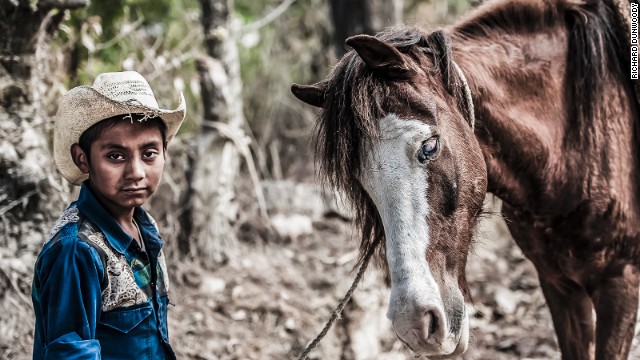 Star jockey turns photographer
"The racing is pretty ordinary really," Coleman admits. "I remember speaking to Colin Keane, an up-and-coming jockey, last year, and asking him what it was like to ride.
"I thought he'd say it was a magical experience but he just told me it was 'slow, slower than other years.' "
Tragedy brings change
Building the course is a race against time. When the tide goes out, organizers shovel up and pat down the sand to create the racing line, but such are the elements that occasional pools of surface water can remain, which some horses don't mind but others despise -- merely another nuance to the racing at Laytown.
As magical and mystical as the event sounds, it has not been without its own setbacks. Twenty years ago marked its bleakest year, with three equine fatalities and two riders seriously injured.
"One of the jockeys never rode again," says Coleman ruefully.
Back then, the horses used to charge out to sea, with the field turning back on themselves in a semicircle.
Major safety changes were brought in, and Coleman says organizers had to plead with Ireland's racing authorities to keep holding the event.
"Other changes meant only horses over the age of four could compete, and horses were not allowed to wear blinkers," he adds.
The racing was allowed to carry on and, 146 years since the first meeting at Laytown Racecourse, the event goes from strength to strength -- the Guinness flows, the music plays and hooves thunder in the sand.
Read: The world's craziest horse festivals