Michael Sam signed to Dallas Cowboys' practice squad
September 4, 2014 -- Updated 1135 GMT (1935 HKT)
STORY HIGHLIGHTS
NEW: Rams coach calls Michael Sam's signing "a great decision by the Cowboys"
Dallas signed Sam, the first openly gay player drafted in the NFL, to its practice squad
The Cowboys owner says that Sam "could evolve" into a contributor for his NFL team
Jerry Jones: Sam was "a plus to the locker room" of the Rams, who drafted him
(CNN) -- He may not play on game days, but Michael Sam -- the first openly gay man to be drafted into the NFL -- will at least have a home in the league once the regular season starts: the Dallas Cowboys.
The Cowboys announced Wednesday they'd signed the former University of Missouri defender to their 10-man practice squad, a group that plays during the week with members of the 53-man roster but not during official games.
That means Sam isn't likely to record a sack or tackle in front of national television cameras anytime soon. Even so, his signing -- in light of all the attention he has received, as a possible groundbreaker in pro football -- drew plenty of attention.
Jerry Jones, Dallas' high-profile owner, president and general manager, cast the signing as a football decision for the club that is sometimes dubbed America's Team.
"The facts are that, if he's good enough to develop as a practice squad (player) and could evolve -- as many players do -- ... into a contributor, then that would be a plus for the Cowboys," he told reporters. "That's it."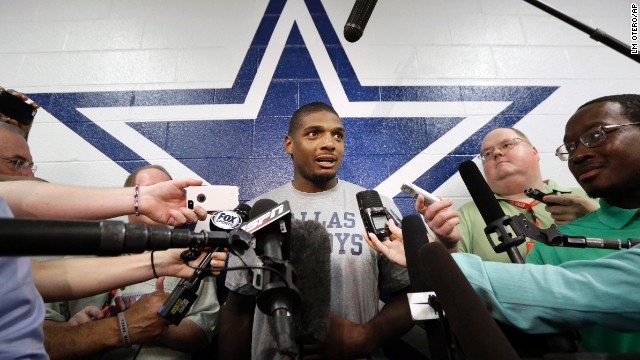 Michael Sam speaks to reporters Wednesday, September 3, after practicing at the Dallas Cowboys' headquarters in Irving, Texas. Sam, who made history as the first openly gay player to be drafted into the NFL, did not make the St. Louis Rams' final 53-man roster, but he was signed by the Cowboys to be on their practice squad.
Sam looks on prior to the NFL preseason game between the St. Louis Rams and the Miami Dolphins on August 28. "The most worthwhile things in life rarely come easy, this is a lesson I've always known," Sam tweeted after the Rams released him. "The journey continues."
Sam mocks Johnny Manziel's "money" celebration after sacking the Cleveland Browns quarterback during a preseason game August 23 in Cleveland. Sam, a defensive end, had three sacks in the preseason.
Sam accepts the Arthur Ashe Courage Award during the 2014 ESPYs on July 16. "Great things can happen when you have the courage to be yourself," Sam said while accepting the award, which is given to those who have shown strength in the face of adversity and stood up for their beliefs.
Sam and his boyfriend, Vito Cammisano, kiss in San Diego after Sam was drafted on May 10. Sam was selected by the Rams in the seventh round with the 249th overall pick. Cammisano tweeted a photo of their kiss and said he was "so proud and happy."
Sam hoists the Cotton Bowl trophy as the University of Missouri's football team is honored at halftime of a Missouri basketball game February 15 in Columbia, Missouri. Sam was instrumental in leading the Tigers to a 12-win season, an SEC Eastern Division title and a Cotton Bowl victory over Oklahoma State. He was named to many All-American teams, and he was selected as the SEC's co-defensive player of the year.
Sam runs the 40-yard dash February 2 during the NFL Scouting Combine in Indianapolis.
Sam runs onto the field January 25 before the NCAA Senior Bowl in Mobile, Alabama.
Sam reacts after Oklahoma State missed a field goal January 3 during the Cotton Bowl in Arlington, Texas.
Sam speaks to the media during a Cotton Bowl news conference on January 1.
Sam celebrates with fans November 9 after Missouri defeated the Kentucky Wildcats in Lexington, Kentucky.
Sam celebrates a sack October 19 during the first half of a game against the Florida Gators.
Sam returned a fumble for a touchdown October 12 against the Georgia Bulldogs in Athens, Georgia.
Sam and his Missouri teammates sing the school song September 21 after defeating Indiana in Bloomington, Indiana.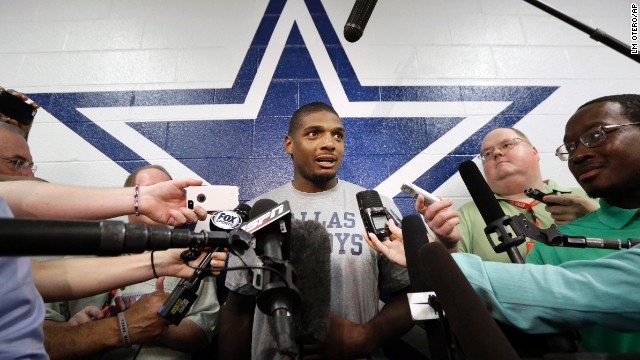 Photos: Michael Sam's journey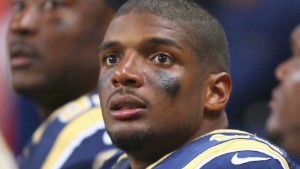 Michael Sam cut by St. Louis Rams
Jones touched on Sam's strengths and weaknesses, describing him as a "relentless" worker and pass rusher who "is going to have to make for a little speed (and) make up for a little size."
"But how many times have we seen that happen?" the Cowboys' owner and general manager said. "That's what makes football."
One thing that Jones did not express any reservations about is how Sam will fit in the locker room.
He noted that his son, Stephen Jones, Dallas' chief operating officer and director of player personnel, is "really close friends" with Jeff Fisher, the St. Louis Rams head coach. The Rams drafted Sam -- an All-American defensive end in college -- in the seventh and final round of the NFL draft last May, only to waive him Saturday after four preseason games.
Talking about what Fisher told the Cowboys executive about Sam, Jerry Jones said, "He was an addition to their locker room, he brought a plus to the locker room."
Fisher praised the signing as "a great decision by the Cowboys," especially given the injuries they've suffered recently on their defensive line.
"I hope Mike gets a chance," the Rams coach said. "Maybe he can help them."
CNN's Wayne Sterling, Jill Martin and Jason Hanna contributed to this report.