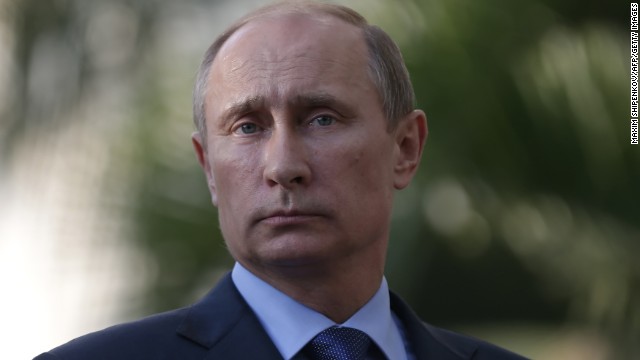 Russia's President Vladimir Putin is a popular but polarizing figure who has dominated Russian politics for more than a decade. Click through to see some highlights of his career.
Putin serves as the chairman of the Foreign Relations Committee of the City Council in St. Petersburg from 1991 to 1994. Before becoming involved in politics, he served in the KGB, a Soviet-era spy agency, as an intelligence officer.
Russian President Boris Yeltsin, right, shakes hands with Putin during a farewell ceremony at the Kremlin in Moscow on December 31, 1999. Putin rose quickly through the political ranks, becoming the second democratically elected president of the Russian Federation in 2000.
President-elect Putin watches the tactical exercises of Russia's Northern Fleet in the Barentsevo Sea on April 6, 2000. He has been at the helm during a decade of Russian economic growth fueled by natural resources of gas and oil.
A Russian cadet snaps a picture with Putin in Moscow's Red Square on May 9, 2007, during an annual celebration of the end of World War II. Putin has pushed to modernize Russia's military.
Putin attends an inauguration ceremony for president-elect Dmitry Medvedev at Moscow's Kremlin on May 7, 2008. Putin was constitutionally obliged to stand down as president but stayed close to power, becoming prime minister.
a reputation as a "strongman,"
declaring a crackdown on Chechen militants a priority in his first presidential term.
Putin vacations outside the town of Kyzyl in Southern Siberia in 2009. Over the years he has earned
President Barack Obama meets Prime Minister Putin at his home in Novo Ogaryovo, near Moscow, on July 7, 2009. Putin said Russia was pinning its hopes on Obama to revive ties with the United States.
A worker takes down a giant elections poster bearing a portrait of Putin on October 13, 2009, in Moscow. Putin's party tightened its grip on Russian politics with a sweeping victory in local elections, officials said, as the opposition alleged widespread fraud.
Russian President Medvedev and Prime Minister Putin ski together in Krasnaya Polyana, near the Black Sea resort of Sochi in southern Russia, on January 3, 2010.
Putin takes part in a judo training session at a sports complex in St. Petersburg, on December 22, 2010. The Russian leader holds a black belt in judo.
Putin receives a medical consultation during his visit to the Smolensk Regional Hospital on August 25, 2011. Putin said he hurt his shoulder during morning judo practice.
Putin speaks to supporters at a Moscow rally on February 23, 2012. He won the presidential election in March, with just under 65% of the vote. Former President Medvedev became his prime minister.
A topless protester shouts at Putin and German Chancellor Angela Merkel, center, during their visit to the Hanover Industrial Fair in central Germany on April 8. Human rights groups say civil liberties and democratic freedoms have suffered during Putin's rule.
Putin addresses the media during his visit to Hanover on April 8.
Putin and his wife, Lyudmila, ended their nearly 30-year marriage, the state-run news agency reported on June 6.
Putin, center, poses for a photo with Russian Olympic athletes in Sochi, Russia, on February 24. Russia hosted the Olympic Games and won the most medals.
Putin, center, and Defense Minister Sergei Shoigu, left, arrive to watch a military exercise at the Kirillovsky firing ground in Russia's Leningrad region on March 3.
Putin in power
Putin in power
Putin in power
Putin in power
Putin in power
Putin in power
Putin in power
Putin in power
Putin in power
Putin in power
Putin in power
Putin in power
Putin in power
Putin in power
Putin in power
Putin in power
Putin in power
Putin in power
STORY HIGHLIGHTS
David Rothkopf: Vladimir Putin will be entertained watching the NATO Summit
NATO's rhetoric has been its only weapon against Russian aggression
NATO is not designed to respond to Putin's style of incremental takeovers
NATO, U.S. absorbed with fighting Islamic extremism and solving domestic issues
Editor's note: David Rothkopf writes regularly for CNN.com. He is CEO and editor of the FP Group, publishers of Foreign Policy magazine, and a visiting scholar at the Carnegie Endowment for International Peace. He is the author of "National Insecurity: U.S. Leadership in an Age of Fear," due out next month. Follow him on Twitter at @djrothkopf. The opinions expressed in this commentary are solely those of the writer.
(CNN) -- President Obama's favorite television shows include "House of Cards" and "Mad Men." One can imagine that when his Russian counterpart Vladimir Putin wants to kick back and relax, all he will need to do is turn on the nightly news and watch the latest reports from the NATO Summit in Wales.
Putin can listen as NATO leaders roll out the latest iteration of their bold responses to his annexation of Crimea and his invasion of Ukraine.
Imagine how he'll be tickled as NATO leaders fall all over themselves trying to find ways to refer to his sending Russian troops into a neighboring country without actually calling it an invasion.
Imagine him, no doubt lying shirtless on a polar bear skin that he single-handedly separated from its original owner, laughing as NATO unveils the stockpile of strong adjectives that have been its principle weapons in containing the Kremlin's aggression.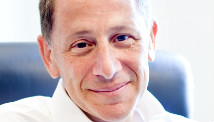 David Rothkopf
Then, as NATO's Secretary General Anders Fogh Rasmussen rolls out what they call in the political biz "the big deliverable" of the summit -- a Readiness Action Plan that will make 4,000 troops available within two days of a Russian incursion into a member state -- one can only hope that Kremlin doctors are standing by, because Putin could injure himself laughing.
First of all, NATO members are already supposed to be guaranteed protection by virtue of their very membership. One would imagine that each had in mind something considerably more robust and more rapid than this middling unit the alliance has dreamed up.
This is little more than a tepid response gesture, a sign not of strength, but one that shows how the world's most powerful alliance is now utterly adrift.
There will be many speeches suggesting that NATO is re-energized by Putin's threat. There will be lots of self-congratulations on the effectiveness of economic sanctions levied against the Russians. There will be talk of new mega-sanctions that will really keep them in line. But Putin will sit there watching, perhaps munching on pieces of deep fried Siberian tiger that he killed with his bare hands, as he contemplates that everything he wanted he got, and that all he wants he can get -- at a low, low price.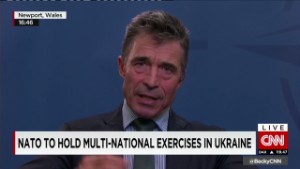 NATO increases presence in Ukraine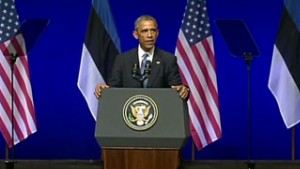 Obama calls on Europe to defend Ukraine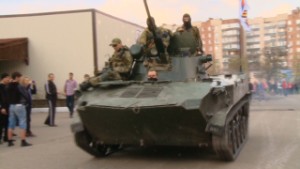 NATO challenges with Russia
No one even discusses whether Putin can keep Crimea, which he claimed without a shot being fired. Whether he ultimately annexes Eastern Ukraine or simply drives home the message that it has deep ties to Russia and that Moscow will expect to be consulted regarding its fate, he knows he is in the negotiating position of strength.
He knows for two reasons. First, he sees that neither the United States nor its European allies have much appetite to stand up to him. Time after time as he tested them -- in Georgia, in Ukraine, in Syria -- they grumbled and then blinked. They are too self-absorbed and caught up in domestic problems. And frankly, they don't care that much about Georgia or Ukraine or Syria.
Also, he has discovered that NATO and the West are designed to confront extreme threats, not the moderate, incremental, creeping gains he has achieved. NATO effectively has two settings when it comes to aggression in Europe's east: off and global thermonuclear war. He has worked the middle ground and the lack of resolve of his opponents with considerable skill. He also knows the truth. He is merely toying at the periphery of NATO and frankly, rhetoric aside, he is no threat to regions deeper into Europe.
Putin is a distraction with which NATO is ill-prepared to deal. It faces much greater threats: The spread of Islamic extremism is destabilizing the world from Africa to Asia. Although NATO is equally ill at ease in confronting that deepening crisis, with extremist foreign fighters passing through or hailing from NATO member states, it faces an even bigger crisis from within: a leadership void. The European Union lacks the will, the culture and the institutional mechanisms to make real unified foreign policy. The United States is in a moment of seeming confusion about its role in the world. The revitalization of the alliance everyone is calling for is a good idea, urgently needed, but there are few signs it is really on the horizon.
As a consequence, Putin can watch the NATO show and enjoy it for what it is: a diversion. The rhetoric might get heated. Some might suggest that he, for all his cool calculation and his so far effective gambits, is the mad man in this scenario. But watching the current version of this superannuated, divided, leaderless alliance, he knows that when it comes to standing up to him in Ukraine, NATO is the house of cards.
Read CNNOpinion's new Flipboard magazine
Follow us on Twitter @CNNOpinion.
Join us on Facebook.com/CNNOpinion