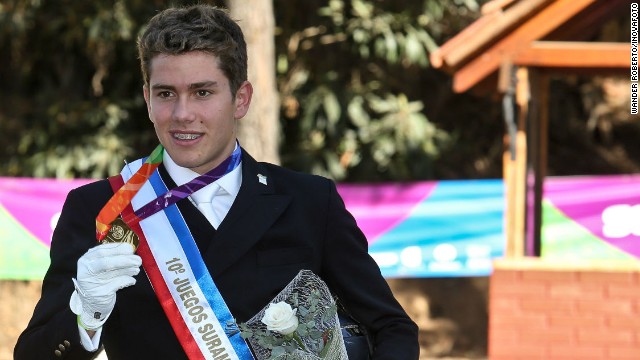 If your mum was an Olympic medalist, how far would you go to match her? Joao Victor Marcari Oliva, a Rio 2016 equestrian hopeful, has moved from his native Brazil to the dressage hub of Germany.
Oliva's mother is Hortencia -- pictured left -- who won Olympic silver as the star of Brazil's women's basketball team at Atlanta '96.
Hortencia remains a well-known sports personality in Brazil, having also helped her nation to the world title in 1994.
Hortencia played in the Atlanta Games despite giving birth to Joao just five months earlier. Then 36, she is pictured introducing baby Joao (and his nanny) to basketball during a training session ahead of the 1996 Olympics.
Fast forward more than a decade, and Joao -- 14 in this photo -- is pictured with his mother and father (businessman and horse breeder Jose Victor Oliva). Joao says he has his mother's sporting nature, but inherited his father's passion for horses.
Dressage has been neglected in Brazil -- showjumping is the nation's equestrian sport of choice -- but Oliva is among a select group of Brazilian riders hoping to do the host nation justice at the Rio Games in 2016.
Luiza Almeida is another Brazilian dressage hope for 2016. She was just 16 when she made her Olympic debut at Beijing 2008 (pictured), becoming the youngest equestrian athlete in the history of the Games.
Rodrigo Pessoa is arguably Brazil's best-known rider. The showjumper led the Brazilian team into the London 2012 opening ceremony as he prepared to take part in his sixth Olympic Games.
Pessoa won the Athens 2004 Olympic showjumping title, but only once Irish rider Cian O'Connor had been disqualified -- months after the event -- following the revelation that his horse had tested positive for a prohibited substance. Here Pessoa receives the gold medal, at last, a year later in front of Rio's Sugarloaf Mountain.
Brazil's National Equestrian Center, in the Deodoro cluster of venues, will host horse events at the Rio 2016 Games. This photo shows the venue in August 2014, prior to renovation work ahead of the Olympics.
Brazil's Olympic hopefuls on horseback
Brazil's Olympic hopefuls on horseback
Brazil's Olympic hopefuls on horseback
Brazil's Olympic hopefuls on horseback
Brazil's Olympic hopefuls on horseback
Brazil's Olympic hopefuls on horseback
Brazil's Olympic hopefuls on horseback
Brazil's Olympic hopefuls on horseback
Brazil's Olympic hopefuls on horseback
Brazil's Olympic hopefuls on horseback
STORY HIGHLIGHTS
Son of Brazilian basketball star is Rio Olympics hopeful in dressage
Joao Victor Marcari Oliva, 18, heads next generation of Brazilian riders
Eventing superstar Mark Todd is coaching Brazil team for home Rio Games
Showjumpers lead the way for next Olympic host thanks to "hero" Rodrigo Pessoa
Follow us at @WorldSportCNN and like us on Facebook
(CNN) -- Joao Victor Marcari Oliva could become one of Brazil's brightest Olympic talents, if he can step out of the shadows of a legend: his mum.
Oliva is the son of Hortencia Marcari, who led Brazil's women to the basketball world title in 1994 and Olympic silver at the Atlanta Games two years later.
"Hortencia is a celebrity at the level of a great soccer star here in Brazil," says basketball writer Marcos Antonio.
"She was a born scorer, a 'clutch player' -- it was almost impossible to block her shots. She was always on TV."
Oliva says: "Every time I'm walking down the street with my mum, there are a lot of fans taking photos of her and people asking for autographs. Sometimes that gets boring -- but it's nice."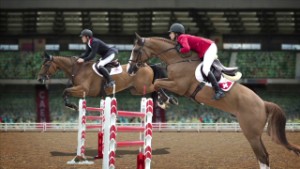 World Equestrian Games kicks off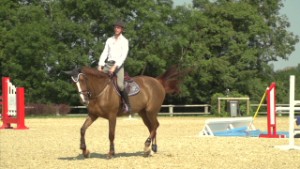 French star's home pressure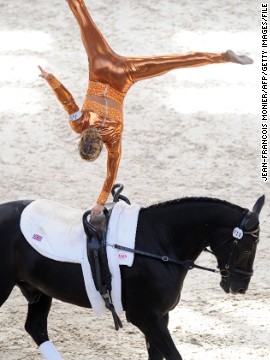 Joanne Eccles on her way to victory at the 2012 FEI World Vaulting Championship in France, competing on her family's horse W.H. Bentley.
Eccles also competed in the "pas de deux" pairs discipline with her younger sister Hannah at the same event in Yvre-L'Eveque.
Their father John -- pictured right -- serves as Joanne's lunger, directing the horse from the center of the circle while his daughter competes on its back.
The British equestrian rider won her first vaulting world title in 2010, also on W.H. Bentley.
Italy's Anna Cavallaro, seen competing at a vaulting World Cup in the German city of Leipzig, is expected to challenge Eccles for world gold this year.
Germany has long been the world's leading vaulting nation. In 2013 the Germans won the European team event, which involves six vaulters, up to three of whom may touch the horse at any moment.
In 2006, U.S. rider Megan Benjamin became the first non-German in vaulting history to win women's gold at the World Equestrian Games.
Benjamin performs a split leap. Vaulting's trickiest move may be the shoot-up mount, where the vaulter springs onto the horse while facing its tail, using a combined backflip and reverse-handstand motion.
Benjamin retired from vaulting in 2012. Her relieved mother says there will be "no stress" watching August's World Equestrian Games in Normandy, France.
Male vaulters are in short supply in some nations, though France has a strong men's team. Jacques Ferrari, pictured, won European gold last year.
As well as individual and team contests, the pas de deux allows a pair of vaulters to compete at the same time. Austria, pictured, won the 2013 European title with this performance.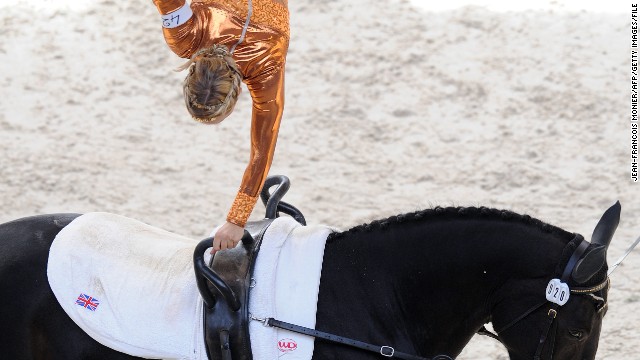 Acrobatics on horses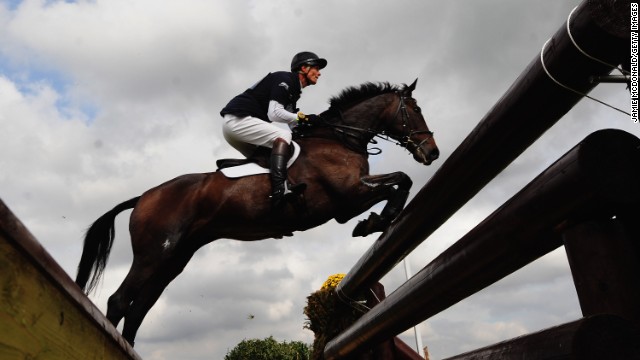 William Fox-Pitt is currently the world's No.1 ranked rider in the sport of three-day eventing.
It involves mastering three entire disciplines over three days of action, starting with the dressage.
Day two of each competition is the cross-country, the most demanding and dangerous of the challenges.
The action is then rounded off with the final day's show-jumping competition.
Among Fox-Pitt's career highs is winning Olympic silver in London 2012, but he is now targeting gold in Rio de Janeiro.
Among Fox-Pitt's many interesting back stories out of the saddle is the fact that he taught the singer Madonna how to ride.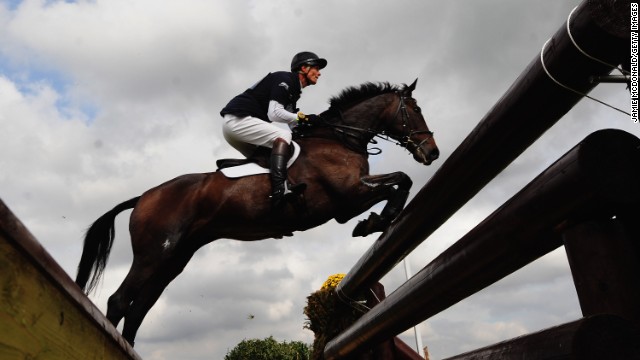 Three in one for Fox-Pitt
A fraction taller than his mother at 180 cm (5 foot 10 inches), the teen has shunned a career in basketball. His heart is set on an entirely different sport: dressage.
"I have my mother's blood when it comes to sport, but my father bred horses. When I was young, I spent all my time with them," says the 18-year-old, whose mother played in the Atlanta '96 basketball final just months after he was born.
"If my mother was someone else, I wouldn't be talking to you. A lot of people in the media speak to me because they know my mum. I think that's a good thing: it's good for me, and good for my job."
With a home Olympic Games two years away, the Brazilian equestrian team is in the middle of an unprecedented push for success on the world stage.
Oliva belongs to the next generation of Brazilian riding talent hoping to capture imaginations, if not medals, at Rio 2016.
Brazil has virtually no history of dressage -- one of three equestrian disciplines at the Olympics -- so Oliva has moved to Germany, one of the sport's leading nations, to find better tuition.
"I don't want to win in Rio -- I don't think that's possible," he says. "I have a lot to learn and Europe is too strong in the sport. But I'm here, and I will learn like a European. I think I can be a good rider."
The nation has hired world-renowned experts to help its riders develop. New Zealand's Mark Todd, for example, is coaching the Brazilian eventing team.
Todd is one of the most successful riders in the history of eventing, which combines dressage, cross-country riding and showjumping. At 58, he has twice won Olympic titles (in 1984 and 1988) alongside three bronze medals, including one at London 2012.
"The Brazilians are a long way behind, but they're very enthusiastic," says the 58-year-old, who coaches some of the riders at his base in Wiltshire, England, alongside several trips to South America each year.
"One of the things which struck us most is how little they knew. Yes, they could all ride. But as far as training horses goes? A lot of them didn't have much of an idea about basic stuff.
How good was Hortencia?

Hortencia, mum of dressage star Joao Victor Marcari Oliva, was a Brazilian basketball legend. Former Peru coach Nelson Isley remembers her on-court achievements:

"Hortencia was at her greatest in 1990 and 1994, when Brazil won its only world title.

"She is the best I have ever seen in the game, even though there are so many outstanding women today.

"Brazil had some other great players but Hortencia was the motor in the car. The country was crazy about women's basketball in her era."
"Another thing I will say is that the funding system from the government is very hard to fathom. Although there is money available, the system isn't practical and there are huge amounts of red tape. You're asked to do a job and they say there will be help, but you spend six months of the year faffing around."
Moving to Europe, like those who have moved to train with Todd, is a rite of passage for many Brazilian riders. Standards are markedly higher east of the Atlantic.
Showjumper Marlon Zanotelli moved to Belgium to further his career, even though -- unlike dressage and eventing -- his discipline has history in Brazil. Zanotelli is aiming to follow in the footsteps of his hero, Rodrigo Pessoa, at his home Games in Rio.
Pessoa, now 41, became a star of Brazilian horse sport by winning jumping gold at the Athens Olympics in 2004. He has a world title and many other honors to his name.
"Rodrigo has always been my idol," says Zanotelli. "When they talk about horses, people talk about Rodrigo -- even people who have never seen showjumping. They know who he is.
"There will never be another Rodrigo but I want to win medals and events like he did."
The 26-year-old spent his childhood on the road with his father, a moderately successful eventer named Mario, at tournaments across Brazil.
"Everything is completely different in Europe," says the younger Zanotelli. "In Brazil almost everyone has grooms, everyone is spoiled. Here in Europe, most people do all the jobs themselves -- they help the horse themselves, they know how to do everything.
"Luckily, my dad always made me do everything too, so I had some experience of that. Otherwise, I would have arrived here and been completely lost."
Brazil has no shortage of aspiring talent: comparatively new faces like Oliva and Zanotelli line up alongside the likes of Doda Miranda in showjumping and Roger Clementino -- the first African-Brazilian to reach the Olympics, who taught a young Oliva -- in dressage.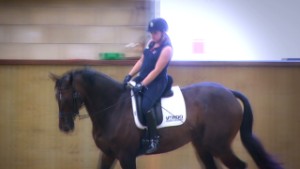 How horse sport's unbeatable team stays on top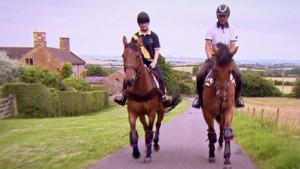 Eventers prepare for FEI Alltech World Equestrian Games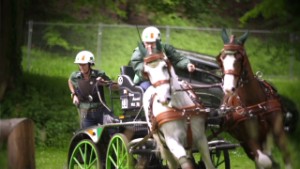 What is carriage driving?
Then there is Luiza Almeida, who made her Olympic dressage debut at Beijing 2008 aged just 16, the youngest equestrian rider in the history of the Games.
But Todd says Brazil's success in 2016 will depend on finding quality horses before Rio.
"No matter how good the riders are, you've got to have good horses, too," he cautions. "And good horses take time to produce.
"One of the biggest problems for Brazil is the lack of horse power. Although the Olympics are two years away, two years is nothing in terms of getting a horse educated to compete against all the other countries at the top level."
The Alltech FEI World Equestrian Games, taking place in France, are the biggest test of Brazilian riders -- and their current lineup of horses -- prior to the Rio Olympics.
But the riders are already looking to Rio, and what could be the greatest equestrian show of their lives.
"Brazil will put on a great party," says Zanotelli, who rode well to sit 22nd, seven places behind compatriot Pessoa, after two rounds of showjumping at the World Equestrian Games.
"Many people said many things about the World Cup -- even Brazilians were saying bad things about it -- but in the end, it was a big success.
"This is a big country, and we have a lot of issues, but when the time comes for an event we have really good people who love to host foreigners and put on a good show.
"Every day, when you wake up in the morning, an Olympics in your own country gives you the motivation to keep working. I think it's going to be amazing."
Read: Sea, sand and saddles in Normandy
Read: World Equestrian Games - 10 things to watch