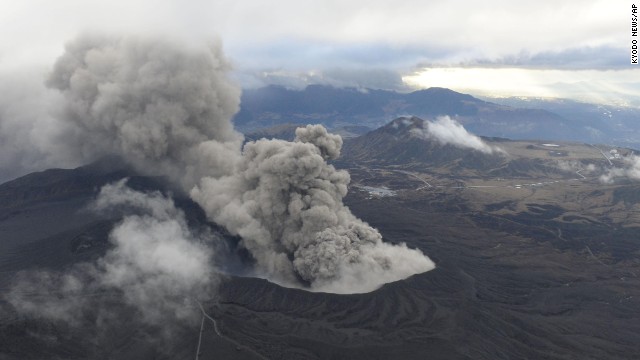 Volcanic smoke billows from Mount Aso on the southern Japanese island of Kyushu on Wednesday, November 26. The volcano is blasting out chunks of magma in its first eruption in 22 years, prompting flight cancellations and warnings to stay away from its crater.
The Turrialba volcano in Costa Rica spews ash on November 1.
Lava flows from the Kilauea volcano October 3 in Pahoa, Hawaii. The flow has recently picked up speed, prompting emergency officials to close part of the main road through town and tell residents to be prepared to evacuate.
Japan's Mount Sakurajima erupts on September 29. It was the second volcano in two days to erupt in Japan.
Dense white plumes rise high in the air as Mount Ontake erupts in central Japan on September 27.
Mount Slamet spews lava and gas during an eruption in Brebes, Indonesia, on September 18.
Fountains of lava spurt from a fissure in the ground on the north side of the Bardarbunga volcano in Iceland on September 2.
Mount Tavurvur erupts August 29 in eastern Papua New Guinea, forcing local communities to evacuate and international flights to be rerouted.
The Tungurahua volcano, as seen from Ambato, Ecuador, spews a column of ash on April 4. The volcano emitted a 6-mile-high column of ash after a powerful, five-minute explosion that shot pyroclastic material onto its northern and northwestern flanks. The volcano has been active since 1999, with several major eruptions in that span.
A villager in Karo, Indonesia, bathes in a river while Mount Sinabung erupts, spewing lava and giant clouds of ash on January 21.
Mount Etna, as seen from the town of Acireale, Italy, spews lava during an eruption on November 16.
Smoke and ash spew from Mount Sakurajima, in Kagoshima, Japan, on October 7, 2013.
Lava from the Puu Oo cone of the Kilauea volcano reaches the Pacific Ocean on the southeastern coast of Hawaii Island in January 2013. Puu Oo has been erupting for more than 30 years. This eruption, on the volcano's east rift, began in January 1983.
The Karymsky volcano erupts in Kamchatka, Russia, in January 2013.
The Copahue volcano emits smoke and ash above Caviahue, in Argentina's Neuquen province, in December 2012.
Western Mexico's Colima volcano emits lava in October 2004. The Global Volcanism Program reported "a bright thermal anomaly" as well as gas emission in November 2013.
Recently active volcanoes
Recently active volcanoes
Recently active volcanoes
Recently active volcanoes
Recently active volcanoes
Recently active volcanoes
Recently active volcanoes
Recently active volcanoes
Recently active volcanoes
Recently active volcanoes
Recently active volcanoes
Recently active volcanoes
Recently active volcanoes
Recently active volcanoes
Recently active volcanoes
Recently active volcanoes