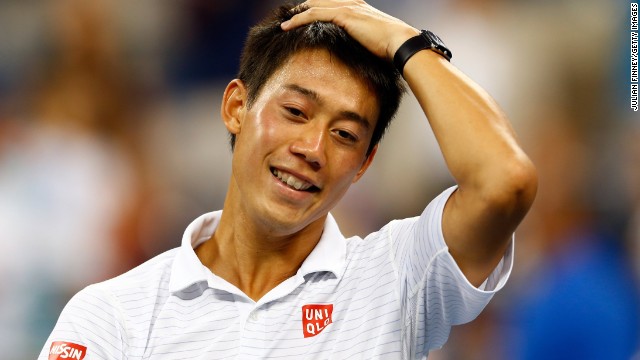 Kei Nishikori has reached the semifinals of a grand slam tournament for the first time in his career, with his exploits at the 2014 U.S. Open making him the first Japanese player to do so since 1933.
Nishikori's career has gone to another level since he started working with Michael Chang, who won the French Open as a 17-year-old in 1989, and he cracked the top 10 for the first time in May 2014.
Nishikori is yet another talent to come from Nick Bollettieri's famous Florida academy.
Bollettieri admits he didn't pay much attention to Nishikori until the academy's coaches spoke of his rapid improvement at 16. His nickname quickly became the "shotmaker."
Nishikori was inspired to play tennis by a visit to the Japan Open -- a tournament he would win in 2012 -- when he was six. His favorite player as a youngster was Morocco's Hicham Arazi.
He moved to the U.S. from Japan as a 14-year-old without knowing a word of English.
Nishikori's parents opted to send their son to Florida to advance his career after his dominance of the junior championships in Japan. The decision by his father Kiyoshi -- an engineer -- and his piano teacher mother Eri has paid off.
Nishikori turned professional in 2007 and won his first ATP Tour event at Delray Beach the following year, beating American James Blake in the final as a 244th-ranked qualifier.
Nishikori became the first Japanese player to reach the Australian Open quarterfinals for 80 years in January 2012. His defeat to Andy Murray showcased the difference in size between the then 22-year-old and the game's leading players, who are all over six foot.
Having won the 2014 Barcelona Open, Nishikori then reached his first Masters-level final in Madrid, but was forced to retire in the deciding set against Rafael Nadal due to a back injury. He was in control of the match before the injury took its toll.
Nishikori then made his deepest run at Wimbledon, before losing in the fourth round to Canada's Milos Raonic.
However, Nishikori earned revenge over the big-serving Raonic as he triumphed at the same stage at the U.S. Open in a marathon match that equaled the latest finish at Flushing Meadows, ending at 2:26 a.m.
Nishikori followed that up by defeating Australian Open champion and world No. 4 Stan Wawrinka in another five-set battle to set up a semifinal clash with top-ranked Novak Djokovic.
Big chance
Rising star
Tennis talent school
'The shotmaker'
Early inspiration
American ambition
Big decision
Breakthrough win
Size matters
Injury blow
Grass gains
New York nights
Another epic
STORY HIGHLIGHTS
Kei Nishikori will play in his first grand slam inal at the U.S. Open on Monday
He is the first Japanese male to reach Grand Slam final
Nishikori is highest ranked Japanese man of Open Era, having broken top 10
His exploits have created a surge of interest in tennis back home
Follow us at @WorldSportCNN and like us on Facebook
(CNN) -- With his heroics at the U.S. Open in New York, Kei Nishikori has blazed a trail through history.
Defying injury, an all-night marathon and several of the world's best tennis players, he became the first Asian man to reach a Grand Slam singles final.
The 24-year-old dredged up a seismic shock to dispatch world No. 1 Novak Djokovic on Saturday and even though he lost to Marin Cilic in Monday's final, there's surely more to come from Nishikori.
Read: Nishikori shocks Djokovic
"We have been waiting such a long time for a star like this so this is a very big moment," says Hitoshi Ko of Japan's Smash Tennis magazine.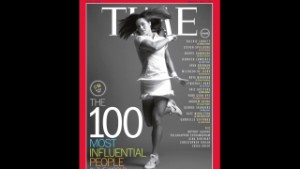 Asia's tennis superstars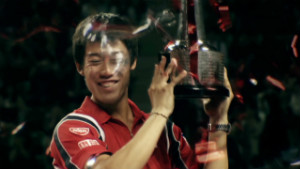 Kei Nishikori: Tokyo's rising tennis ace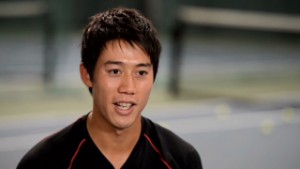 Japan's 'rock star' tennis pro
If this suggests Japanese tennis history adds up to a barren wasteland, it does not tell the full story. While the post-1968 Open Era has produced consistent under-performance, the Land of the Rising Sun once enjoyed a golden age.
The boom was sparked by an expatriate elite that adopted the game, known as a sport for gentlemen, on their travels in the early 20th century, particularly in England.
The aristocrats went on to establish clubs and tournaments back home. Participation and standards climbed, and Japanese players became a serious force during the interwar years.
Among the finest of these, Zenzo Shimizu reached the Wimbledon "All comers' final" of 1920 -- a match that would decide who took on the defending champion for that year's title. In the prestigious grass-court tournament's original format, the titleholder had to play just once.
Shimizu lost in three close sets to American Bill Tilden, who would go on to beat Australian Gerald Patterson for the first of 10 grand slam titles in an illustrious career, but he had made his mark as a rising star.
The Japanese established a national association the same year, which allowed them to enter the 1921 Davis Cup with a formidable two-man team of Shimizu and Ichiya Kumagae, a banker by trade once described as the "best player in America" by the New York Times. He reached the semifinals of the 1918 U.S. Nationals and won silver medals in singles and doubles at the 1920 Olympics.
The pair reeled off Davis Cup triumphs over Philippines, Belgium, India and Australia before eventually succumbing to the U.S. in the final.
This remains Japan's best performance in the prestigious competition and was a source of great national pride. A Japan Times article praised the "tennis marvels ... doing as much to put Japan right before the world as all the diplomats put together."
The pair continued to enjoy success and were joined by fresh talent. Jiro Sato soared in a run of five grand slam semifinals in a little over two years.
He beat legends of the game Jack Crawford and Fred Perry and seemed set to claim a top title. But Sato's career ended tragically in 1934 when he leaped to his death from a ship after a Davis Cup defeat, leaving a note that expressed his shame.
World War II marked the end of his nation's ascendancy, ushering in a fallow period that would endure to the present day.
After Japan had recovered enough to contemplate sport, tennis remained popular with aristocrats -- including the royal family and Crown Prince Akihito -- but public interest slipped away toward baseball and football, and the talent production line ceased.
Through the professional era, male Japanese players barely troubled the top 100, with Jun Kamiwazumi's third-round performance at the 1973 U.S. Open among the highlights. It was not until the 1990s heyday of Shuzo Matsuoka that any respectability was restored.
That period also witnessed the rise of a women's star in Kimiko Date, who reached three grand slam semifinals and a high of fourth in the rankings before retiring. Since her comeback in 2008 she has added another WTA Tour title to her career haul, is the oldest player in the top 100 singles rankings and reached the women's doubles semis in New York just over three weeks away from her 44th birthday.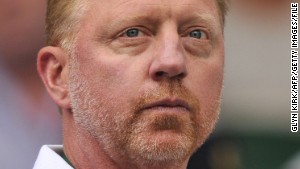 Becker: Reaction to coaching job surprised me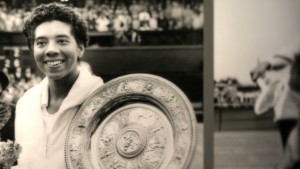 Althea Gibson's Tennis legacy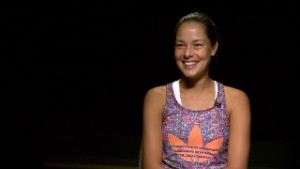 Ana Ivanovic fights to regain number 1 status
Matsuoka never passed a grand slam quarterfinal, but his contribution is being felt now. Nishikori calls him "the first" successful Japanese men's player, the only role model on his route to the top. Passing his hero's ranking of 46 was Nishikori's driving motivation until he attained it.
Now, having entered the top 10 in May and breaking new ground every season, he could be launching a new golden era. Sponsors, publicity and funding have poured into the game off the back of Nishikori's efforts. Public interest and attendances surged last year after he became the first home champion of the Japan Open since 1972 -- he won the title in October 2012 -- and peaked again this week due to his New York success.
Not that Nishikori gets to see much of that, since he lives in Florida.
Seven Japanese players are ranked in the men's top 200 -- a record in the Open era -- though Nishikori is the only one in the top 100.
However, journalist Ko is not yet convinced the structure is in place for Japan to become an elite tennis nation.
"Kei grew up practicing at the (Nick Bollettieri) academy in Florida," he said. "I think we still don't have enough players or quality coaches. Maybe more players should learn abroad."
Ko has no doubt that Nishikori's run in New York represents Japan's greatest moment in tennis and one of its greatest in any sport. The jubilation sweeping the country suggests he is right. At last, Soto and Shimizu have an heir to fulfil the nation's dreams.
Read: Federer back from the brink
Read: Nishikori stuns Wawrinka in New York
Read: Project 10 -- Japan's rising son Nishikori