STORY HIGHLIGHTS
NEW: President Barack Obama says he's hopeful but skeptical about the ceasefire
Ceasefire ordered by President Petro Poroshenko comes into effect
President asks Ukrainian Foreign Minister and OSCE to monitor compliance
EU member states are considering a new round of sanctions against Russia
Moscow (CNN) -- Ukraine's government and separatist leaders signed a ceasefire deal Friday after talks in Belarus, raising hopes of an end to the nearly five-month conflict that has wracked eastern Ukraine.
The ceasefire went into effect at 6 p.m. local time (11 a.m. ET) on the order of Ukrainian President Petro Poroshenko.
It was not immediately clear if it would hold.
Artillery fire and explosions were heard in the eastern Ukrainian city of Donetsk as of 6 p.m. local time, the city's website said.
But a CNN team in southeastern Ukraine, where Ukrainian forces and the rebels have engaged in fierce fighting this week between the Russian border and the port city of Mariupol, said that as of 20 minutes into the ceasefire period there had been no renewal of artillery fire.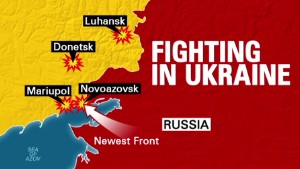 Ceasefire deal reported in Ukraine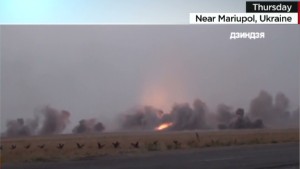 Fighting in Ukraine before ceasefire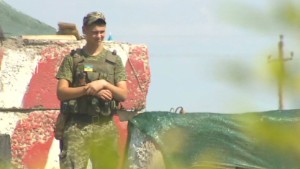 Truce between Ukraine and rebels?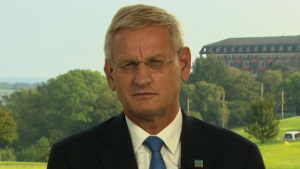 Swedish minister outlines Russia measures
President Barack Obama said he was hopeful but skeptical that a ceasefire in Ukraine would hold, questioning if pro-Russian rebels would adhere to it.
Obama, speaking at the end of a NATO summit in Wales, added that NATO was "fully united in support of Ukraine's sovereignty, independence, territorial integrity and ability to defend itself."
Member nations would send nonlethal military aid and help modernize Ukraine's security forces while the United States and European allies finalize measures "to deepen and broaden sanctions" against Russia, he said.
"Russia's aggression against Ukraine threatens our vision of a Europe that is whole, free and at peace." he said.
Speaking to reporters at the same summit, Poroshenko said the ceasefire deal was based on his peace plan and an agreement reached in a phone call this week with Russian President Vladimir Putin.
He said the sovereignty, territorial integrity and independence of Ukraine were key to the 12-point plan. He also said he hoped the exchange of prisoners would start in the near future, perhaps as soon as Saturday.
Poroshenko said it was important that ceasefire lasted, and that during this period a political dialogue should continue on restoring peace and stability to the Luhansk and Donetsk regions.
"We are ready to provide significant steps, including the decentralization of power," he said, as well as greater economic freedoms for the Luhansk and Donetsk regions and guarantees that their culture and language be respected. Many in the region are Russian speaking.
The self-styled Donetsk People's Republic Twitter feed also said the ceasefire had been signed and that it would come into effect at 6 p.m. local time.
However, the ceasefire does not mean the end of the Donetsk People's Republic and the Luhansk People's Republic, separatist leaders said at a televised news conference after signing it.
Poroshenko has asked his foreign minister and the Organization for Security and Cooperation in Europe, which already has international observers in Ukraine, to monitor compliance with the ceasefire.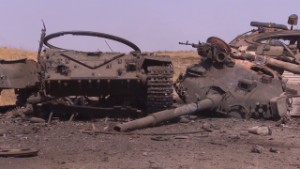 Ukraine fighting on the ground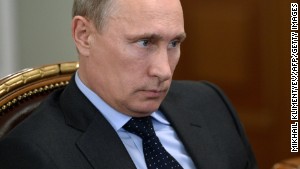 NATO to pressure Russia over Ukraine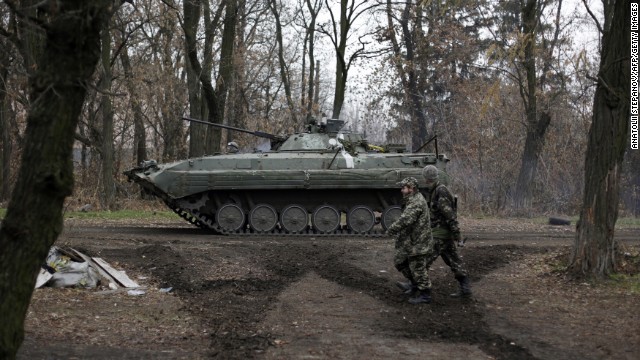 Ukrainian servicemen walk past an armored personnel carrier in the village of Peski, Ukraine, on Wednesday, November 19. Fighting between Ukrainian troops and pro-Russian rebels in the country has left more than 4,000 people dead since mid-April, according to the United Nations.
Men repair an engine at the military base in Perevalsk, Ukraine, on Wednesday, November 5.
Pro-Russian rebels fill out ballots at a polling station during rebel elections in Donetsk, Ukraine, on Sunday, November 2. Moscow has said it will recognize the results of the vote in the provinces of Donetsk and Luhansk, while the government in Kiev, the United States and European Union have condemned the elections as illegitimate.
Election officials empty a ballot box in Donetsk on November 2.
A man reads a ballot before casting his vote for the Ukrainian parliamentary elections in Konstantinovka, Ukraine, on October 26.
Pro-Russian rebels fire artillery Tuesday, October 14, at Donetsk Sergey Prokofiev International Airport, which is on the outskirts of Donetsk.
Smoke rises behind the train station in Donetsk during an artillery battle between pro-Russian rebels and Ukrainian government forces on Sunday, October 12.
Ukrainian President Petro Poroshenko, center, inspects Ukrainian army positions close to Donetsk on Friday, October 10.
The main terminal of the Donetsk airport is hit by shelling on Wednesday, October 8.
Pro-Russian rebels fire mortars toward Ukrainian positions close to the Donetsk airport on October 8.
A pro-Russian rebel walks past a burning house after shelling in Donetsk on Sunday, October 5.
An Ukrainian sniper aims his weapon at a checkpoint near Popasna, Ukraine, on Thursday, October 2.
Smoke rises from the area near the Donetsk airport after heavy shelling on October 2.
An injured man is transported at a hospital after shelling in Donetsk on Wednesday, October 1.
A woman injured at a bus station cries at a Donetsk hospital on October 1.
A pro-Russian rebel guards a damaged school in Donetsk on October 1.
Ukrainian servicemen patrol in the Donetsk region on Friday, September 26.
A pro-Russian rebel guards a destroyed bridge in Nyzhnya Krynka, Ukraine, on Tuesday, September 23.
Residents clean up debris at a building damaged by rockets in Debaltseve, Ukraine, on Monday, September 22.
A firefighter checks out a damaged office building after shelling in Donetsk on Sunday, September 21.
A Ukrainian soldier guards pro-Russian rebels during a prisoner exchange near Donetsk on September 21.
Members of the Ukrainian military, held as prisoners of war, sit in a bus waiting to be exchanged near Donetsk on Saturday, September 20.
Smoke rises after an explosion at a weapons factory controlled by pro-Russian rebels near Donetsk on September 20. The cause of the explosion was not immediately known.
A Ukrainian helicopter patrols an area near Donetsk on September 20.
A firefighter walks past the rubble of a building destroyed by shelling in Donetsk on Wednesday, September 17.
A protester holds a smoke bomb during a demonstration outside the Presidential Palace in Kiev, Ukraine, on September 17. Activists protested the adoption of legislation giving greater autonomy to rebel-held parts of eastern Ukraine's Donetsk and Luhansk regions.
A man covers the body of his mother, who was killed on a bus during a battle in Donetsk on Tuesday, September 16.
People walk through a market Monday, September 15, in the Kievsky district of Donetsk.
Smoke rises around the Donetsk International Airport on Saturday, September 13, as shelling continues between pro-Russian rebels and the Ukrainian army.
A Ukrainian soldier stands guard as residents rally in support of a united Ukraine in the southern Ukrainian city of Mariupol on September 13.
Russian trucks, flying Russian flags and carrying humanitarian aid for eastern Ukraine, line up at a border checkpoint in Donetsk on September 13.
Workers unload supplies from Russia in Luhansk, Ukraine, on September 13. More than 200 Russian trucks entered Ukraine with supplies for the city, which has been cut off from electricity and water for weeks.
Ukrainian soldiers ride on an armored vehicle near Kramatorsk, Ukraine, on September 13.
People look at a large crater from a reported missile strike that hit a bus station Friday, September 12, in Makiivka, Ukraine.
Workers clear rubble Thursday, September 11, after the bombing of a mine in Donetsk.
A column of Ukrainian forces is seen in Volnovakha, Ukraine, on September 11.
An elderly woman sits next to a Ukrainian soldier standing guard in Volnovakha on September 11.
Armed pro-Russian rebels walk September 11 in front of the destroyed Luhansk International Airport. The rebels took control of the airport on September 1 after heavy fighting with the Ukrainian army.
Residents of Lutuhyne, Ukraine, push containers in a wheelbarrow September 11 as they walk between destroyed armored vehicles left behind by the Ukrainian army.
Ukrainian troops protect themselves from a nearby shooting in Debaltseve on Tuesday, September 9.
Young residents of Berdyansk, Ukraine, dig trenches September 9 to help Ukrainian forces protect the city from possible rebel attacks.
Ukrainian President Petro Poroshenko, left, inspects military personnel during a visit to Mariupol on Monday, September 8.
A pro-Russian rebel stands next to a truck with a heavy machine gun attached to it Sunday, September 7, in Donetsk.
Homes smolder after being hit by shelling in Donetsk on September 7.
A woman stands next to a road sign September 7 after an overnight bombing attack at an Ukrainian army checkpoint on the outskirts of Mariupol.
Ukrainian troops stand on a deserted road as they patrol the border area of the Donetsk and Luhansk regions Friday, September 5, near Debaltseve.
A man repairs damage to a building caused by shelling in Donetsk on September 5.
Smoke rises on the outskirts of Mariupol after pro-Russian rebels fired heavy artillery on September 5.
Ukrainian soldiers ride a tank on a road close to where pro-Russian rebels fired heavy artillery outside Mariupol on September 5.
A wounded Ukrainian soldier is helped by a medical team on the outskirts of Mariupol on September 5.
A pro-Russian rebel holds a destroyed weapon in the village of Novokaterynivka, Ukraine, on Thursday, September 4.
Unmarked military vehicles burn on a country road in Berezove, Ukraine, on September 4 after a clash between Ukrainian troops and pro-Russian rebels. For months, Ukrainian government forces have been fighting the rebels near Ukraine's eastern border with Russia.
People wait by their cars near Berezove on September 4 as rockets hit the road ahead.
A pro-Russian rebel holds a dog, which has a hand grenade attached to its leash, in Donetsk on Wednesday, September 3.
Pro-Russian rebels fire at Ukrainian army positions in Donetsk on September 3.
A Ukrainian military vehicle patrols in the Donetsk region on September 3.
Pro-Russian rebels hold a man near a column of destroyed Ukrainian military vehicles in Novokaterynivka on Tuesday, September 2.
A Ukrainian military truck passes by a serviceman resting in his military camp in Ukraine's Donetsk region on September 2.
A destroyed Ukrainian military vehicle sits abandoned on the side of the road near Novokaterynivka on September 2.
Men clear rubble in Ilovaisk, Ukraine, on Sunday, August 31.
Ukrainian troops leave the rebel-held town of Starobesheve on Saturday, August 30.
A Ukrainian loyalist fighter from the Azov Battalion stands guard on a hill on the outskirts of Mariupol on August 30.
A pro-Russian rebel listens to the news on a transistor radio in the town of Novoazovsk, Ukraine, on Friday, August 29.
Ukrainian soldiers stop on a roadside as they wait for the start of their march into Mariupol on Wednesday, August 27.
A man opens a box filled with rocket-propelled grenades left by the Ukrainian army in Starobesheve.
A pro-Russian rebel walks through a local market damaged by shelling in Donetsk on Tuesday, August 26.
Ukrainian servicemen of the volunteer battalion Azov leave for Novoazovsk on August 26.
Pro-Russian rebels escort captured Ukrainian soldiers in a central square in Donetsk on Sunday, August 24.
People yell as Ukrainian prisoners are paraded through Donetsk in eastern Ukraine on August 24.
A pro-Russian rebel delivers a speech atop a damaged Ukrainian armored personnel carrier in Donetsk on August 24.
People look at damaged Ukrainian military equipment in Donetsk on August 24.
The first trucks of a Russian aid convoy roll on the main road to Luhansk in eastern Ukraine on Friday, August 22. The head of Ukraine's security service called the convoy a "direct invasion" under the guise of humanitarian aid since it entered the country without Red Cross monitors.
A pro-Russian rebel holds shrapnel from a rocket after shelling in Donetsk on August 22.
Residents sit in a makeshift bomb shelter during a shelling in Makiivka on Wednesday, August 20.
Dogs play together as a Russian convoy carrying aid supplies stops at a border control point with Ukraine on August 20.
Ukrainian forces take their position not far from Luhansk on August 20.
Clouds of smoke are on the horizon as Ukrainian forces and pro-Russian rebels clash in Yasynuvata, Ukraine, on Tuesday, August 19.
An Ukrainian helicopter flies near Kramatorsk on August 19.
Ukrainian soldiers load a missile during fighting with pro-Russian rebels Monday, August 18, near Luhansk.
Boys play at a refugee camp, set up by the Russian Emergencies Ministry, near the Russian-Ukrainian border on August 18.
Ukrainian soldiers carry weapons at a checkpoint near Debaltseve on Saturday, August 16.
Pro-Russian rebels greet each other as they pass near Krasnodon, Ukraine, on August 16.
A fireman tries to extinguish a fire after shelling in Donetsk on August 16.
Ukrainian border guards patrol near Novoazovsk on Friday, August 15.
Trucks of a Russian humanitarian convoy are parked in a field outside the town of Kamensk-Shakhtinsky, in the Rostov region of Russia about 20 miles from the Ukraine border, on August 15. Ukrainian officials were preparing to inspect the convoy, which was bound for the conflict-torn east.
A truck driver from the convoy jumps out of a trailer on August 15. The Ukrainian government had expressed fears that the convoy was a large-scale effort to smuggle supplies or troops to pro-Russian rebels.
A tank belonging to pro-Russian rebels moves along a street in Donetsk on August 15.
A Ukrainian soldier walks past a line of self-propelled guns as a column of military vehicles prepares to head to the front line near Ilovaisk on Thursday, August 14.
A Ukrainian soldier prepares a mortar at a position near Ilovaisk on August 14.
A man inspects damage at his house after a shelling in Donetsk on August 14.
A convoy of trucks, which Moscow said was carrying relief goods for war-weary civilians, moves from Voronezh, Russia, toward Rostov-on-Don, Russia, on August 14.
Pro-Russian rebels on the outskirts of Donetsk stand at a checkpoint near a bullet-riddled bus on Wednesday, August 13.
A pro-Russian rebel inspects damage after shelling in Donetsk on Thursday, August 7.
Smoke billows from a Ukrainian fighter jet crash near the village of Zhdanivka, Ukraine, on August 7.
Residents of eastern Ukraine cry in a hospital basement being used as a bomb shelter August 7 in Donetsk.
Ordnance from a Ukrainian rocket launcher shoots toward a pro-Russian militant position in the Donetsk region on August 7.
Relatives of Ukrainian military member Kyril Andrienko, who died in combat in eastern Ukraine, gather during his funeral in Lviv, Ukraine, on August 7.
Refugees from southeastern Ukraine wait at a refugee camp in Donetsk on Wednesday, August 6.
A pro-Russian rebel adjusts his weapon in Donetsk on August 6.
Men walk past a bomb crater in Donetsk on August 6.
A man steps out of his car as Ukrainian soldiers inspect the vehicle at a checkpoint in Debaltseve on August 6.
Ukrainian servicemen sit on a bus near Slovyansk, Ukraine, on Tuesday, August 5.
A pro-Russian separatist guards a road as Australian, Malaysian and Dutch investigators prepare to examine the crash site of Malaysia Airlines Flight 17 near the village of Rossipne, Ukraine, on August 5. U.S. and Ukrainian officials allege that a Russian-made missile shot down the plane from rebel-held territory, killing all 298 people on board. Russia and the rebel fighters deny involvement.
Rescue workers carry the body of a woman who was killed during a bomb shelling in Donetsk on August 5.
A boy stands in a hallway of a refugee hostel run by pro-Russian rebels in Donetsk on Monday, August 4.
Ukrainian servicemen from the Donbass volunteer battalion clean their guns Sunday, August 3, in Popasna, Ukraine.
Ukrainian soldiers fire shells toward rebel positions near Pervomaysk, Ukraine, on Saturday, August 2.
Ukrainian troops patrol near the village of Novoselovka on Thursday, July 31.
A woman says goodbye to her mother as she flees her home in Shakhtersk, Ukraine, on Tuesday, July 29. See more photos of the crisis from earlier this year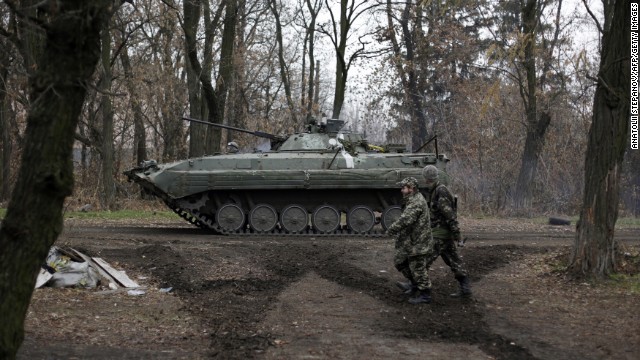 Photos: Crisis in Ukraine
"The entire world strives for peace, the entire Ukraine strives for peace, including millions of Donbas residents," he said.
"The highest value is human life. We must do everything possible and impossible to terminate bloodshed and put an end to people's suffering."
A previous unilateral ceasefire declared by the Ukrainian government in June broke down after 10 days.
Sanctions on table
A ceasefire deal may have been signed, but Putin remains under international pressure over Russia's actions in Ukraine.
UK Prime Minister David Cameron, who is hosting the summit in Wales, said in his final remarks that what Putin was doing is "indefensible and wrong."
A package of EU sanctions "is being finalized in Brussels that will further increase the economic costs to Russia for its behavior," he said.
"We stand firmly behind Ukraine's right to make its own decisions, not to have then dictated by Russian tanks rolling over the border."
Europe and the United States are firmly resolved to maintain their pressure on Russia, in support of Ukraine, he said.
"At the end of the day, Russia needs Europe and America more than Europe and America need Russia. We have to make that relationship pay," he said.
"If they go on destabilizing this country, partitioning this country, they will face more pressure," he said of the Russians.
Earlier Friday, EU spokesman Maja Kocijancic said a decision on implementing the proposed new round of sanctions "will only be taken in light of developments on the ground."
She added, "If there is a ceasefire agreed in Minsk today, member states would look at how serious it was and decide whether to go forward."
Russia: Volunteer fighters in Ukraine
Kiev and the West accuse Moscow of both arming the rebels and sending Russian troops into Ukraine to aid them -- claims Moscow denies.
Andrey Kelin, Russia's Permanent Representative to the OSCE, on Friday repeated Russia's longstanding denial that it had troops in Ukraine.
Kelin told CNN's Christiane Amanpour that there are no Russian forces in Ukraine. But, he admitted, there may be Russian "volunteers, probably former military men" who are fighting on behalf of the separatists, which he calls "freedom fighters."
The talks in the capital of Belarus, Minsk, brought together the leaders of the separatist groups with former Ukrainian President Leonid Kuchma, as well as Russian representatives.
Putin set out his own seven-point peace plan after talking by phone with Poroshenko this week.
It included a halt by both parties of "any offensive military operations" in Donetsk and Luhansk, international monitoring of the ceasefire, prisoner exchanges and the opening of a humanitarian corridor to allow aid to reach civilians.
Ukraine: Russian losses number 2,000
The conflict in eastern Ukraine showed no sign of abating Friday morning.
Col. Andriy Lysenko, a spokesman for the National Defense and Security Council, said that there had been 27 clashes in the past 24 hours, including at Donetsk airport, and that shelling from Russian territory continued.
Ukrainian forces in Mariupol have been bolstered to fight off a rebel advance, he said.
A CNN team in Mariupol witnessed shelling Thursday that indicated rebel forces were moving closer. The rebels seized the nearby Ukrainian border town of Novoazovsk last week, allegedly with the help of Russian forces, and have been threatening to advance on Mariupol.
"According to preliminary intelligence information, overall Russian losses over the period of the conflicts are about 2,000 killed," Lysenko said. It was not clear if he was referring to Russian citizens or troops.
Lysenko added that the number injured could be four times as many, and they are being treated in hospitals in Russia.
Since the conflict began in mid-April, 846 Ukrainian soldiers have died and 3,072 have been wounded, he said.
NATO warning
Russia's alleged incursion and the threat that its forces could move deeper into Ukraine have caught the attention of the West.
"This is the first time since the end of World War II that one European country has tried to grab another's territory by force," NATO Secretary-General Anders Fogh Rasmussen said. "Europe must not turn away from the rule of law to the rule of the strongest."
Putin has voiced sympathy for the separatists, many of whom are ethnic Russians. But he denies that Russia has armed and trained the rebels, or sent Russian troops over the border.
In July, Obama and the European Union announced sanctions against Russia's state-owned banks, weapons makers and oil companies, along with Putin's top cronies, an extension of previous sanctions against targeted individuals and companies.
Moscow responded by banning imports of fruits, vegetables, meat, fish, milk and dairy products from the U.S., Europe, Australia, Canada and Norway.
In what may be another retaliatory move, Russia's federal consumer rights protection service banned all confectionery imports from Ukraine, Russian state news agency ITAR-Tass reported Friday. It said the ban was imposed to protect consumer rights.
READ: NATO: An amusing show for Putin?
READ: NATO's moment of truth on Ukraine
CNN's Matthew Chance reported from Moscow, while Laura Smith-Spark wrote and reported from London. CNN's Mick Krever, Faith Karimi, Radina Gigova and Alla Eshchenko contributed to this report. Journalist Victoria Butenko also contributed from Kiev.