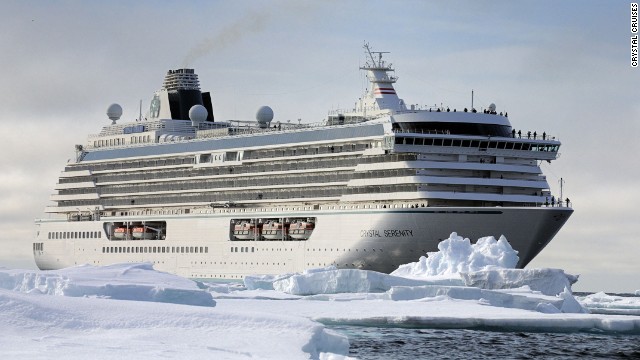 Cruise ship Crystal Serenity's planned 2016 voyage through the Northwest Passage is a sign of ever-increasing appetite for Arctic travel.
Years of planning have gone into this Northwest Passage trip. "To do this with a ship like ours, we couldn't just do this like a normal cruise," says Thomas Mazloum of Crystal Cruises. "It really is an expedition."
The boat will start in Anchorage, Alaska and end up in New York.
Wildlife is a big attraction for visitors. "I've come across a lot of uncharted water and ice in other places, but you don't get polar bears and walrus in the south. That stayed with me," says seasoned Northwest Passage sailor Richard Haworth.
A downward trend in levels of Arctic sea ice each summer means the Northwest Passage can be crossed more frequently than ever, but veterans of the region say sailors must beware "bad years" -- and many dangers remain.
Alongside the attractions of wildlife and the Arctic's sheer remoteness, cruises offer passengers the chance to explore local communities along the route.
Most Arctic communities are home to little more than 1,000 people -- similar in size to the Crystal Serenity cruise capacity.
These Ulukhaktok residents, near Inuvik in Canada's Northwest Territories, pose for a photographer from EYOS Expeditions -- a company set up to help superyachts and cruise lines travel to remote regions.
"You're never going to have 100% agreement," admits Clare Kines (not pictured) from the hamlet of Arctic Bay in Nunavut, when asked how disruptive the developing tourism industry can be. "These are very traditional communities. Hunting and being on the land are very important -- concern about that trumps everything."
The Canadian Navy maintains a presence in the Arctic, where issues over sovereignty hang over some of the various routes which form the Northwest Passage.
Reminders of early, ill-fated expeditions to traverse the Northwest Passage can still be found on the islands of the high Arctic. This replica sign commemorates a man who perished during Englishman John Franklin's 1845 expedition.
This painting by W. Turner Smith depicts the struggle endured by sailors who took part in Franklin's mission.
Franklin's was not the first attempt to uncover the Northwest Passage. In the 1820s, William Parry and the HMS Fury mounted an unsuccessful bid.
Following Franklin's doomed expedition, other UK vessels followed later in the 19th century -- including HMS Alert, seen here, which formed half of the "
Norwegian explorer Roald Amundsen became the first leader of a successful expedition through the Northwest Passage, taking three years to complete his voyage from the Atlantic to the Pacific in 1903-06.
Amundsen later tried his hand at the Northeast Passage -- now known as the Northern Sea Route -- along the Russian Arctic coast.
Northwest Passage opens up
Northwest Passage opens up
Northwest Passage opens up
Northwest Passage opens up
Northwest Passage opens up
Northwest Passage opens up
Northwest Passage opens up
Northwest Passage opens up
Northwest Passage opens up
Northwest Passage opens up
Northwest Passage opens up
Northwest Passage opens up
Northwest Passage opens up
Northwest Passage opens up
Northwest Passage opens up
Northwest Passage opens up
STORY HIGHLIGHTS
Crystal Serenity to make largest expedition through Northwest Passage in 2016
Specialists help cruise liners and superyachts navigate Arctic waters
Communities welcome new tourism trade, but some fear being overwhelmed
Canadian Coast guard raises concerns
Follow us at @WorldSportCNN, and like us on Facebook.
(CNN) -- The trip costs $20,000 to $150,000. For the money, you get a month crossing the world's final ocean frontier.
In 2016, 900 passengers will board a cruise liner named the Crystal Serenity for the largest expedition through the Northwest Passage, a sea route around the top of North America that has entranced and frustrated sailors for centuries.
"A lot of small expedition ships have now gone through the Northwest Passage and even some commercial ships," said Thomas Mazloum, executive vice president of Crystal Cruises, the operator planning the voyage.
"But we don't have 100 guests on board; we have 800 or 900. To do it with a ship like ours, we need to do it differently."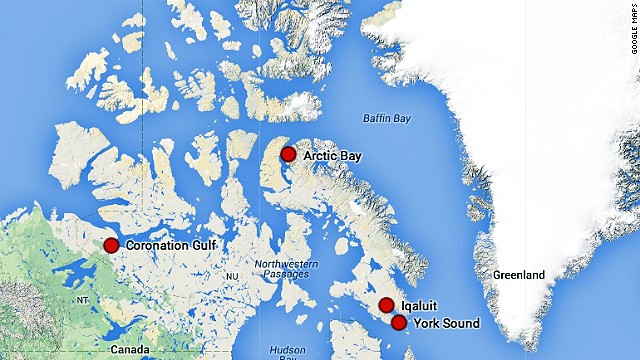 Map: The Northwest Passage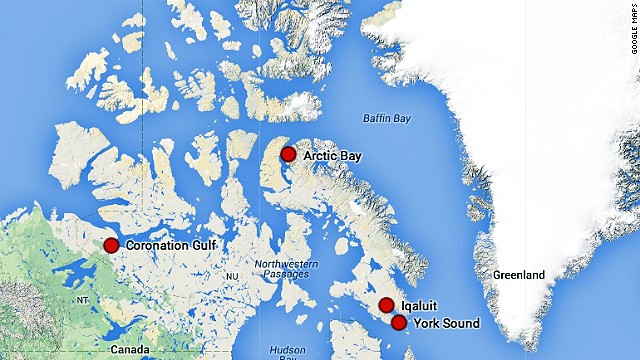 Map: The Northwest Passage
Step forward, Tim Soper. His job is to get the ship, passengers and crew through the Northwest Passage safely. The size of the task does not faze him.
"In 2012, we did the Northwest Passage with a ship called The World, where people have apartments and some live on board year-round. As a result of that, Crystal approached us and asked us to help them," Soper said.
"The World is actually of a similar size, but it carries fewer people, about 250 crew and 250 guests. The Crystal project is a step forward from what has ever been done before."
'Gap in the market'
The Crystal Serenity will follow an increasingly well-trodden path along an Arctic ocean passage once so steadfastly icebound as to be almost mythical.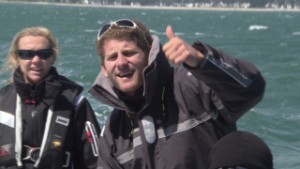 Training sailors for the world's toughest race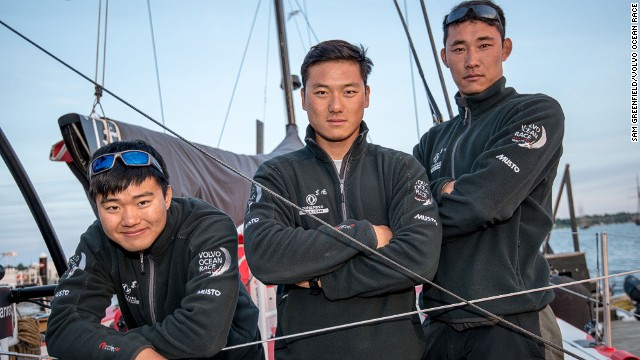 Nine months racing at sea, with one change of clothes and barely any sleep. Could you join these sailors? Here's how life would look...
You get four hours' sleep at a time, but that could be disturbed if your crewmates need your help with a manoeuvre. For the first time, all boats in the 2014 Volvo Ocean Race will be the same.
Charles Caudrelier is your skipper. The 40-year-old was part of the winning crew at the last Volvo Ocean Race and has high expectations.
All offshore sailors are aware of the dangers at sea. Boats in past races have hit whales and capsized; two competitors have died, with many more thrown overboard and subsequently rescued.
If you joined Dongfeng Race Team, you would share your space with seven crewmates -- including the skipper -- plus an on-board reporter. Hundreds of applicants initially applied.
Charles Caudrelier warns that the southernmost portion of the race will be the most dangerous, when the boat is farthest from any potential rescue operation.
Team manager Bruno Dubois says the boat's novice Chinese sailors have been trained in 10 months, where many teams take 10 years. Some hopefuls abandoned the team after their first offshore voyage.
For Dongfeng, the Chinese sponsors, this race is a chance for Chinese business to make a global mark. The sailors hope they can establish offshore sailing as a sport in China.
China has only recently enjoyed any success in sailing. "Two Chinese sailors have brought significant awareness of sailing in the past two years," says Lingling Liu, founder of China sports business experts SportsCom. The first is Xu Lijia, who won Olympic gold at London 2012.
Xu Lijia also won bronze at her home Olympics, Beijing 2008. "The Beijing Olympics brought the opportunity to develop sailing in China," adds Liu. "In fact, there was no sailing boat or even cruising boat before 2002 along the Chinese mainland coast."
Guo Shuan became the first Chinese voyager to sail non-stop around the globe in 2013. "Guo Chuan made more people in China aware what offshore sailing is," says Liu. "He was not only the sailor, he was also the story teller, the editor, the reporter."
"The awareness of those events is very limited due to lack of real Chinese elements and poor publicity," says Liu, despite Guo Shuang's success. "Success or failure for Dongfeng depends on how you communicate with the Chinese audience, and how you tell the stories of those Chinese sailors."
The Dongfeng crew received a healthy crowd for their official boat launch, and have since embarked on their first transatlantic voyage.
The real pioneering project for the Volvo Ocean Race is yet to come," concludes Lingling Liu. "It will probably come one or two editions later when we see a Chinese skipper leading Chinese sailors, supported by Chinese sponsors."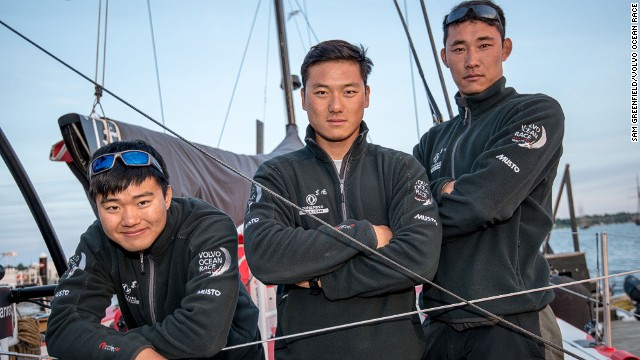 Could you master the Volvo Ocean Race?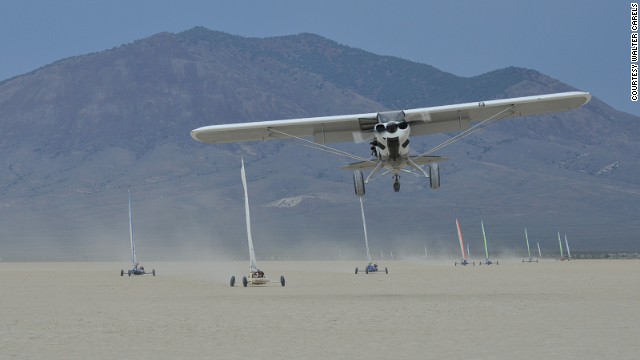 Is it a boat? Is it a car? In fact, it's a little bit of both. Welcome to the Landsailing World Championships, held in July in the sweltering Nevada desert.
Over 170 "sailors" from 15 countries converged on the spectacular dried lake-bed of Smith Creek for this year's competition.
"It just amazes me how flat this place is," says racer Lester Robertson. "It just goes on seemingly forever. I really love the beauty and the solitude. And you get to go out on boats, wind-powered boats that just wail along."
Situated around 30 miles from the tiny settlement of Austin, Smith Creek appears like a scorched land that time forgot.
Over the past 40 years, the event has evolved from an amateur pastime with pioneers trying out their models to a world sport with influences from gliding, motorsport, sailing and even the America's Cup.
The surreal machines vary greatly depending on the class they're competing in. From basic buggies with sails...
.... to impressive lightweight carbon fiber crafts.
Landsailing enthusiasts stay up late into the evening, tinkering with their speedy designs. "The amount of time you spend in what I call a 'dirt boat coma' with a glazed look in your eye, thinking about your next great innovation and hoping it works..." says racer John Eisenlohr.
The most advanced craft can hit speeds of 100 miles per hour.
In 2009, Briton Richard Jenkins broke the speed record, hitting 126 mph in his Greenbird machine (pictured), not far from Smith Creek. He spent a decade working on the design, saying: "I can't believe in hindsight that I actually spent so much time trying to do it. I guess I was kind of focused on the result, and didn't really think about the time or the place."
Landsailing isn't just restricted to deserts. Here, enthusiasts test out their designs on a European beach in the 1970s.
Here British youngsters in the 1950s go for a spin in their makeshift vehicle -- an old pram with a raincoat for a sail.
"Smith Creek is a starkly beautiful place," says Russ Foster. "The cloud formations and the beautiful sky are almost something out of a painting. At other times it can be terribly dusty and miserable."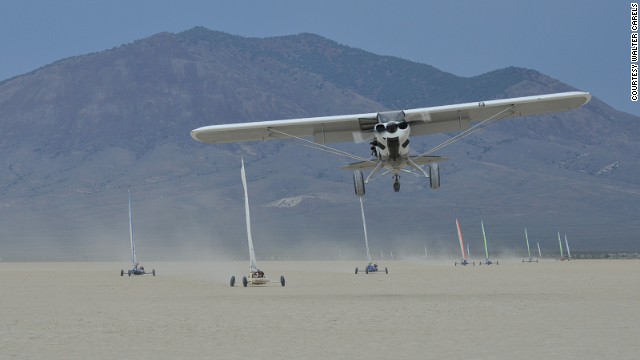 Landsailing in Nevada
The best-known early attempt to break through was led by British sailor John Franklin, who left England with two ships in 1845. The expedition never made it; all 129 of the crew, stuck fast in the ice of the Canadian high Arctic, perished.
Following Franklin's failure, more than half a century elapsed before Norwegian explorer Roald Amundsen -- who later led the first successful expedition to the South Pole -- made history by crossing the Northwest Passage. Amundsen took three years to do it, reaching the Pacific in 1906.
Not until 1942 did a second ship replicate Amundsen's achievement, and only in 1944 did anyone do so in the space of a single year, without being forced by the ice to halt midvoyage for the winter.
Even by the mid-1990s, no more than three or four ships made the journey each year. To tourists, the Northwest Passage was off-limits.
But in the 21st century, Arctic sea ice conditions have shifted dramatically, moving the trip within reach of a wider range of vessels, and people. Although only four ships made the journey in 2006, by 2013, that had increased to 18.
That is how Soper's business, EYOS Expeditions, began.
"We saw a gap in the market where some people had very capable, expedition-style superyachts -- and they're kind of lost as to where to take them," he said.
"Just over 200 ships have ever sailed the whole length of the Northwest Passage since Amundsen. Members of our team have been on board for 10%, maybe 20% of those."
Richard Haworth, who High Latitudes, another business helping superyacht owners plan Arctic tours, said, "the ice situation is making it more accessible, and the ice information is better."
Is his a booming industry? "It is at the moment. The area is getting more and more traffic."
Trapping traffic
There are two sides to this boom. More traffic for Haworth means more traffic for the communities of the Arctic, which are becoming both attractive stopping-off points and vital sources of shelter and supplies.
Clare Kines is the economic development officer in Arctic Bay, an Inuit hamlet on Canada's Baffin Island. For him, an open Northwest Passage is a big opportunity.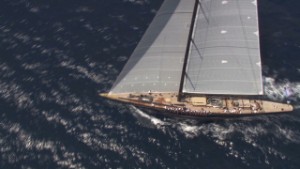 Sailing in the desert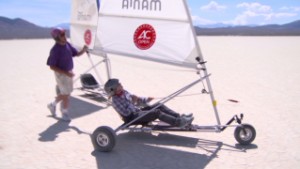 How to master land sailing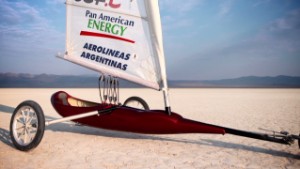 The physics of land sailing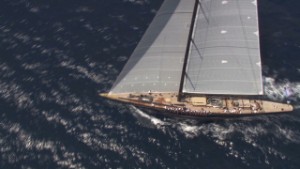 The return of a sailing icon
"We've made a concerted effort to try to trap more of that traffic here and promote ourselves," Kines said. His community has welcomed eight private yachts in 2014, up from seven last year. It recently hosted the Octopus, a 126-meter (414-foot) megayacht owned by Microsoft co-founder Paul Allen (PDF).
Arctic Bay competes with communities like Resolute Bay and Pond Inlet for custom.
"You have to make yourself stand out," Kines said. "Part of that is our natural beauty here, but also, when you're looking at cultural performances, you have to know what the other communities are putting on, so you can do something different and visitors don't see the same throat-singing and drum dancing in each community."
James Henry Bell, editor of the Nunatsiaq News in Iqaluit, the capital of Canada's northern Nunavut territory, is less convinced that tourists are helpful to the area.
"Most people who come on these trips don't spend very much money when they get off the boat. Any effect on the economy is probably minimal to nonexistent," he said.
Bell instead frames the prospect of 900 people arriving on a cruise ship as a logistical nightmare for small Arctic towns.
"Most of these communities have populations of 800 to 1,000 -- maybe 1,200 people at the most -- so they could definitely be overwhelmed."
This is the challenge facing communities and cruise operators alike. If the Northwest Passage is increasingly open for business, what effect will that have on the Arctic itself?
"We are not going to leave anything behind," insisted Crystal Cruises' Mazloum. "Not a single drop of garbage or anything else."
To avoid overwhelming communities, he explains that passengers will disembark only in groups of 150 to 200 when they visit Arctic settlements.
"We don't want to go up there unless we're welcome," he said. "If the local population hadn't wanted a ship of that size or the people up there, we wouldn't do it."
Soper says his team met with community leaders, hunters and trappers, plus other local organizations.
"Every single community was very much in favor," he said.
"They realize that shipping in the Arctic is going to happen -- and is happening -- and it's better that they're involved and engaged in that process.
"This is an opportunity to showcase their culture and show people that they're not Eskimos living in igloos but actually modern communities with an interesting balance between traditional and modern ways of life in a remote part of the world."
'Good years and bad years'
Managing interaction with communities en route is one of many challenges a Northwest Passage expedition must overcome.
The most obvious risk is the ice. The recent increase in traffic -- a 132-passenger ship completed a 23-day journey this month -- indicates vessels are finding the passage easier than ever to cross, but Arctic ice conditions are nothing like as simple to predict and negotiate as that implies.
This year is a case in point, argues Mario Pelletier, assistant commissioner of the Canadian Coast Guard.
"The ice conditions this year are way above what we've seen over the last few years," said Pelletier, whose organization is monitoring "about a dozen" ships waiting for conditions to improve before resuming Arctic voyages.
Pelletier notes that this year has brought large quantities of multiyear ice, which survives at least one summer melt, making it thicker and consequently harder to navigate. "The multiyear ice in the Northwest Passage is hard like rock," he said.
"People think there's no ice problem up there," Arctic specialist Haworth said, "but sooner or later, they'll come a cropper in a bad year. There are good years and bad years, and that is what people need to understand."
Soper considers "an abnormal ice year" by the standards of the past two decades to be the worst-case scenario for Crystal Serenity's voyage. But he adds that contingency plans include rerouting south via Panama or delaying the trip.
Mazloum says this is why more than a month is budgeted for the cruise: "What we don't want to do is rush. If the ice conditions require it, we want to be able to stop. The last thing we need is pressure to maintain a schedule."
Canada's coast guard operates seven icebreakers, but given how remote and vast the nation's Arctic coastline is, vessels cannot rely on help arriving in a hurry. Expeditions must be as self-sufficient as possible.
With this in mind, the Crystal Serenity will travel in 2016 alongside an ice-rated support vessel. This second ship can break channels through the ice, offers a helicopter pad for ice reconnaissance flights and -- in an emergency -- assist with towing, pollution cleanup and an evacuation.
'The Arctic has changed'
Canadian authorities are preparing for the worst. Operation Nanook, an annual Arctic training exercise involving Canada's armed forces and coast guard, this year featured the simulation of a grounded cruise ship in York Sound, southeast of Iqaluit.
"The fact that this year they decided to devote those resources to that exercise illustrates that cruise ships have caught their attention," newspaper editor Bell noted. Crystal Cruises, which has spent many months in meetings with Canadian government agencies to plan its trip, sent a representative to the drill.
Accidents are not unheard-of. In 2010, an expedition ship named the MV Clipper Adventurer ran aground in Nunavut's Coronation Gulf. The crew and 118 passengers were rescued, unharmed, by a Canadian icebreaker.
The Clipper Adventurer's owners claimed that it had struck an uncharted rock, though subsequent investigation suggested it had been mapped several years earlier.
For Haworth, this highlights another danger of travel this far north.
"All of the area is not very well-charted and needs treating with respect," he said. "Where the guy who made the chart went, you go, if you want to be sure not to hit anything. Go anywhere else, and you have to be careful."
Mazloum believes the Crystal Serenity is prepared for all eventualities. Moreover, he concludes that his luxury cruise -- far from representing a risk -- can make a positive difference in a fragile, remote stretch of sea.
"The Arctic has changed," he said. "Frankly, it will continue to change. It will still be there for future generations, but it is going through change. Getting our people up there, I think we actually have an opportunity to educate people.
"I don't think, because we are trying to do this in 2016, you'll suddenly see ships going through every year. There aren't the cruise lines, or the market, for people to go for 30 or more days. I'm almost willing to bet there will be no influx of ships.
"We want to do this in a responsible manner and educate people. I understand that some people may not like that, but I think we can have a positive impact."
Yachting to the ends of the earth
Will 'robo-ships' be the end of sailors?