Australia returns lost ancient art to India
updated 8:33 AM EDT, Mon September 8, 2014
STORY HIGHLIGHTS
Australia returns lost art treasures to India, including Shiva Nataraja
Australian galleries bought the artworks from a dealer who's awaiting trial
Subhash Kapoor is facing trial on theft-related charges
Modi conveys "deep sense of gratitude" from Indian people
Sydney (CNN) -- Indian Prime Minister Narendra Modi has welcomed the return by Australia of two ancient Hindu art treasures that were allegedly stolen from temples in Tamil Nadu.
During a meeting with Modi in New Delhi on Friday Australian Prime Minister Tony Abbott handed over a 900-year bronze statue of Shiva Nataraja (dancing Shiva) and a stone statue of Ardhanariswara (Shiva in half-female form), also from circa 1100.
"I would like to convey to Prime Minister Abbott the deep sense of gratitude of 1.25 billion people of India for the efforts he has made to bring with him two ancient statues that were stolen from India," Modi said.
Modi said Abbott and the people of Australia "have shown enormous respect and regard not only for our ancient treasures, but also for our cultural heritage."
The National Gallery of Australia in Canberra bought the Shiva Natarja for $5 million (A$5.3 million) in 2008 from then New York-based art dealer Subhash Kapoor.
Kapoor was arrested in Germany in 2011 after U.S. investigators raided Manhattan storage units allegedly leased in his name, and found items "displayed in major international museums worldwide."
Kapoor was subsequently extradited to India where he's awaiting trial.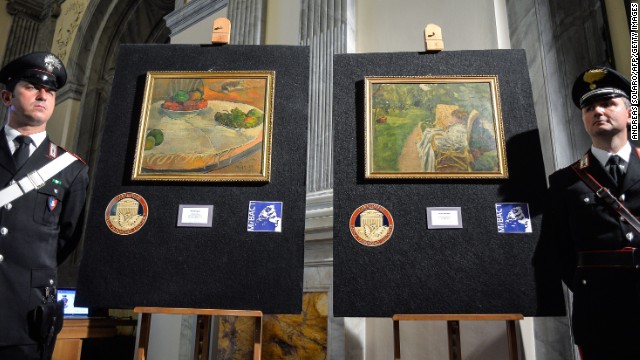 Italy's Culture Ministry unveils two paintings by the French artists Paul Gauguin and Pierre Bonnard on Tuesday, April 2. The paintings, worth millions of euros, were stolen from a family house in London in 1970, abandoned on a train and then later sold at a lost-property auction, where a factory worker paid 45,000 Italian lire for them -- roughly equivalent to 22 euros ($30).
A Renoir painting finished in the 1800s, loaned to a museum, reported stolen in 1951 and then bought at a flea market in 2010 has to be returned to the museum, a judge ruled January 10. The 5½-by-9-inch painting, titled "Landscape on the Banks of the Seine," was bought for $7 at a flea market by a Virginia woman. The estimated value is between $75,000 and $100,000.
Seven famous paintings were stolen from the Kunsthal Museum in Rotterdam, Netherlands, in 2012, including Claude Monet's "Charing Cross Bridge, London." The paintings, in oil and watercolor, include Pablo Picasso's "Harlequin Head," Henri Matisse's "Reading Girl in White and Yellow," Lucian Freud's "Woman with Eyes Closed" and Claude Monet's "Waterloo Bridge," seen here. Works by Gauguin and Meyer de Haan were also taken.
Eight months after Salvador Dali's "Cartel de Don Juan Tenorio" was stolen in a New York gallery, a Greek national was indicted on a grand larceny charge in 2013.
In 1473, Hans Memling's "The Last Judgment" was stolen by pirates and became the first documented art theft.
Adam Worth, the inspiration for Sir Arthur Conan Doyle's diabolical character Moriarty, stole "Georgiana, Duchess of Devonshire," painted by Thomas Gainsborough in 1876.
In 1911, Leonardo Da Vinci's "Mona Lisa" was stolen from the Louvre by an Italian who had been a handyman for the museum.
Among their many crimes, the Nazis plundered precious artworks as they gained power during World War II. "Adele Bloch-Bauer I," by Austrian artist Gustav Klimt, was confiscated from the owner when he fled from Austria.
Many works of art that were taken by the Nazis were never recovered. Others were returned after years of legal battles. "Christ Carrying the Cross," by Italian artist Girolamo de' Romani, was returned to his family in 2012.
"The Scream" was one of two Edvard Munch paintings that were stolen from the Munch Museum in Oslo, Norway, in 2004.
In 2007, Pablo Picasso's oil painting ''Portrait of Suzanne Bloch" was taken from the Sao Paulo Museum of Art. It was recovered two years later.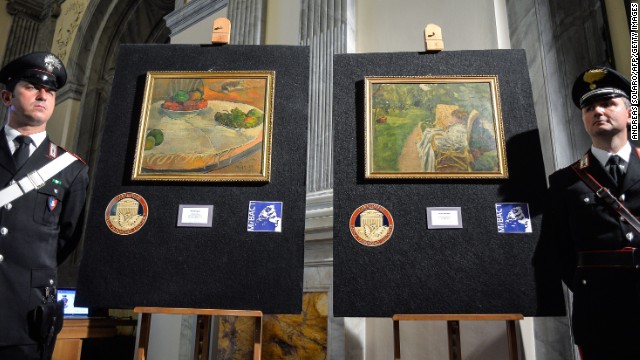 Photos: Notorious art heists
The former owner of the Art of the Past Gallery, Kapoor sold the Ardhanariswara to the Sydney-based Art Gallery of New South Wales for $280,000 (A$300,000) in 2004.
In March this year, the Indian Government wrote to Australia seeking the return of the two idols.
In a statement to mark Abbott's return of the two statues in New Delhi, the National Gallery of Australia said it "would never knowingly purchase a stolen or looted item." It said the gallery had undertaken lengthy, comprehensive and independent research before it bought the Shiva Nataraja from Kapoor.
"Despite these efforts, court proceedings may yet confirm that the gallery has been a victim of a most audacious fraud," gallery director Ron Radford said.
Radford noted that Kapoor's trial "is yet to be heard and he has proclaimed his innocence."