STORY HIGHLIGHTS
John Sutter asks whether it's time for the "kiss cam" to go
He says gay men often are the target of the joke at pro sports games
"If we have to keep the kiss cam, at least let everyone in on the joke," he says
Editor's note: John D. Sutter is a columnist for CNN Opinion and creator of CNN's Change the List project. Follow him on Twitter, Facebook or Instagram. E-mail him at ctl@cnn.com. The opinions expressed in this commentary are solely those of the author.
(CNN) -- There's plenty to hate about professional sports: the ridiculous salaries, the bloated egos, the domestic violence, the ignored concussions.
It seems inconsequential in comparison, but one of my personal pro-sports pet peeves always has been the "kiss cam": that juvenile bit of "entertainment" between innings or quarters when camera operators turn their lenses on pairs of fans, prodding them to kiss while the stadium watches.
The kiss-cam gimmick was pushed into the news cycle over the weekend when it was reported that Atlanta Hawks co-owner Bruce Levenson sent an email worrying that the demographics of his basketball team's kiss cam might have been "too black."
Ugh.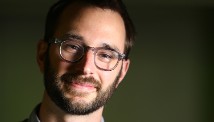 John D. Sutter
It was an offensive comment and deserves (and has gotten) further dissection for what it says about race in sports and society -- and the bigotry that remains prevalent.
But racism is just one part of the kiss cam to hate.
The other is homophobia.
Maybe you haven't noticed it, but the kiss cam has, at times, made a bad habit of ending with a punch line: two men framed on the screen with the word "KISS" beneath their faces. It's, you know, like, a joke, said Jim Buzinski, co-founder of the blog Outsports.com, because "of course, we know two guys can't possibly kiss."
Because "it'd be kind of icky," he said, kidding.
For years I've half-jokingly told friends that we'll know gay equality is here when same-sex couples are featured unironically on the kiss cam -- when two dudes who are asked to kiss on screen actually do it and get awwwws, not laughs. I'm joking in the sense that there are far bigger issues facing LGBT people: the fact that we can be fired because of who we are in a majority of states, that LGBT kids are still far more likely to be homeless than their straight peers and, you know, marriage equality.
But the kiss also holds an interesting place in the culture. It's not surprising that some people spewed venom when TV cameras showed Michael Sam kissing his boyfriend after he became the first openly gay player to be drafted into the NFL. Or that many were stunned when Time magazine put same-sex kisses on its cover. Seeing two men or two women kiss forces people to wrestle with whether they actually accept homosexuality -- and embrace it -- or if they just tolerate it at a distance.
Part of me wonders whether the kiss cam should go away completely.
Mark Joseph Stern argued as much for Slate in 2013, writing that the "straight kiss cam" (which is what it is) almost never features same-sex couples in a non-mocking way.
"At best, the kiss cam reinforces heterosexual norms and excludes gay people," he wrote. "At worst, it mocks same-sex affections and creates an atmosphere of homophobia. The time has come to include gay couples on the kiss cam -- or to kill it altogether."
Buzinski agrees. Not only is the kiss cam "dopey" and played out, he told me, but it puts anyone -- gay or straight -- in the awkward situation of being asked to kiss someone, potentially a stranger or relative, in front of a live audience.
"I don't even see the point," he told me.
He hears of gays being the kiss-cam punch line far less these days, he said.
I sent an e-mail to Wade Davis, the former NFL player who made headlines when he came out as gay in 2012, to see whether he thought the kiss cam was consequential.
He called it "hegemonic masculinity and sexism at its finest."
"That's harsh and probably too harsh," he wrote. "But (the kiss cam) usually puts women is tough spot. We don't know what's happening in the current relationship and now in front of the stadium full of people, a woman is pressured to kiss a man, and usually he turns and grabs her. It reinforces this male trope that 'men take what they want and do it for the world to see and give them praise.'
"Also, though many sports arenas do LGBT nights and I applaud them for that, whenever I've seen two men put on the kiss cam, it's usually used to mock guy-on-guy interactions. It's not viewed as something that's welcomed and/or being celebrated. "
His conclusion: "We should do away with it."
I'm not so sure. There's still power in the kiss cam.
After this column published, a reader who happens to be a kiss-cam camera operator in Utah gave me a call to say that he did film a lesbian kiss during a 2013 men's college basketball game -- and that he and the audience treated it as any other kiss.
It happened by accident; he'd tried to frame one of the women with the man sitting next to her. "She pointed to the other side. I panned over and it was another girl," he said. "They kissed and everyone cheered." He asked not to be named because he's not authorized to speak about the job, but I found hope in that anecdote, and so does he.
The kiss cam does have one redeeming quality: it offers sports fans a relatively rare chance to see themselves, up close, and in all of their diversity. Perhaps the crowd "dance cam" does this without some of the awkwardness, but I do like the opportunity to see the other people who are sharing a stadium with me -- and the chance to laugh together, not at each other.
But the "kiss cam," if it's going to stick around at all, has to adapt.
It should include everyone: gay, straight, of every race and class.
In this often-bigoted world, that will make some people uncomfortable. Who cares? Visibility can lead to understanding, and understanding can lead to inclusion.
So keep the kiss cam, fine.
But at least let everyone in on the joke.
Read CNNOpinion's new Flipboard magazine.
Follow us on Twitter @CNNOpinion.
Join us on Facebook.com/CNNOpinion.
Hat-tip to Nicholas Thompson for raising this issue on Twitter.