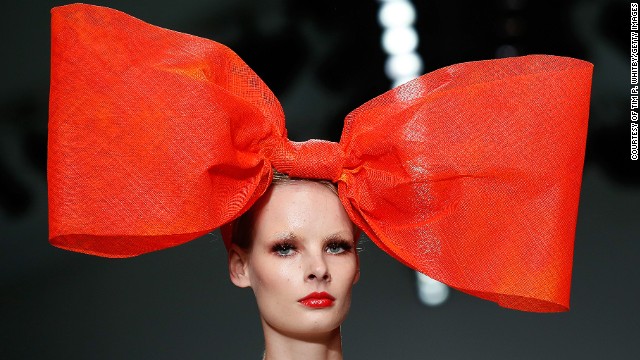 No limits exist during London Fashion Week
. For the past seven days eccentric prints, crazy silhouettes and daring themes have graced the runway. Sibling, pictured, transformed the childhood bow into something a little less dainty.
The
UK-based
design trio married intricate knits with a paired down color scheme of black, gray, white, blue and red.
Each model balanced a huge bow on their heads
whilst walking the runway
.
KTZ, a
London-based
fashion label directed by Marjan Pejoski, is known for their raw energy and edginess.
The KTZ collection explored religion, modernism and anarchy through oversized jewelry and a monochromatic theme.
Each outfit was topped with a cone ... is this the future of head wear?
Richard Nicholl showcased his fibre optic slip dress, conceived with Studio XO.
Nicholl used metallic fabrics and sheer panels for his future-fitness inspired collection.
Holographic fabrics and shiny materials formed the basis of his luminescent garments.
Fashion heavyweight
Tom Ford kept things sultry with evening dresses and figure-hugging forms.
Sequins and metallics were combined with sleek structures.
Silks and sheer fabrics conveyed classic Tom Ford sophistication.
Messy styling kept things rebellious and punk.
Fyodor Golan described
their collection
as "Digital Romanticism."
Look closely at this dress and you'll see a picture of a football pitch printed along the hem.
Giles Deacon kept things playful with animal-inspired accents.
A black and white snake wraps around this pastel pink dress.
Burberry reinvigorated
their classic tailoring
with a bright color scheme.
The famous trench coats were transformed with bows and prints.
A classic two-piece suit was re-energized with hot pink.
Ashley Williams' showcased fun graphics and cheeky slogans for her
spring/summer collection
.
Williams' is known for her prints, colorful graphics and youthful energy.
Nottingham-born Paul Smith kept to his
British roots
with clean shapes.
Smith's famous lined patterns inevitably made there way into his new designs.
Julien Macdonald went for full-on glamor with
his new collection
.
An ultra-feminine theme was created with delicate lace and white chiffon.
Athens-born Mary Katrantzou went for bold graphics and chaotic shapes.
The Greek designer clothed her models in figure-hugging forms.
Barbara Casasola's floor-length gowns exuded glamor and sophistication.
Casasola used materials with a subtle sheen but kept the silhouettes simple and understated.
Christopher Kane debuted a darker color scheme for his
Spring/Summer collection
.
The models wore heels that wrapped the foot in leather coils.
Delicate fabrics and sensuous materials characterized Kane's garments.
Holly Fulton re-invigorated
the 60's silhouette
with embellished flowers and geometric prints.
The collection also featured a folkloric sensibility with intricate patterns.
Peter Pilotto toughened up his womanswear collection with perspex detailing.
Asymmetric hemlines added a sense of fun to the clothing.
Roksanda Ilincic experimented with block colors and quirky shapes.
The staging mirrored the circle theme featured in the clothing.
Temperley London kept things ultra-sophisticated with stark-white materials.
Sharp shoulders smartened up the loser fitting trousers and dresses.
Preen showcased garments that epitomized sports-luxe.
Zips and clean lines kept things modern and up to date.
Emilia Wickstead sleek garments featured high waists and floor-length gowns.
All pieces featured a luxurious satin sheen.
Erdem's collection was infused with greens and nature-inspired detailing.
Feminine shapes were given movement with added textures and applique.
Issa's monochromatic collection fused black and white with laid back structures.
The collection epitomized all things Spring with flower details.
London Fashion Week SS15
London Fashion Week SS15
London Fashion Week SS15
London Fashion Week SS15
London Fashion Week SS15
London Fashion Week SS15
London Fashion Week SS15
London Fashion Week SS15
London Fashion Week SS15
London Fashion Week SS15
London Fashion Week SS15
London Fashion Week SS15
London Fashion Week SS15
London Fashion Week SS15
London Fashion Week SS15
London Fashion Week SS15
London Fashion Week SS15
London Fashion Week SS15
London Fashion Week SS15
London Fashion Week SS15
London Fashion Week SS15
London Fashion Week SS15
London Fashion Week SS15
London Fashion Week SS15
London Fashion Week SS15
London Fashion Week SS15
London Fashion Week SS15
London Fashion Week SS15
London Fashion Week SS15
London Fashion Week SS15
London Fashion Week SS15
London Fashion Week SS15
London Fashion Week SS15
London Fashion Week SS15
London Fashion Week SS15
London Fashion Week SS15
London Fashion Week SS15
London Fashion Week SS15
London Fashion Week SS15
London Fashion Week SS15
London Fashion Week SS15
London Fashion Week SS15
London Fashion Week SS15
London Fashion Week SS15
London Fashion Week SS15
London Fashion Week SS15
London Fashion Week SS15
London Fashion Week SS15
London Fashion Week SS15
London Fashion Week SS15