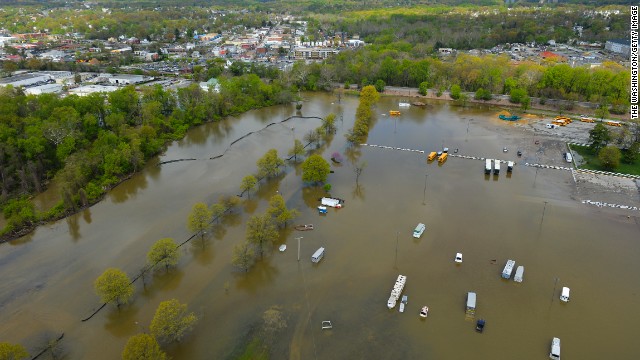 Climate change is here and will only worsen. Get used to more flooding, wildfires and drought, depending on where you live. That's the take-home message of
a White House report released in May
that is part of President Barack Obama's second-term effort to prepare the nation for rising sea levels and increasingly erratic weather. Here, a flooded parking lot at the Laurel Park horse racing track is seen Thursday, May 1, in Laurel, Maryland. Click through to see more examples of severe weather:
More than 300 experts helped produce the report over several years, updating a previous assessment published in 2009. A Democratic operative who now counsels the President called the report "actionable science" for policymakers and the public to use in forging a way forward. In this image, cars are seen in the aftermath of an embankment collapse in Baltimore as a massive storm system pounded the mid-Atlantic on April 30.
The report breaks the country down by region and identifies specific threats should climate change continue. Major concerns cited by scientists involved in creating the report include rising sea levels along America's coasts, drought in the Southwest and prolonged fire seasons. In this image from January 16, a wildfire burns in the hills just north of the San Gabriel Valley community of Glendora, California.
The Great Plains could experience heavier droughts and heat waves with increasing frequency, while more wildfires in the West could threaten agriculture and residential communities, the report notes. In this image, dry and cracked earth is visible on what used to be the bottom of Folsom Lake on March 20, in El Dorado Hills, California.
Republican critics immediately pounced on new report as a political tool for Obama to try to impose a regulatory agenda that would hurt the economy. Senate Republican leader Mitch McConnell of Kentucky mocked what he described as the hypocritical stance of "liberal elites" who demand strong action on climate change while failing to reduce their own carbon footprint. He called the debate "cynical" because Obama knew that "much of the pain of imposing such regulations would be borne by our own middle class." Here in March, an avocado grove near Valley Center, California, is left to wither because of the rising cost of water.
Recent polling indicates most Americans believe human activities cause climate change but also shows the issue is less important to the public than the economy and other topics. A Gallup poll in March found that 34% of respondents think climate change, called global warming in the poll, posed a "serious threat" to their way of life, compared with 64% who responded "no." At the same time, more than 60% of respondents believed global warming was happening or would happen in their lifetime. Here, a pedestrian crosses Douglas Avenue on a bike during a snowstorm on February 4, in Wichita, Kansas.
The report predicts sea levels will rise at least a foot by the end of the century and perhaps as much as 4 feet, depending on how much of the Greenland and Antarctic ice shelf melts. Such an outcome could be catastrophic for millions of people living along the ocean, submerging tropical islands and encroaching on coastal areas. In this image, dated October 29, 2012, streets are flooded under the Manhattan Bridge in the Dumbo section of Brooklyn, New York, as Superstorm Sandy slammed the Northeast coast.
Severe weather: Flood, fire and drought
Severe weather: Flood, fire and drought
Severe weather: Flood, fire and drought
Severe weather: Flood, fire and drought
Severe weather: Flood, fire and drought
Severe weather: Flood, fire and drought
Severe weather: Flood, fire and drought
STORY HIGHLIGHTS
At Climate summit, much conversation is about how to slow climate change
Mark Suzman: It's important also to focus on how to equip farmers to adapt to change
Give farmers better seeds, help them diversify their crops and use fertilizers efficiently, he says
Editor's note: Mark Suzman is president of Global Policy, Advocacy, and Country Programs at the Bill & Melinda Gates Foundation. The opinions expressed in this commentary are his.
(CNN) -- This week in New York, U.N. Secretary-General Ban Ki-moon is convening world leaders at Climate Summit 2014 to discuss actions the world must take to address the tremendous challenges of climate change.
As conversations about how to mitigate the long-term effects of climate change continue, we cannot overlook the importance of acting now to help the tens of millions of poor farmers in developing countries who are already suffering the devastating effects of climate change.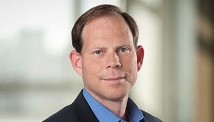 Mark Suzman
Farmers like Christina Mwinjipe, who I met a few years ago on a trip to Tanzania. Mwinjipe works hard to support her family by farming a small plot. However, Mwinjipe's corn crop has not been doing well because of drought.
She has planted cassava, a staple crop that does well in hot, dry environments, but plant diseases are severely limiting her harvest. And she does not use fertilizer or have access to irrigation for her legumes, keeping her yields low.
The challenges Mwinjipe faces feeding her family and growing enough crops to pay for her children's education and basic health care are not unlike those faced by tens of millions of other family farmers in Africa.
Today, they must cope not only with challenging growing conditions and limited resources, but also with rising temperatures and other impacts of climate change.
The rains that used to come regularly during the planting season are more erratic. When they do come, they are often quick bursts that cause floods before the ground can absorb the water. In addition, insects and other pests, particularly during times of drought, are feeding on the surviving crops.
The effects of climate change, including increased drought and pests, have already negatively affected wheat and maize yields in many regions, and climate extremes have led to several periods of rapid food and cereal price increases.
Without action, scientists are predicting that further changes in climate will have an even more dramatic impact on yields of major crops. That, in turn, risks driving up food prices at a time when a growing global population requires greater food security, not less.
Currently, the vast majority of global climate funds go to mitigating the effects of climate change. According to a report by the Climate Policy Initiative, only about 6% goes to adaptation: helping people anticipate and take action to minimize the impacts of climate change. The rest goes to mitigation efforts to reduce the rate and magnitude of climate change over the long term. The discussion here should not be about one or the other; both are needed.
However, accelerating a transition to sustainable, climate-resilient agricultural productivity is essential to helping buffer the world's poor from the most immediate impacts of climate change, and to ensuring food security for all.
To help people in the poorest countries adapt to the realities of a changing climate, there are a number of actions we are taking and that others can take to ensure climate-resilient and sustainable agricultural solutions that increase the productivity of family farmers. For example:
• Ensuring farmers have better seeds that are more resilient to the shocks associated with climate change. In Africa, for example, 3 million farming households are growing new varieties of drought-tolerant maize. Many of these new seeds also offer higher yields compared to other varieties of maize. In South Asia, family farmers are growing "scuba rice" that can survive 10 days of flooding, and also has significantly improved crop yields.
• Working with farmers to maximize crop yields and improve the health of their land through more efficient use of fertilizers and pesticides, and improved post-harvest processing and storage facilities.
• Helping family farmers diversify what they grow to ensure a nutritionally diverse diet and protect their farming income from the risks of climate change.
These and other adaptive measures can play a vital role in minimizing the impact of climate change on three-quarters of the world's poorest people. These are the family farmers -- the majority women -- who already are laboring under difficult conditions to grow enough food to feed and care for their families.
To call attention to this issue, our foundation is joining other organizations and leaders in signing a joint action statement underscoring the threats of climate change to family farmers and the need for action that embraces climate-smart approaches to agriculture.
Read CNNOpinion's new Flipboard magazine.
Follow us on Twitter @CNNOpinion.
Join us on Facebook.com/CNNOpinion.