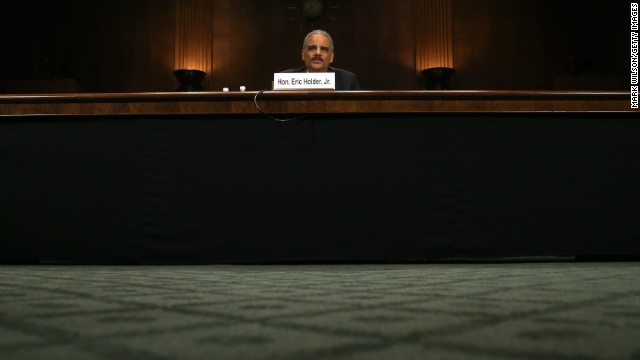 Holder testifies during a Senate Judiciary Committee hearing in January on oversight of the Justice Department and reform of government surveillance programs.
his resignation is announced
by President Barack Obama in Washington. Holder, who has led the Department of Justice for six years, will stay in the position until a successor is confirmed. Click through the gallery to see key moments of Holder's career.
Attorney General Eric Holder wipes away tears on Thursday, September 25, as
Holder talks with his father, Eric Holder Sr., after being sworn in as the U.S. attorney for the District of Columbia in 1993.
Holder shakes hands with then-President Bill Clinton as Attorney General Janet Reno, Holder's boss, looks on at an American Bar Association event at the White House in 1999.
Holder walks with Caroline Kennedy, daughter of former President John F. Kennedy, in June 2008 after they were tasked with searching for a running mate for Obama.
Holder is sworn in as attorney general by Vice President Joe Biden in February 2009. Holder's wife, Sharon, is by his side.
Holder announces in November 2009 that five men accused of the September 11 terror attacks would be tried in a New York civilian court. Holder said the government would seek the death penalty against Khalid Sheikh Mohammed and four others.
Holder is greeted by members of Congress as he arrives at the U.S. House of Representatives in May 2010.
Holder answers a student's question after a speech commemorating the 100th anniversary of the Duquesne University School of Law in February 2011.
Holder talks to reporters after meeting with U.S. Rep. Darrell Issa, chairman of the House Oversight and Government Reform Committee, in June 2012. Issa and Holder met to discuss releasing documents related to the botched
Holder takes questions during a news conference in May 2013. He said he recused himself from a national security leak investigation in which prosecutors obtained the phone records of Associated Press journalists.
Holder leaves after speaking of his disappointment in a Supreme Court ruling that declared a key part of the Voting Rights Act unconstitutional in June 2013.
Holder talks with Capt. Ron Johnson of the Missouri State Highway Patrol in Ferguson, Missouri, in August. Holder traveled to Ferguson to oversee the federal government's investigation into a police officer's shooting of 18-year-old Michael Brown.
Eric Holder resigns
Eric Holder resigns
Eric Holder resigns
Eric Holder resigns
Eric Holder resigns
Eric Holder resigns
Eric Holder resigns
Eric Holder resigns
Eric Holder resigns
Eric Holder resigns
Eric Holder resigns
Eric Holder resigns
Eric Holder resigns
STORY HIGHLIGHTS
Errol Louis: Eric Holder, who has resigned, had bold stormy tenure from start as AG
Louis: Holder took heat for saying nation cowardly on racial issues. Stood by remarks
He confronted banks, won tax case settlements, sparred with Issa, fought voter ID laws
Louis: He was first AG House held in contempt. He was a fighter, dared others to join him
Editor's note: Errol Louis is the host of "Inside City Hall," a nightly political show on NY1, a New York all-news channel. The opinions expressed in this commentary are solely those of the author.
(CNN) -- Eric Holder, who resigned Thursday, kicked off his stormy tenure as attorney general with a challenge to the American public that set the tone for his six turbulent years as the nation's top law-enforcement officer.
"Though this nation has proudly thought of itself as an ethnic melting pot, in things racial we have always been and continue to be, in too many ways, essentially a nation of cowards," said Holder in his first public speech after being sworn in.
When the remark drew an uproar from conservatives, Holder shrugged and doubled down. "I wouldn't walk away from that speech," Holder told ABC News. "I think we are still a nation that is too afraid to confront racial issues," rarely engaging "one another across the color line [to] talk about racial issues."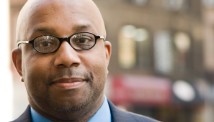 Errol Louis
And true to form, Holder -- a tall man who carries himself with the relaxed, quiet confidence of a corporate attorney -- seldom backed down from a confrontation, on racial justice or other issues.
He pressed Credit Suisse, and the Swiss bank eventually paid over $2.6 billion to settle claims it was illegally helping wealthy Americans avoid paying taxes. Holder took the lead in pushing banks and other financial companies involved in the mortgage crisis to pay $25 billion to federal and state governments, a record civil settlement.
And Holder famously sparred with members of Congress such as Darrell Issa and Louie Gohmert as the television cameras rolled. In one heated exchange at a Judiciary Committee hearing in 2013, Issa and Holder talked over each other, with the attorney general concluding, "That is inappropriate and is too consistent with the way in which you conduct yourself as a member of Congress. It's unacceptable, and it's shameful."
In another back-and-forth, Holder trash-talked Gohmert with lines that could have been taken from a comedy routine. "You don't want to go there, buddy. You don't want to go there, OK?"
While the history books will note Holder was the first African-American attorney general, a more relevant biographical fact might be his status as possibly the first attorney general who, as a college student protester, occupied a campus building: In 1969, as a freshman at Columbia University, Holder was part of a group of black students that took over a former naval ROTC office for five days, demanding that it be renamed the Malcolm X Lounge. (In a sign of the times, the university complied.)
Echoes of Holder's activist history could be heard years later, in the middle of a high-stakes battle with leaders of several Southern states over voter-ID laws and other rules changes that Holder deemed at attack on black voting rights.
"People should understand that there's steel here, and I am resolved to oppose any attempts to try to roll back the clock," Holder told CNN's Jeffrey Toobin in an article for The New Yorker.
Not all of Holder's crusades have worked out well.
The Supreme Court, despite Holder's efforts, voted to strike down key provisions of the Voting Rights Act, and conservative senators blocked Debo Adegbile, Holder's preferred choice to run the Civil Rights division of the Justice Department.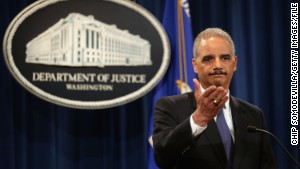 Attorney General Eric Holder to resign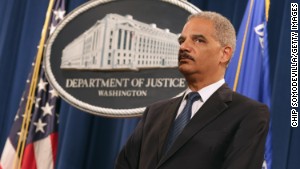 Who might replace Eric Holder?
The attorney general has launched or joined legal battles against restrictions on voting rights in Ohio, Wisconsin, Texas and North Carolina, but it's unclear whether those efforts will end up back at the same Supreme Court that weakened the original law.
In 2012, House Republicans voted to hold the attorney general in contempt of Congress for stonewalling on information requests in the bungled Fast and Furious gun-smuggling operation in which 2,000 weapons went missing. It was the first time in U.S. history that a sitting Cabinet member was given such a severe sanction. (The case will continue after Holder's resignation, although his successor will inherit the fallout, not Holder personally.)
But history will surely judge Holder a success at broadly expanding access to justice for groups seeking acceptance and fairness. He announced the federal government would no longer defend laws banning same-sex marriage and told state attorneys general they could do the same.
And Holder made good on his initial commitment to change the conversation on race. He traveled to Ferguson, Missouri, and assigned dozens of Justice Department personnel to investigate law enforcement practices after the police killing of Michael Brown triggered street riots.
He has also called for voting rights to be restored to formerly incarcerated Americans, and pressed for a reduction in the prosecution of low-level marijuana users.
For one clue about how history will regard Holder, go back to 2009. In the effort to battle terrorism, Holder called for five accused terrorist suspected of participating in the 9/11 attacks to be tried in federal courts in New York -- only to see the proposal scuttled after a political uproar.
"We need not cower in the face of this enemy," Holder told skeptical members of the Senate. They didn't buy the argument, but it was classic Holder: Once again, the battler leaping into the arena and daring others to summon the nerve to fight alongside him.
Read CNNOpinion's new Flipboard magazine.
Follow us on Twitter @CNNOpinion.
Join us on Facebook.com/CNNOpinion.