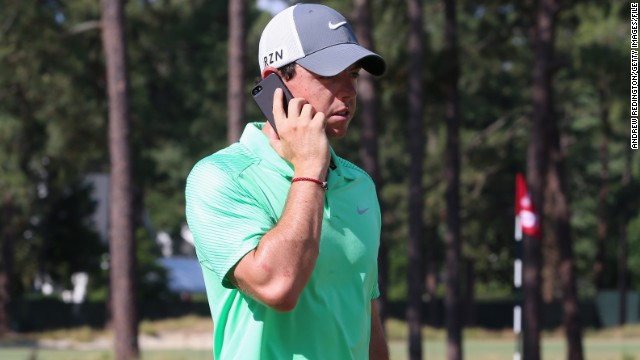 Four-time major winner Rory McIlroy is a big fan of Twitter and regularly posts selfies to his two million followers. Thanks to the reversing of a ban on uploading photos to social media during the Ryder Cup, golf's world No. 1 can tweet as many selfies as he wants.
Spectators try to get a snap of McIlroy after his British Open win at Hoylake. Wifi was available throughout the course for the second year running and will be at the 2014 Ryder Cup in Scotland, with spectators encouraged to share their thoughts and pictures on social media.
McIlroy and Sergio Garcia check out something amusing on the Spaniard's mobile phone during a practice day ahead of the 2012 Ryder Cup, won in dramatic fashion by Europe.
e told CNN he can't quite get the hang of Twitter:
"I've learned that it's very difficult to tweet. I can't get my fingers to do it fast enough or put the right hashtag -- it's hard to do stuff like that."
Even United States captain Tom Watson is a mobile phone fan, though h
European Ryder Cup captain Paul McGinley also made use of his phone during the 2012 event, in which he was a vice-captain, taking some snaps for posterity.
Fourteen-time major winner Tiger Woods checks out his mobile during a practice round, though the former world No. 1 is a sporadic tweeter to his following of over four million.
Welsh golfer Jamie Donaldson will play in his first Ryder Cup at Gleneagles. Like many of his European teammates, he often checks in on his mobile.
Players at the 2014 Junior Ryder Cup -- which features boys and girls -- got in on the selfie act before their tournament in Scotland. Sierra Brooks of Team USA borrowed a camera to snap her teammates Amy Lee, Andrea Lee, Kristen Gillman, Bethany Wu and Hannah O'Sullivan.
Michelle Wie, who has played in the U.S. Solheim Cup team, takes a selfie after she won her first major title -- the 2014 U.S. Women's Open.
Selfies allowed
Phoning it in
Check this out
Watson's world
Say cheese
Talking with Tiger
Checking in
Role models
Victory selfie
STORY HIGHLIGHTS
Ryder Cup organizers encourage selfies and sharing via social media at event
Reports had said there would be a ban on uploading photographs via social media
Rory McIlroy among many players who attract big following on Twitter and Facebook
Ultrafast wifi also on offer but restrictions in place to avoid disruption to players
Follow us at @WorldSportCNN and like us on Facebook
(CNN) -- Rory McIlroy loves making birdies, but he's partial to the odd selfie too.
And thanks to a late change of heart from Ryder Cup organizers, golf's world No. 1 can tweet to his heart's content at this week's transatlantic tussle between Europe and the United States.
A ban on uploading pictures via social media during the tournament in Scotland has been reversed, which will no doubt please four-time major champion McIlroy and his 2.1 million-strong Twitter following.
This pro-selfie stance reflects a growing shift in attitude from golf's authorities, with the 2014 Ryder Cup set to be the most socially connected in the team competition's 87-year history.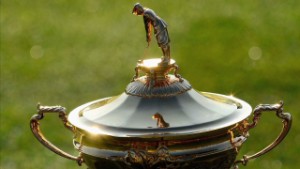 Ryder Cup teams prepare for a tough battle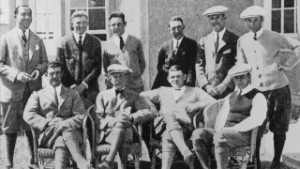 How the Ryder Cup rivalry began at Gleneagles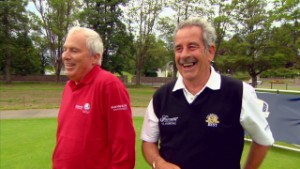 What does it take to win the Ryder Cup?
"Selfies are positively encouraged and I expect to see plenty of them," says its match director Edward Kitson. "We want people to share their stories online and feel part of the Ryder Cup."
This commitment to sharing will also embrace ultrafast 4G wireless connection and radio frequency wristbands that allow fans to indulge in activities around the course and post their experiences to social media instantly.
And while there are rules in place to minimize disruption to play, it is all a far cry from a six-year period between 2007 and 2012 when mobile phones were banned from the British Open after complaints from players.
Sport has grown into one of the biggest draws on Twitter and Facebook, and a strong social media presence is now essential for any self-respecting major event.
"There's now an expectation among fans that their experience will include social media in some way," Caroline Cheese told CNN from the offices of UK-based LiveWire Sport, which counts the English Premier League and broadcaster Channel 4 among its clients.
"Events now see social strategy as a crucial part of the planning process -- not just a luxury add-on or afterthought.
"It doesn't just start when the event kicks off either. Events can start connecting with their fans months ahead, building a buzz, offering exclusive competitions and, in doing so, creating a loyal fanbase."
Even those fans who are in the stands at a sporting event are developing an appetite for in-game interaction.
Thanks to reliable wifi across Hoylake's links at this year's British Open, many fans were able to watch the action right in front of them as well as follow TV coverage on a tablet or mobile phone.
The concept of "second-screening" -- watching TV with a mobile, laptop or tablet to hand -- has become the norm in recent years thanks to the explosion in social media.
Now clubs, and brands, are cottoning on to the opportunity it presents.
Scottish football champion Celtic has earned plaudits for its in-stadium wifi network and dedicated matchday app -- only the second of its kind in Europe.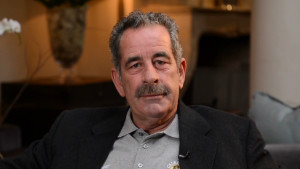 Torrance: My top tips for McGinley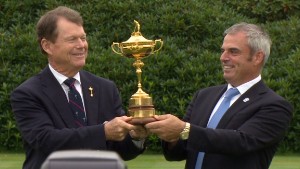 Countdown to Ryder Cup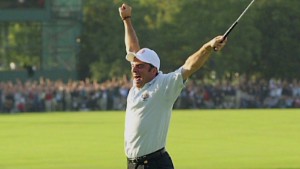 Paul McGinley takes on Ryder Cup course
The app provides text commentary, stats, images and interactive polls during a game, while pulling in the best of social media. It also encourages fans vote for a sponsor's man of the match.
"If you think about it, it is totally natural. You check your phone however many times a day, if you are at a live sporting event of course you want to do that," Niall Coen, managing director of Snack Media, the digital content wing of the app's developer, Sports Revolution, told CNN.
"It's human nature -- everyone wants to talk about the great goal they saw go in, or debate whether that was a red card or a penalty.
"When you see something that's important to you, you want to share with like-minded people around you and that's the basic premise of a lot of these social media business, not just sport.
"Part of the project at Celtic, and part of its success, is being able to fill that gap because when you have huge numbers of people together in one place you don't have the coverage and connectivity."
Future plans for the app include an ability for fans to buy tickets for matches or order food and drink to pick up during halftime.
And as sport's social presence continues to evolve and technology gets better, Coen thinks it won't be long before event rights-holders themselves get in on the action.
"The likes of Twitter and Facebook are quite open about fact that sport is one of the biggest interests amongst their users," Coen added.
"One way it might go is some of the top rights-holders in sports and football might club together and do their own channel.
"Or maybe Twitter and Facebook could enhance their offering, with VIP areas that include a stream about a particular event, where you have all the very best commentators."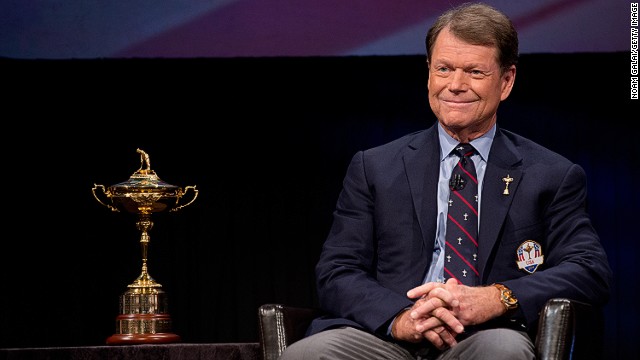 United States Ryder Cup captain Tom Watson has picked Keegan Bradley, Webb Simpson and Hunter Mahan as his three wildcards for the biennial team battle with Europe at Gleneagles in Scotland later this month.
Bradley, the 2011 U.S PGA Champion, will be playing in his second Ryder Cup after starring for the U.S. in Chicago two years ago. Watson referred to the 28-year-old's "unbridled passion" as a major reason for picking him.
Bradley returned three points out of four in his first Ryder Cup, forming a strong partnership with five-time major champion Phil Mickelson. But he lost his Sunday singles match to Rory McIlroy as Europe overturned a 10-6 deficit to win 14 ½ to 13 ½. He said: "I think this is a redemption year for a lot of guys who were on the team in 2012."
Webb Simpson was also part of the 2012 United States team at Medinah. Despite an up and down year form wise, Watson said Webb's contribution two years convinced him to pick the 2012 U.S. Open champion.
Simpson joined forces with Bubba Watson, winning two of their three contests by a handsome 5&4 margin. But he succumbed to Ian Poulter in the singles. "I'll never forget the feeling that I had watching the other team celebrate," Simpson said of 2012.
Hunter Mahan missed the 2012 Ryder Cup but has spoken of his desire to avenge the defeat the U.S suffered in 2012. The contest came down to his singles match with Graeme McDowell, the Northern Irishman getting the better of his opponent to seal victory for Europe.
Mahan was vociferously defended by Mickelson in the team press conference after that reverse in Wales and his recent victory at the Barclays convinced Watson to pick him. "Losing lingers," Mahan said of his 2010 experience. "It's been four years, but it feels like yesterday."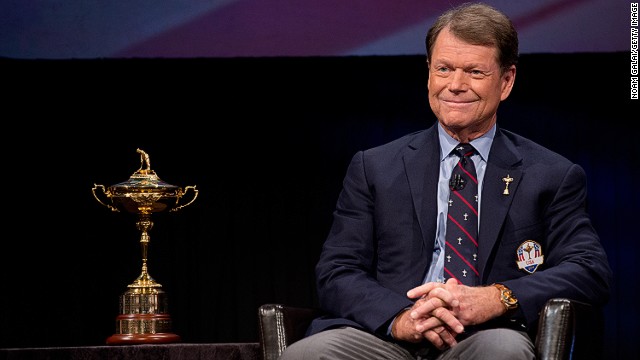 Watson's Ryder Cup wildcard picks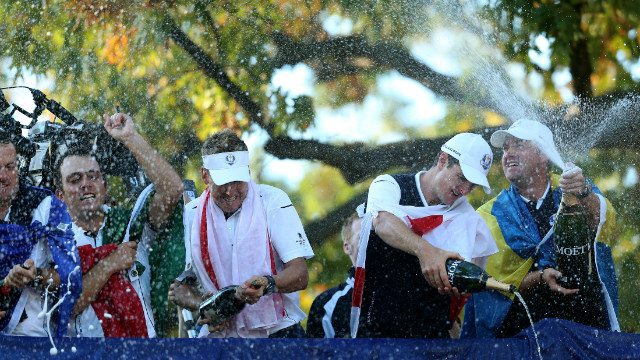 Francesco Molinari, Ian Poulter and Nicolas Colsaerts of Europe celebrate after winning the 39th Ryder Cup at Medinah Country Club in 2012 following a dramatic 14½ - 13½ victory.
Paul McGinley, the European captain, has put his faith in Poulter, Lee Westwood and Scotland's Steven Gallacher as his three wildcard picks for the 2014 match against the U.S. which begins on September 26.
Poulter was Europe's main man in Medinah, winning all four of his matches as his team came back from 10-6 down to claim an unlikely victory.
Former world No. 1 Lee Westwood will be playing in his eighth consecutive Ryder Cup after being names as one of McGinley's picks.
Stephen Gallacher will make his Ryder Cup debut at Gleneagles. The Scot will get the opportunity to play in front of his home crowd.
Westwood's fellow Briton Luke Donald was the unlucky man to miss out after failing to convince McGinley he deserved a place.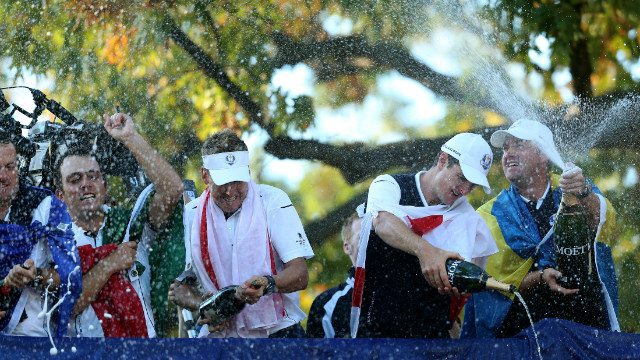 Ryder Cup wildcard picks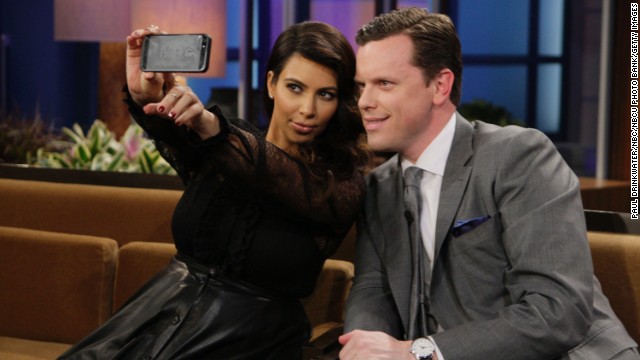 Television personalities Kim Kardashian and Willie Geist take a selfie during "The Tonight Show with Jay Leno."
Academy Awards host Ellen DeGeneres takes a moment during the show to orchestrate a selfie with a group of stars. Bradley Cooper, seen in the foreground, was holding the phone at the time. "If only Bradley's arm was longer," DeGeneres tweeted. "Best photo ever." It reportedly became the most retweeted post of all time.
Denmark's Prime Minister Helle Thorning-Schmidt snaps a selfie with British Prime Minister David Cameron and U.S. President Barack Obama during the memorial service of former South African President Nelson Mandela in Johannesburg on Tuesday, December 10.
Tom Hanks takes a selfie with fellow actor Steve Martin at the 2013 Governors Awards.
Track star Usain Bolt takes a picture of himself under the Christ the Redeemer statue in Rio de Janeiro. Oxford defines a selfie as "a photograph that one has taken of oneself, typically one taken with a smartphone or webcam and uploaded to a social media website."
Singer Justin Bieber takes a selfie with a fan before appearing on NBC's "Today" show.
Actress Angelina Jolie takes a photo of herself with a fan's camera at the Paris premiere of "World War Z."
Actress Meryl Streep takes a photo of herself and Hillary Clinton after Clinton hosted a dinner for the Kennedy Center honorees in Washington.
Even political figures are getting in on the trend. Here, British Prime Minister David Cameron takes a photograph with Olympic volunteer Anita Akuwudike in London.
Actor Ashton Kutcher poses in the audience during the 2010 People's Choice Awards.
Now-retired tennis player Kim Clijsters takes a selfie with Caroline Wozniacki during an exhibition match in Hua Hin, Thailand.
Actor Josh Duhamel takes a selfie at the Empire State Building in New York City.
Actor Bradley Cooper poses for selfies with eager fans at the Los Angeles premiere of "The Hangover Part III."
Kathie Lee Gifford, Kris Jenner and Hoda Kotb pose for a selfie on NBC's "Today" show.
Selfies don't always have to be with other people. Director Zack Snyder takes a photo of himself in front of Action Comics No. 1 at the Superman 75 party in San Diego.
Actor Ken Jeong takes a photo with a fan before appearing on NBC's "Today" show.
Actor Sam Claflin poses for photos with fans in New York City.
After the Sky News People's Forum in August, then-Australian Prime Minister Kevin Rudd, left, and opposition leader Tony Abbott took a selfie with Nada Makdessi in Sydney. Abbott became prime minister in September.
Musician Keith Urban takes a selfie with a fan before performing at NBC's "Today" show.
Rep. Sean Duffy, R-Wisconsin, shoots a video selfie for his Facebook page before the start of a House GOP news conference in Washington.
Actors Eric McCormack and Debra Messing take a selfie while appearing on NBC's "Today" show.
Duhamel and comedian JB Smoove take a selfie during a commercial break on "The Tonight Show with Jay Leno."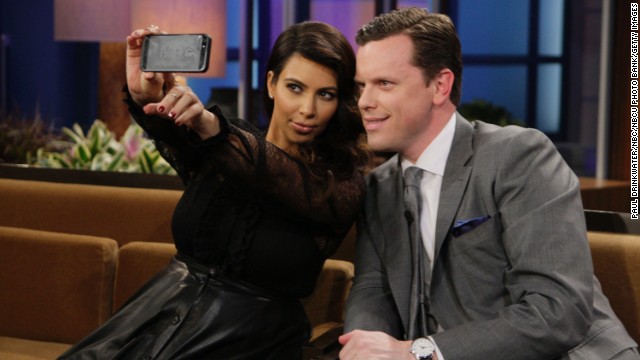 Celebs taking selfies
The recent World Cup underlined what an important accoutrement social media is for any global sporting event.
A total of 672 million tweets relating to the football showpiece were sent during the tournament in Brazil -- a new record according to Twitter.
The 35.6 million tweets sent during Brazil's humiliating 7-1 defeat to eventual winner Germany was the most sent during a single sporting event.
And it shows that whether inside the stadium or not, the online debate around the game is growing ever larger.
"Fans aren't passive anymore, they want to feel part of the event and social is crucial in that," Cheese explained.
"It allows events to deliver behind-the-scenes content, competitions, hashtag initiatives to allow fans to connect with each other and to the event itself.
"Perhaps its most crucial role -- especially for really big events -- is in bringing together a global audience.
"For example, the Premier League -- and many of its clubs -- engages directly with its millions of fans in China via channels like Sina Weibo.
"The big match might be taking place in Manchester but its reach is way, way bigger than that."
Read: 'I'm just a wife, but I'm treated like a star'
Read: Why Tom Watson battles with Twitter
Read: Do you love Team USA this much?