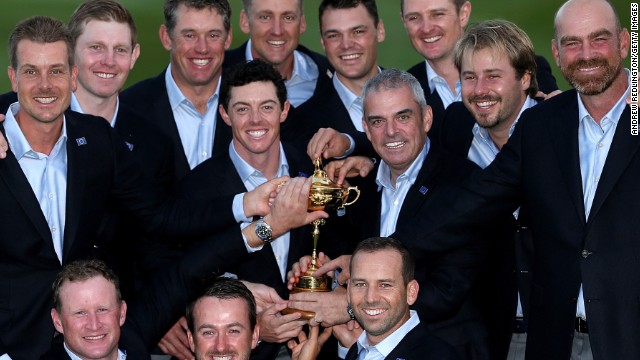 The victorious European team and captain Paul McGinley after retaining the Ryder Cup at Gleneagles.
Jamie Donaldson is surrounded by fans and the media after clinching the Ryder Cup for Europe with a win over Keegan Bradley.
Graeme McDowell trailed U.S. rookie Jordan Spieth early in their singles match but he hit back for a pivotal victory.
World number one Rory McIlroy led from the front with a 5&4 victory over fellow young gun Rickie Fowler.
Europe's winning captain Paul McGinley soaks up the atmosphere after his side clinched a 16 1/2 to 11 1/2 victory at Gleneagles.
U.S. captain Tom Watson cuts a rather forlorn figure as his team slips to defeat in the 40th Ryder Cup at Gleneagles.
The performances of rookie Patrick Reed have been a rare bright spot for the U.S. and he beat Henrik Stenson on the last day.
Phil Mickelson beat Stephen Gallacher in his final day singles but cuts a dejected figure as he sits alongside his wife Amy.
Martin Kaymer holed the winning putt in the 2012 Ryder Cup at Medinah and his chip in from off the green 16th proved equally memorable as he beat Bubba Watson.
Europe's Rory McIlroy (right) and Ian Poulter claimed a vital half point against Jimmy Walker and Rickie Fowler in the morning fourballs on Saturday.
Ian Poulter is known as Europe's postman, because he always delivers. Here he celebrates some first-class chipping, holing out at the 15th in the morning fourballs.
Jim Furyk curses his luck on day two at Gleneagles. The veteran American, who is playing in his ninth Ryder Cup, won his morning fourball with partner Hunter Mahan, but the pair lost out to Sergio Garcia and Rory McIlroy in the afternoon foursomes.
Tom Watson's demeanour rarely changes, but the U.S. captain must be concerned that the 10-6 deficit may be too much for his team to overhaul in Sunday's singles. Europe need just four points from a possible 12 on offer to retain the Ryder Cup.
Spectators dressed as bananaman enjoying day two in the grandstands at Gleneagles.
Nice pants! There's always plenty of colorful clothing on show at the Ryder Cup.
Rookie Victor Dubuisson and Graeme McDowell were once again on song for Europe in the afternoon fourballs beating Jimmy Walker and Rickie Fowler 5&4.
Player of the tournament? England's Justin Rose has secured 3½ points in four matches for Europe so far. In the morning fourballs, he teamed up again with Henrik Stenson to beat Bubba Watson and Matt Kuchar 3&2. In the afternoon foursomes he claimed a vital ½ point with Germany's Martin Kaymer against Jordan Spieth and Patrick Reed.
Webb Simpson and Bubba Watson (left) got Team USA's challenge underway on Friday morning in front of crowds massed around the first tee at Gleneagles.
Watson and Simpson were no match for European pairing of England's Justin Rose (left) and Swede Henrik Stenson. The experienced duo won the match comfortably 5&4 to give Europe the first point of the match. The pair ended up taking maximum points on Friday with a 2&1 win over Hunter Mahan and Zach Johnson in the afternoon foursomes.
Ian Poulter, one of the stars of Europe's miracle win at Medinah two years ago, putts on the seventh green on Friday morning. Tens of thousands of spectators are attending the three-day event in Perthshire, Scotland.
Poulter and partner Stephen Gallacher were unable to contain the U.S. pairing of Jordan Spieth (left) and Patrick Reed who ran out comfortable 5&4 winners, giving Team USA their first point.
Team USA's Rickie Fowler out on course during Friday's opening fourballs. He and partner Jimmy Walker halved their match with Europe's Thomas Bjorn and Martin Kaymer.
The big guns went out last as world No. 1 Rory McIlroy (left) and Sergio Garcia took on Phil Mickelson and Keegan Bradley in the final fourball of the morning.
The match went down to the wire with Mickelson (left) giving the U.S. victory on the final hole. The point gave Team USA a 2½ - 1½ lead heading into the afternoon foursomes.
Spectators wearing Tartan caps complete with ginger wigs watch play during day one at Gleneagles.
Europe's captain Paul McGinley (right) looks on as Team USA captain Tom Watson applauds the arrival of players onto the first tee.
Former player, captain and this year vice-captain Sam Torrance acknowledges the crowd. The proud Scot, who holed the winning putt for Europe at The Belfry in 1985, is a massive favorite with the home supporters.
England's Lee Westwood (right) and Jamie Donaldson of Wales got Europe off to a perfect start in the foursomes, beating Jim Furyk and Matt Kuchar in the opening match of the afternoon.
France's Victor Dubuisson (right), who made his debut for Europe in the afternoon foursomes, teamed with Ryder Cup veteran Graeme McDowell. The pair immediately clicked beating Phil Mickelson and Keegan Bradley 3&2 in the final match of the day, handing Europe a 5-3 overnight lead.
Rory McIlroy (left) and Sergio Garcia banished the disappointment of losing in the morning fourballs with a gutsy performance in the afternoon foursomes. The pair won the final two holes to claim a half against Ricky Fowler and Jimmy Walker.
Ryder Cup: Europe retains the trophy
Ryder Cup: Donaldson seals victory
Ryder Cup: Mighty Mac
Ryder Cup: Rory roars
Ryder Cup: Captain fantastic
Ryder Cup: Watson woe
Ryder Cup: One for the future?
Ryder Cup: Shared disappointment
Ryder Cup: Kaymer again
Ryder Cup: Day 2 at Gleneagles
Ryder Cup: Day 2 at Gleneagles
Ryder Cup: Day 2 at Gleneagles
Ryder Cup: Day 2 at Gleneagles
Ryder Cup: Day 2 at Gleneagles
Ryder Cup: Day 2 at Gleneagles
Ryder Cup: Day 2 at Gleneagles
Ryder Cup: Day 2 at Gleneagles
Ryder Cup Day 1: Let battle commence!
Ryder Cup Day 1: Let battle commence!
Ryder Cup Day 1: Let battle commence!
Ryder Cup Day 1: Let battle commence!
Ryder Cup Day 1: Let battle commence!
Ryder Cup Day 1: Let battle commence!
Ryder Cup Day 1: Let battle commence!
Ryder Cup Day 1: Let battle commence!
Ryder Cup Day 1: Let battle commence!
Ryder Cup Day 1: Let battle commence!
Ryder Cup Day 1: Let battle commence!
Ryder Cup Day 1: Let battle commence!
Ryder Cup Day 1: Let battle commence!
STORY HIGHLIGHTS
Europe on course to retain Ryder Cup after doubling overnight lead
U.S. team trail Europe 10-6 with Sunday's singles left to play
"The guys were great, and brave, again," says Europe captain Paul McGinley
U.S lost at Medinah in 2012 after leading by the same margin
Follow us at @WorldSportCNN and like us on Facebook
Gleneagles, Scotland (CNN) -- A 10-6 scoreline in the Ryder Cup can be dangerous — just ask Davis Love III.
Two years ago, the then U.S. captain found himself in exactly the same situation as his 2014 European counterpart Paul McGinley does now, with a seemingly insurmountable Saturday night lead.
But that staggering session in Chicago produced a Sunday that will be talked about forevermore in this competition's history as the "Miracle of Medinah."
And it will also provide inspiration for both captains as they impart final words to their respective collectives; McGinley as he warns against complacency, Tom Watson as he underlines what is possible in this form of golf.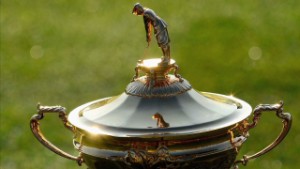 Ryder Cup teams prepare for a tough battle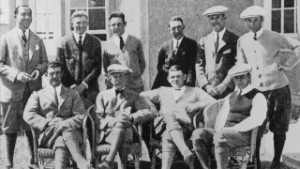 How the Ryder Cup rivalry began at Gleneagles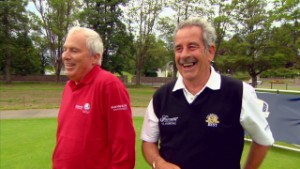 What does it take to win the Ryder Cup?
Several of the U.S. players have used the hashtag #TeamRedeem on Twitter in reference to that Medinah mauling. Should they turn this deficit around, it will be redemption of seismic proportions.
Just as it was on Friday, the afternoon foursomes — where pairs play alternate shots — steered the Ryder Cup ship in Europe's direction.
With three matches in the can, England's Justin Rose was the man to twist the knife, securing a half on the final green against Jordan Spieth and Patrick Reed, to scupper a third straight victory for the American pair.
As Rose and partner Martin Kaymer embraced, the sun's final embers faded ever further over the Ochil Hills in Scotland, taking with it perhaps the United States' last hopes of a first win on the continent since 1993.
Europe now needs just four-and-a-half points from Sunday's 12 singles matches to secure a third straight Ryder Cup and its sixth in the last seven.
As Watson filed into the media center to speak to reporters he said: "In the words of our President, we got a good shellacking this afternoon."
He continued: "You might think it is a given that the Europeans will win — but I don't. We've got to smoke 'em. We've got to take 'em out early.
"I seem to recall there's been a little bit of history about that scoreline — Brookline in 1999 and in Medinah in 2012 — and the players are already talking about that."
America's morning again
Trailing 5-3 after Friday's action, the U.S. needed a response — and got one.
Again, they won a hard-fought morning fourballs session by 2½ to 1½, a record-breaking win for Rose and Henrik Stenson canceled out by victories for Jim Furyk and Hunter Mahan, as well as the electric pairing of Jordan Spieth and Patrick Reed.
From a European perspective, a further bright spot was the re-emergence of talisman Ian Poulter, soundly beaten on Friday, who helped partner Rory McIlroy, the world No. 1, to an unlikely, and vital half point.
Leading 6½ - 4½ going into afternoon, rookie Jamie Donaldson and erstwhile partner Lee Westwood set the tone, prising out a two-hole lead over Zach Johnson and Matt Kuchar.
That was halved on the 14th but a birdie on 16 for the Europeans set them up to close the match out on the 17th, cueing a sing-a-long celebration with the amassed crowd.
It also saw Westwood supersede legendary Spaniard Seve Ballesteros in terms of Ryder Cup points won, with 23 on the board, something he later acknowledged made him "very proud."
The next point to drop came from the match that was set off last, containing a duo that have proved an instant hit together — Graeme McDowell and Victor Dubuisson.
An immaculate front nine saw the 2010 U.S. Open champion and his French companion capitalize on signs of fatigue from Jimmy Walker and Rickie Fowler, playing their fourth straight match.
Arrow straight drives and piercing iron shots saw the Europeans slip into a five-hole lead before the match had even turned for the clubhouse, Dubuisson retaining a cool and classy edge on his debut appearance.
"Complacency has been the buzzword in our team room all week and we'll be working on that again tonight," McDowell, from Northern Ireland, told a press conference.
"We were there two years ago and we know exactly what can happen."
Behind them, the latest blossoming European bromance had a point to prove, and win, after one defeat and one halved point.
McIlroy and Spain's Sergio Garcia, ranked at No. 3 in the world, carried a narrow 1up advantage over Jim Furyk and Hunter Mahan for a full 10 holes, before they reached the 14th.
A birdie there eased the tension before another at 16, in front of a 15,000-strong crowd that populated every green space around the hole, sealed victory and prompted a palpable sense of relief as the pair embraced.
"The guys were great, and brave, again," McGinley told reporters of his men.
"It was a strong U.S. performance this morning, but we rode that storm, came out strongly and the guys produced again."
When asked what his biggest enemy was now he replied: "Complacency. We need a professional attitude.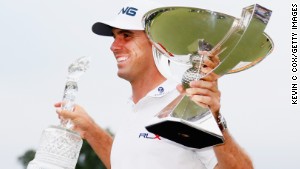 Billy Horschel: I came out victorious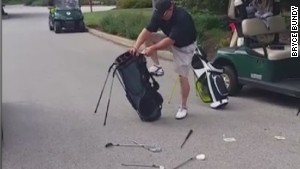 Frustrated golfer has massive meltdown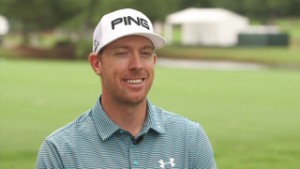 Hunter Mahan: 'We'll miss Tiger'
"We were a beaten team the first two days in Medinah, pulled from pillar to post. We all see how quickly it can turn around."
Record-breaking round
After Europe's storming final session on day one, Saturday began with a record-breaking match that took full advantage of the benign conditions.
Rose and Sweden's Henrik Stenson picked up where they left off on Friday, matched step for step by the American pair of Bubba Watson and Matt Kuchar.
In total, they carded a remarkable 21 birdies during their match, the European pair setting a new record by reaching a mark of 12 -under. And that without playing the last two holes.
Watson, the two-time Masters champion, had again encouraged ear-splitting noise from the galleries when teeing off the first, but there was very little else to cheer in his round.
His birdie on the third did take Team USA into the lead, doubled when Kuchar did the same on six, but from then on in Europe took control.
Back-to-back birdies ensured the match was all square going into the back nine, after which Rose and Stenson attached the afterburners.
They birdied every single hole on the way in, settling the match on 16 after Rose's approach shot landed within two feet.
It was a good job Rose and Stenson's form endured, for the rest of the session belonged to those in red.
Donald and Westwood, victorious on Friday, were behind from the first hole against Furyk and Mahan, and didn't win a single hole before succumbing on the 16th.
Spieth and Reed, controversially benched on Friday afternoon after their handsome morning victory, again showcased an indifference to this most fierce of competition cauldrons.
An early wobble aside, when they trailed by two holes after three, the young partnership regrouped to ensure that was the extent of European success for Kaymer and Thomas Bjorn as four birdies in six holes propelled the United States to a 5&3 victory.
Once again it was left to McIlroy to provide the lunchtime drama as he and Poulter wrestled for a point against Walker and Fowler.
Europe were two up at the turn but three birdies in four holes tipped the tie in Walker and Fowler's favour. There was much more drama to come, though.
Poulter chips in
Poulter, quiet by his impossibly high Ryder Cup standards, chipped in on 15 to halve the hole and broke out his famous bulging-eyed fist pump to wild acclaim from the galleries.
A birdie on the following hole gave rise to another moment of celebration and ensured that once again, contests involving McIlroy, Fowler and Walker, went to the very last hole.
Ultimately, Fowler's immaculate approach from 240 yards gave him an eagle putt to secure USA's third point of the session, but it slipped by and left honours even.
Watson admitted it may have been a mistake sending Fowler and Walker out for their fourth straight match in the afternoon while Phil Mickelson and Keegan Bradley sat out the entire day.
"Phil text me after I'd told him of my decision to say 'Give me a chance' and I had to tell him no," Watson explained.
Now his hopes lie on another miracle, this time on European soil, and he responded accordingly by front-loading his singles line-up, sending Spieth, Reed and Fowler out first to face McDowell, McIlroy and Stenson respectively.
Sunday's singles matches:
Graeme McDowell v Jordan Spieth
Henrik Stenson v Patrick Reed
Rory McIlroy v Rickie Fowler
Justin Rose v Hunter Mahan
Stephen Gallacher v Phil Mickelson
Martin Kaymer v Bubba Watson
Thomas Bjorn v Matt Kuchar
Sergio Garcia v Jim Furyk
Ian Poulter v Webb Simpson
Jamie Donaldson v Keegan Bradley
Lee Westwood v Jimmy Walker
Victor Dubuisson v Zach Johnson