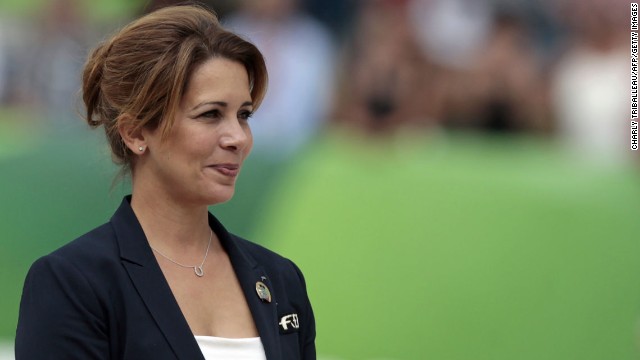 Princess Haya says equestrian sport is "up for a fight" to defend its place at the Olympics as she finishes her eight years leading world horse sport.
Haya competed for Jordan as a showjumper at the Sydney 2000 Olympic Games before her election as president of the FEI, world horse sport's governing body.
Her husband, pictured with Haya on the right, is Dubai's ruler Sheik Mohammed bin Rashed al-Maktoum -- also the prime minister of the UAE. They are seen here at an endurance race, a sport in which the Sheik is a champion rider, though he has also been found guilty of doping in the past.
Princess Haya says opportunities exist for women at the top of world sport, but there is a "vacuum" between the grassroots level and positions of power.
Haya will step down in December 2014 to spend more time with her family and work on humanitarian causes. Here she is shown with one of her two children, daughter al-Jalila, in 2011.
Haya's wider role includes ambassadorial duties on behalf of Dubai, including presenting Czech tennis player Petra Kvitova with the WTA title she won in the emirate last year.
Sheik Mohammed and Princess Haya are regulars at Ascot, indulging in the Sheikh's other great horse passion, racing.
Olympic jumper to world sports leader
Olympic jumper to world sports leader
Olympic jumper to world sports leader
Olympic jumper to world sports leader
Olympic jumper to world sports leader
Olympic jumper to world sports leader
Olympic jumper to world sports leader
STORY HIGHLIGHTS
Princess Haya steps down as leader of world horse sport this winter
Jordanian royal competed in showjumping at Sydney Olympics
One of few female leaders at the highest level of Olympic sport
Equestrian among sports facing fight to preserve Olympic status
Follow us at @WorldSportCNN and like us on Facebook
Caen, France (CNN) -- "See what I'll miss?"
Princess Haya has been ambushed. The 40-year-old leader of one of the Olympics' biggest sports finds herself fending off British paradressage rider Lee Pearson.
Pearson wears around his neck the three gold medals he has won at the World Equestrian Games in Caen, Normandy.
As he leans in, medals dangling above the seated Haya's left shoulder, he announces: "Now ma'am, I know you were quite good at showjumping and you might not have enough golds, so I thought I'd let you have a feel of my gongs."
This is what the princess will miss when, in December, she reaches the end of her two terms leading the FEI, which governs world horse sport.
One of very few women to occupy such a prominent position within the Olympic movement, Haya is the subject of a warm, impromptu tribute from Pearson.
"She's brought inclusion from many countries that thought equestrianism was kind of elitist," says the 10-time Paralympic champion.
"She's kept us in the Olympics by making sure London was such a success, and she's modernized it. We're not riders, we're athletes."
Her Royal Highness Princess Haya of Jordan carried her country's flag at the Sydney 2000 Olympic Games, where she competed as a showjumper at the age of 26.
Four years later she married Sheik Mohammed bin Rashid Al Maktoum, an equestrian endurance racing enthusiast.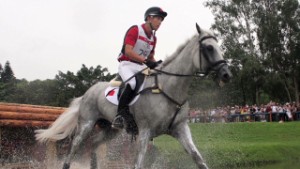 Equestrian chooses China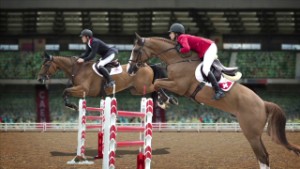 World Equestrian Games kicks off
By 2006, he had become the prime minister of the United Arab Emirates and she had been elected to lead the FEI.
Since then, much of her role has been to ensure equestrian keeps its place at sport's top table.
Like wrestling, equestrianism claims roots extending back to the original Olympics contested by the ancient Greeks.
Hence, when wrestling had a scare last year -- being temporarily voted off the program for Tokyo 2020, before reinstatement at a later International Olympic Committee (IOC) meeting -- there may have been grounds for concern at the FEI.
"I believe there were very specific issues around the decision for wrestling," says Haya.
"But I believe no international federation can consider that their place goes without saying.
"Very much the reason I came to the FEI, to try to modernize, was not the fact that my sport had got worse or gone backwards -- but other international federations had moved a lot faster than us.
"That spirit of competition, that commercially cluttered landscape really does exist. The international federations compete for their place at the Games just as much as the athletes do, and you have to guarantee that you really do have top sport."
Haya points to the World Equestrian Games (WEG) as evidence that the FEI is doing its job. The latest edition of the quadrennial event boasted more than a thousand horses and riders, from 74 countries. The FEI claims more than half a billion people saw at least some action from the eight competing disciplines.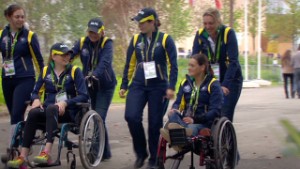 Road to World Equestrian Games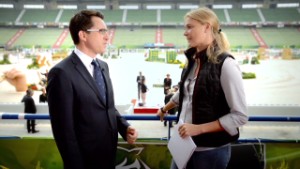 Behind the FEI World Equestrian Games
"We've never had a larger event than this," she says. "The growth that's happened over the past four years has made a marked difference.
"There is a larger percentage of non-purist spectators in the stands and we are able to export our sport to a new public. Our digital numbers have rocketed. Our athletes are not just performing for the family any more, they are performing for the world."
All of that will be taken to the table by Haya's successor -- six candidates have come forward -- the next time the IOC calls on its constituent sports to fight for their future.
Haya believes the IOC is most likely to look at removing one discipline from a large sport in order to accommodate a new, smaller sport in Tokyo and beyond. She thinks the FEI's battle lies in protecting its three Olympic disciplines of dressage, showjumping and eventing.
Not that the Olympic disciplines have always dominated Haya's eight years at the FEI's helm.
Endurance racing, a lower-profile form of equestrian sport immensely popular in the Middle East, has provided the biggest threat to her presidency.
The sport, in which horses can race a hundred miles in a day, has been troubled by a succession of doping scandals and concerns over animal welfare given the immense distance involved.
Haya's position was called into question when her husband -- an endurance racing champion, an influential horse breeder and also the ruler of Dubai -- received a six-month doping ban in 2009. She has since been accused of failing to vigorously pursue perceived shortcomings in the discipline's approach to the wellbeing of horses.
Haya, who handed oversight of endurance sport to colleagues over the conflict of interest involving her husband, says the issues are now being "managed very well" by the FEI.
"The sport has mainly come under criticism -- or the FEI has -- because it hasn't moved fast enough," she admits. "But on the other side of that, there are processes and procedures put in place for a good reason.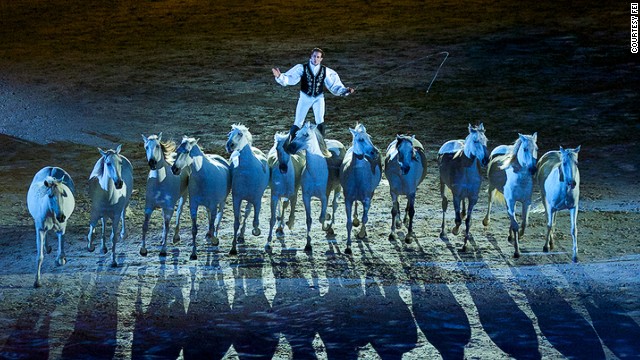 At first glance, it might appear to be a fantastical circus performance. In fact, this is the opening ceremony of the World Equestrian Games, which wrapped up this week.
Competitors from across the globe descended on Normandy, in northwestern France, for the two-week long Games. But first they were treated to a magic trick or two...
The jumping events were given a surreal Dali-esque twist with fantastical obstacles in the ring. Here, South African Cara Biana Frew takes a leap of faith over a giant painter's hand.
While athletes in other sports might be more familiar with starting guns, theses international equine experts had a very different interpretation.
While the horses and their riders battled it out in the arena, mascot Norman -- named after the French area of Normandy -- surveyed the action. By the end of the Games, the hugely popular plush toy had disappeared from shop shelves.
From the arena, to the beach, the variety of sports at the Games was huge. Here, riders take part in a 160 kilometer endurance race.
British rider Harry Meade dives in the deep end during the cross-country category.
French rider Vincent Haennel shows off some breathtaking moves during the vaulting, which is essentially gymnastics on the back of a horse, a sport where athletes clad head-to-toe in spandex perform handstands, leaps, and cartwheels on top of an animal cantering in a 20-metre circle.
A little less graceful is the unusual sport of horse-ball. Here, France's Cecile Guerpillonand Spain's Laura Font go head-to-head.
And in the rough-and-tumble world of horse-ball, it's not always easy to keep on top of things...as France's Shirley Antoine found out.
The Dutch team stayed up to win the men's jumping competition. Pictured are coach Rob Ehrens, Jeroen Dubbeldam, Gerco Schroder, Maikel van der Vleuten and Jur Vrieling.
Meanwhile, a dashing looking German team won the dressage event. Pictured are captain Klaus Roeser, Kristina Sprehe, Helen Langehanenberg, Isabell Werth and Fabienne Lutkeimeier.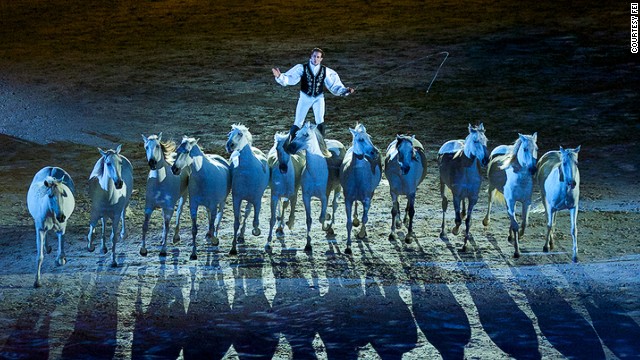 World Equestrian Games: Sights, sounds and groundbreaking hounds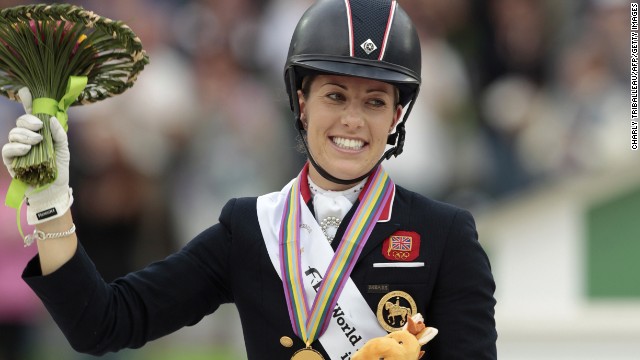 British rider Charlotte Dujardin continued her reign as the golden girl of dressage, winning both individual titles at the World Equestrian Games in France.
Riding Valegro, the Olympic champion beat Germany's Helen Langehanenberg (on Damon Hill) in both the special and the freestyle. Dujardin was also the top individual rider in the team event, but could not prevent Germany regaining the title.
Jumping star Jeroen Dubbeldam also won two golds for the Netherlands in team and individual, becoming the first from his country to do so.
Jacques Ferrari gave host nation France its first success of the two-week competition, winning gold in the men's individual vaulting from compatriot and defending champion Nicolas Andreani. France also won its first medal in the team event, with bronze.
In the individual endurance race, Sheikh Hamdan bin Mohd Al Maktoum of United Arab Emirates was first home in the 160 km competition riding Yamamah.
In para-dressage, Sophie Christiansen continued her dominance of the individual event with her fourth world title, while the Paralympic champion helped Britain continue its long unbeaten run in the team event with another victory. However, she was beaten to gold in the Grade 1a freestyle by Italy's Sarah Morganti.
Horseball was one of the exhibition sports this year, along with polo, as men's, women's and mixed teams took part in Saint-Lô.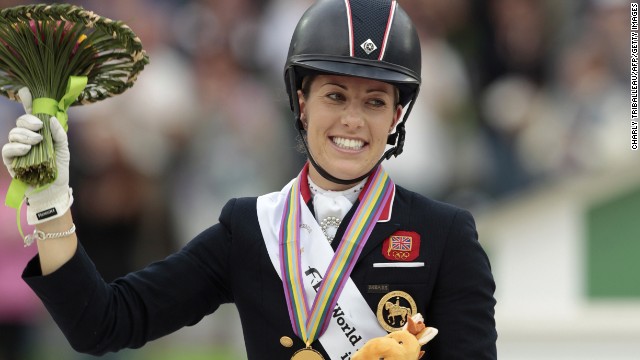 2014 World Equestrian Games - The highlights
"You can't have a knee-jerk reaction. You have to go through a period of dialogue and examine the situation from every side. They have been strong enough to do that and I think they've done everything they can to protect the horses, and the integrity of the sport."
For her part, Haya says she wishes she had "had a lighter hand in some situations" in the earlier days of her time in charge.
And as regards her unusual position as a leading woman in world sport, she believes examining gender equity only in the highest echelons of power means searching in the wrong place.
"I think a lot is done to help women get to these positions but for me, what is missing is the avenue to come up through the grassroots," she says.
"For me it was easy. I had my career as an athlete, I rode in an Olympic Games, then I had interaction with the national federations. I understood how it worked, and I went through a pathway.
"What's missing is that opportunity for women at grassroots level in other sports. While you had the opportunities at the top, there is still very much a vacuum in between.
"I think in many ways it's harmful that we have this permanent crusade, that we 'have to have women.' It makes it sound like you got the job because you're a woman, rather than being able to do the job properly.
"There's a big difference between a person who merits doing the job and happens to be a woman, and one who gets the job just because she is."
The FEI's vote to replace Haya in three months' time will determine the sport's course for at least the next four years.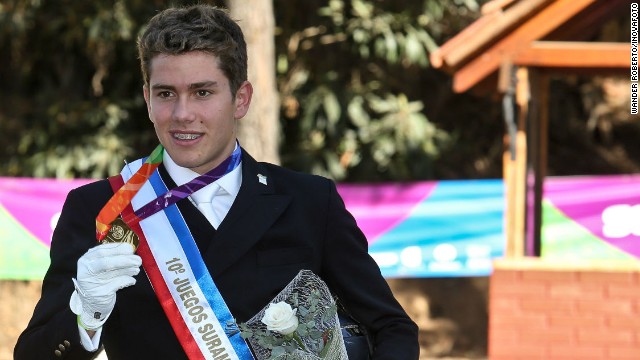 If your mum was an Olympic medalist, how far would you go to match her? Joao Victor Marcari Oliva, a Rio 2016 equestrian hopeful, has moved from his native Brazil to the dressage hub of Germany.
Oliva's mother is Hortencia -- pictured left -- who won Olympic silver as the star of Brazil's women's basketball team at Atlanta '96.
Hortencia remains a well-known sports personality in Brazil, having also helped her nation to the world title in 1994.
Hortencia played in the Atlanta Games despite giving birth to Joao just five months earlier. Then 36, she is pictured introducing baby Joao (and his nanny) to basketball during a training session ahead of the 1996 Olympics.
Fast forward more than a decade, and Joao -- 14 in this photo -- is pictured with his mother and father (businessman and horse breeder Jose Victor Oliva). Joao says he has his mother's sporting nature, but inherited his father's passion for horses.
Dressage has been neglected in Brazil -- showjumping is the nation's equestrian sport of choice -- but Oliva is among a select group of Brazilian riders hoping to do the host nation justice at the Rio Games in 2016.
Luiza Almeida is another Brazilian dressage hope for 2016. She was just 16 when she made her Olympic debut at Beijing 2008 (pictured), becoming the youngest equestrian athlete in the history of the Games.
Rodrigo Pessoa is arguably Brazil's best-known rider. The showjumper led the Brazilian team into the London 2012 opening ceremony as he prepared to take part in his sixth Olympic Games.
Pessoa won the Athens 2004 Olympic showjumping title, but only once Irish rider Cian O'Connor had been disqualified -- months after the event -- following the revelation that his horse had tested positive for a prohibited substance. Here Pessoa receives the gold medal, at last, a year later in front of Rio's Sugarloaf Mountain.
Brazil's National Equestrian Center, in the Deodoro cluster of venues, will host horse events at the Rio 2016 Games. This photo shows the venue in August 2014, prior to renovation work ahead of the Olympics.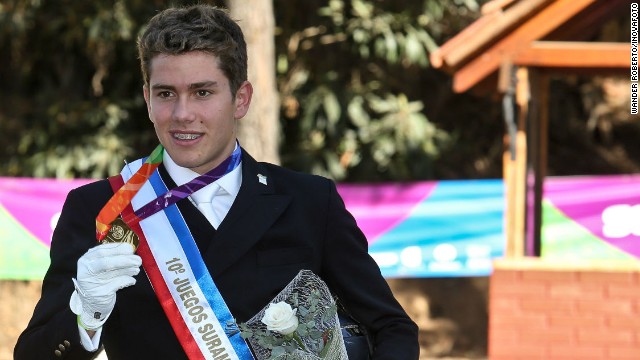 Brazil's Olympic hopefuls on horseback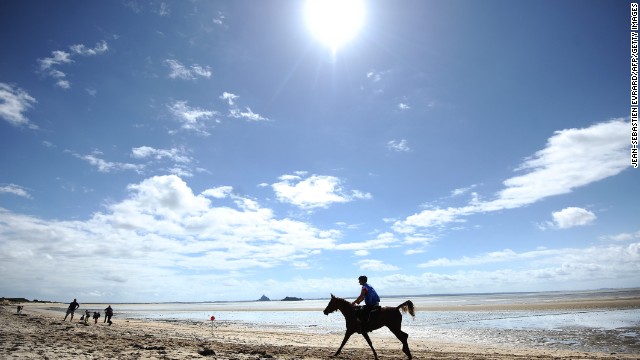 The Alltech FEI World Equestrian Games is taking place in Normandy, France.
The Endurance race is held over 160 kilometers and is completed in one day.
More than 70 nations, 1,000 athletes and as many horses take part in the Games which includes eight different events and is held every four years.
Maria Mercedes Alvarez Ponton, riding a horse named Nobby, needed just over seven and a half hours to complete the course on her way to winning gold for Spain in 2010.
The Endurance race takes place in the middle of the countryside, on a course that contains less than 10% hard-surface roads.
Sheik Hamdan bin Mohamed Al Maktoum of the United Arab Emirates won gold in the individual event after winning in a total riding time of 8:08:28.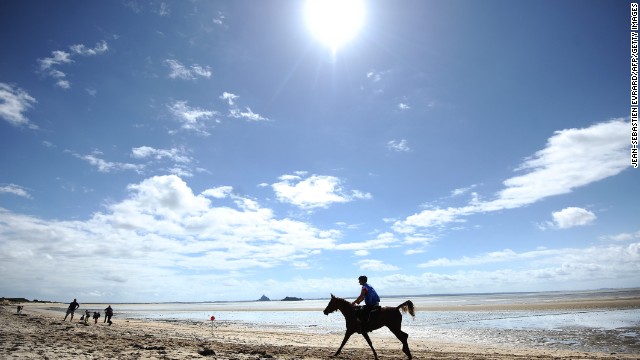 Normandy challenge
With organizations associated with the Middle East accounting for a number of equestrianism's major backers, brought in through Haya and her connections, there is uncertainty as to how the financial future will pan out if and when her influence wanes.
She, however, has already promised herself more time for two other interests in her life.
In a statement turning down the chance to stand for a third term, the mother-of-two listed first her family and then humanitarian work, in Gaza, as her new priorities.
"I felt the president should only have an eight-year term and I still feel that is important," says Haya, who had at one time announced her intent to seek a third term -- a move some considered "undemocratic" despite a majority of national federations backing the necessary rule changes.
"As president, you have to do a 12-hour day, it's a full-time job, and it's only really possible to do that for eight years until you do run out of ideas," she says.
"The sport is bigger than any international federation ever will be. Sometimes, you get the feeling the world revolves around you. I've always known that if we stop, the sport never will. It's worth knowing that."
Read: Sights and sounds of Normandy
Read: The hottest rider in the horse world?