STORY HIGHLIGHTS
Rory McIlroy leads European final-day charge with 5&4 win over Rickie Fowler
World No.1 insists it's the most pumped-up he's ever been for 18 holes of golf
McIlroy explains that secret to European success lay in how the team gelled together
Asked to describe the event in one word, captain Paul McGinley calls it 'bonding'
(CNN) -- Ryder Cup motivation was not a problem for Rory McIlroy.
Having vowed to be Europe's talisman prior to the tournament, the four-time major champion had no option but to deliver, and deliver he did.
When the United States threatened to establish a foothold in Sunday's singles by going up in five matches, the world No.1 stamped on it with a brutal destruction of Rickie Fowler.
The American, who became only the third golfer in the modern era to finish in the top five at each of 2014's four majors, was five down after six holes and beaten by the 14th.
Read: How Europe won the Ryder Cup
That takedown galvanized McIlroy's comrades, who rallied to bag a third straight Ryder Cup by a five-point margin, 16½-11½.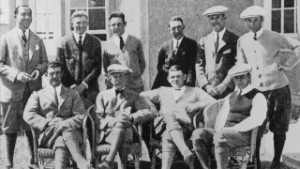 How the Ryder Cup rivalry began at Gleneagles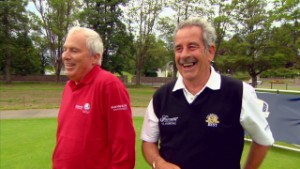 What does it take to win the Ryder Cup?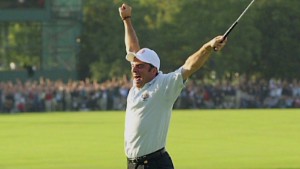 Paul McGinley takes on Ryder Cup course
"It was very easy to get myself up for today," McIlroy told CNN.
"It was probably the most I've been up for 18 holes of golf in a long time. It meant a lot to me. I don't know why,
"Winning as part of a team, being with this group of guys all week, I wanted to go out and put in a good performance for them, get blue on the board early, get some momentum for us and I was able to do that."
McIlroy's weekend got better as it went on. A defeat in Friday morning's fourballs alongside Spain's Sergio Garcia was followed by a snatched half point on the last hole in the afternoon foursomes.
Saturday morning yielded another half, this time with partner Ian Poulter before McIlroy was reunited with Garcia for a victory over Jim Furyk and Hunter Mahan.
But it was in the singles McIlroy excelled, propelling his team towards the finishing line and maintaining his 100% record in the biennial battle with the Americans.
"This has been a fantastic win, in terms of the fact we took command of it pretty early and we were able to get the job done," he explained.
"It was maybe not quite as exciting as Medinah a couple of years ago but it's still just as satisfying to win the Ryder Cup again," added McIlroy referring to Europe's shock win in 2012. "This is my third victory and it feels fantastic."
Team USA won the two fourballs sessions, when all four players play their own ball, by 5-3 but the tide turned in the foursomes matches, where players take alternate shots, Europe winning those session by an emphatic margin of 7-1.
Many commentators put that down to a closer bond among the European team, given that foursomes relies on dovetailing neatly with your partner.
"If you look at our team line-up we have a lot of good ball strikers, a lot of solid players, a lot of guys that hit a lot of fairways and a lot of greens which is what you need to do in foursomes," said McIlroy.
"If you look at the American team they have some players that are more aggressive, guys that hit it a long way, might not hit a lot of fairways but they are used to playing like that.
"It seems like we gel just a little bit better, in terms of our games match up a little bit better together -- I think that's why we've done so well in foursomes."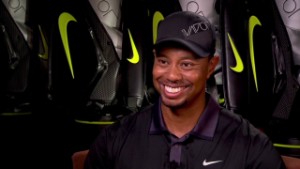 Tiger Woods is friends with WHOM?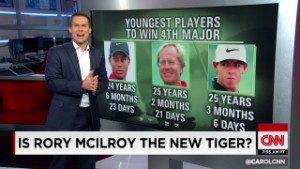 Is Rory the new Tiger?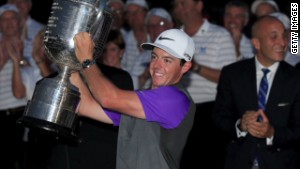 Rory McIlroy wins PGA Championship
McIlroy was influential in ensuring that Paul McGinley got the gig as European captain and the Irishman proved hugely popular among his team.
McGinley, who won on all three Ryder Cup appearances as a player, stressed to his players from the moment they arrived at Gleneagles that these were moments to be cherished and enjoyed.
It struck a chord with his troops, who exuded a far more relaxed air through the week than their transatlantic cousins.
"I'm so proud of them," McGinley, whose jacket was soaked in champagne, told CNN.
"It's one thing having a plan like I did, it's another thing to execute — that's the hard bit — but more than anything, to do it with a smile on their face. We talked about that on Monday, I wanted the players to enjoy this.
"These are great moments in your life, in your career, don't let them slip by because of nerves, drink it all in, enjoy every moment even if you lose. There's something big about the Ryder Cup that no other tournament has.
"It's important we won and a lot of decisions went right, calculated decisions on a number of occasions but I did a lot of background work, a lot of research, a lot of instinct, I've been preparing for this job for a number of years."
McGinley, who was lovingly chided during the team press conference for wearing a vest, created an atmosphere that encouraged the European to embrace their status as favorites.
And his celebrations with the players once victory was confirmed underlined the togetherness in their camp, in stark contrast to the Americans, as Phil Mickleson criticised Tom Watson's captaincy in their press conference.
Asked to sum up his experience in one word McGinley said: "Bonding. If I could achieve the bonding that I have with the rest of the players that I played with, with these guys this week that'll mean a lot.
"In 30 years time when they are old and grey and they meet each other at some social event and they say 'Do you remember Gleneagles?' and they give each other a man hug, I'll have achieved my goal."