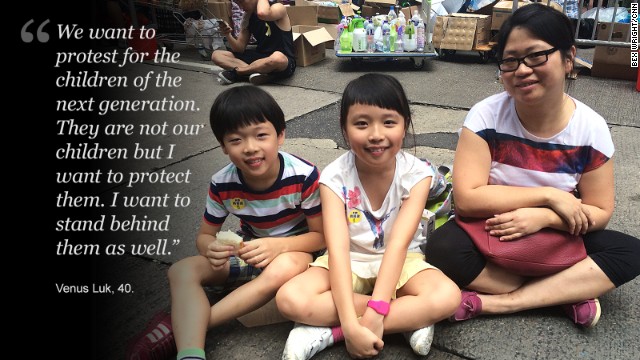 Protesters have vowed to keep occupying downtown Hong Kong.
Hong Kong's leader C.Y. Leung has said he will not step down.
Protesters are standing their ground in the heart of Hong Kong.
The protests have spread to different areas in the city.
It's been more than a day since officers fired tear gas and pepper spray at the crowd but protesters have water at the ready.
The head of the Hong Kong government has urged protesters to clear roads, saying they are impeding any emergency vehicles that may need to pass.
Pro-democracy protests have caused widespread disruption in Hong Kong.
Police said they have arrested 78 people, ranging in age from 16 to 58, including some leaders.
With thousands of demonstrators continuing to jam streets in key financial and commercial districts, it appears unlikely that the extraordinary protest movement would end anytime soon.
Defiant demonstrators remained on the streets, blocking traffic on key highways.
The government ordered schools to shut on Monday in some areas of the city.
Protesters wore goggles, masks and raincoats.
The protesters were responding to China's decision to allow only Beijing-vetted candidates to stand in the city's elections for chief executive, Hong Kong's top civil position.
The government urged the demonstrators to disperse.
Many bus routes were suspended in the city on Monday.
At least 41 people have been injured and taken to hospitals.
The demonstrations, which authorities have intermittently attempted to disperse by force, follow a week of student-led boycotts.
Riot police have occasionally wielded batons against protesters. They have also used pepper spray, and tear gas has been deployed against more than one group of protesters.
Hong Kong is in the midst of its longest series of political protests since the 1997 handover.
Hong Kongers have their say on protests
Hong Kongers have their say on protests
Hong Kongers have their say on protests
Hong Kongers have their say on protests
Hong Kongers have their say on protests
Hong Kongers have their say on protests
Hong Kongers have their say on protests
Hong Kongers have their say on protests
Hong Kongers have their say on protests
Hong Kongers have their say on protests
Hong Kongers have their say on protests
Hong Kongers have their say on protests
Hong Kongers have their say on protests
Hong Kongers have their say on protests
Hong Kongers have their say on protests
Hong Kongers have their say on protests
Hong Kongers have their say on protests
Hong Kongers have their say on protests
Hong Kongers have their say on protests
Hong Kongers have their say on protests
STORY HIGHLIGHTS
Timeline charts experiences of Hong Kong protesters in dramatic confrontations with police
Protesters remained peaceful despite tear gas and pepper spray attacks
Police, too, showed remarkable restraint, aware of pitched PR battle that was subtext of protests
(CNN) -- The Hong Kong pro-democracy demonstrations began as both isolated and all-consuming events.
Isolated because as of last week they were mostly confined to a small area around the city's Admiralty area of government buildings.
Even as police arrested 17-year-old Joshua Wong (founder of a pro-democracy student group) on Friday night, then tear gassed protesters on Sunday evening, Hong Kong's daily business, shopping and restaurant rituals buzzed along, little affected.
Yet throughout the city, people talked of little else, aware that something large was gathering shape and momentum.
On Sunday night, live images of growing crowds of protesters in Admiralty and the neighboring Central district broadcast on local television transfixed viewers.
The following firsthand log describes the explosive events of Sunday night and Monday morning that have captured world attention and launched Hong Kong's pro-democracy movement into a new and what appears to be more potent position.
9:45 p.m.
Approaching the Admiralty area along Hennessey Road, protesters arriving on foot are greeted by ad hoc stations set up by protesters as supply depots.
Every 50 yards or so protesters call out instructions in Chinese, urging those approaching the main protest zones to prepare themselves by carrying water and plastic wrap or surgical masks as makeshift safeguards against possible tear gas attacks from the police.
(I don't speak Cantonese. For the rest of the night I'll rely on the largely bilingual and always helpful locals for translations.)
Modest amounts of people move in both directions, toward the area of the protests and away from it.
The broad streets here have been closed to vehicle traffic, which feels surreal in a part of the city that's nearly always crowded with traffic.
10-10:45 p.m.
About 3,000 protesters are gathered directly in front of the police headquarters building and Admiralty Centre (the Admiralty MTR subway station is located in the basement).
The atmosphere is calm, even friendly.
Across the street stands the Legco Complex and Central Government Offices, where Hong Kong's legislative body meets.
10:28 p.m.
Seeing me without tear gas protection, a young couple in their early 20s approach me with expressions of concern.
They have a boxful of supplies. They press a surgical mask and long sheet of plastic wrap on me.
"You have to stay safe, don't breathe in the gas," the girl tells me.
They continue through the crowd dispensing masks and plastic wrap.
10:30 p.m.
"Chong" is an unemployed Hong Konger from the Tai Hing area. He's saddened by the demonstrations -- it seems so "not Hong Kong" -- but feels he has to take part.
"The world needs to see how peaceful we are being, that we are giving the police no reason to confront us," he says. "In China the people will only be shown video of violence after the tear gas is used, so they will believe all people in Hong Kong are violent and should be shot.
"You can see it's not true, but people will only be shown the violent aspects of this demonstration.
"The Chinese government is like this, they will do anything to make us look like villains and Chinese people will believe them. I watch Chinese media, it is like this, I am not exaggerating."
10:33 p.m.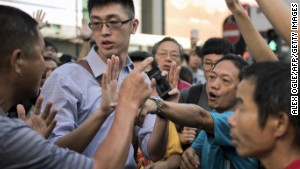 Beijing watching Hong Kong events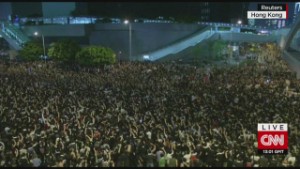 Protests paralyze Hong Kong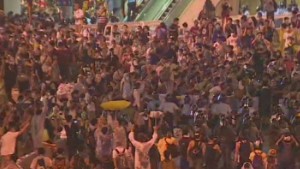 Riot police fire tear gas at protesters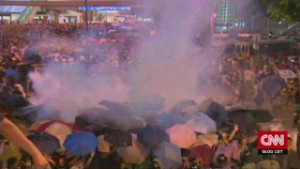 CNN crew gassed during Hong Kong protests
A young male walks through the crowd with a bullhorn blasting a shrill announcement that sends a wave of anxiety through the crowd.
Chong translates: "It has been confirmed that the police have been authorized by the government to use rubber bullets on the protesters. He says anyone who wishes to leave now should do so and no one will condemn them. We must all consider our safety for ourselves, there is no shame to leave now."
"Are you thinking of leaving?" I ask.
"Yes, of course, this is a frightening announcement. Everyone here is a little bit scared. But I won't leave. But if you leave it's OK, no one will say something about it."
Few leave.
10:38 p.m.
I walk with Chong along a major highway ramp that leads from the Island Eastern Corridor and Gloucester Road, ultimately connecting Hong Kong's financial center and the Cross Harbour Tunnel and Kowloon side of Hong Kong.
Now closed and jammed with protesters, this is normally a major traffic artery, the primary vehicle route into Central, as well as neighboring business districts.
For the easy flow of commerce, it's perhaps the most important roadway in Hong Kong. In a matter of hours, Monday morning traffic should be flooding into the area.
The elevated highway ramp that drops into the area is perhaps a quarter-mile long and 10 lanes wide. Lines of police in riot gear are positioned at both ends of this section of highway, which feeds onto Harcourt and Connaught Roads just below either side of the highway ramp.
"Our position is trapped by police on both sides between Admiralty and Central," says Chong. "We are unarmed, we are peaceful.
"This is ridiculous. It should not be happening."
The police have left side roads open for people to leave the area. I spot Exit 10A, which leads to Cotton Tree Drive.
No police and few protesters are on the ramp. I make a mental note—this will be my exit route if things get dicey.
10:55 p.m.
Chong and I walk along the ramp toward Central (Admiralty Centre at our backs) in the direction of the 22-story Hutchison House office complex at 10 Harcourt Road.
The building is home to banking, accounting and law offices.
The Bank of America skyscraper office complex is next door.
About 20 large armored police vehicles, parked with flashing lights, and about 200 officers in full riot gear are massed in formation directly in front of Hutchison House.
It's a shocking and intimidating display of police power, rarely seen in Hong Kong.
The police have created a narrow "no-man's-land" corridor between the group of about 3,000 on the Admiralty side and another group of protesters of similar size in Central.
I begin to think of this zone as the "front," because it clearly has the largest concentration of police and protesters facing off against each other.
I think of the clump of protesters and police behind me -- a couple of hundred yards away, toward Admiralty Centre -- as the "rear."
In some ways, it feels as though the police have a classic military "pincers" strategy in play.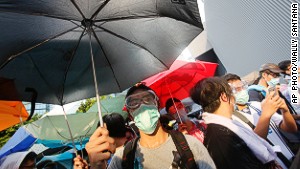 Protesters used umbrellas to block pepper spray and tear gas used by riot police.
"If the police advance on us from both sides, it leaves few places for us to go, we'll be squeezed and not able to escape the tear gas," says Chong.
11:01 p.m.
A number of protesters are flipping middle fingers and yelling "F*** you!" Their anger is directed at a building across the road from Hutchison House.
Part of the building is occupied by a parking garage—inside three soldiers in full green camouflage gear can be seen watching the crowd.
They are People's Liberation Army soldiers.
The soldiers are inside the Hong Kong headquarters of the PLA.
They haven't been deployed for this event, they're always here, but for some here tonight they're presence takes on a menacing quality.
One of the great fears/rumors making the rounds among protesters is that if the local Hong Kong police can't contain the crowds or even end the protest, the PLA will use their failure as a pretext to move in.
Intervention by the Chinese mainland military is much on the minds of the protesters.
11:07 p.m.
Shouts of alarm spread through the crowd.
A female university student's voice cuts through the hum of the mob.
All who haven't donned masks should do so at once, she says. Police at the bottom of the ramp in front of Hutchison House have begun to prepare themselves for combat.
11:08 p.m.
A tear gas canister explodes about 50 feet to my right. Another explodes immediately after.
A cloud of gas builds and advances quickly toward the protesters.
A sustained roar mixes with high-pitched screams.
The crowd retreats in hurried but mostly orderly fashion. But it can't move as fast as the advancing cloud, which engulfs many protesters.
Tear gas stings my eyes -- I hold the plastic over my face for a moment, it helps -- and a bitter taste fills my mouth.
I've never experienced tear gas. It hurts, but on the fringe of the cloud it's not debilitating.
The crowd retreats quickly toward Admiralty Centre.
The cloud disperses within moments. The pain is brief. The tear gassing is sudden and shocking, but it ends quickly.
11:14 p.m.
The tear gas volley seems to have been a warning.
After pushing the crowd back and advancing upon them for maybe 10 or 15 yards, the police phalanx quickly retreats and resumes its position in front of Hutchison House.
11:18 p.m.
"We are unarmed, we have no power, the police are wrong to confront us, this is a peaceful protest," a student tells me.
"We are peaceful," he repeats emphatically. "This is Hong Kong. We don't like confrontation. The police should not be doing this to us."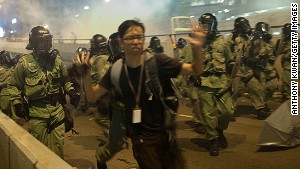 Demonstrators disperse as tear gas is fired by police.
Like most I speak with, the group expresses extreme distaste, perhaps even loathing, for the Beijing government.
At the same time, it's a polite, educated group. Well dressed, courteous, mainstream college kids.
Even in this large crowd, people share smiles and apologize when they bump into one another.
The passive, civil-disobedience spirit of Hong Kongers is perhaps summed up by a placard carried by a studious looking young woman: "I'm so mad that I made a sign."
Even an exclamation point seems too rude a way to emphasize her frustration.
11:28 p.m.
Even though the immediate threat of tear gas is gone, much of the crowd still wear cheap kitchen plastic wrap on their faces and arms (rolls of Glad wrap are everywhere) as makeshift protection.
Often paired with cheap plastic safety goggles, the homemade armor seems a sort of badge of honor among protesters.
Some fashion wristbands, headbands and bandanas out of plastic wrap.
11:30 p.m.
Thousands of people work diligently on their cell phones.
I peer over shoulders and see something surprising.
Rather, what I don't see is surprising: not a single person is playing a video game.
On a typical day in Hong Kong you can hardly walk 10 feet or get on a subway car without bumping into someone absorbed by a game on their phone.
Not tonight.
Protesters are too busy posting pictures and news on social media, reviewing their own tear gas videos and reading updates from others, getting as much information as they can.
11:32 p.m.
Another young woman with a piercing voice moves through the crowd shouting instructions.
With the help of a young man, she begins passing out umbrellas to protesters standing atop the three-foot-tall concrete traffic divider that separates the sides of the highway ramp.
"Take an umbrella if you intend to remain atop the barrier," she tells protesters. "When the next wave of gas comes, open the umbrella and shield the people below you. Create an umbrella curtain."
No one climbs off the elevated barrier.
Cheers are raised along the road for those who take umbrellas and agree to protect their fellow protesters.
I'm later told that local social media sites have since dubbed the protests, "The Umbrella Revolution" and the phrase is gaining popularity.
11:40 p.m.
At intervals, chants and clapping and cheers ripple through one part of the crowd or the other.
It's difficult for everyone to know what's going on, what has inspired cheers from protesters 40 or 50 yards away, but the tear gas attack has had a galvanizing effect on the crowd, inspiring a "we're in this together, let's see this through" spirit.
A number of protesters tell me they've joined the demonstration only after seeing peaceful organizers being tear gassed on TV earlier in the day.
They've come to express their support and outrage.
11:51 p.m.
Things have quieted down.
In tight line formation and full riot gear just 20 minutes earlier, the police along Harcourt Road now stand at ease, many with their face shields flipped up.
Some speak amiably with protesters.
A few begin to sit on the ground -- like the protesters they're growing bored and tired.
11:59 p.m.
There have been rumors all night that midnight will force some sort of "deadline," that if the Hong Kong police haven't cleared the area by the stroke of 12, the PLA will be brought in to do the job for them.
PLA intervention paranoia gathers steam as the end of the day approaches.
Midnight means uncertainty.
Other rumors include a supposed voice message from the detained Joshua Wong urging people to stop demonstrating in Admiralty (which turns out to be a fake, as police have confiscated his cell phone upon his arrest), and talk of PLA tanks entering the city.
With this backdrop, a steady cheer rings in the new day, almost as it would on New Year's Eve.
12:02 a.m.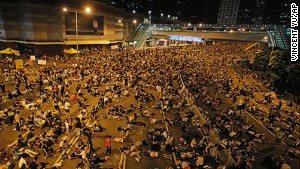 Protesters brought Hong Kong's financial district to a halt.
A man on a megaphone passes through the crowd announcing that similar demonstrations are being held in other city districts: Causeway Bay, Wan Chai, Mongkok and Tsim Sha Tsui.
Crowds react with cheers.
Momentum seems to be on their side.
Some question whether Hong Kong has enough police to handle demonstratioss across the city.
12:03 a.m.
Still trapped between two sets of police lines -- though with open escape routes to the sides -- the crowd begins chanting "Hoi lou!" Literally "open road" or "set us free."
Something feels like it's about to happen.
12:04 a.m.
The 150 or so police on Harcourt Road (just below the elevated highway ramp) are mustering for activity, flipping down face shields, reorganizing into formation.
When a lead officer angrily kicks and scatters the contents of a bag of trash then angrily shoves a set of metal baricades out of his way, the crowd responds with jeers, openly laughing at his theatrical frustration.
"Ooh, tough guy," they mock him, "kicking a bag of garbage down the street. We're really frightened now!"
The police have set up numerous heavy barricades (metal bars, like large bicycle racks, and large orange and white traffic barriers filled with sand or water) to keep protesters contained.
These will soon be put to quite the opposite use.
12:15 a.m.
Back at Hutchison House, urgent warnings pass through the crowd: "Put on your masks, protect yourselves, the police are preparing!"
12:22 a.m.
At least two, maybe three tear gas canisters are lobbed into the crowd about 100 feet from my position.
Flames light up the night like a firework, smoke illuminated against red flares that shoot in all directions.
The percussive "boom" of the shells exploding has a chilling effect on the crowd, which roars again and retreats in an orderly rush away from the police.
It's not quite chaos, but everyone is desperate to avoid the gassy, billowing cloud.
People tear up from eye irritation but I see no major injuries.
With the tear gas roiling toward us, I try to make my way to my Cotton Tree Drive escape route -- it's impossible, the crowd is too dense, too strong and moving too quickly.
I don't want to cause a panic by cutting across the crowd and probably knocking someone over, so I allow myself to be carried along with the human current, past the Cotton Tree Drive exit.
It's now jammed with fleeing people anyway, I'd never have made it off.
12:26 a.m.
Back near Admiralty Centre, several sections of protesters have been energized by the tear gas attack.
They begin attacking and dismantling the heavy traffic barriers erected by police, tearing them down, and reforming them to use as their own protection against the authorities.
The police stand by, watching passively.
The barriers that once protected them from the protesters are now being employed by the protesters to protect them from the police.
It takes five or six strong men/boys (many of these protesters are university students, but some look at least as young as 16 or 17) to drag the heavy barriers.
Sounds of metal and thick plastic scraping against the pavement become familiar as the protest drags through the morning.
I shoot a short video and a protestor shouts, "Help us! Help us!"
I'm not sure if he's speaking directly to me or to a world of English speakers he believes might see my video.
12:32 a.m.
The chaos continues with 150 or so police officers on Harcourt Road confronted by an increasingly agitated crowd.
The police are pelted with four or five full water bottles that fly out of the crowd.
Led by a boy in a Kobe Bryant Lakers jersey, protesters shout insults from close range.
Suddenly the police begin retreating from the crowd.
The police are showing tremendous restraint.
They're capable of crushing this crowd with ease, but clearly have orders not to engage protesters.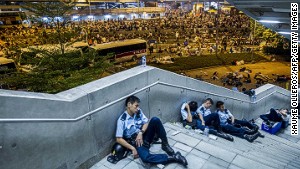 Police and protesters alike grabbed rest as the night wears on.
Everyone is aware of the thousands of cameras constantly pointed in the direction of the police and the high stakes PR game that is a subtext to the protests.
12:35 a.m.
It's a three-ring circus now.
A new cry from some distant area of the crowd arises every few minutes.
Along Harcourt Road, a young man walks toward a handful of riot police who have their night sticks drawn.
The protestor holds both his hands above his head in the posture protesters adopt anytime they're confronted by police.
"Give them no excuse to attack us," a protestor explains.
The solitary man is approaching a nervous cluster of police by himself, forcing them to back away.
The scene is reminiscent of the lone man with the shopping bag confronting the Chinese tank in Tiananmen Square in 1989.
In fact, several protesters invoke the events and spirit of Tiananmen Square, drawing parallels to their own struggle against the Beijing government.
A woman in her thirties named San tells me: "I believe this is not just a struggle for Hong Kong, but for all humanity, which is seeing its freedoms diminished by large governments year after year. We are protesting for all of the world. I didn't plan to come here, but when I saw they used tear gas on the students I knew I had to come. We have reached a nadir of freedom. I know now that I have to be here."
12:39 a.m.
The massive line of police and vehicles that has all night commanded a position near Hutchison House have abruptly departed, simply abandoned the site, along with all of their blockade vehicles.
With the force that had separated the two main groups of protesters unexpectedly gone, the Central protesters begin marching to unite with those in Admiralty.
They move up the highway overpass and spill down onto Harcourt Road.
As Central protesters flood into the Admiralty area, the crowd is exhorted by organizers to fall back and congregate near Admiralty Centre.
12:50 a.m.
The bulk of the crowd has coalesced in front of Admiralty Centre and the legislative building.
It's now perhaps 6,000 to 8,000 strong.
12:58 a.m.
People sit and even lie in the street, settling in for the night.
Biscuits, dried fish, apples and bananas are passed around, but most haven't eaten a meal all night.
They're exhausted from stress, lack of sleep and food.
Conversations are quieter now, less animated.
"I wish I knew what the police were planning, but the truth is no one knows," a protestor in his early 20s says. "Maybe they need to re-organize in another position.
"I wish I knew what they are planning. No one knows."
1:12 a.m.
The protesters are unceasingly peaceful.
Some even pick up trash along the street and put it in bags.
There's no alcohol, no pot smoking, no folk music or other trademarks of protests in Western countries.
Despite the majority being student age, there are a number of older people, some even into their 70s, among the crowd of all-nighters.
There are a number of white foreigners among the protesters, a few hundred at least.
Some are Hong Kong locals, some curious tourists.
A line of police stand in front of a McDonald's on Harcourt Road.
Two white males with cans of beer in their hands are cursing at them.
The taller one shouts in a rough British accent, "The Beijing government wants you to shoot the people of Hong Kong!"
He ends his tirade with a rhythmic chant of "F*** YOU! F*** YOU! F*** YOU!"
Five or 10 Chinese join the F*** YOU chant.
The police remain impassive, like unflappable Buckingham Palace guards.
Quickly, a young woman in braids and white T-shirt with a radio in her hand -- clearly an organizer -- rushes in front of the crowd, raises two hands into the air and scolds the crowd for their obscenity.
A 30ish male organizer in black horn-rim glasses takes up the reproach, shouting down the crowd, screaming that these obscene tactics do not belong at this protest.
The admonished crowd stops the chant.
The foreign men storm away, not exactly shamed, but clearly not appreciated either.
1:25 a.m.
No activity.
Protesters believe the government cannot allow this protest to interfere with the Monday workday commute.
Most believe they'll wait until the crowd is quiet and tired before moving in with a heavy offensive -- rubber bullets, more tear gas, perhaps water cannons.
The next push is widely expected to come at around 4 a.m.
1:46 a.m.
The riot police in front of McDonald's have been replaced by Hong Kong's familiar blue-shirted police.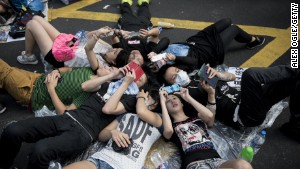 Protesters frequently checked their phones -- but not to play games.
A group of 10 or so stand casually, speaking in gentle tones with protesters, occasionally sharing a subdued laugh.
1:49 a.m.
The quiet is shattered when a protestor suddenly sprints at full speed along Harcourt Road (now half-empty as many people have taken to reclining on the highway ramp) pursued by two police in riot gear.
The protestor has a fair lead, but even in all their gear the police are making up ground and seem certain to catch him.
The commotion brings the crowd to life.
A dozen or so protesters size up the situation and move in to block the two officers.
The human shield allows the fleeing protestor to escape into the safety of the crowd.
The police are angry.
They begin arguing loudly the protesters, who now gather in a growing group with both hands in the air to block the police from advancing into the crowd after the man.
1:52 a.m.
A squad of 20 or 30 police in full riot gear suddenly appear, moving into the scene at a slow trot, night sticks drawn.
One sprays a stream of mace at a protestor.
Most police carry canisters of pepper spray.
Ten feet from my position, an officer yanks open a Velcro chest pocket and removes a canister of tear gas.
Protesters shout warnings to those behind them.
They can see what's coming.
The officer hurls the canister overhead.
It spins crazily, shooting sparks and smoke into the night.
The "boom" of explosion rocks the air.
Every protestor is back on their feet, running, shouting.
2:04 am
A fire truck attempts to enter the fray from the Admiralty side of the highway ramp.
Its progress is blocked by hundreds of demonstrators who stand with arms held up to the sky.
The fire truck makes a laborious reverse retreat back up the ramp and out of the demonstration zone.
The crowd cheers.
2:06 a.m.
As they have for much of the night, the crowd picks up a chant of "Mo chi! Mo chi!" which means "Shameless!" or, more loosely, "Shame on you!"
The chant is directed at police, over and over.
2:12 a.m.
Protesters are bringing in pilfered barricades, piling them up as crude barriers.
2:16 a.m.
A pair of foreigners drinking from large cans of Kirin beer shout at police, "C'mon, man! Come here!"
The drunken aggression displayed by the foreigners is a marked contrast to the largely peaceful tactics of the Chinese.
Most Chinese ignore the man, but a few register expressions of irritation.
3 a.m.
"Phil" is a sober British resident, about 55, who did a 10-year stint in the British Army in Belfast during protests there.
He's not impressed with these protesters, who he dismisses as "university kids having a laugh."
Like most here, Phil believes the police will wait until the protestors are tired and dispirited and move in to clear the area with force at about 4 a.m.
"In Northern Ireland, a proper demonstration would have these parked police vehicles burned in minutes," says Phil, noting several police wagons on the streets surrounded but left alone by protestors. "Though not before they'd been looted of every piece of valuable item."
But the protestors don't want to destroy Hong Kong. They say they want to save it.
"We're not fighting Hong Kong or the police," a protestor tells me. "We're concerned about Beijing, but Beijing refuses to talk to us."
4:15 a.m.
An hour and a half without action.
Hundreds, maybe thousands lie in the road, a few amazingly able to sleep.
The crowd is spent.
The police seem as bored and tired as the protestors. A line of them sit on the ground resting, some even sleeping.
4:50 a.m.
"I don't think many people will be going to work today in Hong Kong," a 35-year-old man from Kowloon says.
"I'm surprised by this, never you see this in Hong Kong, but it seems to be true."
5:37 a.m.
With Monday's first light drawing near, it appears authorities have decided against forcefully dispersing the protestors.
I take a last walk through the crowd, passing thousands of protestors, some still with transparent plastic wrapped around their heads and faces and arms, safety goggles and surgical masks dangling loosely around their necks.
The worst seems to be over.
Many are on their phones.
Making my way out of the protest zone, I continue to eavesdrop, looking at the illuminated screens of thousands of mobile phones.
Still, no one is playing games.