STORY HIGHLIGHTS
Fashion bloggers have become important players in the fashion industry
With millions of followers, they command front row seats at fashion weeks
Bloggers are now converting their social currency into hard cash
Top bloggers earn six-figures a year from advertising, brand collaborations
London (CNN) -- Seven years ago, Imran Amed started a blog from the living room of his flat in Notting Hill, West London.
He had recently quit his job as a management consultant and decided to pursue a passion he harbored since childhood -- fashion.
Fast forward to today, and what started as a collection of musings read by Amed's friends and family has grown into The Business of Fashion, one of the industry's most influential online journals, with 1.6 million followers.
The site employs 15 people and regularly features interviews with the likes of Karl Lagerfeld and Michael Kors, making Amed one of the rising stars of the blogging phenomenon that is taking the fashion world by storm.
In a few short years, bloggers have gone from being observers on the fringes of the action to bona fide tastemakers, whose recommendations can make products sell out. And brands, keen to capitalize on this effect, are increasingly looking to advertise on the blogosphere, hoping to tap into a ready-made audience of followers.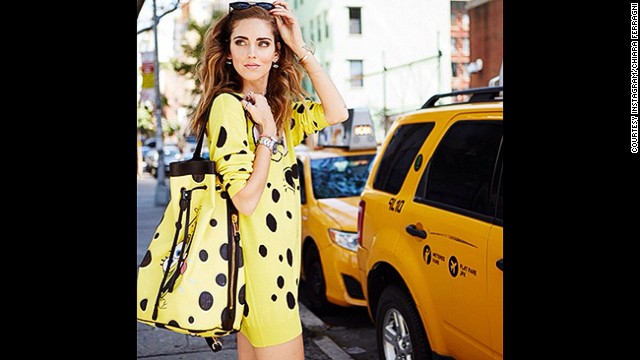 Fashion bloggers have become a new force in the industry, often earning hefty fees through brand collaborations and advertising. One of the most successful is 27-year-old Italian, Chiara Ferragni, whose blog The Blonde Salad gets five million views a month.
Ferragni's celebrity status has gone far beyond the blogosphere. She regularly sits in the front row at fashion weeks and is pictured here signing autographs at Venice Film Festival.
The blogger, pictured here with Roberto Cavalli, was a student at Bocconi University in Milan when she started taking photos of her outfits and sharing them online. Now she collaborates with luxury brands on advertising campaigns, and has her own shoe line.
Ferragni says she doesn't get paid to wear clothes, but works with brands to create social media content for them.
Former McKinsey management consultant Imran Amed started a blog about the business behind the fashion industry from his living room in 2007. Today, it's one of the industry's power players.
New Yorker Leandra Medine's blog Man Repeller has been so successful that she has hired writers to work on it full time. She has also written a book -- "Seeking Love. Finding Overalls."
Cameron Tewson started his blog Oh My Prada as a creative outlet for his interest in fashion, writing, and art. It has grown to 580,000 readers a month and Tewson is now launching Frontrowedit.co.uk, where he will also commission freelance writers from across the globe to bring the latest fashion news.
Rachel Parcell's blog Pink Peonies combines her personal style with beautifully shot photos of her home, all bathed in luminescent sunlight. Here she poses backstage at the Nanette Lepore fashion show during New York Fashion Week .
Aimee Song and Bryanboy, seen here at the Yigal Azrouel fashion show in New York, are some of the highest earners in the blogosphere. Women's Wear Daily reported that the Philippine-born BryanBoy was paid $40,000 to attend the ribbon cutting at the Siam Center in Bangkok last year.
BryanBoy is seen here with another blogging superstar, Rumi Neely of the Fashion Toast blog. She has modeled for designer Rebecca Minkoff and fast fashion brand Forever 21.
Former model Hanneli Mustaparta's blog is a collection of her own photography and work as a stylist. It has helped her land work as a contributing photographer for Vogue and Vogue.com.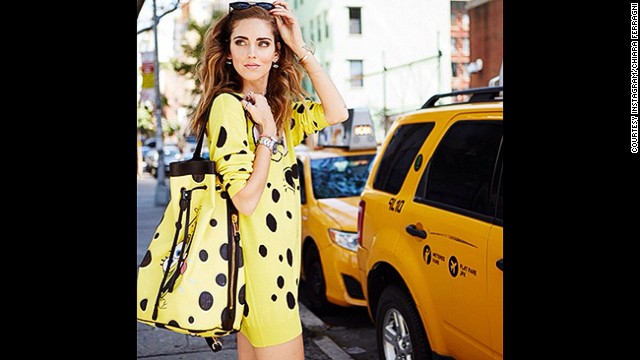 On the high end people are charging $50,000 for a sponsored post.
James Nord, cofounder of Fohr Card
Cashing in
This means that, for many bloggers, what started as a hobby has turned into a revenue-generating vehicle -- and for a select few, a full-time job raking in a six-figure annual salary.
"A lot of these blogs are like businesses now, and may have three, four writers working for them," says James Nord, co-founder of Fohr Card, a directory which charges brands a subscription to connect with the blogs on its books, and also provides them with traffic and follower data.
"On the high end, people are charging $50,000 for a sponsored post. Those big numbers are usually due to the fact that the blog is reaching a lot of people," he explains, adding that the fee was appropriate for the amount of promotion the brand was getting, and similar to what would be spent on traditional advertising.
One of the most common ways bloggers make money is by affiliate marketing where, through companies like rewardStyle and Skimlinks, they get a commission every time someone buys a product after clicking through from a link on their blog.
The people that you see now have amazing skills, many have teams in place, and it's definitely more of a professional game
Yuli Ziv, founder of Style Coalition
Bloggers are now earning money from Instagram too.
RewardStyle's LIKEtoKNOW.it app sends followers who like an Instagram photo an email with ready-to-shop links of featured products, paying bloggers a small percentage if a sale is made.
"Right now, Instagram is one of the most important platforms a blogger can be on," says James Nord. "What we're seeing as a trend is that URL traffic from their actual blog is falling, but following on their other channels such as Instagram, Tumblr, and Facebook is growing fast."
Other sources of revenue include sponsored posts, Twitter chats, ad banners, and for those who have built up a personal brand, co-designing capsule collections and acting as a spokesperson for a label.
"Many of these bloggers are becoming celebrities and getting TV careers. For some of them it's a path for a high-profile job, but many of them realize you can run a successful business earning six figures by doing what you love," says Yuli Ziv, author the book Blogging Your Way To The Front Row and founder of Style Coalition, a company which connects brands with influential bloggers who have a minimum of 10,000 unique visitors a month.
Social superstars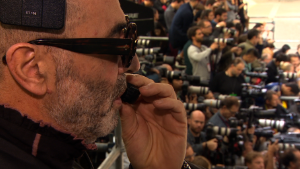 How catwalk king works his magic
Some blogging superstars have become celebrities in their own right.
New York City-based Leandra Medine, author of Man Repeller, signed to CAA, the Hollywood mega-agency better known for representing Meryl Streep and Tom Hanks than street-style sensations.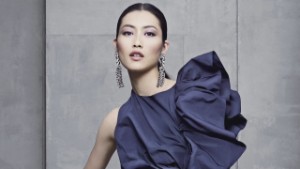 Chinese supermodel makes history
Italian front row regular Chiara Ferragni, who has clocked 2.8 million followers on Instagram since starting her blog The Blonde Salad in 2009, has collaborated with luxury brands like Christian Dior, Louis Vuitton and Max Mara.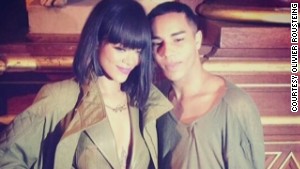 Rihanna inspires rising designer
"Three months after I started the website I started getting fist invitations to shows at Milan Fashion Week, some of them for the front row so I was like, 'wow!' I had never been to a show before, and I didn't know the way the fashion world worked, it was totally new to me," says Ferragni.
She now has a team of 13 people, and says she generates over $7 million a year, mainly from her line of shoes, as well as adverts, commissions and brand consultancy.
You don't have to be based in a fashion capital to make spectacular earnings. According to Women's Wear Daily, Salt Lake City blogger Rachel Parcell, who pens a personal style blog Pink Peonies, is expected to make $960,000 this year from affiliate links alone.
Cutthroat competition
But before you pack in the day job to make your fortune blogging about shoes remember it's a competitive arena.
"The competition is so tough, even compared to three years ago, the stakes are getting higher. The people that you see now they have amazing skills, many have teams in place, and it's definitely more of a professional game," says Ziv.
Many of these bloggers are becoming celebrities and getting TV careers.
Yuli Ziv, founder of Style Coalition
A huge number of followers doesn't always translate to mega-earnings either, according to Micky Khanna of UK-based Optimus Performance Marketing, which connects brands to bloggers.
"We look at those who have an active following. You can have a low number of followers but of good quality, or you may have a large number of followers, but because of the quality it may not necessarily convert. That's something we need to determine on a face-to-face basis," he says.
So what exactly do established brands get out of working with bloggers?
"The custom content that bloggers create on behalf of the brand is something that you can't compare with advertising because it's very personal and very authentic," says Yuli Ziv. "We've seen the quality of bloggers' work increasing constantly, and if you compare average advertising budget that brands spend on TV or print, what they can get for the same budget working with bloggers is incomparable."
Style Coalition says that 13% of their bloggers earn more than $100,000 a year and 54% blog as a full-time job.
And how do you build the right kind of following that attracts advertisers?
Audience wants to come to your blog and Instagram and see new content every day.
James Nord, cofounder of Fohr Card
"Social media has enabled people writing from literally their living rooms to get in contact with a global audience," says Imran Amed. "Every time we create an articles or a video it's shared thousands and thousands of times on social media. It's kind of like turbo-charge word of mouth
So with blogging becoming increasingly popular and everyone and their dog penning their thoughts on fashion, what separates the professional bloggers from the amateurs: "Consistency," says James Nord, "the people who become successful do have a unique point of view, but the hard part is waking up every single day and producing things over and over and over again. Audience wants to come to your blog and Instagram and see new content every day."