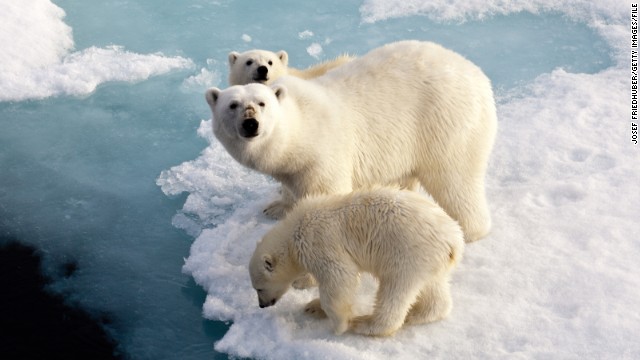 The consequences of climate change go far beyond warming temperatures, which scientists say are melting the polar ice caps and raising sea levels. Meet the team that is measuring climate change in the Arctic on CNN's
"Wish You Were Here"
series. And click through the gallery for a look at 10 other key effects of climate change, some of which may surprise you.
Drought:
In the coming decades climate change will unleash megadroughts lasting 10 years or more, according to
a new report
by scholars at Cornell University, the University of Arizona and the U.S. Geological Survey. We're seeing hints of this already in many arid parts of the world and even in California, which has been rationing water amid record drought. In this 2012 photo, a man places his hand on parched soil in the Greater Upper Nile region of northeastern South Sudan.
Wildfires: There's not a direct link between climate change and wildfires, exactly. But many scientists believe the increase in wildfires in the Western United States is partly the result of tinder-dry forests parched by warming temperatures. This photo shows a wildfire as it approaches the shore of Bass Lake, California, in mid-September.
Coral reefs:
Scientists say the oceans' temperatures
have risen by more than 1 degree Fahrenheit
over the last century. It doesn't sound like much, but it's been enough to affect the fragile ecosystems of coral reefs, which have been bleaching and dying off in recent decades. This photo shows dead coral off the coast of St. Martin's Island in Bangladesh.
Food prices:
A U.N. panel found in March
that climate change -- mostly drought -- is already affecting the global agricultural supply and will likely drive up
food prices. Here, in 2010, workers on combines harvest soybeans in northern Brazil. Global food experts have warned that climate change could double grain prices by 2050.
Pollen allergies:
Are you sneezing more often these days? Climate change may be to blame for that, too. Recent studies show that rising temperatures and carbon dioxide levels promote the growth of weedy plant species that produce allergenic pollen. The worst place in the United States for spring allergies in 2014, according to the Asthma and Allergy Foundation of America?
Louisville, Kentucky
.
Deforestation:
Climate change has not been kind to the world's
forests. Invasive species such as the bark beetle, which thrive in warmer temperatures, have attacked trees across the North American west, from Mexico to the Yukon.
University of Colorado researchers have found
that some populations of mountain pine beetles now produce two generations per year, dramatically boosting the bugs' threat to lodgepole and ponderosa pines. In this 2009 photo, dead spruces of the Yukon's Alsek River valley attest to the devastation wrought by the beetles.
Mountain glaciers: The snows capping majestic Mount Kilimanjaro, Africa's highest peak, once inspired Ernest Hemingway. Now they're in danger of melting away altogether. Studies suggest that if the mountain's snowcap continues to evaporate at its current rate, it could be gone in 15 years. Here, a Kilimanjaro glacier is viewed from Uhuru Peak in December 2010.
Endangered species: Polar bears may be the poster child for climate change's effect on animals. But scientists say climate change is wreaking havoc on many other species -- including birds and reptiles -- that are sensitive to fluctuations in temperatures. One, this golden toad of Costa Rica and other Central American countries, has already gone extinct.
Animal migration: It's not your imagination: Some animals -- mostly birds -- are migrating earlier and earlier every year because of warming global temperatures. Scholars from the University of East Anglia found that Icelandic black-tailed godwits have advanced their migration by two weeks over the past two decades. Researchers also have found that many species are migrating to higher elevations as temperatures climb.
Extreme weather:
The planet could see as many as 20 more hurricanes and tropical storms each year by the end of the century because of climate change, according to
a 2013 study
published in the Proceedings of the National Academy of Sciences. This image shows Superstorm Sandy bearing down on the New Jersey coast in 2012.
11 ways climate change affects the world
11 ways climate change affects the world
11 ways climate change affects the world
11 ways climate change affects the world
11 ways climate change affects the world
11 ways climate change affects the world
11 ways climate change affects the world
11 ways climate change affects the world
11 ways climate change affects the world
11 ways climate change affects the world
11 ways climate change affects the world
STORY HIGHLIGHTS
Rick McGahey: Critics of climate action think helping environment would hurt economy
McGahey: Three new studies show taking climate action can create jobs
He says U.S. energy policy is backwards with federal subsidies given to fossil fuel industries
McGahey: A carbon tax can help the economy and workers transition to green energy future
Editor's note: Rick McGahey teaches economics and public policy at the Milano School of International Affairs, Management and Urban Policy at the New School. He served as executive director of the Congressional Joint Economic Committee and as assistant secretary for policy at the Department of Labor in the Clinton administration. The opinions expressed in this commentary are solely those of the author.
(CNN) -- Critics of climate action like to say that helping our environment would hurt our economy. Climate-change denier Sen. Jim Inhofe has written that "manmade catastrophic global warming was the greatest hoax ever perpetrated on the American people" and that cap-and-trade legislation could cause the loss of over 4 million jobs.
Inhofe's views matter since he could become the new chairman of the Committee on Environment and Public Works if Republicans win the Senate in the November elections.
But three new studies show climate action can improve the economy and create jobs. Though transitioning to clean energy future will cause some disruption, unchecked environmental damage would cause catastrophic economic loss.
So how can climate action help economy?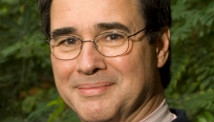 Rick McGahey
Business leaders and economists said in a report that new technologies can spur both economic growth and better climate outcome.
Finance experts at the International Monetary Fund -- hardly a bunch of tree-huggers -- made a similar point. In their paper about carbon pricing, they concluded that higher carbon prices can benefit individual countries even if others don't match them.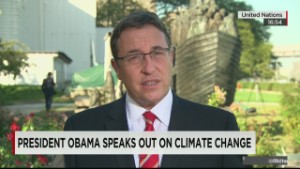 U.N. tackles climate change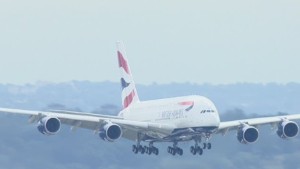 Airlines united to reduce climate impact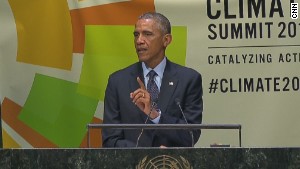 Obama: No nation immune to climate change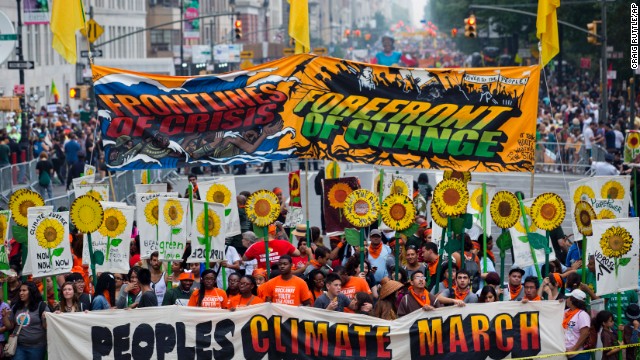 People gather near Columbus Circle before the People's Climate March in New York on Sunday, September 21. People from around the world are participating in what's billed as the largest march ever calling for action on global warming.
A man waves a rainbow flag as he marches in New York.
Marchers wave signs and banners as they fill a street in London.
Thousands of people joined the march from the Embankment via Whitehall to the Houses of Parliament in central London.
Marchers crowd a street in Brussels, Belgium.
Demonstrators gather in Place de la République in Paris.
Indian schoolchildren take part in a march in New Delhi.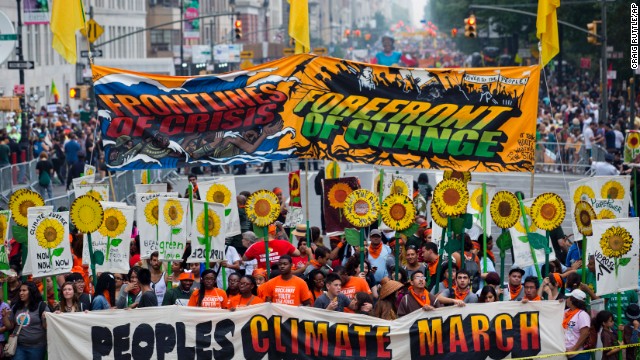 Photos: Rallying to stop climate change
And economist Robert Pollin and his colleagues have shown that for every $1 million of investment in clean energy, the U.S. can create 16.7 jobs compared with only 5.3 jobs from fossil fuel investments. Overall, green energy investments combined with carbon taxes can create 2.7 million jobs in areas such as renewable energy, construction, manufacturing, transportation, new technologies and services -- even taking into account the transitional job loss from fossil fuel industries.
We should pay attention to these ideas. American energy policy is backwards. Federal and state governments give out over $20 billion in annual subsidies for fossil fuel exploration and production, which benefit highly profitable companies such as Exxon Mobil, Shell and BP.
But if the U.S. implements even a modest federal carbon tax, we could generate $170 billion by 2030 to create jobs and build bridges, roads and schools, reduce budget deficits, and cut taxes to spur private investment.
Without carbon taxes, we treat our environment -- air, oceans and fresh water -- as a garbage dump where we fill up excess carbon. But the garbage can is overflowing because carbon emitters don't pay the full price for carbon emissions.
Think of it this way: It's like a bad neighbor who dumps garbage in the neighbors' yards. That person saves money, but everyone else pays to clean up the foul mess and the entire neighborhood suffers. Just like with trash, carbon taxes must bear the full cost of their negative effects.
The first dollar of any carbon tax must help communities and workers in the transition to green economy. In fact, many fossil fuel job losses already have taken place. West Virginia coal mining employment fell from 120,000 in 1950 to 25,000 by 2011. Carbon taxes are not the real threat to coal miners and their communities -- greedy energy companies are. These companies make profit but leave fewer jobs and harm communities.
Compensation to job losers, paid from carbon tax revenues, can be modeled after federal programs such as the Trade Adjustment Assistance for displaced trade workers or the Pentagon's program that helps communities that lose military bases.
There are successful policies that have reshaped market incentives to give clean energy and green jobs a fair chance.
In 2011, Germany expanded wind turbines and solar energy, aiming to replace all nuclear power. Thirty percent of the country's electricity is now derived from renewables. Germany's massive investments are driving down wind turbine and solar technology prices, making them more cost-effective.
Los Angeles, urged by an alliance of environmentalists, unions and community organizations, is changing a basic city service -- the commercial trash pickup -- to cut emissions from garbage trucks, increase recycling and encourage industries to use recycled materials,to achieve a "zero waste" target by 2050. These new trash policies will also create better, safer and higher-paying jobs.
So the economic cost of moving to a clean energy economy is not anywhere near what the fear-mongering of Inhofe and others would have you believe. Instead, we can create jobs, help those who are in transition, and save our precious common resource -- the planet where we all live. We just have to use our brains.
As one marcher at the recent People's Climate March aptly puts it in his protest sign: "Global Warming and No Jobs -- Two Problems, One Solution." There is only solution, and we must embrace it.
Read CNNOpinion's new Flipboard magazine.
Follow us on Twitter @CNNOpinion.
Join us on Facebook.com/CNNOpinion.