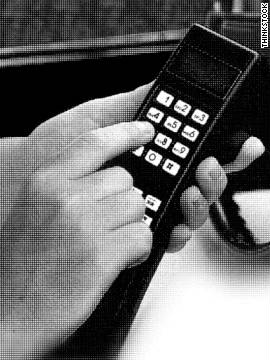 It all started with a truck driver in St. Louis. Ok, if we're being honest, it all started with a Swedish engineer named Lars Magnus Ericsson and
some electrical wires
... but let's skip ahead a few decades. The first mobile call was made on an
AT&T car phone
in 1946. But owning a car phone didn't become mainstream until the 1980s. Now
85% of American adults
own a cell phone, and we're annoyed when we can't get service. In celebration of the
iPhone 4S's release
, take a look back at the evolution of popular mobile phones in the U.S.
In 1973, Martin Cooper made history when he demonstrated a prototype of the first cell phone on the streets of New York. Ten years later, Motorola released the phone to the public. The DynaTAC 8000X was the size of a brick, weighed more than 2 pounds and sold for $3,900.
Bell South/IBM's Simon Personal Communicator retailed for $899 and was the first phone to include PDA functions like a calculator, an address book and e-mail. It also had a revolutionary (for its time) touchscreen that replaced the number buttons.
It seemed like everyone and their mother had a Nokia 5110 in the late 1990s. At the time Nokia was the leading cell phone company in the world; the 5110 was just one of many GSM (global system for mobile) communication devices Nokia produced. The interchangeable, colored covers made the product attractive to a wider audience, but what most people probably remember is that it featured one of the first popular mobile games, "Snake."
The first BlackBerry phone was released by RIM Corporation in 1999. The phone was unusual at the time in that it had a full keyboard, could access e-mail and was used as a personal planner. It was the beginning of the always-connected era, prompting PC World in 2005 to name it the 15th greatest gadget of the past 50 years. It's now known as a "CrackBerry" by corporate executives across the world for its addictive qualities.
It's almost unimaginable that people once had cell phones without built-in cameras. One of the first, the PCS phone by Sanyo 5300, sold in Sprint stores for $400 in 2002. "When Sanyo introduced the color-screen SCP-5000 a couple of years ago, consumers got a glimpse of what cell phones might be able to do in the future," a
CNET review
said at the time. "Now, two iterations later, the SCP-5300, with its 65,000-color display and flash-equipped built-in camera, is making that vision a reality."
You can blame the
Black & White T-Mobile Sidekick
for the millennial generation's obsession with text messaging. The phone was basically a two-way pager, allowing messages to be sent back and forth. The phone retailed for $249 and appeared in Jay-Z's music video "Excuse Me Miss." Later versions added a color screen and quickly became a favorite among celebrities and teens.
Remember the RAZR? Better question... who doesn't remember the RAZR? One of the thinnest phones in the market at the time, the Motorola RAZR (pronounced "razor") V3 was introduced in 2004. "Motorola has always been on the forefront of flip phone design, making a profitable living catering to the clamshell-hungry market,"
Mobiledia reviewer
Allen Tsai wrote in 2004. The phone sold for $59.50, and its descendants are still in stores today.
Ah, Apple. Unless you've been living under a Wi-Fi-blocking rock for the last four years, little else needs to be said. In 2007, the computer company released the first iPhone, sending fans into a frenzy. The phone introduced us to a multi-touch interface, the virtual keyboard and, a year later, the App Store. Despite its initial status as a $499 luxury product, consumers ate it up.
Not to be outdone, Google released its first Android smartphone in 2008 -- the T-Mobile G1. At $180 it was cheaper than the iPhone and offered those not able to (or wanting to) switch to AT&T an iPhone-like option. Since then HTC, Motorola and Samsung have all produced multiple smartphones running the popular Android OS.
4G is the modern standard for wireless in mobile phone technology. Released by Sprint in 2010, the HTC Evo was the first 4G phone offered on a major U.S. carrier. "The HTC Evo combines the 'perfect specimen' hardware of the Touch HD2, the Sense-on-Android smoothness of the Legend, and unprecedented download speeds. It's a beast," wrote Brian Barrett in
Gizmodo's review
.
Evolution of the mobile phone
1983: Motorola DynaTAC 8000X
1994: Simon Personal Communicator
1998: Nokia 5110
1999: BlackBerry 850
2002: Sanyo 5300
2002: Black & White Sidekick
2004:Motorola Razor V3
2007: Apple's iPhone
2008: T-Mobile G1
2010: HTC Evo
STORY HIGHLIGHTS
Schneier: Apple closed serious security vulnerability in the iPhone, enabling wide encryption
He says law enforcement overreacted in saying it is a major form of protection for criminals
Law enforcement always complains about encryption but is little stymied by it, he says
Schneier: The benefits in protecting privacy far outweigh the costs
Editor's note: Bruce Schneier is a security technologist and the chief technology officer of Co3 Systems. The opinions expressed in this commentary are solely those of the author.
(CNN) -- Last week Apple announced that it is closing a serious security vulnerability in the iPhone. It used to be that the phone's encryption only protected a small amount of the data, and Apple had the ability to bypass security on the rest of it.
From now on, all the phone's data is protected. It can no longer be accessed by criminals, governments, or rogue employees. Access to it can no longer be demanded by totalitarian governments. A user's iPhone data is now more secure.
To hear U.S. law enforcement respond, you'd think Apple's move heralded an unstoppable crime wave. See, the FBI had been using that vulnerability to get into peoples' iPhones. In the words of cyberlaw professor Orin Kerr, "How is the public interest served by a policy that only thwarts lawful search warrants?"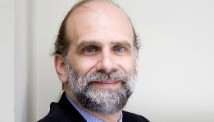 Bruce Schneier
Ah, but that's the thing: You can't build a "back door" that only the good guys can walk through. Encryption protects against cybercriminals, industrial competitors, the Chinese secret police and the FBI. You're either vulnerable to eavesdropping by any of them, or you're secure from eavesdropping from all of them.
Back-door access built for the good guys is routinely used by the bad guys. In 2005, some unknown group surreptitiously used the lawful-intercept capabilities built into the Greek cell phone system. The same thing happened in Italy in 2006.
In 2010, Chinese hackers subverted an intercept system Google had put into Gmail to comply with U.S. government surveillance requests. Back doors in our cell phone system are currently being exploited by the FBI and unknown others.
This doesn't stop the FBI and Justice Department from pumping up the fear. Attorney General Eric Holder threatened us with kidnappers and sexual predators.
The former head of the FBI's criminal investigative division went even further, conjuring up kidnappers who are also sexual predators. And, of course, terrorists.
FBI Director James Comey claimed that Apple's move allows people to place themselves beyond the law" and also invoked that now overworked "child kidnapper." John J. Escalante, chief of detectives for the Chicago police department now holds the title of most hysterical: "Apple will become the phone of choice for the pedophile."
It's all bluster. Of the 3,576 major offenses for which warrants were granted for communications interception in 2013, exactly one involved kidnapping. And, more importantly, there's no evidence that encryption hampers criminal investigations in any serious way. In 2013, encryption foiled the police nine times, up from four in 2012 -- and the investigations proceeded in some other way.
This is why the FBI's scare stories tend to wither after public scrutiny. A former FBI assistant director wrote about a kidnapped man who would never have been found without the ability of the FBI to decrypt an iPhone, only to retract the point hours later because it wasn't true.
We've seen this game before. During the crypto wars of the 1990s, FBI Director Louis Freeh and others would repeatedly use the example of mobster John Gotti to illustrate why the ability to tap telephones was so vital. But the Gotti evidence was collected using a room bug, not a telephone tap. And those same scary criminal tropes were trotted out then, too. Back then we called them the Four Horsemen of the Infocalypse: pedophiles, kidnappers, drug dealers, and terrorists. Nothing has changed.
Strong encryption has been around for years. Both Apple's FileVault and Microsoft's BitLocker encrypt the data on computer hard drives. PGP encrypts email. Off-the-Record encrypts chat sessions. HTTPS Everywhere encrypts your browsing. Android phones already come with encryption built-in. There are literally thousands of encryption products without back doors for sale, and some have been around for decades. Even if the U.S. bans the stuff, foreign companies will corner the market because many of us have legitimate needs for security.
Law enforcement has been complaining about "going dark" for decades now. In the 1990s, they convinced Congress to pass a law requiring phone companies to ensure that phone calls would remain tappable even as they became digital. They tried and failed to ban strong encryption and mandate back doors for their use. The FBI tried and failed again to ban strong encryption in 2010. Now, in the post-Snowden era, they're about to try again.
We need to fight this. Strong encryption protects us from a panoply of threats. It protects us from hackers and criminals. It protects our businesses from competitors and foreign spies. It protects people in totalitarian governments from arrest and detention. This isn't just me talking: The FBI also recommends you encrypt your data for security.
As for law enforcement? The recent decades have given them an unprecedented ability to put us under surveillance and access our data. Our cell phones provide them with a detailed history of our movements. Our call records, email history, buddy lists, and Facebook pages tell them who we associate with. The hundreds of companies that track us on the Internet tell them what we're thinking about. Ubiquitous cameras capture our faces everywhere. And most of us back up our iPhone data on iCloud, which the FBI can still get a warrant for. It truly is the golden age of surveillance.
After considering the issue, Orin Kerr rethought his position, looking at this in terms of a technological-legal trade-off. I think he's right.
Given everything that has made it easier for governments and others to intrude on our private lives, we need both technological security and legal restrictions to restore the traditional balance between government access and our security/privacy. More companies should follow Apple's lead and make encryption the easy-to-use default. And let's wait for some actual evidence of harm before we acquiesce to police demands for reduced security.
Follow @CNNOpinion on Twitter.
Join us at Facebook/CNNOpinion.