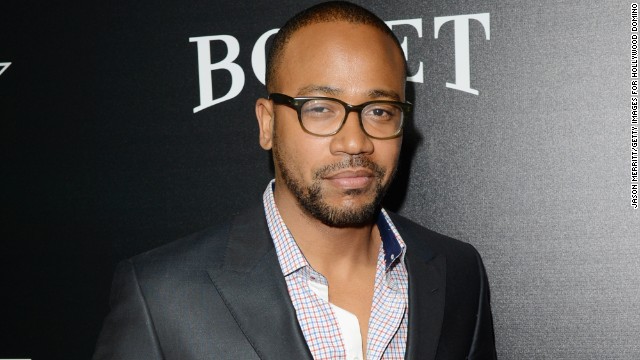 Columbus Short had already admitted to struggling with alcohol during a wide-ranging interview with "Access Hollywood" in July. In December, the former star of "Scandal" told "Access Hollywood" that drugs also played a role in his troubled time on the series. "I was doing cocaine and drinking a lot, and trying to balance a 16-hour work schedule a day, and a family, and, I just lost myself back then," he said.
Swimmer Michael Phelps, the most-decorated Olympian of all time, tweeted October 5 that he is taking a break from the sport "to attend a program that will provide the help I need to better understand myself." The announcement came after Phelps was charged on September 30 with driving under the influence of alcohol.
Alisan Porter, the actress best known as the star of 1991's "Curly Sue," opened up about her struggle with alcoholism in a blog post in September. In the personal account, called "The Obligatory Child Star Gets Sober Mom Blog," Porter talks about what led her to seek treatment for alcoholism and that she's been sober since 2007.
Elizabeth Vargas admitted having a problem with alcohol and entered a treatment program in November 2013. She returned to rehab in August.
Actress and model Amber Valletta had her "coming out" as an addict during a recent speech for Mind Body Green. Valletta admitted that she started trying to get high at the age of 8 and said, "My hope is that someone, somewhere in this room, out of this room, will hear something that will help them and perhaps get them out of the shadows and the darkness of addiction and bring them into the light."
Shia LaBeouf's recent bizarre behavior culminated in his being arrested in New York and charged with harassment, disorderly conduct and criminal trespass at the Broadway show "Cabaret." The actor's rep said July 1: "Contrary to previous erroneous reports, Shia LaBeouf has not checked into a rehabilitation facility but he is voluntarily receiving treatment for alcohol addiction. He understands that these recent actions are a symptom of a larger health problem and he has taken the first of many necessary steps towards recovery."
Musician Deryck Whibley has blogged about his problems with alcohol. The Sum 41 group member and former husband of Avril Lavigne said he had been off the scene for a while because he had been hospitalized after "drinking hard every day."
Zac Efron completed a rehab program in 2013 without the media being any wiser about his problems, but the actor's now speaking out about his difficulties with drugs and alcohol. "It's a never-ending struggle," the 26-year-old told The Hollywood Reporter in its May 9 issue.
"Growing Pains" star Jeremy Miller recently revealed to "Entertainment Tonight" that he's struggled with alcohol abuse. Looking back, Miller says, he's grateful he didn't own a gun at the time: "I hated myself so thoroughly that I would have done something very stupid."
Former "Partridge Family" star David Cassidy was ordered to three months of rehab on March 24 after pleading no contest to a DUI charge from January. It was his second DUI arrest in six months and third since 2011.
The death of Philip Seymour Hoffman and his problems with substance abuse are a reminder that such struggles are not unusual in the movie business.
"Desperate Housewives" actor Shawn Pyfrom wrote about his own struggle with drugs after Hoffman's death. The young actor says in an online letter that he "wasted the time of valuable people, who worked so hard to pull my career to a higher place, by allowing my addictions to tug me out of their grip."
Justin Bieber was booked into a Miami jail after failing a sobriety test January 23. According to Miami Beach Police Chief Raymond Martinez, during his arrest, Bieber "made some statements that he had consumed some alcohol, and that he had been smoking marijuana and consumed some prescription medication" before getting behind the wheel of a yellow Lamborghini.
Country singer Trace Adkins suffered "a setback in his battle with alcoholism" and has entered a rehab facility for help, his representative said January 16.
In a December interview with "Access Hollywood," Demi Lovato went into detail about her dependence on drugs and alcohol. There was a time when Lovato "couldn't go 30 minutes to an hour without cocaine, and I would bring it on airplanes," she said. "I would smuggle it, basically, and just wait until everyone in first class would go to sleep, and I would do it right there." According to Lovato, her rock bottom came at 19, when she filled a soda bottle with vodka to drink at 9 a.m. "I had a moment where I was like, 'Oh, my God ... that is alcoholic behavior," she said.
Lady Gaga revealed on the Elvis Duran radio show in November that she's been quietly dealing with an addiction to marijuana. "I had to stop (smoking pot)," the Mother Monster said. "I was addicted to it. ... Although I think it's the best drug to choose from when you're playing around and experimenting, I just want young kids to know that you actually can become addicted to it, and it's ultimately ... a form of self-medication. I was smoking 15 to 20 marijuana cigarettes a day with no tobacco."
Jada Pinkett-Smith reflected on her Facebook page in September 2013 that addictions plagued her in her younger years. "I had many addictions, of several kinds, to deal with my life issues," she said.
Country star Tim McGraw said in an interview in 2013 that he replaced drinking whiskey with working out to clean his life up.
"Glee" star Cory Monteith was found dead at a hotel in Vancouver on July 13, 2013. Officials gave the cause as "mixed drug toxicity, involving intravenous heroin use combined with the ingestion of alcohol." Monteith had been public about his struggle with addiction and checked into a rehab facility in late March. He told Parade magazine that he started using drugs at 13 and had entered rehab by 19.
Matthew Perry has struggled with an addiction to prescription drugs and alcohol and landed on the cover of People magazine to discuss his road to sobriety. While he was on "Friends," he said, "it would seem like I had it all. It was actually a very lonely time for me, because I was suffering from alcoholism."
"Sex and the City" actress Kristin Davis told Health magazine in 2008 that unlike her cocktail-loving character Charlotte York, she is a recovering alcoholic. The 48-year-old admitted that she was drinking so much, she didn't think she'd live past 30.
Ben Affleck surprised friends when he checked into rehab for alcohol abuse in 2001, People magazine reported.
Jamie Lee Curtis has reportedly said she was once so addicted to prescription pain medicine that she stole some from a relative to help feed the addiction.
Jodie Sweetin, who played innocent Stephanie Tanner on "Full House," documented her drug problems in her memoir "unSweetined." A low point, she said, was using cocaine, meth and ecstasy while on tour to discuss her sobriety.
There have been questions as to whether Bob Dylan was telling the truth when he reportedly told a journalist in 1966 that he had kicked a $25-a-day heroin habit, but, according to Rolling Stone, he had a period during his 1966 tour where he used "huge amounts" of amphetamines.
In 2012, Black Eyed Peas singer Fergie told Oprah that her drug use proceeded from ecstasy to crystal meth. She became so paranoid she thought the FBI and SWAT teams were following her before she sought treatment.
She was known for her wholesome role as Laura Ingalls on the television series "Little House on the Prairie," but at her worst Melissa Gilbert was covering up feelings of sadness by drinking up to more than two bottles of wine a night, the actress told More magazine.
"Harry Potter" star Daniel Radcliffe told GQ magazine that he had his last drink in 2010. "There were a few years there when I was just so enamored with the idea of living some sort of famous person's lifestyle that really isn't suited to me."
Kristen Johnston talked about her addiction to drugs and alcohol in her 2012 memoir "Guts" and admitted she was depressed during her time on "3rd Rock From the Sun." "And you're not supposed to be," she said. "You can't tell anybody, 'I'm so bummed you gave me an Emmy.' You can't be sad when you're being celebrated. So it was a big conflict and there's no shrink that can understand it."
Samuel L. Jackson was reportedly able to portray crack addict Gator in "Jungle Fever" so authentically because of his own struggles with drugs and alcohol. He landed the breakout role two weeks after leaving rehab.
Actress Kelly Preston, right, has said she gave up drugs and alcohol to be a better mother to her kids and better wife to John Travolta. "I don't drink anymore. I don't smoke anymore. I don't do drugs anymore. All of those come with an 'anymore.' I used to do everything and a lot of everything," she said.
Jane Lynch wrote about her addictions to alcohol and cough syrup in her memoir "Happy Accidents." She told Access Hollywood in 2013 that she has been sober for 21 years.
Sir Elton John told USA Today that he swore off drugs and alcohol in 1990. He said, "If I ever find myself in a situation where there are drugs, I can smell the cocaine. I can feel it in the back of my throat, that horrible feeling of taking the first hit of cocaine. And I leave."
For those who may not remember because she has so completely turned herself around, Drew Barrymore entered rehab at the tender age of 13. Most fans were unaware that the then beloved child star partied so hard. She chronicled her early struggles in her memoir "Little Girl Lost."
It was years after Meredith Baxter portrayed one of America's favorite moms, Elyse Keaton on "Family Ties," that she revealed that she is a recovering alcoholic.
Backstreet Boys member A.J. McLean last checked into rehab in 2011. He had previously been treated for depression, anxiety and excessive alcohol consumption.
Country star and "American Idol" judge Keith Urban told Oprah in 2010 that his wife Nicole Kidman and several close friends staged an intervention to help him overcome his addiction to cocaine and alcohol.
In 2004, a then 19-year-old Kelly Osbourne reportedly entered rehab for an addiction to painkillers. "The amount of pills that was found in her bag was astounding," her father, Ozzy, said.