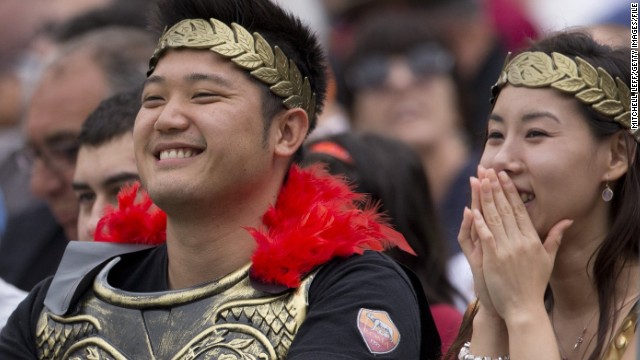 Roma was one of three Italian clubs to take part in the preseason International Champions Cup held in the United States in August 2014.
Roma president James Pallotta, pictured left with the team's general manager Mauro Baldissoni, wants the country's clubs to consider holding a round of the Serie A top division in foreign countries.
In March 2014, American Pallotta unveiled plans for a new 52,000-seat home stadium for Roma, which shares the Italian capital's Olympic arena with city rival Lazio.
French coach Rudi Garcia guided Roma to second place in Serie in his first season in charge, and the club's only defeat in six league games so far in 2014-15 was against defending champion Juventus.
Roma's first European Champions League campaign since the 2010-11 season has begun promisingly with a 5-1 win against CSKA Moscow and a 1-1 draw at Manchester City. Veteran striker Francesco Totti scored the equalizer to deny the English club.
Totti, now 38, led Roma to its third and last Serie A scudetto back in 2001.
Roma on the rise again
Roma on the rise again
Roma on the rise again
Roma on the rise again
Roma on the rise again
Roma on the rise again
STORY HIGHLIGHTS
President of Roma hopes that Serie A will hold a league game outside Italy
James Pallotta says the club has a growing fanbase in Asia
Preseason tour of the United States encouraged him that Italian game can grow
Roma is the first Italian top-flight club to have foreign ownership
Follow us at @WorldSportCNN and like us on Facebook
London, England (CNN) -- James Pallotta has already begun a Roman revolution -- now he wants Italian football to take over the world.
The president of high-flying club Roma believes playing a Serie A league game abroad during the regular season could provide huge benefits in the long term, especially if it helps crack the lucrative American and Asian markets.
The 56-year-old has been pondering the idea ever since news emerged that the English Premier League was considering playing matches outside the UK in a bid to connect with fans around the world.
And with Serie A struggling to match the entertainment of the Premier League, the German Bundesliga or Spain's La Liga, Pallotta is keen for Italian football to strike back -- although he concedes he may struggle to convince other club owners.
"I'd love to take Italian football abroad," Pallotta told CNN in an exclusive interview Thursday.
"I don't know how it would work with Serie A with the home games, and you'd have to figure that out, but I'd love to play a bunch of games abroad or in Boston.
"I'm not saying what form it should take, but we'd be willing to listen about playing a game in some place.
"I don't know it it would be a 39th game or part of the 38 games, but I don't think it's a bad idea to get your product out there."
In 2011, Roma became the first Serie A club to be bought by foreign owners -- a U.S. consortium led by Thomas DiBenedetto, a partner in the Fenway Sports Group that also owns English club Liverpool and baseball's Boston Red Sox.
Pallotta was one of the new investors, and succeeded DiBenedetto as president the following year.
The club has not won the Serie A scudetto since 2001, but was runner-up last season.
That success has continued this season, with Roma second in Serie A after five victories from six games and in a good position to qualify from the group stage of the European Champions League.
A preseason tour to the U.S. helped underline Roma's new commercial pulling power across America but it is in Asia where Pallotta has been pleasantly surprised.
The club has organized a reality TV series with a Chinese company in which a group of children undergoes trials and plays matches before being picked to travel to Italy and train with Roma's youth team.
Italy already has a presence in China, with the preseason Super Cup being played in Beijing in 2009, 2011-12.
"We're looking worldwide because that's where our fans are," Pallotta said of the club's marketing strategy.
"We sent our youth team to Vietnam this past year and 25,000 people turned up to see them.
"Can you imagine what would have happened if we'd sent (veteran club legend) Francesco Totti?
"The U.S. is clearly important to us, Asia is huge for us. We have an enormous amount of fans in Indonesia -- we don't know why yet but we're trying to learn.
"In terms of Facebook, Indonesia was our second biggest market."
Read: PSG's Chinese charm offensive
Read: European giants head Stateside
Read: Italian FA asked to investigate racism