STORY HIGHLIGHTS
Pizza Hut starter their Book It reading incentive program in 1984
To celebrate 30 years of Book It, Pizza Hut allowed "alumni" to sign up for a free pizza
The author of this column missed the deadline and isn't pleased with himself
Editor's note: Each week in "Apparently This Matters," CNN's Jarrett Bellini applies his warped sensibilities to trending topics in social media and random items of interest on the Web.
(CNN) -- I vaguely recall Pizza Hut's Book It elementary school reading incentive program. Though, to be fair, I vaguely remember what I had for breakfast.
I think it was a ginger ale.
Book It was a long time ago for me, but I'm pretty sure all I had to do was track my progress every month in school, hit a certain goal, and then I'd win a free erotic massage.
Either that or a one-topping personal pan pizza. My memory's a little fuzzy.
But it was probably the pizza.
Inspired by President Reagan urging corporations to get involved in education (hooray, tax write offs!), Pizza Hut officially started its Book It program in 1984. Right about the time I was at Cherokee Elementary School with a fresh sponge of a brain, perfect for infusing with warm, lifelong memories of big corporations.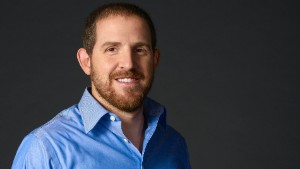 "Apparently This Matters" Is Jarrett Bellini's weekly (and somewhat random) look at social-media trends.
Oh, if only some cigarette company had started the "Smoke It" program.
I could see a large poster near the chalkboard with, say, the Marlboro Man using a buck knife to scratch out simple subtractions on an old fencepost. Above him, against a golden setting sun, would be the slogan: "Let math light up your brain with fun!"
Hell yeah!
And if your class had the best test scores in the country? That's right. You got a personal school visit from the old dying cowboy himself.
"Miss Parker, why is this man coughing up blood?"
Fortunately that program didn't happen. Cigarette companies never got to us. But 30 years later, Book It is still going strong. And recently, for just a short time, Pizza Hut celebrated this milestone anniversary with an online-only Book It alumni program for those of us who participated when we were young.
I guess it was finally time to start tapping into those aging sponge brains with a little nostalgia. The nerve.
How dare they double-dip their delicious, mozzarella-covered corporate hands into my childhood? How dare they lure us into their restaurants with cozy memories from a bygone era? How dare they?
Forget it. I'm all in.
Or at least I would've been. I missed the deadline. Otherwise, had I signed up as a Book It alumni, I would've received a free one-topping personal pan pizza. Just like the old days.
How could I have missed this? Without free pizza my life is meaningless.
Sadly, not much has changed for me since I was in elementary school. I'm a little taller now and doctors have long since assigned fancy acronyms to explain why I couldn't sit still in my seat. But, otherwise, I remain an awkward, hairy man-child, easily persuaded to do things in the name of food.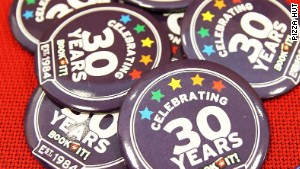 This year marks the 30th anniversary of Pizza Hut's Book It program.
"Jarrett, I need you to start a huge arson fire."
"But that's destructive and wrong."
"I'll give you a free one-topping personal pan pizza."
"Everything must burn."
Now, if your school wasn't a part of the Book It program from back in the day, you sort of have to realize that this was actually a pretty big deal. Because, again, the reward wasn't just any pizza. It was YOUR pizza.
And that's important.
You see, there's no sharing a personal pan pizza. This isn't communism. We have rules in this country, and rule number one is NEVER TOUCH ANOTHER MAN'S PERSONAL PAN PIZZA!
You hear me? Oh, you think this is cute? You think this is a joke? You think I'm breathing heavy and ripped my shirt off over nothing?
Listen, pal. You wanna know what happens to people who try to grab just a little taste of another man's personal pan pizza? You wanna know what happens? THEY END UP IN SHALLOW GRAVES!
(author shakes his head)
Whoa. That was weird. I'm back.
Anyway, the point is that it was YOUR pizza. And, even better, it was from PIZZA HUT!
When I was young, Pizza Hut was almost fancy. Almost. Back then it was more like a proper sit-down restaurant, and it had that iconic red roof that was totally unmistakable from any other pizza joint.
It was actually cool to eat at Pizza Hut. Even cooler if you weren't wearing pants.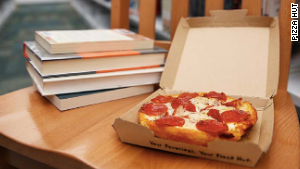 All hail the personal pan pizza!
As are most things. Like square dancing.
These days, however, Pizza Huts tend to be just these little delivery outlets -- small depots for the drivers to come and pick up the pies before heading out to your house.
And I haven't had it in decades. There's just so much good pizza out there.
In fact, in my neighborhood in Atlanta, we have a little punk rock pizza place called Jack's. And I prefer theirs to all others because I wholeheartedly trust any restaurant where the tattoo-to-staff ratio is 60-to-1.
Good tattoos make good pizza. Scientific fact.
But for old time's sake -- as an alumni -- had I not missed the deadline, I happily would have cheated on my favorite local spot just once for that personal pan pizza.
So, happy anniversary, Book It. Look what you almost made me do.
The nerve.
Follow @JarrettBellini on Twitter. And prepare to be underwhelmed.
See more content with questionable news value at CNN Comedy.