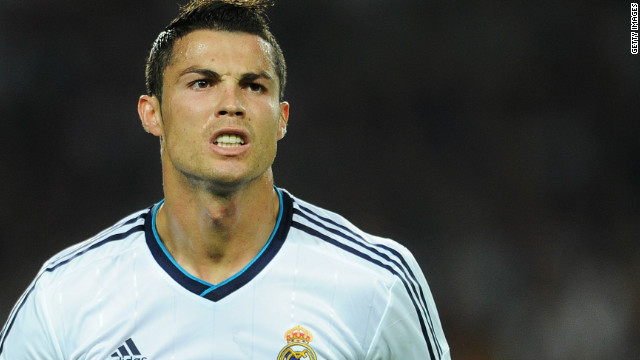 Cristiano Ronaldo now has 100 million 'fans' on Facebook -- way ahead of the nearest sporting opposition.
Part footballing superstar, part global brand; Ronaldo is adding Facebook fans at the rate of nearly one over second, 54 per minute on average.
The Real Madrid and Portugal star is regarded as one of the finest players ever to play the game and is also on top of the world in Twitter terms with over 30 million followers on the micro-blogging site.
Ronaldo's combination of talent good looks and social profile make him an attractive commodity for global brand names and companies, says Max Barnett, UK head of digital, at sports market research firm Repucom UKI.
The next best tally in terms of sporting Facebook likes is not an individual but a club in the shape of FC Barcelona. The Catalan institution has over 76 million 'likes'.
AC Milan and Brazil superstar, Kaka, has 20 million followers on Twitter. A phenomenal tally but still 10 million less than his former Real Madrid teammate, Ronaldo.
Ronaldo's popularity on social media even dwarfs that of his employer, Real Madrid, which has 74 million Facebook 'likes' and 13.1 million Twitter followers.
LeBron James has the third most popular profile for a singular sports star on Twitter with 15.3 million followers. The NBA superstar also trails on the Facebook front with his account 'liked' by 21.6 million people.
Mr Popular
100 million landmark
Twitter's top footballer
Mr Special
More than a club
Brazilian superstar
Real play catch up with Ronaldo
King James
STORY HIGHLIGHTS
Cristiano Ronaldo passes 100 million Facebook fans
Biggest social media following among top sports stars
He gets one new 'fan' ever second and has over 30m followers on Twitter
Media analysts working to put a value on social media footprint
Follow us at @WorldSportCNN and like us on Facebook
(CNN) -- He might be fighting it out with Lionel Messi for the title of the world's top soccer player, but Cristiano Ronaldo is in a league of his very own when it comes to social media followers.
Tuesday saw the Portuguese superstar top 100 million "fans" on Facebook -- way ahead of the nearest sporting opposition.
He is adding fans at the rate of nearly one every second, 54 per minute on average.
The next best tally is not an individual but a club, FC Barcelona, which has over 76 million 'likes' -- just edging ahead of Ronaldo's own team, European champion Real Madrid.
The 29-year-old Ronaldo is also on top of the sporting world on Twitter with over 30 million followers.
That is 10 million more than second placed Kaka, a star Brazilian footballer and former Real teammate of Ronaldo.
NBA standout LeBron James has the third most popular sports profile on Twitter at 15.3 million followers and also trails on the Facebook front with his account 'liked' by a shade under 22 million people.
When Ronaldo tweeted he had won FIFA's Ballon D'Or for the second time on January 13, it received over 118,000 retweets and according to sports market researchers Repucom its total reach in teams of retweets, mentions and replies topped 1.04 million.
This compares to James' most popular day on Twitter -- the announcement of his move to Clevelland Cavaliers, where the total figure was 672,000.
Both sets of figures are undoubtedly impressive and James is thought to have a huge following in China, where Facebook and Twitter are banned.
"He's a good looking guy and very savvy in terms of partnerships and the brands he endorses," Repucom's head of digital Max Barnett told CNN, explaining why Ronaldo was way out in front.
"He's going down the David Beckham route and is extremely well managed."
Ronaldo's physical appearance is clearly a factor in his widespread following outside of avid sports fans, but Barnett said his most popular tweets were all football related.
"The social media traffic around the Ballon D'Or announcement but also Real Madrid winning the Champions League for a record 10th time (La Decima) was vast," he said.
Repucom's founder and CEO Paul Smith told CNN that companies backing Ronaldo were on to a winner on and off the field.
"For example, in two days, Tag Heuer's #DontCrackUnderPressure campaign which was endorsed through six posts by Ronaldo led to an estimated 34.92 million Facebook views and 2.4 million "likes" for these Tag Heuer related posts," he said.
"All of which generated an estimated value of $380,000 to the Tag Heuer brand."
Repucom takes into account a range of factors, from the simple number of people who have seen a social media posting through to the quality and duration of the brand exposure to reach its conclusions.
"When Ronaldo won his first Champions League title with Manchester United in 2008, the English powerhouses did not have have an official Twitter account," said Barnett.
United's official Twitter feed now has over 3.55 million followers.
Its former star player shows no sign of resting on his social media laurels, launching his own official community digital platform, Viva Ronaldo, with a downloadable app and other special features.
Fans are promised prizes, autographed memorabilia and even the chance to meet him.
Any sports star hoping to mount a challenge to Ronaldo's Facebook and Twitter supremacy clearly faces as tough a test as the hapless defenders trying to keep the prolific striker off the score sheet.
Ronaldo is averaging well over a goal per game already this season for Real.
But as Barnett points out, even more modest outfits such as unheralded English Premier League side Hull City can benefit from social media's exponential growth.
"Hull grew its Facebook 'fan' base by over 800% last year, with much of the increase coming from Egypt (Hull's owner Assem Allam is Egyptian)," he said.
For Ronaldo, his attraction is not limited to a single country or region, with research suggesting he's known by over 84% of the world's population -- giving plenty of scope still for him to increase his Facebook and Twitter fan base yet more.