STORY HIGHLIGHTS
Prime minister of Albania's brother hits back at allegations
Serbian official told CNN that drone was controlled by Olsi Rama
Serbia vs. Albania game abandoned after 41 minutes
Flag flown over stadium by drone sparked chaos
Follow us at @WorldSportCNN and like us on Facebook
(CNN) -- It's a plot twist that even a thriller writer might have struggled to come up with during Serbia's European qualifying clash with Albania in Belgrade.
A drone flying a flag depicting the "Greater Albania" over a major international soccer game Tuesday was the subject of a 'whodunnit' mystery after the brother of the Albanian prime minister hit back at allegations by a Serbian government official that he had been piloting the quadcopter.
"I am very disgusted by the allegation of my having any involvement in the piloting of the drone," Olsi Rama told CNN Wednesday, who said he had been taking pictures of the game from a VIP suite at the stadium.
As a football match mushroomed into a diplomatic incident amid claim and counter-claim in a region of a world that is still riven by ethnic divisions, his version of events conflicted with Serbia's version of events.
"According to the information from the police he (Olsi Rama) was in possession of the navigator," said a Serbian official as the country's football federation labeled the drone flight a "terrorist action planned in advance."
UEFA has confirmed that disciplinary proceedings have been opened against both teams.
The game was abandoned after 41 minutes with players clashing after the flag was taken down by a Serbian player.
Rama insisted the police's actions were part of a Serbian "plot," after discovering he was the Albanian prime minister's brother.
"There were 50 or so Albanian guys who can say I didn't have the controller-- they searched everyone."
The Serbian prime minister's office also stated that Rama was arrested and sent home to Albania, a claim denied by the Albanian government's spokesman.
"There is no proof whatsoever and Olsi Rama was never arrested in Belgrade," Endri Fuga, communications director for the prime minister of Albania told CNN.
"He has nothing to do with the drone."
The contest, played at Partizan's stadium in Belgrade, was abandoned near the end of the first half following ugly scenes involving fans and players.
"When you have 32,000 people shouting kill, kill, kill Albanians, it's living in another dimension," said Rama.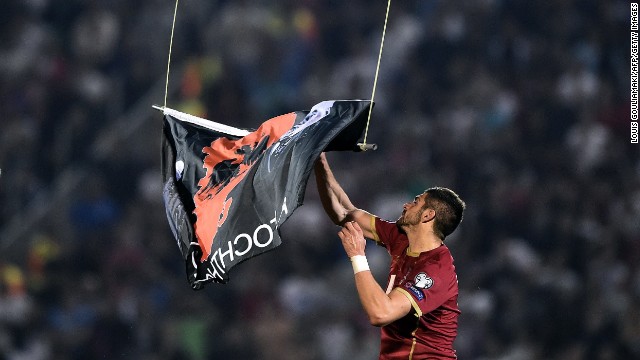 Albania's tie against Serbia in Belgrade had to be called off following a brawl between both sets of players. A drone flew over the stadium with a flag emblazoned with Albanian symbols, which was taken down by home player Stefan Mitrovic. A melee ensued with police taking to the field with the contest abandoned after 41 minutes.
The drone's entry into the field sparked ugly scenes between rival players.
Nemanja Gudelj (L) scuffles with midfielder Albania's midfielder Bekim Balaj (C) and defender Andi Lila (R) over a flag with Albanian national symbols.
Albania's players ran from the field following the clashes with Serbian players.
Albania's players made their way to the safety of the dressing room as events began to turn nasty.
Police were brought in to deal with Serbian supporters as tensions continued to rise throughout the evening.
A fan drags the drone behind him after invading the pitch at the Stadion Crvena Zvezda.
Riot police clashed with Serbian supporters as the situation escalated.
Serbian riot police officers stand guard during the match in the Serbian capital city.
Police and supporters clashed with English referee Martin Atkinson forced to abandon the match.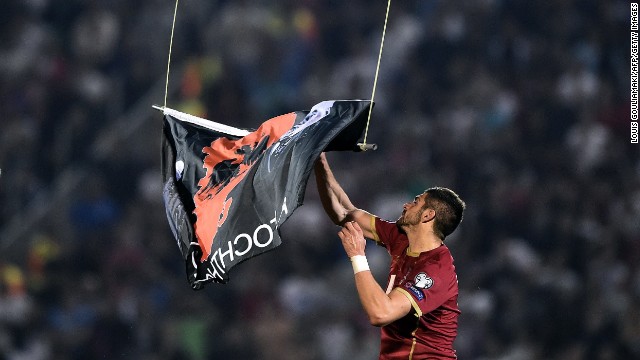 Match abandoned after drone invasion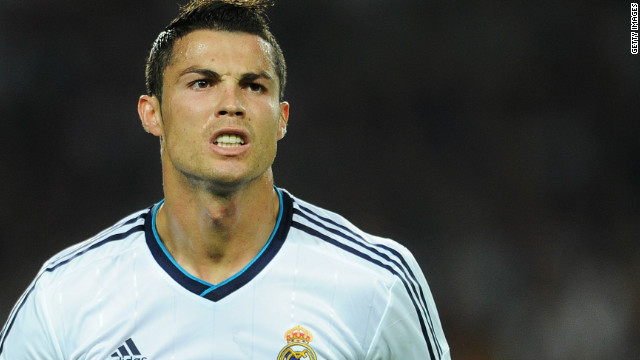 Cristiano Ronaldo now has 100 million 'fans' on Facebook -- way ahead of the nearest sporting opposition.
Part footballing superstar, part global brand; Ronaldo is adding Facebook fans at the rate of nearly one over second, 54 per minute on average.
The Real Madrid and Portugal star is regarded as one of the finest players ever to play the game and is also on top of the world in Twitter terms with over 30 million followers on the micro-blogging site.
Ronaldo's combination of talent good looks and social profile make him an attractive commodity for global brand names and companies, says Max Barnett, UK head of digital, at sports market research firm Repucom UKI.
The next best tally in terms of sporting Facebook likes is not an individual but a club in the shape of FC Barcelona. The Catalan institution has over 76 million 'likes'.
AC Milan and Brazil superstar, Kaka, has 20 million followers on Twitter. A phenomenal tally but still 10 million less than his former Real Madrid teammate, Ronaldo.
Ronaldo's popularity on social media even dwarfs that of his employer, Real Madrid, which has 74 million Facebook 'likes' and 13.1 million Twitter followers.
LeBron James has the third most popular profile for a singular sports star on Twitter with 15.3 million followers. The NBA superstar also trails on the Facebook front with his account 'liked' by 21.6 million people.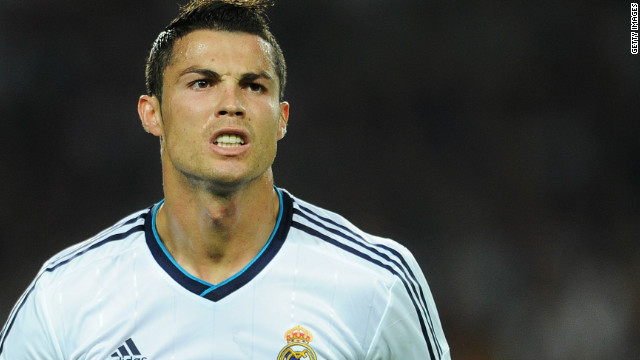 Cristiano Ronaldo's Facebook fan club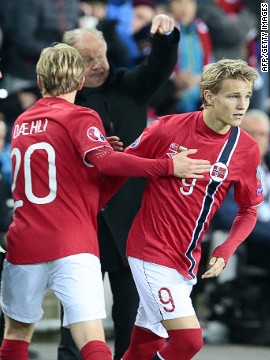 Martin Odegaard grabbed another slice of history on Monday, coming on as a substitute during Norway's clash with Bulgaria to become the youngest player ever in European Championships qualifying history at 15 years and 300 days.
Odegaard was given his senior debut for Norwegian club Stromsgodet at the age of 15 by coach Ronny Delia, who has since moved to Scottish champion Celtic.
Martin's father Hans Erik played for Strømsgodset for 11 seasons. He now is overseeing his son's football career. "Martin has always -- and still loves to train," says Hans Erik. "For him training is fun. That's important. It means has kept his joy of football. If you feel you have to do it there's a danger that you will be burned out and tired. I don't think that is a real danger for Martin, because this is his passion and love."
Hans Erik admits his son is a better player than he was -- "but don't tell him that," he quips.
At the age of 15 years and 253 days, Odegaard became Norway's youngest football international in a 0-0 draw with the United Arab Emirates.
Odegaard was the youngest player to represent his country since 1910. "The good thing about Martin is that he always want to be better and is never satisfied," says Hans Erik.
After August's UAE game, Odegaard played for Norway's Under-21 team in a 2-1 defeat by Portugal in his home city of Drammen.
Hans Erik says he has always encouraged Martin (pictured center) to "want the ball and to never be afraid of making mistakes and always try and be creative. In training, always go where it's most tight so you develop best. This always wanting the ball is almost in his DNA."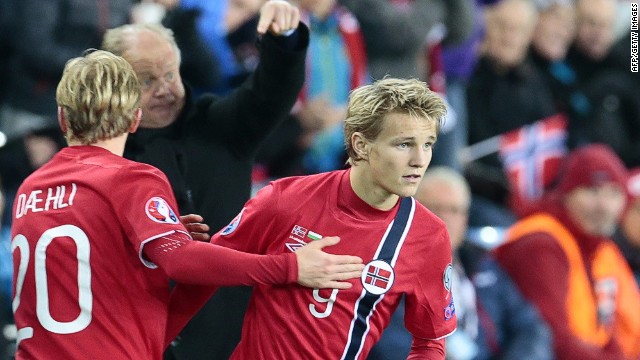 The nurturing of a football prodigy
Albanian players ran from the field, while a number of missiles and flares were thrown from the stands by some home supporters. Images from photo agencies showed fans had invaded the pitch.
"What happened last night in Belgrade is truly sad," Fuga told CNN.
"The Albanian government firmly condemns the despicable expressions of racism and violence against the Albanian National team players.
"We put all of our trust in UEFA to conduct a fair investigation which sheds light on the truth of all that happened in the Belgrade Stadium, from the start of our national anthem to the very last moment that our squad left the stadium," added Fuga referring to European football's governing body.
"Football should never be mixed with politics and state politics cannot be driven by what happens in a football match."
Fuga believes the scenes witnessed in the Serbian capital offer "further proof that the ghosts of the past" that still haunt the Balkans.
"The false story that the Albanian prime minister's brother instigated the showdown of violence by launching a drone carrying a flag over the stadium, is a testament to the presence of harmful elements that wish to keep this region mired in the past," said Fuga, who explained Rama was one of a few dozen Albanians who attended the game with valid tickets provided by the country's football association.
He says that the group were searched by police but not found to be carrying anything.
"The Albanian Prime Minister remains firmly committed to fostering this new, historical chapter of peace and cooperation," said Fuga.
"He will do all in his power to ensure it will not be closed by hatreds such as those which cast such a negative shadow on the football game."
Rama says that he was moved from the VIP box for security reasons and informed the authorities that he held American citizenship before being given a police escort to waiting buses.
"I tried with my broken Serbian to understand what was happening, but they said this is orders," he added.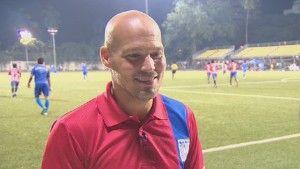 Ljungberg ready for Indian Super League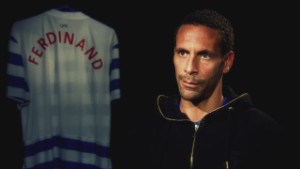 Ferdinand: Tackling racism can start in stadiums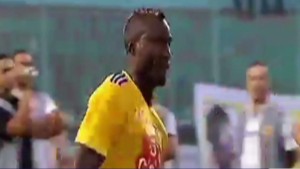 Footballer killed after match in Algeria
"I had no involvement in the drone. When the banner came up we had no idea, we thought some Serbians set it up."
Prime Minister Rama is scheduled to arrive in Belgrade in the next few days -- the first such visit by an Albanian leader in 68 years.
In a statement on its website, UEFA said that the match "was abandoned and the circumstances will be reported to the UEFA Control, Ethics and Disciplinary Body."
UEFA spokesperson Pedro Pinto told CNN an announcement on sanctions against both countries are expected to be made within a week.
Albania's first visit to Belgrade since 1967 was expected to be a tense occasion, though the events of Tuesday evening appeared to catch security authorities by surprise.
The "Greater Albania" insignia, which was attached to the drone, refers to the idea of an extended area in which all ethnic Albanians reside -- one which would include Kosovo.
The two illustrated figures on the flag were Isa Boletini, an Albanian nationalist who led uprisings against the Serbs and Ottomans in 1912 and 1913, while the other, Ismail Qemali, is considered to be the founder of the modern Albanian state, which became independent in 1912.
The word "Autochthonous," which refers to an indigenous inhabitant of a place, was emblazoned at the bottom of the flag and is considered an offense to Serbians.
When Serbian player Stefan Mitrovic ripped the flag down, it provided the catalyst for an already combustible tie to fully ignite.
Albanian players ran from the field, while a number of missiles and flares were thrown from the stands by some home supporters. Images from photo agencies showed fans had invaded the pitch.
Martin Atkinson, the English referee, took the players off the field with the game goalless.
"What happened is something we can't comprehend at the moment," Serbia captain Branislav Ivanovic told reporters following the abandonment.
"On behalf of my team, all I can say is that we wanted to carry on and that we shielded the Albanian players every step of the way to the tunnel (after the riot broke out).
"The Albanian team said they were unfit physically and mentally to carry on after talking to the officials and they will now decide the fate of this match.
"We can only regret that football took a back seat but it is difficult to draw any conclusions or make any comments now."
Security had been tight in the lead up to the contest in Belgrade with away fans prevented from attending amidst heightening tensions over Kosovo -- a majority-Albanian former Serbian province which declared independence in 2008.
In 1999, a 78-day air war was launched by NATO to stop the killing off ethnic Albanians in Kosovo by Serbian forces.
Kosovo's independence is recognized by many countries including the United States, the United Kingdom, Germany and France -- but not Serbia.
Four of Albania's starting lineup were born in Kosovo, with Lorik Cana of Italian club Lazio, goalkeeper Etrit Berisha, midfielder Burim Kukeli and Ermir Lenjani.
With Kosovo not recognized as a state by the United Nations, it is unable to join FIFA or UEFA, meaning some of its players have adopted other countries.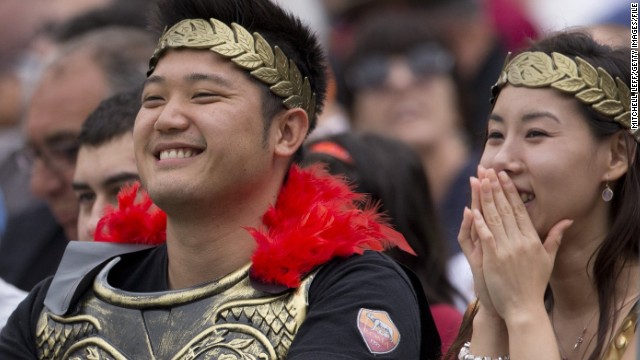 Roma was one of three Italian clubs to take part in the preseason International Champions Cup held in the United States in August 2014.
Roma president James Pallotta, pictured left with the team's general manager Mauro Baldissoni, wants the country's clubs to consider holding a round of the Serie A top division in foreign countries.
In March 2014, American Pallotta unveiled plans for a new 52,000-seat home stadium for Roma, which shares the Italian capital's Olympic arena with city rival Lazio.
French coach Rudi Garcia guided Roma to second place in Serie in his first season in charge, and the club's only defeat in six league games so far in 2014-15 was against defending champion Juventus.
Roma's first European Champions League campaign since the 2010-11 season has begun promisingly with a 5-1 win against CSKA Moscow and a 1-1 draw at Manchester City. Veteran striker Francesco Totti scored the equalizer to deny the English club.
Totti, now 38, led Roma to its third and last Serie A scudetto back in 2001.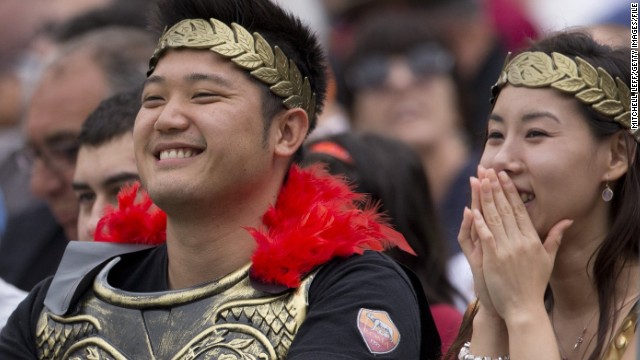 Roma on the rise again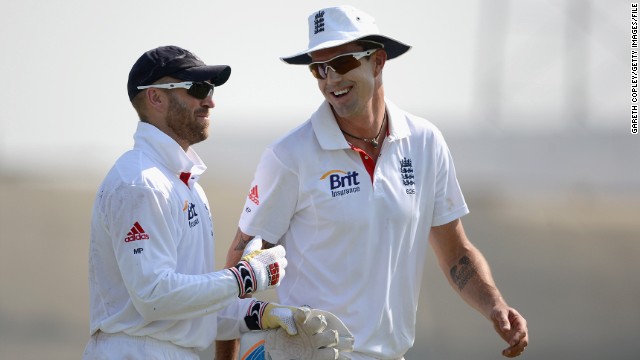 Former England batsman Kevin Pietersen hasn't shied away from criticizing former vice-captain of the team Matt Prior, who he accuses of being part of a "bullying" ring in the team and a "back-stabber" in his autobiography. Pietersen was sacked by England after its disastrous 2013/2014 Ashes tour of Australia, when they lost 5-0.
Italy's top two sides met for the first time this season on Sunday, Serie A champions Juventus winning an ill-tempered match 3-2. The clash saw three debatable penalties awarded by the referee -- two to Juve -- prompting Roma talisman Francesco Totti to lambast the official after the game.
The feud between Chelsea manager Jose Mourinho and his Arsenal counterpart Arsene Wenger stretches back to 2005 and reared its head again when the two met on Sunday. Wenger shoved Mourinho on the touchline, and the two had to be separated by the fourth official.
Chelsea won the match 2-0 meaning Wenger is yet to beat Moruinho in 12 meetings to date. Last season the Portuguese called his French counterpart "a specialist in failure." Neither manager showed any remorse for Sunday's touchline fracas. "What is there to regret?" Wenger said afterwards.
Tom Watson was seen as the man to finally procure a Ryder Cup victory for the United States over Europe in golf's team competition but after a third straight defeat, Phil Mickelson was happy to roll out some thinly veiled criticism of his captain, eulogizing about the last man to lead America to victory, Paul Azinger. Watson replied tersely: "(Phil) has a difference of opinion. That's OK. My management philosophy is different than his."
Richard Sherman is an NFL star that never misses an opportunity to trumpet his own abilities. The Seattle Seahawks star is outspoken on Twitter too, and has enjoyed recent back and forths with Arizona Cardinals Patrick Peterson. The two cornerbacks clashed again after Peterson signed a new deal with the Cardinals, Sherman responding by tweeting a picture of his Superbowl ring. "I'm having fun with it," Peterson said. "Sometimes it seems like he's a little salty about it."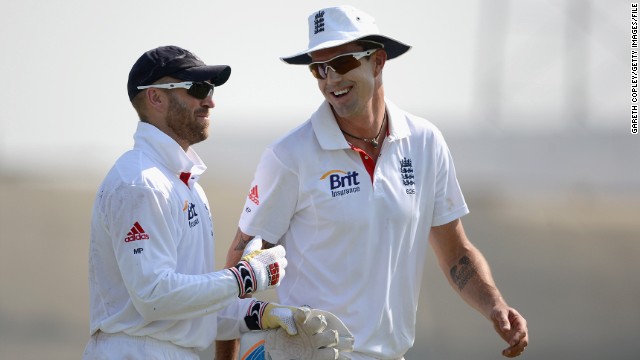 Five sporting feuds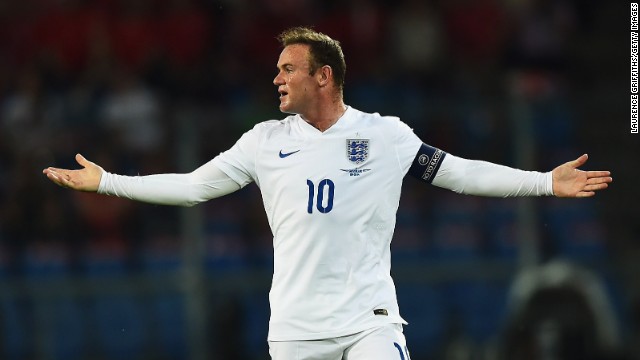 England will host the Euro 2020 final at Wembley, but what are the chances of its national team contesting that showpiece?
An underperforming national team is one of the many challenges facing English Football Association chairman Greg Dyke. England last reached the semifinal of a major tournament in 1996.
England's former captain Steven Gerrard (L) is consoled by Uruguay's forward Luis Suarez after defeat in the World Cup Group D against Uruguay. England failed to advance from the group stages in Brazil.
Roy Hodgson is the current England manager. Dyke is concerned about the lack of coaches at grassroots level in comparison to other European countries.
Dyke is also worried about the lack of young English players at Premier League clubs. Liverpool's Raheem Sterling is one of the few young England internationals currently playing for a top Premier League club.
Chelsea manager Jose Mourinho recently claimed that "there is no racism in football."
However, Dyke is intent on increasing the representation of black and ethnic minorities within English football. Huddersfield manager Chris Powell is one of only two black managers working in English professional football.
London's Wembley Stadium is the home of the English national football team and will host both the semifinals and final of the Euro 2020 tournament.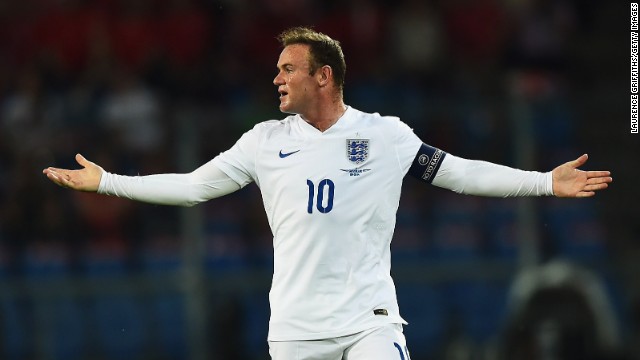 Is English football broken?
Xherdan Shaqiri, who plays his club football with Bayern Munich, represents Switzerland as does Valon Behrami and Granit Xhaka.
While Kosovo is able to play friendly matches, the team cannot compete in international competition.
Belgium-born Adnan Januzaj, one of the most exciting talents in the English Premier League with Manchester United, turned down the opportunity to play for Kosovo, where his father is from. He was also eligible for Albania through his mother's lineage.
"We came to Belgrade to play football, but we were physically attacked by the Serbian supporters," Cana told reporters on Tuesday.
"We just wanted to take the flag, and everything would be under control if the stadium security at the stadium had prevented the supporters from attacking our players.
"I was defending my teammate, I have injuries to my face, as does Taulant Xhaka. They asked us to play in front of empty stands (instead of abandonment) -- however, we did not feel good because of our injuries."
The two countries must now wait for UEFA to make a decision on whether the game should be replayed. and what punishments are handed out.
"It is a regretful situation on which we will report; the referee, myself and the security adviser. The circumstances were such that we couldn't continue the match," UEFA's match delegate, Harry Been told reporters.
"You all saw what happened and I cannot comment on who is to blame or what to blame. I will submit a report with my colleagues to UEFA and UEFA will decide what will happen further."