Quiet! Lagos bans car horns for a day
updated 7:06 AM EDT, Thu October 16, 2014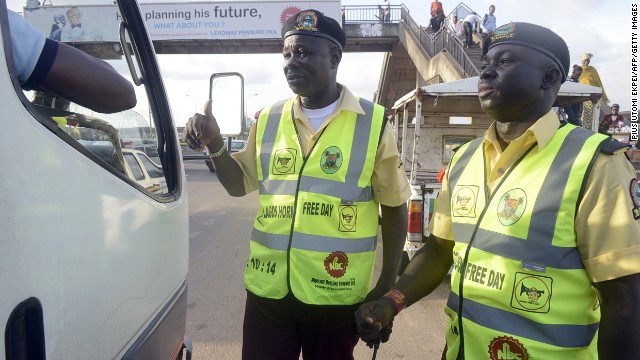 On Wednesday, Lagos observed its first-ever "horn-free day."
Lagos, a bustling megacity of more than 20 million people, is notorious for its snail-paced traffic.
On Monday, officers of the Lagos State Traffic Management Authority took the streets to inform drivers about the horn-free initiative.
Getting to work often requires strong nerves in Lagos, as millions of commuters cram the streets of Nigeria's commercial center on a daily basis.
What do you think of the initiative? Share your views in the comments section at the bottom of the story.
Tackling noise pollution
Road warriors
Be quiet
Commuting pain
Stop honking
STORY HIGHLIGHTS
Lagos officials declared October 15 as "No Horn Day"
The initiative aims to improve health in the Nigerian megacity of 21 million
Citizens voiced their opinions about the initiative on Twitter
(CNN) -- Road users in Lagos were asked to keep their hands off the car horn on Wednesday. Lagos state governor Babatunde Fashola declared the date "No Horn Day" in a move to reduce noise pollution in Nigeria's biggest city and economic capital.
Unsurprisingly, many in Lagos took to social media to voice their thoughts on the initiative, so CNN's Marketplace Africa has collated some of the best reactions below.
Did you take part in the initiative and do you think the benefits will last beyond the day? Let us know your thoughts in the comments section below.