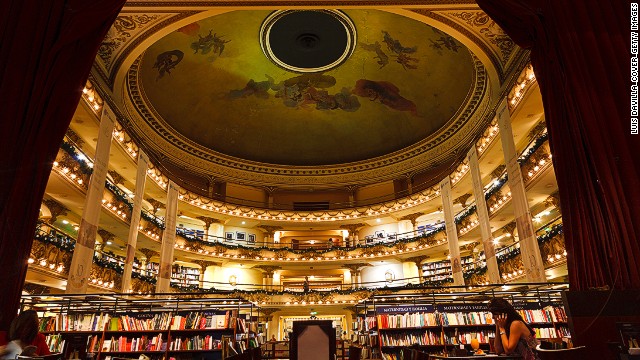 Stunning El Ateneo bookstore in Buenos Aires was once a theater. The theater boxes have been turned into reading spaces.
Paris Left Bank fixture Shakespeare and Company hosts writers-in-residence and awards its own literary prize to an aspiring writer every few years.
The stylish Last Bookstore in Los Angeles served as the backdrop for a fashion shoot in a recent issue of "Esquire."
Built in 1906 and originally designed as a bookstore, the Livraria Lello in Porto, Portugal, features neo-Gothic architectural flair.
Luxury publisher Assouline's newest opening is in an 18th-century palazzo in Venice.
This 800-year-old former Dominican church in Maastricht, Netherlands, was converted into a bookstore in 2006. Boekhandel Dominicanen hosts 140 literary events a year.
China's most beautiful bookstore, Librairie Avant-Garde in Nanjing, is housed in an underground parking lot that once served as a bomb shelter.
Housed in a former glove factory in Detroit, Michigan, John K. King Used & Rare Books has more than a million books organized into 900 categories.
Located in a 150-year-old former speakeasy, Books for Cooks in Melbourne, Australia, has 30,000 cookbooks in stock.
The world's largest used and new bookstore Powell's City of Books takes up a full city block in Portland, Oregon.
Thanks to her Parnassus Books in Nashville, Tennessee, "Bel Canto" author Ann Patchett has become the inadvertent spokesperson for independent bookstores.
Breakfast on the weekend at bookstore and cafe Cafebreria El Pendulo in Mexico City is accompanied by live classical music.
Stanfords Bookstore in the heart of Covent Garden in London is one of the world's finest travel book shops.
One of China's newest bookstores, 1200 Bookshop in Guangzhou is open 24 hours and offers a free stay to backpackers who apply by email in advance.
The century-old London bookseller Foyles' new flagship store is the largest bookshop to open in the UK this century and is housed in the former Central Saint Martins College of Art and Design. The stage where the Sex Pistols played their first gig in 1975 now houses the Foyles' children's department.
Strand on Broadway is the only survivor of Manhattan's old "Book Row" -- a now-extinct district of bookstores.
Taipei's massive Eslite Dunnan Store has been open 24 hours a day, seven days a week since 1999.
World's coolest bookstores
Shakespeare and Company (Paris)
The Last Bookstore (Los Angeles)
Livraria Lello (Porto, Portugal)
Assouline Venezia (Venice, Italy)
Boekhandel Dominicanen (Netherlands)
Librairie Avant-Garde (Nanjing, China)
John K. King Used & Rare Books (Detroit)
Books for Cooks (Melbourne, Australia)
Powell's City of Books (Portland, Oregon)
Parnassus Books (Nashville, Tennessee)
Cafebreria El Pendulo, Mexico City, Mexico
Stanfords Bookstore (London)
1200 Bookshop (Guangzhou, China)
Foyles flagship (London)
Strand (New York)
Eslite Dunnan Store (Taipei, Taiwan)