Renee Zellweger: 'I'm glad folks think I look different'
updated 8:55 PM EDT, Wed October 22, 2014
STORY HIGHLIGHTS
The actress has a new look
One site calls her virtually unrecognizable
Zellweger has a new film out in 2015
(CNN) -- Renee Zellweger thinks all of the conversation about her face is "silly."
The actress told People magazine in a statement that "I'm glad folks think I look different! I'm living a different, happy, more fulfilling life, and I'm thrilled that perhaps it shows."
The chatter started after Zellweger appeared on the red carpet Monday at the Elle magazine 21st annual Women in Hollywood event. The actress looked so different from her "Jerry Maguire" and "Bridget Jones's Diary" days that some questioned whether it was really the same person.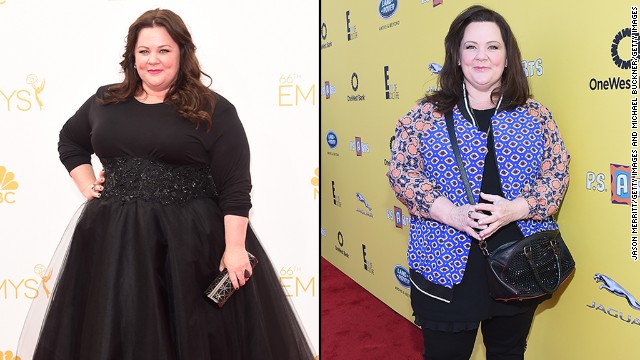 We love Melissa McCarthy for being beautiful and confident no matter what, though the actress was noticeably slimmer when she stepped out for the P.S. ARTS event in Santa Monica on November 16. McCarthy, seen on the left at the Emmy Awards in August, reportedly followed a low-carb diet to drop 45 pounds.
The Rev. Al Sharpton has shed 60% of his body weight over the years, going from 305 pounds to almost 130 pounds. He told the New York Daily News the he eats two very small meals a day and has cut out a lot of foods from his diet, including meat and sugar.
When Renee Zellweger arrived at the 2014 Elle Women in Hollywood awards October 20, some people said they couldn't recognize her. Perhaps that's because the "Bridget Jones" star has spent less time in the public eye recently; her last film credit was in 2010. That should change soon, however: Zellweger's next film, "The Whole Truth," is due in 2015.
Hip-hop artist Missy Elliott proved she can still work it as she flaunted a slimmed-down figure October 16 at the launch of designer Alexander Wang's line for H&M. Apparently, an autoimmune disorder is not slowing down the "supa dupa fly" producer, who tweeted a picture of herself in a workout cap that reads "You Can't Workout With Us" after performing at the runway show.
Is that you, Zach Galifianakis? If it weren't for the scruff, we might not recognize the comedic actor and "Between Two Ferns" host as he arrived at a New York Film Festival screening of his newest movie, "Birdman," on Saturday, October 11. The actor first started slimming down in 2013, when he decided to stop drinking.
"#RichKids of Beverly Hills" star E.J. Johnson lost 50 pounds in five weeks after undergoing gastric sleeve surgery. In September, he told People he is not setting a specific number in terms of his goal for weight loss.
On April 15, Dave Chappelle was spotted leaving Live Nation's offices in Los Angeles carrying some extra muscle. Apparently, the comedian has been spending his free time in the gym.
Roseanne Barr recently showed off a slimmer figure at the 2014 NBCUniversal Summer Press Day in Pasadena, California. Barr has been delighted by all the attention fans have paid to her new figure, and she thanked them via Twitter.
Lorraine Bracco of "The Sopranos" has lost 35 pounds since the HBO drama's end in 2007. She said it was the death of her parents three years ago that inspired her to make a change. Before their death, she remembers "sitting there, dividing these medications, who gets what when," she told ABC News. "It was insane. I watched and realized, 'I don't want to go like that.' ... I want to live every day the best I can be."
At 46, Lisa Marie Presley is feeling 16 again. Eating clean and organic has helped her to reach "the weight I was at when I was a teenager," she told People magazine. Presley, the daughter of Elvis Presley, was inspired to get fit because of her father's family history of shorter life spans. "I didn't know where I would land," she said. "So I said, 'OK, I'm going to play it safe and try to be as healthy as I can be.' "
Tom Arnold has lost about 90 pounds since his first child was born last year, and he was looking quite thin at this year's South by Southwest festival. He'd actually lost the same amount of weight before but regained it when he didn't maintain healthier habits. After his son was born, he knew he needed to make a lasting change. "I saw that little baby, and I thought, 'I gotta stay alive for as long as possible,' " Arnold said in January. "That's a lifelong commitment."
Jessica Simpson shows off a supersvelte look in a Weight Watchers ad released in February. "I was so insecure -- I couldn't even believe what I weighed," Simpson told "Good Morning America." The singer/fashion mogul says she is feeling better than ever since giving birth to her second child in June.
Christina Aguilera turned heads on the American Music Awards' red carpet for two years in a row. At the awards ceremony in 2013, Aguilera surprised onlookers by arriving in a skin-tight white gown with revealing cutouts, displaying a much different look than her voluptuous appearance at the 2012 event.
At the 2013 CMA Awards, singer Miranda Lambert revealed a slimmer physique. Apparently, her fit frame is courtesy of personal trainer Bill Crutchfield: "Hey @CrutchCamp," Lambert tweeted November 7. "I got some compliments last night thanks to you!"
Chaz Bono told People in April 2013 that he had lost 60 pounds since appearing on season 13 of "Dancing With the Stars." "Diets don't work," he told the magazine. "You just have to change what you eat, and I have." Bono is pictured arriving at the GLAAD Media Awards in April 2010, left, and in April 2013.
There's no way Marissa Jaret Winokur could play "Hairspray's" zaftig Tracy Turnblad these days. The Tony-award winning actress dropped 60 pounds in 2012.
Jennie Garth slimmed down after splitting with husband Peter Facinelli in 2012.
Lisa Lampanelli said she underwent surgery to help her shed 80 pounds and give her a new look.
From thong to thin: Matthew McConaughey reportedly dropped 40 pounds for a role in "The Dallas Buyers Club," and the transformation was startling on the "Magic Mike" star.
Paula Deen announced in June 2012 that she lost 30 pounds over a six-month period after she was diagnosed with Type 2 diabetes. These days, she is looking slimmer than ever.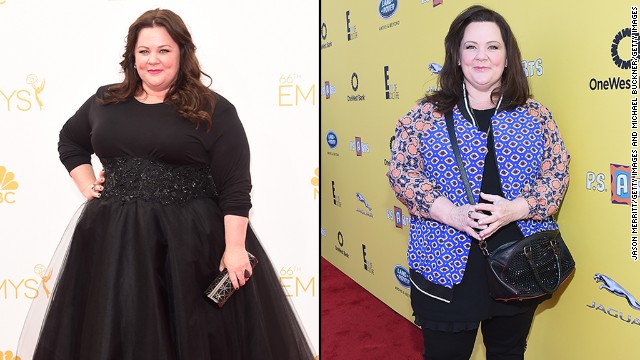 Photos: Celebrity transformations
"The Academy Award-nominated actress is virtually unrecognizable," MoviePilot.com wrote.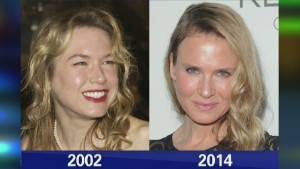 Renée's new look, Palin family fight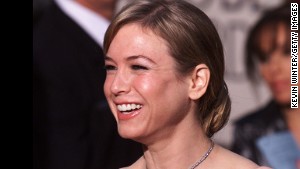 Renee Zellweger appears at the 58th Annual Golden Globe Awards in Los Angeles in January 2001.
Gawker simply posted present and past photos of Zellweger with a note that read, "Since a few people are asking, allow us to be explicit: These are 100 percent photos of Renee Zellweger (the one you are thinking of -- the famous actress), from Getty photos, correctly identified as Renee Zellweger. Other than that, there is nothing remarkable about them."
The speculation about why she looked so different reached such a fevered pitch that Zellweger decided to face it. She said, "It seems the folks who come digging around for some nefarious truth which doesn't exist won't get off my porch until I answer the door."
Zellweger chalks her new look up to a healthier lifestyle.
"My friends say that I look peaceful. I am healthy," she said. "For a long time I wasn't doing such a good job with that. I took on a schedule that is not realistically sustainable and didn't allow for taking care of myself."
The attention reminded some people of "Dirty Dancing" star Jennifer Grey, who years ago surprised fans with a new look. But in Grey's case, she said, it was a result of two plastic surgeries on her nose that left her appearance more changed than she had anticipated.
The new look didn't help Grey's career.
"I decided to make fun of this, to make my fiasco become my reality," Grey told The Washington Post in 1999. "After all, it's not cancer, and it's absurd that just a nose job could wreak such havoc."
Despite her new look, Zellweger probably doesn't have to worry about it interfering with her career.
Though she hasn't been seen much since her last project in 2010, her latest film, "The Whole Truth," is due to hit theaters in 2015.