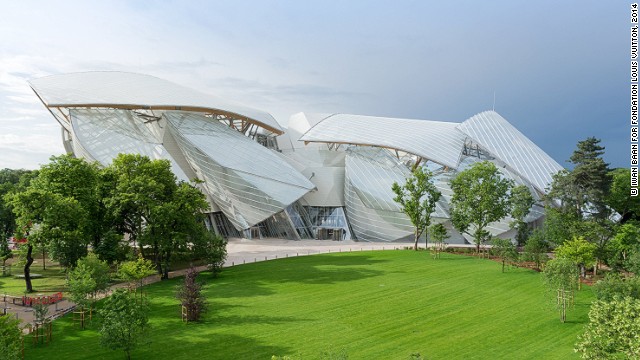 Fondation Louis Vuitton -- the philanthropic wing of luxury conglomerate LVMH -- is opening a new contemporary art museum in Paris, designed by world-renowned architect Frank Gehry.
Gehry was inspired by glass garden architecture from the late 19th-century. The building has already been nicknamed "the glass bird" and "the iceberg."
From inside the museum, visitors can look out onto a modern fountain as well as the surrounding Bois de Boulogne, the second largest park in Paris.
The unusual shape of Fondation Louis Vuitton recalls Gehry's other seminal works, like the Guggenheim Art Museum Bilbao, which he completed in 1997.
The building also has a 350-seat auditorium for live shows, including a series of retrospective concerts from electronic band Kraftwerk this November.
LVMH CEO Bernard Arnault, the richest man in France, first met with Gehry to plan the commission in 2001.
Fondation Louis Vuitton's first temporary exhibition will feature a group of commissions inspired by the building's architecture.
Inside the Horizon, a specially commissioned piece by Danish-Icelandic artist Olafur Eliasson, who is known for creatively incorporating light into his installations.
Other works on display include
Mann im Matsch (Man in the Mud), a large installation from Thomas Schütte, is part of the museum's permanent collection.
Welsh conceptual artist Cerith Wyn Evans also contributed a commissioned work.
Spectrum VIII, a stage curtain, was created from one of his previous works.
Ellsworth Kelly also created a location-specific piece for the Fondation.
Composition For a New Museum has three people singing in different corners of a room to demonstrate the building's acoustics.
On the performance art side, Oliver Beer's
Fondation Louis Vuitton's gift to Paris
Fondation Louis Vuitton's gift to Paris
Fondation Louis Vuitton's gift to Paris
Fondation Louis Vuitton's gift to Paris
Fondation Louis Vuitton's gift to Paris
Fondation Louis Vuitton's gift to Paris
Fondation Louis Vuitton's gift to Paris
Fondation Louis Vuitton's gift to Paris
Fondation Louis Vuitton's gift to Paris
Fondation Louis Vuitton's gift to Paris
Fondation Louis Vuitton's gift to Paris
Fondation Louis Vuitton's gift to Paris