Unmasking a new trend: stylish smog masks
updated 11:06 PM EST, Sun November 2, 2014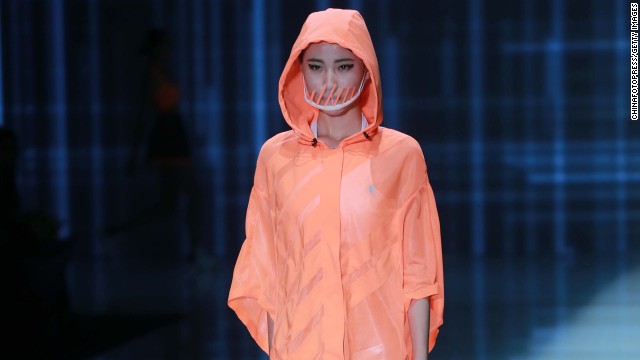 The QIAODAN Yin Peng Sports Wear Collection during Mercedes-Benz China Fashion Week capitalized on China's smog problem by incorporating stylish face masks.
A model wears a look -- complete with a coordinating face mask -- for the spring/summer QIAODAN Yin Peng Sports Wear Collection.
The QIAODAN Yin Peng Sports Wear Collection show included fashions and masks for both men and women.
Smog levels are at a hazardous level in the Fashion Week host city of Beijing.
A model sports a face mask for the QIAODAN Yin Peng Sports Wear Collection.
The designer says he was surprised the collection attracted so much attention.
Stylish smog masks
Stylish smog masks
Stylish smog masks
Stylish smog masks
Stylish smog masks
Stylish smog masks
STORY HIGHLIGHTS
At China Fashion Week, one designer sent models down the runway wearing smog masks
Beijing has been experiencing heavy smog over the past few days
A climate symposium is being held in China during the same time as the fashionable event
(CNN) -- High fashion isn't often inspired by environmental hazards, but as air pollution levels soared in Beijing last week, models at China Fashion Week walked the runway wearing designer respiratory face masks.
The QIAODAN Yin Peng Sports Wear Collection showcased fashion and function in the same breath at the biannual event, which runs through the weekend. Some outfits had built-in face masks while others featured smog masks coordinated to match the ensemble.
The runway shows briefly coincide with the Asia-Pacific Economic Cooperation summit, for which Beijing is implementing strict pollution controls. The city is limiting traffic and shutting down industrial factories to help air quality conditions. Similar measures were taken for the 2008 Summer Olympics.
This month, Beijing International Marathon participants came prepared with face masks and sponges to combat smog levels that were deemed "hazardous" by the United States Embassy.
Yin Peng, the designer, said he was surprised his collection had attracted so much attention and said the smoggy environment was not his main inspiration.
"From my perspective, no matter how good the outside environment is, the key is how we mix the situation outside with our hearts," he told CNN.
9 things that make air pollution bearable
As the Chinese high-end fashion market continues to grow rapidly, luxury brands are noting that the fashion-forward truly want a complete head-to-toe look.
Even on the chic runways of Paris Fashion Week in October, Chinese designer Masha Ma accessorized models with Swarovski crystal-studded face masks amid quilted bomber jackets and sleek modern separates.
Ma, along with other Chinese designers like SANKUANZ, Qiu Hao and Xander Zhou, also collaborated with luxury e-commerce site Yoox on a series of couture masks as part of their eco-friendly initiative, Yooxygen.
Other companies like Vogmask and Respro are capitalizing on the business of functional fashion. The latter started in the United Kingdom for urban athletes and has since expanded into areas like China and Singapore "as the need for protection from pollution in our urban environments increases," according to its site.
After all, to some, fashion is a breath of fresh air.
CNN's Serena Dong in Beijing contributed to this report.