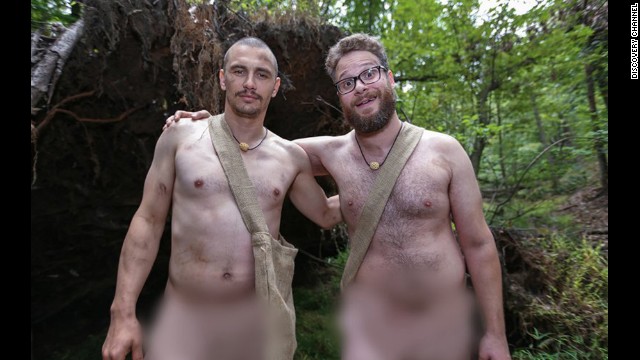 James Franco and Seth Rogen had to survive in the wild in the altogether in an episode of Discovery's "Naked and Afraid" series. Franco expressed his love for being nude while Rogen asked, "Can you make the blur big? Like a giant blur?"
Some of you might be more familiar with Kim Kardashian's curves than your own physique. Kardashian appeared nude in a recent photo shoot for Paper magazine. The reality star became famous with a sex tape and stayed famous with her reality show and photos such as this one, which she did for W magazine in 2010. Though Kardashian later said
Keira Knightley had no problem posing topless -- on the condition that the photo wasn't digitally manipulated.
Is it any shock that Rihanna showed up in a see-through dress to receive a Fashion Icon award at the 2014 CFDA fashion awards on June 2? After all, she has a perfume called Nude. (You can search around for the more explicit pics, as we are a family-friendly site.)
he told GQ magazine
in December 2013 that yes, he does still like to
play the bongo drums naked.
Believe it or not, Matthew McConaughey is passing up an opportunity to shed some of his clothes. The actor won't reprise his role of male stripper Dallas in the "Magic Mike" sequel, "Magic Mike XXL," because he's busy filming a Gus Van Sant drama instead. This doesn't mean McConaughey's changed his ways;
singing songs to his grandmother in the nude
. We can now also call the "Baby" singer a fan of the public striptease. At the 2014 charity event Fashion Rocks, Bieber removed everything but his underwear while on stage with co-presenter Lara Stone, explaining that he just didn't feel comfortable unless he was in his "Calvins."
Justin Bieber is a documented fan of public shirtlessness and
told Elle magazine
, he enjoys being in the buff off-camera, too. "I have a really nice back porch where the pool is," he said. "Once the shoes are off, the socks come off too, and then everything else downstairs just follows at some point."
Channing Tatum shows off some of his better assets in the movie "Magic Mike," and he's set to do that again in a sequel. But as he
Inge Solheim
. The snapshot isn't too surprising -- even considering the frigid temperature -- since this is one actor who has zero problems with nudity. On the job, "if we're naked in the scene, then I'm naked,"
Skarsgard once explained to Rolling Stone
.
What better way to get in touch with nature than to leave behind your clothes? That's what "True Blood" star Alexander Skarsgard did on a trip to the South Pole, as captured by adventure guide
It's just too easy to make the joke about Shia LaBeouf's loving to be in "la buff." He recently tweeted a nude photo of himself from the 2013 film "Charlie Countryman" and
has been quoted as saying
being nude in movies is "liberating" but
denied to friend Chelsea Handler on her late night talk show
that she and her fiance, Justin Theroux, are nudists.
Jennifer Aniston explored the world of free love and nudity with Paul Rudd in the film "Wanderlust." She
she said in an interview
. If you complain about it or procrastinate, it's not going to go away. It's a profoundly bizarre thing to do. As actors, you talk about it all the time."
Kate Winslet has famously had her nude portrait drawn in the film "Titanic" and stripped for other roles, though she admits it can get a bit weird stripping down on set. "I just go in and say 'Oh, f**k, let's do it.' and Boom,"
The Independent
, "and I think my comment was, 'I got naked in three films last year, please can I not?' "
Daniel Radcliffe spent so much time naked on the sets of films and productions, he had to ask the producers of his Brit drama, "A Young Doctor's Notebook," to let him keep some clothes on. "I think there was a discussion about possible nudity for one scene," Radcliffe recalled to
she told CBS News
in 2013. "What I love are the films of the '70s where a person gets out of bed and you see half their nipple because that's what it looks like when a person gets out of bed."
Even those who've never watched a single episode of Lena Dunham's "Girls" know that the show includes plenty of nudity -- and most often, it's Dunham herself showing skin. While Dunham's said that her frequent nakedness isn't a political statement and is more about creative expression, she does acknowledge that it can have cultural impact. "We have this insane culture where women who don't look like the cast of 'Gossip Girl' are put into like sweaters and nightgowns to sleep in,"
Celebrities who love being naked
Celebrities who love being naked
Celebrities who love being naked
Celebrities who love being naked
Celebrities who love being naked
Celebrities who love being naked
Celebrities who love being naked
Celebrities who love being naked
Celebrities who love being naked
Celebrities who love being naked
Celebrities who love being naked
Celebrities who love being naked
Celebrities who love being naked
Celebrities who love being naked
Celebrities who love being naked