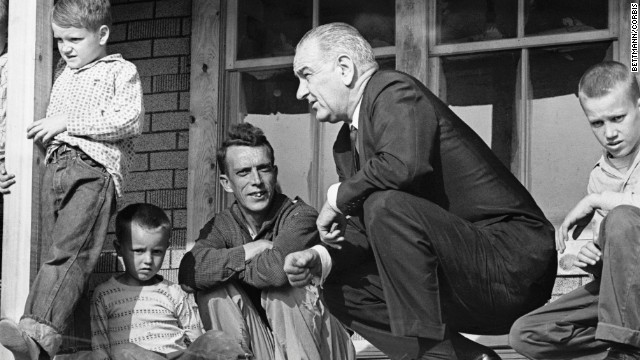 U.S. President Lyndon B. Johnson visits a family in Inez, Kentucky, during a tour of poverty-stricken areas of the country in April 1964. Earlier that year, Johnson declared a "war on poverty" in his State of the Union address. He then worked with Congress to pass more than 200 pieces of legislation, which included early education programs and social safety nets such as Medicare and Medicaid.
In 1971, a woman and child rest in their room at a New York City hotel for people living on welfare. Johnson's programs significantly reduced the poverty rate during his time in office, but it was still in the double digits (12.1%) when he left in 1969.
Unemployed Americans stand in line at a New York welfare office in 1974. Economic crises gripped the country in the early '70s and, in many ways, dampened America's focus on the war on poverty.
President Jimmy Carter, a man who rode into the White House as an anti-government Washington outsider, lessened the focus on the war on poverty. "Government cannot solve our problems," he said in his 1978 State of the Union address.
A woman in 1987 participates in a workforce program that trains and finds new jobs for people on welfare.
During a 1991 commencement speech given by President George H. W. Bush at Yale University, attendees hold signs that read, "George, don't turn your back on urban poor." Like Carter, Bush was more concerned with other issues during his presidency.
A Medicaid recipient brings her daughter to a hospital in 1995. Medicaid, a federally run health program, was designed to provide coverage for low-income and disabled individuals.
In 2005, displaced victims of Hurricane Katrina rest inside a shelter set up at the Superdome in New Orleans. Advocacy groups estimate homelessness in the city more than doubled in the aftermath of the storm. The disaster fueled dialogue on poverty and race relations in America.
A mother unloads groceries purchased with food stamps in 2013. The federal food assistance program established by President Johnson in 1964 still helps many low-income Americans put food on the table today.
50 years of the 'war on poverty'
50 years of the 'war on poverty'
50 years of the 'war on poverty'
50 years of the 'war on poverty'
50 years of the 'war on poverty'
50 years of the 'war on poverty'
50 years of the 'war on poverty'
50 years of the 'war on poverty'
50 years of the 'war on poverty'
STORY HIGHLIGHTS
John Sutter is on the road reporting on child poverty
He invites you to follow the trip on Facebook and Instagram
Readers voted for him to cover this issue as part of the Change the List series
The U.S. has the second-highest rate of child poverty among wealthy nations
Editor's note: John D. Sutter is a columnist for CNN Opinion and creator of CNN's Change the List project. Follow him on Twitter, Facebook or Instagram. E-mail him at ctl@cnn.com. The opinions expressed in this commentary are solely those of the author.
Reykjavik, Iceland (CNN) -- Three stats tell part of the story.
The United States -- one of the wealthiest nations on Earth -- has the second highest rate of childhood poverty in the rich world, according to UNICEF. (Only Romania fares worse.)
About one in five American kids is poor, according to Census Bureau data. (For a family of four, the poverty level is an income of no more than $23,834).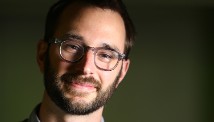 John D. Sutter
And, as of 2011, 3.55 million live on less than $2 a day, according to a paper from researchers at the University of Michigan and Harvard University.
I'm on the road this month, however, to try to understand the human cost of child poverty in the United States. I'll be meeting with families who are struggling to make ends meet; talking to kids about what it's like to be poor in a rich country; and looking at the long-term consequences of allowing so many of our children to grow up amid financial turmoil.
You can follow the trip on my Facebook and Instagram.
Importantly, I'll also be searching for solutions.
To that end, my first stop is Iceland, where I landed this morning. (It's 8:22 a.m. as I type this on a bus to Reykjavik, the capital, and the sun is nowhere to be seen, thanks to the extreme northern latitude.) It's famous for its unpronounceable volcanoes and Bjork, but Iceland also has one of the lowest child poverty rates in the world. I'm here to learn about several pioneering programs that aim to help poor kids -- and see what ideas America could steal.
I'll also make a trip to California's Silicon Valley, home to Apple and Facebook -- and also to striking rates of child poverty. One in three kids in the valley is at risk for hunger, according to Caitlin Kerk, spokeswoman for the Second Harvest Food Bank in Silicon Valley. Sky-high rents -- more than $2,100 per month on average for a one-bedroom apartment -- make homelessness and food shortages shockingly common there, I'm told. Some 200 people are reported to live in an encampment for homeless people in San Jose that everyone calls "The Jungle."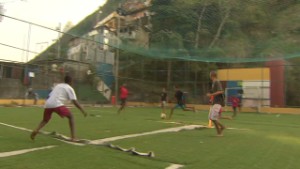 Children hope for escape through sport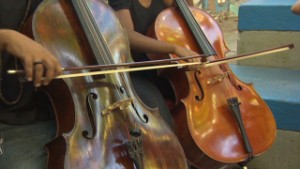 Classical music lifts Rio's children
Apparently, poverty is everywhere in America.
And in some places it's particularly extreme.
In Detroit, for example, another of my planned stops, the rate nears 60%.
Child advocates and academics say we've chosen to keep our poverty rate this high in the United States by rejecting policies that would help our kids and families succeed.
"There are a lot of things we can do for children that we're not doing" in the United States, said Mary Hansen, an associate professor of economics at American University.
"We could dramatically reduce child poverty if we chose to," Larry Aber, a professor of applied psychology at New York University, who has studies solutions to child poverty, told me.
I'm inclined to believe them. I can't think child poverty -- with its nasty outcomes, like prison time, low educational achievement and poor health -- is inevitable.
But I'll be testing that hypothesis this month.
I'd invite you to follow that journey on social media, and if you do, please, please ask questions and challenge my assumptions. You can help guide my reporting -- and the outcome of this project. CNN readers, after all, voted for me to report on child poverty as part of my Change the List project. This is the last of five issues you selected.
Thanks in advance for your contributions. I'll report back soon.
Read CNNOpinion's new Flipboard magazine.
Follow us on Twitter @CNNOpinion.
Join us on Facebook.com/CNNOpinion.