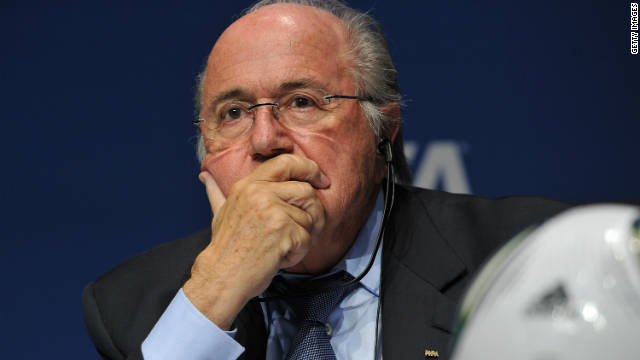 FIFA president Sepp Blatter's 2011 remarks on racism in football -- that on-pitch abuse can be solved with a handshake -- were just one of a series of controversial quotes to be attributed to the head of world soccer.
In 2004, Blatter -- seen here with Brazil star Marta -- angered female footballers with his suggestion for how the women's game could be made more appealing. "They could, for example, have tighter shorts," said the Swiss. "Let the women play in more feminine clothes like they do in volleyball."
In 2010, when England captain John Terry, who is married, was reported to have slept with the partner of his former Chelsea teammate Wayne Bridge, Blatter responded: "If this had happened in, let's say, Latin countries then I think he would have been applauded."
In 2008 Blatter was ridiculed after defending the desire of Manchester United's highly-paid star Cristiano Ronaldo to join Real Madrid. He said: "I think in football there's too much modern slavery in transferring players or buying players here and there, and putting them somewhere." In 2013 he had to apologize to Ronaldo after a bizarre impersonation of the Madrid star.
Blatter performed a U-turn on the use of goal-line technology and apologized to the English Football Association after an incorrect decision during the 2010 World Cup. Despite replays showing a shot from England's Frank Lampard had clearly crossed the line in the last-16 clash with Germany, the goal was not awarded.
Blatter had earlier refused to take action when Thierry Henry's blatant handball denied the Republic of Ireland a place at the 2010 World Cup finals. Even the France striker admitted the fairest solution was to replay the playoff match.
In December 2010, Blatter was heavily criticized for suggesting gay football fans should "refrain from sexual activity" if they wished to attend the 2022 World Cup in Qatar, where homosexuality is illegal. Blatter later apologized and said it had not been his intention to offend or discriminate.
Blatter clashed with fellow members of FIFA's executive committee when he suggested the 2022 FIFA World Cup could be played in January to avoid high temperatures in Qatar. He said the move would "protect the players and also the spectators." Qatar flatly rejected Blatter's suggestion at the time, but FIFA is now reviewing whether to adopt it.
In December 2010 Blatter insisted that FIFA was "not corrupt ... there are no rotten eggs" despite two of his executive committee members -- Amos Adamu, pictured, and Reynald Temarii -- being suspended for accepting bribes in the lead-up to the vote for awarding hosting rights for the 2018 and 2022 World Cups. He called England "bad losers" after losing out to Russia.
Blatter stood unopposed for re-election in July after his former ally Mohamed bin Hammam quit the race days before the ballot after being accused of offering cash for votes. The Qatari, a top FIFA official, has been banned from football.
Blatter faced a criminal investigation after winning the 2002 FIFA presidential election, being accused of financial mismanagement by 11 former members of the ruling body's executive committee, including his 1998 election rival Lennart Johansson, right. However, prosecutors dropped the case due to a lack of evidence.
In January 2013, AC Milan midfielder Kevin-Prince Boateng led his team off the pitch after being subjected to racist chanting. His actions were hailed across the world. But Blatter was more cautious about the issue, refusing to support the move. "I don't think you can run away, because eventually you can run away if you lose a match," he said in an interview with a newspaper in the UAE. "This issue is a very touchy subject, but I repeat there is zero tolerance of racism in the stadium; we have to go against that." Others, like AC Milan president Silvio Berlusconi, have disagreed with him. "I am of the opposite view (to Blatter)," said Berlusconi. "I thanked and congratulated my players for their decision to leave the field."
A controversial leader
Tighter shorts for women?
Applauding infidelity
Football slavery?
Goal-line technology U-turn
Excusez-moi?
"Refrain from sexual activity"
Winter World Cup?
Rotten eggs?
Best of enemies?
Charges dropped
We need to talk about Kevin
STORY HIGHLIGHTS
FIFA has cleared Russia and Qatar over allegations of wrongdoing
Lead investigator Michael Garcia to appeal against 42-page summary
FIFA president Sepp Blatter has history of gaffes
World football's governing body under fire once again
Follow us at @WorldSportCNN and like us on Facebook
(CNN) -- Another day, another FIFA farce.
Football's world governing body has already embarrassed itself on a number of occasions with its president, Sepp Blatter, also getting in on the act.
Thursday's debate between lead investigator Michael Garcia and FIFA judge Hans-Joachim Eckert over allegations of corruption during the FIFA World Cup bidding process is just the latest episode in a whole catalog of ignominy.
Blatter, who has been in charge of FIFA since 1998, is hoping to stand for a fifth term as president next year.
The 78-year-old has presided over some of the organization's most troubled times. Here are a few reminders.
Racism solved with a handshake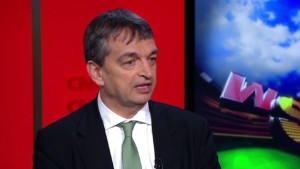 Champagne: Football has lost credibility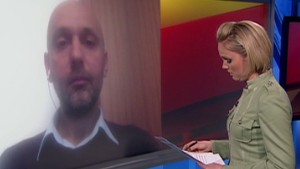 FARE: 'Erratic' Sepp Blatter should quit
Yes, you read that right. In June 2011, during an exclusive interview with CNN, Sepp Blatter said that any racism on the field of play could be solved with a handshake.
When asked if racism on the pitch was a problem, the FIFA president said: " "I would deny it. There is no racism.
"There is maybe one of the players towards another -- he has a word or a gesture which is not the correct one.
"But the one who is affected by that, he should say: 'This is a game. We are in a game, and at the end of the game, we shake hands.' And this can happen, because we have worked so hard against racism and discrimination."
Blatter later said that his remarks had been misunderstood and released a statement clarifying his position.
Let women wear 'tighter shorts'
Blatter caused a stir in January 2004 when he suggested female footballers should wear "more feminine clothes."
"Let the women play in more feminine clothes like they do in volleyball," he said at the time.
"They could, for example, have tighter shorts."
Blatter added: "Female players are pretty, if you excuse me for saying so, and they already have some different rules to men -- such as playing with a lighter ball.
"That decision was taken to create a more female aesthetic, so why not do it in fashion?"
No sex in Qatar
When Qatar was awarded the 2022 World Cup, Blatter was asked about what gay football fans should do given that homosexuality is illegal in the Gulf state.
Speaking in December 2010, Blatter joked: "I'd say they (gay fans) should refrain from any sexual activities."
"It was not my intention and never will be my intention to go into any discrimination," Blatter said.
"If somebody feels hurt, then I regret and present apologies."
She's a looker
Blatter was at it again in May 2013 at the 63rd FIFA congress held in Mauritius where the executive committee elected three women.
With the world waiting to hail FIFA's progress, the president took center stage.
He declared: "We now have three ladies on the board. Say something, ladies! You are always speaking at home, say something now!"
Oh and before that, he had told everyone that one of the candidates, Australia's Moya Dodd was "good and good-looking."
Affairs are OK?
In 2010, Blatter turned agony uncle to England's Wayne Bridge following revelations that his Chelsea teammate, John Terry, had been having an affair with his girlfriend Vanessa Perroncel.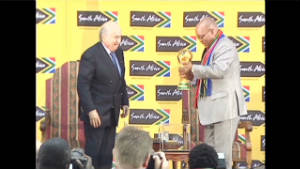 Sexwale: Blatter's comments problematic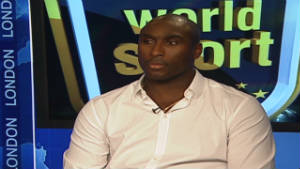 Campbell: Blatter comments out of touch
The English Football Association (FA) stripped Terry of the England captaincy and Bridge's relationship with the French model fell apart in front of the watching world.
Fortunately, Bridge had Blatter to turn to for some advice.
"Listen, this is a special approach in the Anglo-Saxon countries," he said.
"If this had happened in let's say Latin countries then I think he (Terry) would have been applauded."
Big screen Blatter
Nothing massages the ego more than having your own film -- hence the production of "United Passions," a movie telling the story of how FIFA came into existence.
FIFA coughed up a reported $8 million to help fund the film starring Tim Roth as Blatter, French actor Gerard Depardieu as World Cup creator Jules Rimet and Sam Neill as Joao Havelange, the disgraced former FIFA president.
The flick, which reportedly cost $27 million to make, failed to attract many viewers to its premiere in Switzerland earlier this year -- a reported 120 people bought tickets.
Sepp the stand-up comedian
In October 2013, Blatter caused much mirth during a question and answer session at Oxford University.
The Swiss was asked which player he preferred out of Lionel Messi and Cristiano Ronaldo.
One might have expected a straight answer -- but not this time.
After saying that Ronaldo was like a "commander on the field of play," Blatter got up from his chair and began to do a comic walk across the stage in a bizarre interpretation of the Real Madrid star's movement.
It went down like a lead balloon -- especially with the Portuguese star who posted a sarcastic response on his Facebook page.
The two made peace in the end with Blatter tweeting an apology.
Read more: FIFA embroiled in civil war
Read more: FBI moves ahead with FIFA corruption probe