STORY HIGHLIGHTS
Alli Webb turned her passion for hair into a $50 million business
Starting off with her friends as clients, she saw a gap in the market
She now balances family life with the booming business
Editor's note: Leading Women connects you to extraordinary women of our time -- remarkable professionals who have made it to the top in all areas of business, the arts, sport, culture, science and more.
(CNN) -- Growing up, Alli Webb always loved having her hair done, and after having children of her own she decided to bring that happy feeling to millions of women worldwide in an instant with her booming business, Drybar.
CNN: How did you start out?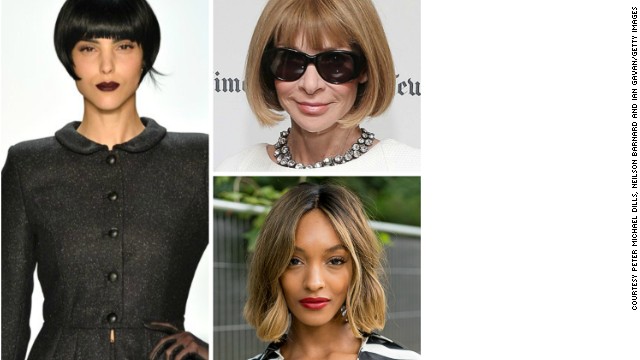 Victoria Beckham, Mary Portas and American Vogue editor Anna Wintour are fans and model Jourdan Dunn softens the severity of the bob hairstyle with this season's favorite, the wob (wavy bob).
Quirky styles like this one can go wrong when done at home so it's not unusual for customers to walk into a salon brandishing a torn-out magazine picture of Beyoncé or Katy Perry's latest cut -- for the stylist to recreate.
The past has always been a place of inspiration for hairdressers and clients alike, and modern styling tools have made styles like the beehive easier to create.
Made famous by Jennifer Aniston in the early seasons of Friends, the 'Rachel' was voted the most popular hairstyle among British women in a 2010 poll.
During slavery it is said that relaxers, hot combs and braiding techniques were used to achieve a more 'European' look. However, the Civil Rights Movement caused more people to appreciate the beauty of natural hair. The Afro itself became a political statement.
During the Second World War, styles which looked expensive could be achieved at home with few resources were popular. Some say the victory rolls got their name from the aileron roll, a 360° flip carried out by airplanes as a sign of celebration.
One of the most popular short cuts but very difficult to pull off, the Pixie cut is a Hollywood favourite. Charlize Theron and Amélie star Audrey Tautou are just two of the stars that made the cut famous.
Most women wanted their hair either lighter, darker or just devoid of grays. But now having the bottom of the hair dyed, usually a bright color to give the hair a 'dip-dyed' or 'Ombre' look has taken off.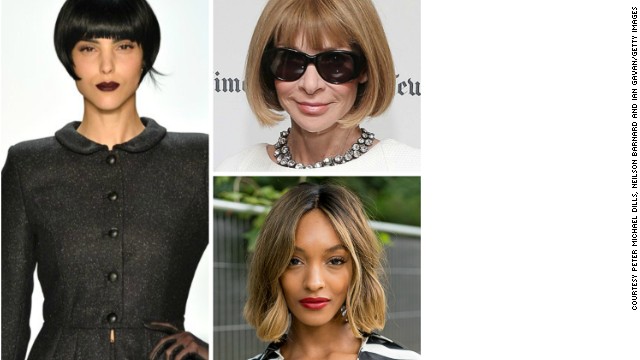 8 'dos you've asked your hairdresser for
W: I've been doing hair for 17 years off and on since I was in my early 20s. Then I got married and became a stay at home mom, but after five years of that I got the itch to get back out there.
I was basically running around town blow drying all my mommy friends and I had this little thriving mobile blow out business.
That's when it kind of hit me that there was no place for women to go for a great blowout in a great space. I was only charging $40 to go to a woman's house which is pretty cheap, but for me is was more about getting out of the house versus the money.
CNN: You have 38 stores now, are you still doing blowouts?
W: Not as much as I used to but I do love to come in the shop and do an occasional blowout. With over 2,000 stylists I can't do it myself anymore but I train a team that does it so I'll do a lot of demos for them too, which I love, to get my hands back in hair because I have such a strong passion for hair.
CNN: Have you been able to balance your work and personal life?
W: I get asked that question a lot and the honest answer is just it's hard. I have two little boys, they're 9 and 7 and they are my whole life. I always say that I don't think I could be as good as a mom if I wasn't happy in the other side of my life and I think that's really important to keep in mind as a working woman.
CNN: Tell us about the core values?
W: We have so many, like "life is too short to be somewhere lame," "pretty is as pretty does," I heard that my whole life growing up. My parents were very big on; it doesn't matter how pretty you are on the outside, if you're not pretty on the inside, it doesn't matter.
Being yourself is one of them, we want our stylists to feel really empowered to be who they are. I've had stylists ask me if they should cover up their tattoos, and I was like noooo, we want to see them! I think it's important for businesses to really establish what makes them different and unique.
CNN: Tell us about a typical day for you.
W: I get my kids off to school that's first and foremost, I'm usually at my office for a little while and I'm usually based in LA so I try to hit as many LA stores as I can. I like to pop in unannounced and make sure everything is running smoothly but it just kind of depends on the day.
CNN: So most days you pop into stores?
W: I try to. I do work in the office a lot too because we have so much going on there but I really try to get out in the field and make surprise visits just so I can see what's going on, stay connected, get a blowout, whatever.
CNN: What happens when you pop in?
I wanted women to feel like there's no bait and switch, it was $40 no matter how long your hair is, if we curl it, flat iron it it's always gonna be $40.
Alli Webb, Drybar founder
W: Sometimes people get a little like uh-oh. I don't like to announce it because I like to really see what's happening and typically everyone's usually in pretty good shape and excited to see me and to show me stuff that's happening in their store.
CNN: Tell us about the services you offer?
W: That was something I felt really strongly about when we started. I've always had long thick curly hair and people when you typically walk into salons they say well for you it's gonna be $60 but for your friend it's $50 and it felt so discriminatory towards me and I wanted women to feel like there's no bait and switch, it was $40 no matter how long your hair is, if we curl it, flat iron it it's always gonna be $40.
CNN: And the menu?
W: It's funny when we were coming up with the bar menu, it was so fun naming all the hairstyles after drinks and I thought how fun would it be to be sitting here and say I'll have the Manhattan or I'll have the Cosmo.
Women really get into it, a lot of chatter on Instagram about you know, what style did you get? You hear it all the time in our shops, I'm having the southern comfort or I'm having a mai tai. It's all a part of making it an experience and a fun place to hang out.
Read: Who are the most social women in fashion?
Watch: Pharmacist's rise to chief exec
Discover: Powerful, intimidating, sexy: Do clothes maketh the woman?