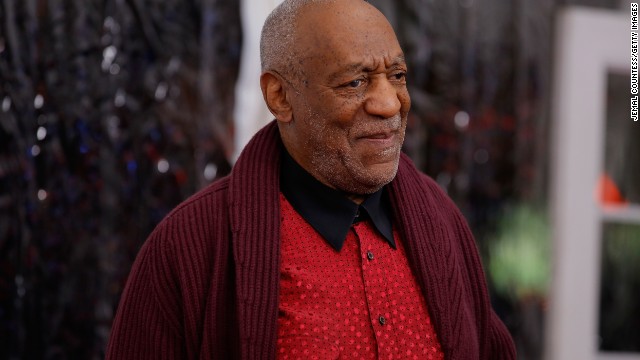 For more than 50 years, Bill Cosby has been one of America's leading entertainers: a noted comedian, an Emmy-winning actor and an innovative producer. However, his reputation has been tarnished by allegations of rape. Here's a look at how Cosby, shown here in 2013, has changed through the years:
Cosby, shown here in 1969, began his career in the nightclubs of Greenwich Village as a standup comedian. His clean-cut style became a career mainstay.
"40 Greatest Comedy Albums of All Time"
list. Here, Cosby feeds one of his children in the mid-1960s.
Cosby first made his name with his comedic storytelling, often based on his childhood experiences. In 2011, SPIN magazine put "To Russell, My Brother, Whom I Slept With" at the top of its
Cosby won three Emmys for his portrayal of Alexander Scott, an Oxford-educated spy who travels undercover as a trainer with his tennis-playing partner, Kelly Robinson (Robert Culp) in "I Spy," which aired on NBC from 1965 to 1968. Cosby was the first African-American to star in an American dramatic series.
In 1972, Cosby starred in "The New Bill Cosby Show," a variety program. Among his guests was Ray Charles, whose version of "Night Time Is the Right Time" would play such a standout role on "The Cosby Show" years later.
In 1972, Cosby helped create "Fat Albert and the Cosby Kids," a Saturday morning TV series that ran for more than a decade. It later became a 2004 live-action film starring Kenan Thompson as Fat Albert.
"The Cosby Show,"
premiered in 1984. Phylicia Rashad played his wife, Clair Huxtable.
Cosby's biggest TV hit,
After "The Cosby Show," the star cast about for other projects. Among them was another sitcom, "Cosby," which aired from 1996 to 2000. Cosby played retired airline agent Hilton Lucas. The show also starred T'Keyah Crystal Keymáh.
President Bill Clinton chats with Cosby and TV correspondent Linda Ellerbee at a 1996 conference on children's television. Cosby, who has a doctorate in education, is a strong believer in using television to send educational messages.
In 1997, Cosby suffered the loss of his son, Ennis, who was killed on the side of an Los Angeles freeway. Cosby's series' "Little Bill" used the phrase "Hello, friend" -- Ennis' regular greeting -- in tribute to his son.
Cosby shares a laugh with baseball great Hank Aaron after they both received the Presidential Medal of Freedom during a 2002 ceremony. The medal is America's highest civilian award.
Comedian Jerry Seinfeld and Cosby embrace at the Mark Twain Prize for American Humor at Washington's Kennedy Center in 2009. Cosby declined the prize twice before accepting. His mother read Twain to him as a child -- a huge influence on his storytelling.
Cosby accepts the Marian Anderson Award in 2010 at the Kimmel Center for the Performing Arts in Philadelphia.
Cosby speaks at the 20th anniversary of Rev. Al Sharpton's organization, the National Action Network, in 2011. In recent years, Cosby has been outspoken on the subjects of poverty, family and responsibility in the black community, which have earned him both praise and criticism.
Cosby speaks onstage during the 100th anniversary celebration of the Beverly Hills Hotel & Bungalows supporting the Motion Picture & Television Fund and the American Comedy Fund. The comedian is active in several charitable causes.
Bill Cosby: Evolution of an icon
Bill Cosby: Evolution of an icon
Bill Cosby: Evolution of an icon
Bill Cosby: Evolution of an icon
Bill Cosby: Evolution of an icon
Bill Cosby: Evolution of an icon
Bill Cosby: Evolution of an icon
Bill Cosby: Evolution of an icon
Bill Cosby: Evolution of an icon
Bill Cosby: Evolution of an icon
Bill Cosby: Evolution of an icon
Bill Cosby: Evolution of an icon
Bill Cosby: Evolution of an icon
Bill Cosby: Evolution of an icon
Bill Cosby: Evolution of an icon