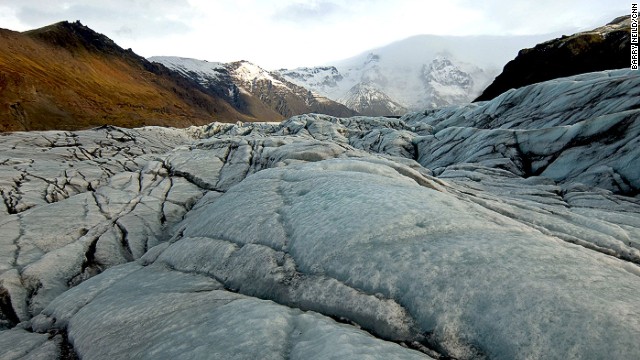 Svinafellsjokull, a glacier in the Vatnajokull National Park, is one of the locations used in the filming of new movie "Interstellar."
Most of the on-location Iceland scenes in "Interstellar" were filmed on the Svinafellsjokull, a huge tongue of ice that's part of the country's largest glacier.
In "Interstellar," astronauts played by Matthew McConaughey and Anne Hathaway land on a bleak planet in the far reaches of space. In reality, it's Iceland.
Icelandic Mountain Guides
offers two-hour tours of Svinafellsjokull. Hiking boots, crampons and an ice ax are standard issue glacier walking kit.
A crew of up to 350 people worked on the "Interstellar" glacier scenes, bringing with them a giant model of a spacecraft. Other than a new parking lot, there's no trace they were here.
The glacier is constantly shifting shape as it pushes down the mountain and melts and freezes under warm daylight and freezing nights.
Crevasses opened up by friction as the ice moves down the mountain can penetrate to the bottom of the glacier -- at this point up to 50 meters deep. Further up, the glacier can be up to a kilometer deep.
The Svinafellsjokull glacier pushes forward between 25 and 30 meters each year, but summer melting currently causes it to retreat 40 meters.
Melting ice can create holes, known as moulins, that plunge down through the glacier. Some are big enough to climb through.
The glacier appears marbled where crevasses have opened then closed again as the ice moves down the mountain. The dirt is morraine -- debris torn up by the glacier.
Tramping up and down sheer ice slopes in crampons is best done using a bandy-legged walking techniques, straight backs and small steps.
Icelandic glacier guide Tomas explains how the topography of the frozen landscape is created. "This," he says, gesturing to the vast expanse of ice, "is my office."
Ice that's been under immense pressure due to the weight of the glacier is blue in appearance. Nearer the surface it becomes whiter as the melting process adds more air into the mix.
To the east of the Svinafellsjokull glacier lies Jokulsarlon, an otherworldly glacial lagoon that's home to skua seabirds and seals.
boat tours of the lake
throughout most of the year.
Jokulsarlon is formed from meltwater from the nearby Breidamerkurjokull glacier. It's possible to take amphibious
Jokulsarlon has starred in two "Bond" movies as well as "Tomb Raider" and "Batman Begins."
'Interstellar's' Iceland
Svinafellsjokull glacier
On another planet
Ice walking kit
Cinematic view
Shifting scenery
Deep crevasses
Advance and retreat
Ice hole
Marbled snow
Ice walking
Glacier guide
White and blue ice
Jokulsarlon glacial lagoon
Among the icebergs
Frozen film set