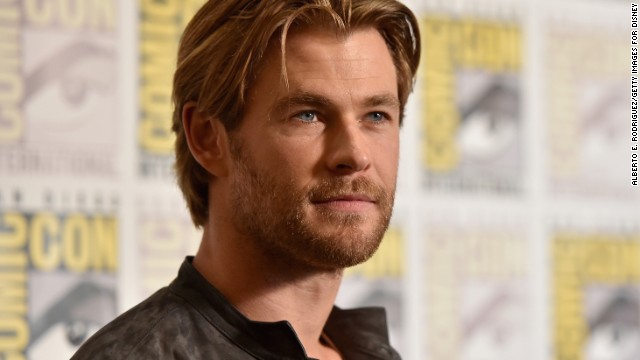 Chris Hemsworth was named People's Sexiest Man Alive for 2014 Tuesday night on "Jimmy Kimmel Live." He joins this illustrious list of past honorees....
Keira Knightley and Adam Levine found love in "Begin Again" in 2013 and "The Voice" coach found himself dubbed People's sexiest man alive.
Channing Tatum (with Alex Pettyfer in "Magic Mike") stripped down and won the honor in 2012.
Bradley Cooper made fans laugh in "The Hangover Part II" in 2011, and swoon as the sexiest man alive.
In 2010, "Buried" star Ryan Reynolds became the first Canadian on the list.
Johnny Depp (seen here in "Public Enemies") was a suave choice in 2009. It was his second time on the list.
Hugh Jackman brought the sexy in "Australia" and on the cover of People in 2008.
Matt Damon had a hit with "Ocean's Thirteen" in 2007 and sexy bragging rights.
In 2006, George Clooney starred in "The Good German" and became the second man to grab the title twice.
Alright, alright alright!. 2005 was Matthew McConaughey's year of sexy. Here, he is seen in "Sahara."
"Closer" was Jude Law's starring role in 2004, but he made more buzz with the People pick.
Johnny Depp starred in "Once Upon a Time in Mexico" in 2003 and on the cover of People's sexiest man issue.
"Daredevil" got mixed reviews for Ben Affleck, but even critics couldn't argue with his 2002 sexiest man selection.
Pierce Brosnan (seen here with Jamie Lee Curtis in "The Tailor of Panama") was the pick for 2001.
In 2000, Brad Pitt appeared with Julia Roberts in "The Mexican" and made one of two appearances on the sexy list.
1999 was a good year for Richard Gere: He reunited with "Pretty Woman" co-star Julia Roberts for the film "Runaway Bride;" he turned 50; and he was named sexiest man alive.
Harrison Ford and Anne Heche appeared in the movie "6 Days,7 Nights," in 1996 and he also snagged the title and cover.
George Clooney (seen here with Michael Gough in "Batman & Robin") was both the caped crusader and the sexiest man alive in 1997.
In 1996, Denzel Washington (seen here in "Courage Under Fire") became the first and only African-American to nab the title.
Brad Pitt got gritty in 1995 in the psychological thriller "Se7en," but it was his good looks that landed him the sexiest man cover that year. Good thing, too, as fans were thirsting given that there was no selection in 1994.
The magazine didn't name a sexiest man in 1993 or 1994. Instead, they went with Cindy Crawford and Richard Gere as the sexiest couple alive in a two-for-one deal.
Nick Nolte won accolades in 1992 for his acting in "Lorenzo's Oil," as well as the nod from People as the sexiest man.
"Dirty Dancing" made him a big star, but the late Patrick Swayze was still riding high in 1991 with "Point Break" when he earned the honor.
Tom Cruise (seen here in "Days of Thunder") was a hot selection in 1990.
He may have been almost 60 in 1989, but that didn't stop People from finding "Indiana Jones and the Last Crusade" co-star Sean Connery sexy.
The late John F. Kennedy Jr. (seen here with then-girlfriend Christina Haag circa 1988 in New York) was neither a movie nor TV star, but his dashing good looks earned him the title in 1988.
The jury ruled "L.A. Law" star Harry Hamlin was the perfect selection for 1987.
Mark Harmon was the quintessential '80s hunk and 1986's winner.
for getting mad,
Mel Gibson's fame from the "Mad Max" films led him to be named People's first sexiest man alive in 1985.
Before he was known
People's Sexiest Men Alive
People's Sexiest Men Alive
People's Sexiest Men Alive
People's Sexiest Men Alive
People's Sexiest Men Alive
People's Sexiest Men Alive
People's Sexiest Men Alive
People's Sexiest Men Alive
People's Sexiest Men Alive
People's Sexiest Men Alive
People's Sexiest Men Alive
People's Sexiest Men Alive
People's Sexiest Men Alive
People's Sexiest Men Alive
People's Sexiest Men Alive
People's Sexiest Men Alive
People's Sexiest Men Alive
People's Sexiest Men Alive
People's Sexiest Men Alive
People's Sexiest Men Alive
People's Sexiest Men Alive
People's Sexiest Men Alive
People's Sexiest Men Alive
People's Sexiest Men Alive
People's Sexiest Men Alive
People's Sexiest Men Alive
People's Sexiest Men Alive
People's Sexiest Men Alive
People's Sexiest Men Alive