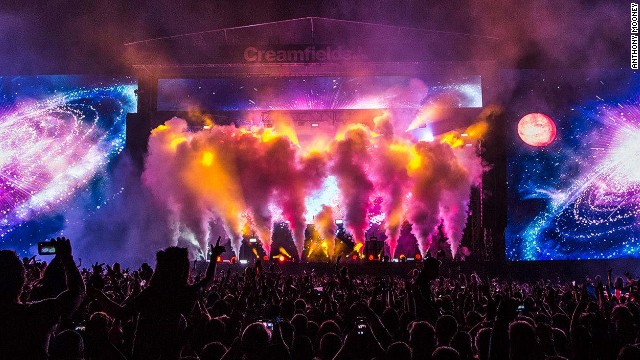 Take a look behind the scenes
at the mind-melting visuals that are lighting up concerts and festivals worldwide...
Comix
have made tour visuals for EDM's biggest names including Avicii, Swedish House Mafia, and Alesso.
Epic enough?
These earth-shattering 3D animations were for former-Swedish House Mafia-members Axwell and Sebastian Ingrosso's Billboard Magazine "Best Live Show" award-winning performances in 2014
The company also created all of the visual elements for Avicii's massive "True Tour" 2014.
Strangeloop
-- dropped out of art school because they didn't have course in the art-forms he loved, like video installation, VJ-ing, and live visuals.
David Wexler -- L.A.'s
Years later, his art school classmate Flying Lotus (pictured) is now Wexler's longest-lasting collaborator.
He's also worked with soul legend Erykah Badu and, here, on Skrillex's insane performances.
EyeSupply
work with artists from the concept stage to the mainstage to give DJs full creative input into the look of there set.
Dutch agency
For Armin van Buuren's boundary-pushing 6-hour-plus "Armin Only" shows (pictured), EyeSupply's Carlo Ruijgers spent a year working with the DJ to design the visuals.
His team used a special technology to 3D scan van Buuren to create a full-body on-screen avatar for the DJ.
UVA
's work goes well beyond music visuals into the world of visual art and experimental film.
installation at the Barbican, London
of light-emitting pendulums moving in strange and unexpected ways, that visitors were invited to explore.
For their 10th anniversary, UVA created "Momentum," an
The Light Surgeons
have created the "live cinema" project "SuperEverything*"
Production company
The project was filmed on location across Peninsular Malaysia and sees some of Malaysia's best musicians and artists in collaboration.
The taste for mind-boggling visuals doesn't stop at EDM. Rock star have long loved visual spectacle and are now recruiting visionary designers to add sparkle to their arena shows.
Universal Everything
work with bands, brands and galleries to create hypnotic videos and immersive live experiences.
full 2014 video
for everything from building-size billboards to these weird walkers.
Take a look at their
This collection is just a drop in the ocean. Tell us about your most spectacular festival and concert experiences in the comments section below.
Look into the future...
Comix
Comix
Comix
Strangeloop
Strangeloop
Strangeloop
EyeSupply
EyeSupply
EyeSupply
United Visual Artists
United Visual Artists
United Visual Artists
The Light Surgeons
The Light Surgeons
The Light Surgeons
Universal Everything
Universal Everything
Universal Everything
More?
STORY HIGHLIGHTS
Discover six of the names turning festival visuals into an art form in their own right
Live EDM events have exploded in popularity, and become eye-popping experiences
Tech developments are allowing never-before-seen experiences
CNN Ones to Watch is a new show that shines a spotlight on up-and-coming creative talents set to be the next big names in culture and the arts.
(CNN) -- Take away the 100-foot screens, the blasting lasers, and the holographic projections, and what do you have left? Tens of thousands of screaming electronic music fans with nothing much to cheer except a solitary figure, twiddling some knobs and occasionally raising his hand.
For EDM fans across the world, the festival and concert visual performances can be almost as crucial as the music -- transforming a DJ-set into an unforgettable, transcendent, multi-sensory experience.
In the hands of specialist artists, the lights, images and physical environment around the DJ are becoming an art form in their own right. Buoyed by the explosion of popularity of live electronic music -- plus technological advances like projection mapping, innovative VJ (video jockey) software, mushrooming visual computing power, and those famous holograms -- these artists are now getting the chance to display their creations on a spectacular scale.
Here, we look at six of the names working behind the stage to turn festivals and concerts into unforgettable immersive experiences.
Comix -- Avicii, Swedish House Mafia, Alesso
Avicii's 2014 arena tour was a jaw-dropping spectacle -- glittering with laser-fire, pyrotechnics, and epic on-screen visuals -- that promised that the young artist could pack out arenas across the world just as well as more established names. The company behind everything on screen are London designers Comix, and for sheer mesmerizing hypnotism, give Avicii a miss and look at their work on Swedish House Mafia's ultimate "One Last Tour."
Strangeloop -- Flying Lotus, Skrillex, Erykah Badu
If anyone was born to take music visuals to cinematic new heights, it was David Wexler, AKA Strangeloop. The grandson of Academy Award-winning cinematographer Haskell Wexler and the son of Oscar-nominated production sound mixer Jeff Wexler, the L.A.-born artist has worked with dubstep star Skrillex (whose spasmodic performance visuals have also seen him recreated movement-for-movement as a giant robot), and "soul goddess" Erykah Badu. But it all started with his art school classmate Flying Lotus -- Wexler and the experimental music idol have worked together since 2008.
Eyesupply -- Armin van Buuren, Afrojack
Armin van Buuren's six-hour long all-night "Armin Only" marathons this year called for a different kind of visual display. Eyesupply's Carlo Ruijgers said it took his team a year working with Armin to pull together the creative ideas. In the end the key was contrast: "Sometimes we go very theatrical, do a fairytale environment... or 3D-oriented," says Ruijgers.
United Visual Artists -- Massive Attack, Hans Zimmer
Bafta-winning documentary filmmaker Adam Curtis called it a "gilm." (It's cross between a gig and a film.) His collaboration with British trip-hop pioneers Massive Attack was intended to be a lot more than a DJ set. Tracks ranging from Russian punk to English pop trio The Sugababes synced to a video performance billed as an immersive revelation of the "illusion of democracy." The performance drew on the expertise of United Visual Artists, who have been making incredible visual displays for the band for more years.
The Light Surgeons -- Chase and Status, Cinematic Orchestra
The Light Surgeons have invented something they're calling "Live Cinema." It's an on-screen viusal performance, improvised live like a jazz band. It's similar to how VJs are working behind the scenes at a festival, anyway -- splicing clips together on-the-fly to match the ebb-and-flow of a DJ set. Here, they're in control of everything -- creating cinematic narratives (like this "kaleidoscopic view of the cultural landscape of Malaysia") to tell grand stories. And they make killer videos for top DJs, too.
Universal Everything -- Coldplay, George Michael
Electronic music's influence has seen visuals develop across genres. Kate Bush's comeback shows and Radiohead's most recent tour stunned fans with on stage performances and visual madness. And "dad rock" has realized it doesn't have to be boring, either. Even dishwater ballad monsters Coldplay have signed up a company who make screen-drippingly beautiful 3D animations. Just watch this.
Who have we missed? Seen great visuals at a festival or concert this year? Let us know. Tell us about your best festival experience in the comments below.