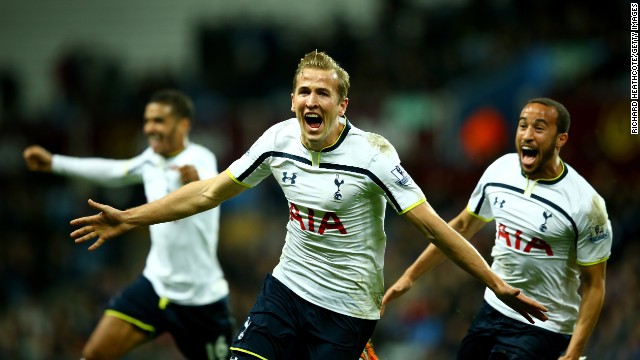 Tottenham Hotspur, based in north London, has become key to the happiness of Jack. He has supported Spurs since he was a child and says football has helped him with his Asperger's.
Jack can reel off the names of the 1961 Double winning team without any trouble. Tottenham won the league and FA Cup that year under the guidance of manager Bill Nicholson.
Anna Kennedy remortgated her own home to finance a school especially for children with autism. Her own sons, Angelo and Patrick, both have autism and struggled in mainstream education.
West Ham is just one of the clubs working with Kennedy in her anti-bullying campaign. The club has also provided training sessions for autistic children.
South African golf star Ernie Els has set up his own foundation in Florida to help those with autism. His son Ben was diagnosed at the age of seven.
Dan Marino, best remembered for his time with the Miami Dolphins, set up a center in Florida to help those with autism. Marino's son Michael was diagnosed as a child and the center, which was opened in 1992, has raised over $50 million.
NASCAR is one of the sports which has worked with autism charities in the U.S. to raise awareness and funds.
Jo Redman wasn't diagnosed with Asperger's until she was 23 -- but that hasn't stopped her from becoming a kickboxing champion.
Spurring him on
Double delight
Trailblazer
Helping Hand
Clubbing together
Dan's deal
Stepping on the gas
Kicking out
STORY HIGHLIGHTS
Estimated that one in 68 kids are in U.S. within Autistic Spectrum Disorder
700,000 people in UK with ASD
Sport raising awareness of Autism across the globe
New coaching program to help Autistic children set up in UK
Follow us at @WorldSportCNN and like us on Facebook
(CNN) -- "Well, that took about five minutes...probably less."
Jack sounds pleased with himself if not at all surprised.
He has just reeled off every single FA Cup winning team since 1984 -- but that was a tad slow compared to what has gone before.
Without hesitation, Jack lists every Formula One champion in the history of the sport in chronological order. In no time at all, he then reels off the champions of darts.
And for good measure, he lists each and every single world snooker winner.
Football World Cup winners? No problem. Champions League winners? Easy.
"Because of my autism, I knew all the statistics whether it be previous winners or former players," he tells CNN.
"If anyone ever got lippy at school about knowing lots about football then I could crush them with my knowledge."
It's not just various sports that Jack can effortlessly memorize -- at school he knew the timetables of all his classmates and could let them know which subject they had at any time of the day.
Without something that allowed me to make friends...I'd have really struggled.
Jack Howes
Now 22, Jack was officially diagnosed with Asperger's, a form of autism, at the age of 19 while at university.
According to the National Autistic Society, autism is a lifelong developmental disability which can affect how that person communicates and relates to others.
Categorized as a spectrum condition, which means that while all people with the condition share certain difficulties, autism affects each and every person in different ways.
"It affects the way I walk or talk, my mannerisms," says Jack as he describes the way his life has been affected by Asperger's, admitting he suffers with anxiety and as child found it difficult to make friends.
At school, he would walk around the playground on his own for the first few weeks of term.
It was only once a ball appeared in the playground that he felt able to interact.
"Football helped me because it was one of the few ways I could happily communicate with kids," he says.
"This sounds cliché, but you don't need many words when you have a ball, you just need some goals and somewhere to play.
"Until two years ago, almost all my social interaction involved or at least started with football.
"Almost all of my friendships derived from playing football either on the road I grew up on or at school, where as you can imagine I was cripplingly shy and was fairly hopeless trying to make friends."
While playing football has helped Jack integrate and make friends, something he has struggled to do in the past, it's the love and devotion to his club, English Premier League Tottenham, which has really helped him cope with his Asperger's.
Just the mention of the word "Tottenham" or "Spurs", the club's nickname, seems to bring an instant response to Jack's language.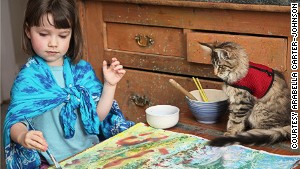 A child in Monet's garden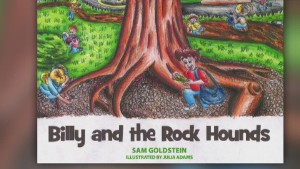 Autistic artist teaches through drawings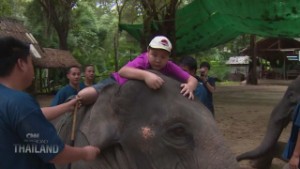 Elephants provide therapy for autistic
He reels off the names of their 1961 Double winning team without hesitation -- and then he says, "don't even bother checking that on Wikipedia."
In 2013, Spurs helped Jack get through a particularly bad bout of anxiety.
"I was lifeless at the time," he recalls.
"The only exception to feeling like a zombie was when Spurs played, because they provided a release from everything else in my life and also because it would take my mind off things.
"I'd feel actual emotion and happiness when Spurs won. I'd forget my anxieties for an hour or two because of the emotion induced by the team's results. "
Raising awareness
Jack is not alone in his pursuit of a sporting outlet -- there are many others who take similar paths in dealing with their autism.
Dan Marino, the former American Football star, opened a center with his wife Claire after his son Michael was diagnosed with autism.
The foundation, which is based in Florida, has raised more than $50 million since its inception and has its own aquatics center.
Ernie Els, the South African golfer, became involved with raising money for autism after his son Ben was diagnosed at the age of seven.
In 2009, the Els for Autism Foundation was launched in Florida with the $30 million Center of Excellence opening in March 2014.
In the U.S. major sporting bodies such as Nascar, Major League Baseball, NFL and NBA are all helping to raise money and awareness.
An estimate by the Centers for Disease Control and Prevention is that one in 68 children has some kind of autism disorder.
The CDC says the latest estimate is 30% higher than the total reported in 2012 which recorded one in in 88 children would be on the spectrum.
While the ratio was one to 175 children in Alabama, New Jersey's was one in 45.
According to figures provided by the British National Autistic Society, there are around 700,000 people in the UK with autism.
Remortgaging home
Briton Anna Kennedy is a woman who remortgaged her own house to set up a specialist school after her two autistic sons -- Patrick and Angelo -- were rejected by mainstream education.
She has set up two schools -- a college and a respite home -- and believes sport has made a huge difference to the children she has worked with as well as her own family.
"Angelo is severely autistic but he loves trampolining," says Kennedy of her son who also suffers from epilepsy and sensory problems.
"When he gets on that trampoline I've got my heart in my mouth when he goes near the edges, but he's fine.
"You can see the joy in his face when he's jumping so high. He just looks so free when he's on the trampoline."
As a child, Angelo rarely took part in PE lessons in mainstream school as the task of taking off his shoes and socks was often too difficult.
When he did play football, in particular, he would struggle to understand the game, celebrating when he scored an own-goal.
His brother Patrick, who is 24 and has Asperger's, took up kickboxing as a teenager and has excelled.
Kennedy has also been working with a number of Premier League clubs to help provide training for children with autism along with her senior training officer Austin Hughes, while there have been opportunities for visits on matchdays and the promotion of her anti-bullying campaign.
West Ham and Sunderland have both collaborated with her organization in recent months with discussions over the possibility of providing a safe and secure viewing area for autistic children and their families at the stadiums.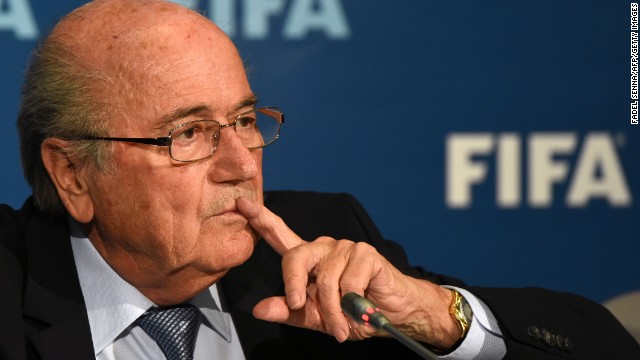 Sepp Blatter, the president of world football's governing body FIFA, announced that a redacted version of the report into the alleged wrongdoing surroiunding the bidding process for the 2018 and 2022 World Cups would be published.
A published report claims UEFA president Michel Platini was gifted a Picasso painting in return for support for the Russia 2018 World Cup bid. Platini strenuously denies the allegation.
Russia and Qatar, the hosts of the two World Cups, have been cleared of allegations of corruption by FIFA. Russia, the 2018 host and Qatar, which will host the tournament in 2022, were absolved of wrongdoing.
Michael Garcia (left) handed his report on the bidding process for the 2018 / 2022 World Cups to the FIFA Ethics Committee. Garcia has also called for the findings of his report to be made public.
FIFA has been plagued by a series of problems and controversies since Russia and Qatar was awarded the right to stage the 2018 and 2022 World Cups.
The announcement by FIFA in 2010 that Qatar would host the 2022 World Cup finals has brought greater exposure for the tiny emirate.
It has also placed world governing body FIFA under pressure as to just when the tournament will be held. The organization's secretary general Jerome Valcke says he expects the 2022 World Cup to be played between November and January.
It's not just when the 2022 World Cup will be played that has caused Qatar and FIFA problems. Qatar has come under pressure over the plight of the country's migrant workers, who make up 90 per cent of Qatar's population.
This has been been highlighted by the International Trade Union Confederation, which has criticized Qatar's system of sponsorship which ties workers to employers and has been abused in the past. The ITUC also point to the high number of worker deaths and the conditions that many find themselves in. Temperatures on building sites in the summer months can hit 50 degree Celcius.
Qatar's ambitious plans for the 2022 World Cup include building brand new, state of the art stadiums that would rival any in the world.
But costs have spiraled and the technology has yet to be successfully deployed in full.
But the new allegations by the Sunday Times could, if proven, see the vote for the 2022 final rerun, making questions about timing irrelevant.
The Sunday Times report also claims Russian President Vladimir Putin (L) allegedly won the covert support of FIFA President Sepp Blatter (R) to enhance the claims of the Russia 2018 bid.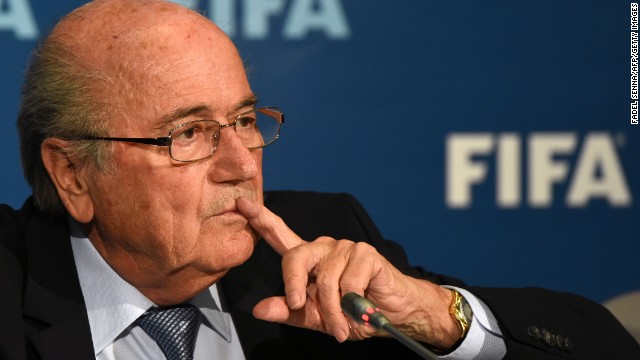 2022 World Cup in Qatar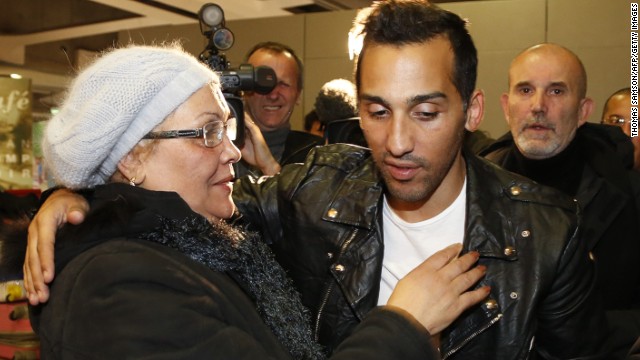 Football player Zahir Belounis (right) is welcomed by his mother as he arrives from Qatar at Paris' Roissy-Charles-de-Gaulle airport on November 28, 2013.
The 33-year-old, here holding one of his two young daughters, had not been able to leave Qatar after he filed a complaint against his club Al-Jaish over a payment dispute.
Belounis had a two-year fight to secure an exit visa, leaving him stranded in the emirate with his wife Johanna and their children.
Belounis (right) held talks with French President Francois Hollande in June and claims he had been told he would receive his exit visa on October 21 -- it came more than a month later.
Qatar has promised a futuristic World Cup -- whichever month it is held in 2022. But at what price?
According to United Nations figures it is estimated that 500 new immigrants arrive in the country every day -- many from the Indian sub-continent and Southeast Asia.
Qatar faces a wait to find out whether the 2022 World Cup will be switched to the nation's winter. "The mistake was to think that we could play this competition easily in the summertime," FIFA president Sepp Blatter said.
The bidding process for the 2018 and 2022 tournaments is being looked at by former New York attorney Michael Garcia, who is head of the investigative arm of FIFA's ethics committee. Garcia will visit all of the countries involved in the process, beginning in London.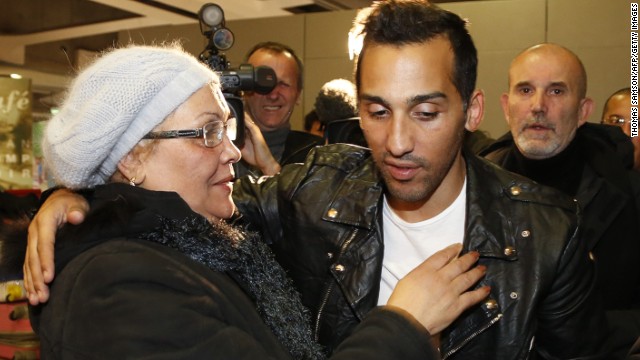 Qatar's stranded migrants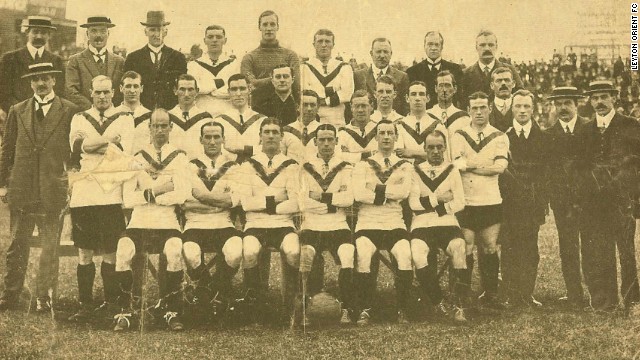 Clapton Orient, based in east London, were the first English club to sign up to the Footballers Battalion. Three of their members, Richard McFadden, William Jonas and George Scott lost their lives at the Battle of the Somme in 1916.
World War One began on August 4 1914 and raged until November 11 1918. Millions died during fighting between the Germans and the allied forces, which comprised of much of the rest of the world.
This box, which was one of 2.5 million sent to British troops in the trenches during World War One, belonged to Richard McFadden. McFadden was a footballer for Clapton Orient who lost his life at the Battle of the Somme in 1916.
The poppy is worn in Britain to commemorate those who have fallen while fighting for the country.
A Yeoman Warder stands amongst the ceramic poppies at the Tower of London's 'Blood Swept Lands and Seas of Red' poppy installation in central London on October 16, 2014.
The Thiepval Memorial on the Somme is one of the largest memorials to Britain's war dead. There are 600 British and French graves, and the names of 72,000 British soldiers are carved into the stone memorial. The Battle of the Somme was fought between 1 July and 18 November 1916, and claimed nearly 200,000 British lives.
A shaft of sunlight falls on the names of the missing at the Menin Gate Memorial on the centenary of the Great War in Ypres, Belgium.
Clapton Orient, now known as Leyton Orient, unveiled a memorial to McFadden, Jonas and Scott at Flers in northern France in 2011.
This locket belonged to Jonas, a Clapton Orient player who died at the Somme. Jonas was admired by a number of female fans and had to ask them to stop sending love letters.
Mary Jane Jonas, wife of William, was left widowed following her husband's death in 1916.
Frank Buckley, who played for both Manchester City and Manchester United, was injured by a grenade during the War. He would go on to manage Blackpool, Wolverhampton Wanderers and Leeds United.
The English Football League remembers those from the 17th and 23rd Middlesex regiments who lost their lives during the War.
Over 200 people visited the Orient memorial in Flers earlier this year. The next trip, scheduled to take place in 2016, is nearly sold out.
A man wears a Hearts scarf and holds a wreath to represent the Scottish club during a remembrance ceremony at Orient's stadium in east London.
Pat and Pamela Smith visit the grave of their ancestor -- Orient's George Scott. Scott was taken prisoner on August 16 1916 by the Germans and was never seen again.
Theresa Burns, wearing a Clapton Orient shirt with the surname of Jonas, the former Orient player, on the back, reads a poem in homage to the fallen.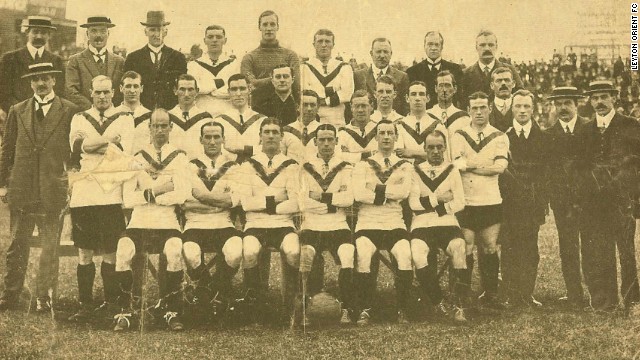 Fooball and the Great War
Kennedy recalls how difficult her own son found watching football inside a packed stadium as a youngster -- the noise and crowd was too much for him and she was forced to take him out after just 20 minutes.
The work of football clubs and of school's such as Hillingdon Manor in London, which Kennedy founded, has brought about a new awareness of autism.
"Sport can be difficult because it has so many different skills involved," said Kennedy.
"It works on spacial awareness, working together and has the unwritten rule of social communication.
"It has to be taught in small chunks and some of the children in particular have a real problem with losing.
"In some schools, the taking part is celebrated, but we have to prepare them for the real world and losing is part of that world."
Outlet for frustration
It wasn't until 2010 and at the age of 23 that Jo Redmond was diagnosed with Asperger's, though the revelation did not come as too much of a shock.
"I think I was always vaguely aware even if I didn't know specifically what was different about me," said Redman, who has become an integral part of Kennedy's charity, Anna Kennedy Online.
She began kickboxing at the age of 13 on the advice of her father, who encouraged her to take part in a sport which helps with sensory movements and flexibility.
Her father hoped it would help Redman develop more confidence and burn off any excess energy.
"I just loved it," said Redman. "I was very withdrawn at the time and it took me a long time open up and speak to anyone at kickboxing but that didn't really mater.
"Kickboxing gave me something to focus on and work towards. It was an outlet for my frustrations.
"It's great for people with autism and Attention Deficit Hyperactivy Disorder (ADHD) -- it forms a structure for the week and gives me familiar goals to focus on.
"I am the last person a lot of people in my life would have expected to do something like kickboxing and this just drove me more within the sport as I wanted to show that they were wrong for thinking I wasn't suited to it .
"You shouldn't judge people from what you see on the outside, I always felt many people didn't take the time to really get to know me."
Redman's achievements in the sport are remarkable having won a number of world titles.
It is because of her ADHD that Redman believes she is able to move so quickly during a fighting scenario.
"I'm always thinking fast so that can help," she said.
"My autistic traits are also useful in that I find repetition comforting so I will practice techniques or elements of fighting to improve, I also have great attention to detail which enabled me to pinpoint what I needed to improve in my fighting.
"But one of the biggest things kickboxing has helped with is that it has made me feel I belong somewhere and that I am valued."
This weekend, the National Autistic Society will hold coaching sessions at London's Olympic Park for those learning to teach sport to autistic children.
The Active for Autism program is hoping to reach 1,200 coaches and attract 7,200 new participants into sport.
The biggest advice is to not be held back by that perception that you have to be good at something or have an interest -- try different things
Jo Redman
Redman is keen to dispel myths that surround 'special talents' or 'specific interests.'
"There is more to me than my kickboxing achievements and I have other interests in my life," she says.
"Not everyone has an obvious talent in a specialized area, some people can be really good at simple day-to-day things but often disregard it because it is not "special".
"I have met a lot of people who not only think they are not good at anything but think that to enjoy something they have to be good at it which means they don't know what they enjoy.
"The biggest advice is to not be held back by that perception that you have to be good at something or have an interest, try different things - it doesn't have to be a sport or something social, it could be something you could do on your own like writing or drawing.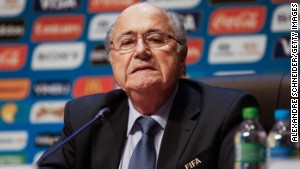 U.S. launches FIFA corruption probe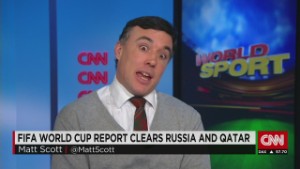 FIFA at war over 'Garcia Report'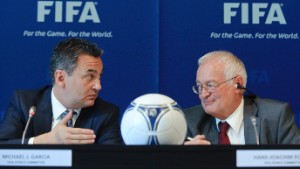 FIFA reveals summary of 'Garcia Report'
"The most important thing is what value you take from it for yourself, I might be good at kickboxing but I don't keep doing it because I am good, I keep doing it because I enjoy it and it works for me."
While those at London's Olympic Park are put through their paces by experts in the coaching of autistic children, others will have their attention elsewhere.
Tottenham's game at Hull in the Premier League on Sunday may not sound the most enticing of sporting affairs but that matters little to Jack.
Born in Enfield, not far from Tottenham in north London, the opportunity to drink in the mirth of a Tottenham victory gives him the opportunity to enjoy the final part of his weekend.
"It's hard for me to think about coping without football because I've been surrounded by football all my life," says Jack.
"As far back as I can remember, there was football on the telly, hats, scarves, posters in my bedroom and people playing football outside.
"I'd probably be a lot worse off, without football to bring me and others together. I could have become immersed in video games or something, but my social life and my life as a whole would have been a lot worse.
"Without something that allowed me to make friends...I'd have really struggled."