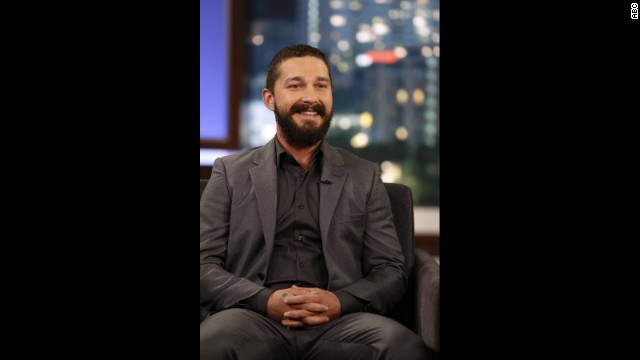 Over the past year, Shia LaBeouf's behavior has gone from precocious and unpredictable to downright bizarre. As LaBeouf gets back on his feet with his latest film, "Fury," take a look at how the star
went from a kid actor
to a man who briefly preferred to wear a paper bag over his head.
After a string of commercials, TV and movie appearances, LaBeouf found fame at 14 as the star of Disney's "Even Stevens." The comedy ran from 2000 to 2003 and earned the young actor an Emmy for outstanding performer in a children's series.
As "Even Stevens" wrapped up, LaBeouf landed another breakout role, this time in film. He starred in 2003's "Holes," which was adapted from Louis Sachar's novel.
"Holes" wasn't the only movie LaBeouf worked on that year. He also appeared in "Dumb and Dumberer: When Harry Met Lloyd," "Charlie's Angels: Full Throttle " and "The Battle of Shaker Heights." For the latter movie's premiere in August 2003, the then 17-year-old actor brought his mom as his date.
As his fame grew, LaBeouf became part of the parade of kid stars who were becoming household names, like Amanda Bynes and Raven Symone. The trio appeared on MTV's "Total Request Live" in 2005.
In 2007, Shia LaBeouf was hand-picked by Steven Spielberg -- who eventually became a mentor for the up-and-coming actor -- to star in the thriller "Disturbia." The release helped establish LaBeouf as a major talent in Hollywood as the movie scored a surprise No. 1 at the box office.
With one top movie already under his belt, LaBeouf went on to score another No. 1 blockbuster with 2007's "Transformers." He starred in the movie as Sam Witwicky, a character he reprised in two more films before deciding to quit the franchise.
other
Hollywood rite of passage: his very first mugshot. The then-21-year-old actor was arrested for trespassing in a Chicago drugstore. According to
People magazine
, a security guard at the store repeatedly asked LaBeouf to leave because he appeared intoxicated, and when the actor refused, the security guard called the cops.
In November 2007, LaBeouf earned that
LaBeouf was described as Spielberg's protege, so it wasn't surprising to see the actor turn up in the famed filmmaker's "Indiana Jones and the Kingdom of the Crystal Skull" in 2008. The only problem? The movie didn't go over so well, and LaBeouf made waves bad-mouthing it two years later, saying that he and his colleagues had "dropped the ball."
Despite earning a reputation as Hollywood's newest troublemaker, LaBeouf was still as popular as ever in 2008. That year, he was at work on a second "Transformers" movie and was starring in another action film, "Eagle Eye." In May, he was brought back to "Saturday Night Live" to host for a second time; that appearance was just two months before
he told GQ magazine
that year. "My past life did not follow me to New York. I created a whole new existence."
In 2010, LaBeouf tried to shake off some of his action star rep and bad boy behavior. He signed up for Oliver Stone's "Wall Street: Money Never Sleeps," started studying the stock market and dated his squeaky clean "Wall Street" co-star, Oscar nominee Carey Mulligan. "I cleared my life to make this movie,"
LaBeouf's transformation included saying goodbye to the "Transformers" series in 2011. The actor filmed the third installment, "Transformers: Dark of the Moon" -- which replaced his former co-star Megan Fox with Rosie Huntington-Whiteley -- and then announced he'd washed his hands of Michael Bay's chain of blockbusters. "I don't have anything new to contribute," he said that year.
he said that
"there's no room for being a visionary in the studio system. It literally cannot exist. ... I'm done."
Leaving summer popcorn films firmly in his past, LaBeouf focused on creating a career in indie filmmaking. In 2012, as he starred in "Lawless,"
in a Sigur Ros music video
in 2012, and then announced that he planned on getting naked again in Lars von Trier's explicitly erotic drama, "Nymphomaniac." LaBeouf has said -- perhaps jokingly -- that
he sent in videotapes of himself having sex with his girlfriend
to prove he could handle the role's unsimulated sex scenes.
Interestingly, the more adventuresome LaBeouf became with his art, the more often we saw him naked. The actor happily went full-frontal
the then-26-year-old actor told USA Today.
"What I know of acting, Sean Penn actually strapped in to that (electric) chair in 'Dead Man Walking.' These are the guys that I look up to."
With that level of commitment to his work, it's not surprising that LaBeouf wanted to drink moonshine for "Lawless" or drop acid for 2013's "Charlie Countryman." "There's a way to do an acid trip like 'Harold & Kumar,' and there's a way to be on acid,"
After his skywriting effort, LaBeouf's actions grew increasingly strange. He said he was retiring from public life in early January, and then began tweeting "I AM NOT FAMOUS ANYMORE" daily for weeks. All of that fueled rumors that he was actually in the middle of a performance art piece, and one could only hope that's what caused his bizarre appearance at the Berlin Film Festival. On February 9, he abruptly walked out of a press conference for his film "Nymphomaniac: Volume I" after randomly answering a question with a quote from a French soccer star.
Although LaBeouf didn't stay for "Nymphomaniac's" media event, he did show up for the premiere wearing one eye-catching accessory: a paper bag over his head bearing his favorite phrase, "I AM NOT FAMOUS ANYMORE," scrawled in black marker.
In June, LaBeouf was charged with harassment, disorderly conduct and criminal trespass following an outburst at a Broadway venue. The charges were settled on the grounds that LaBeouf continue to seek treatment for alcohol addiction.
LaBeouf leaves criminal court in New York on July 24, 2014.
The strange evolution of Shia LaBeouf
The strange evolution of Shia LaBeouf
The strange evolution of Shia LaBeouf
The strange evolution of Shia LaBeouf
The strange evolution of Shia LaBeouf
The strange evolution of Shia LaBeouf
The strange evolution of Shia LaBeouf
The strange evolution of Shia LaBeouf
The strange evolution of Shia LaBeouf
The strange evolution of Shia LaBeouf
The strange evolution of Shia LaBeouf
The strange evolution of Shia LaBeouf
The strange evolution of Shia LaBeouf
The strange evolution of Shia LaBeouf
The strange evolution of Shia LaBeouf
The strange evolution of Shia LaBeouf
The strange evolution of Shia LaBeouf
The strange evolution of Shia LaBeouf
The strange evolution of Shia LaBeouf
The strange evolution of Shia LaBeouf
The strange evolution of Shia LaBeouf
The strange evolution of Shia LaBeouf