Hospital: Pele lucid, talking, improving but still in intensive care
updated 2:19 PM EST, Sat November 29, 2014
STORY HIGHLIGHTS
Soccer star Pele should be taken off dialysis early Sunday, hospital says
He went into hospital in Sao Paulo, Brazil, this week for a urinary tract infection
The hospital says the 74-year-old is getting better as he's being treated in the ICU
Pele is a three-time World Cup champion and shared Player of the Century award
Follow us at @WorldSportCNN and like us on Facebook
(CNN) -- He may be a long way from the football field, but Pele at least is back to talking and getting better at a Sao Paulo, Brazil, hospital.
The city's Albert Einstein Hospital issued a statement Saturday saying the football legend -- born Edson Arantes do Nascimento -- was improving but still in intensive care battling an illness.
Pele is lucid, talking and responding to antibiotics, the hospital said. He remains on temporary dialysis, which was a reason he was moved to the ICU in the first place, because the machine he needed was there.
The hospital issued a second statement later Saturday, indicating that Pele continues to recover and that doctors plan to take him off dialysis early Sunday.
Earlier this week, the 74-year-old was admitted to the medical facility -- the same place he recently underwent surgery to remove kidney stones -- for a urinary tract infection.
The athletic icon had one kidney removed during this days as a player, his aide, Jose Fornos Rodrigues, told CNN.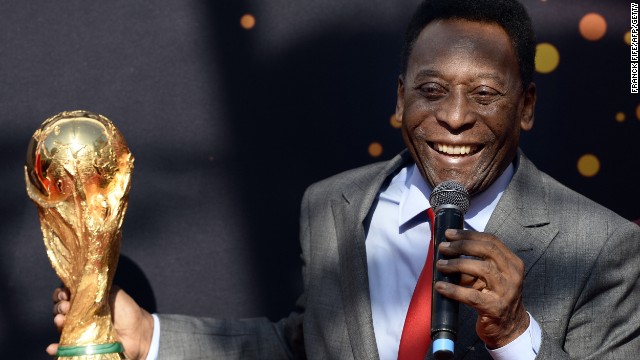 Ask many Brazilians who is the greatest footballer of all time and their answer will be simple: "Pele." The striker, pictured here in 2014, won three World Cups with Brazil between 1958 and 1970.
Pele is his country's leading goalscorer with 77 goals from 92 caps.
The Brazil team of 1970, which beat Italy 4-1 in the World Cup final in Mexico, is widely regarded as the greatest of all time. Pele is seen here leaping on his teammates.
Pele told CNN that his most memorable moment as a player was winning the 1958 World Cup when he was just 17.
Brazil also won the title in 1962 in Chile, but Pele did not play in the final after being injured in Brazil's second game.
Ahead of the World Cup earlier this year, Pele told CNN that his ideal final for 2014 would feature Brazil and Uruguay -- so his country can win revenge for 1950's heartbreaking Maracana defeat in the deciding match between the two South American teams. But Brazil crashed out after being beaten by eventual winners Germany 7-1 in the semifinal.
Aerial view of the Christ the Redeemer statue atop Corcovado Hill, overlooking the Maracana stadium in Rio de Janeiro, Brazil. The famous arena hosted the 2014 World Cup final in July.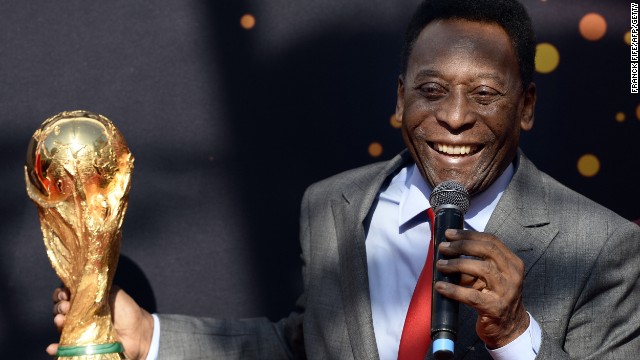 Pele: Football legend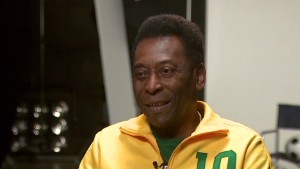 2013: Football legend Pele speaks to CNN
Pele tweeted Thursday that he was looking forward to spending the holidays with family and starting "the new year with renewed health, with many international trips planned."
"I am blessed to receive your love and support," Pele said, "and thank God this is nothing serious."
Known as "The Black Pearl" and simply "The King," Pele is one of the best known names in all of sports.
He burst onto the scene as a teenager, helping lead his native Brazil to the 1958 World Cup championship. Pele went on to star on two other World Cup title teams as well, in 1962 and 1970, in addition to a breakthrough career with the Brazilian club Santos and later with the New York Cosmos of the now-defunct North American Soccer League.
In 2000, he and Argentina's Diego Maradona were named co-Players of the Century by FIFA, the international soccer governing body.
Even after retiring from football, Pele has remained in the public eye as a product pitchman, ambassador for the sport of football and advocate for Brazil's poor, having grown up as one of them in the inland city of Tres Coracoes.
CNN's Barbara Arvanitidis and Steve Almasy contributed to this report.