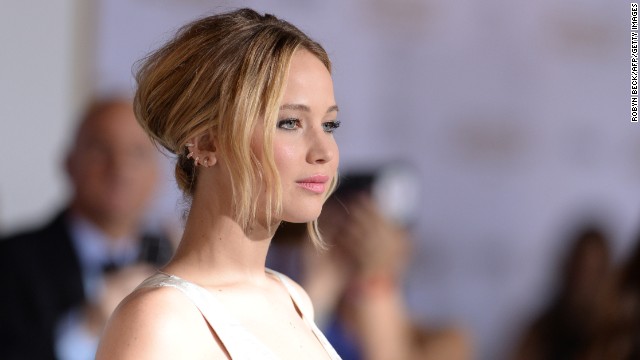 In our heads, we are BFFs with Jennifer Lawrence (we call her JLaw), and we aren't alone. EW even
dubbed her 2013's "perfect superstar."
Here are 16 reasons why the Oscar winner is so beloved.
Of course, the No. 1 reason to love Lawrence is her take-no-prisoners climb to Hollywood's A-list. She hasn't done it with a scandalous photo shoot or an attention-getting red carpet gown -- no, she's relied on her standout performance in movies like "Winter's Bone," "American Hustle" and "Silver Linings Playbook," with the latter earning her an Oscar.
That face Sarah Jessica Parker is making in this photo? We know that face well, because we've made it before -- just about every time Jennifer Lawrence opens her mouth. For a woman with a resume full of dramas, she has some killer wit and comedic timing.
You don't get to be the "It Girl" without people taking notice and other celebs seem to genuinely like her. A few stars
even tweeted support
before and after she won the best actress Oscar. Here, she hangs out with producer Harvey Weinstein at the Weinstein Co.'s SAG Awards After Party in January 2013.
Just look at her at the 2013 Academy Awards. Simply stunning.
she told ELLE
. She looks pretty fit here at the Governors Ball after the 83rd Annual Academy Awards in 2011. As she told
Harper's Bazaar UK
in 2013, "If anybody even tries to whisper the word 'diet', I'm like, 'You can go f*** yourself.' "
Lawrence knows all about the pressures to be thin in Hollywood and she's gone on record to say she doesn't play that game. "I knew that if I was going to be naked in front of the world, I wanted to look like a woman and not a prepubescent 13-year-old boy,"
While some originally questioned her casting as the "Hunger Games" heroine
, it is now hard to imagine anyone else rocking that side braid. Here, she joins co-stars Liam Hemsworth, left, and Josh Hutcherson for "The Hunger Games" U.S. Mall Tour kickoff at in Los Angeles in 2012.
We know it's called "acting" for a reason, but didn't you kind of buy that Lawrence and Bradley Cooper were really a couple after they appeared in "Silver Linings Playbook"? Cooper, shown with Lawrence during the 2012 Toronto International Film Festival,
set the record straight
by saying he was old enough to be her dad.
she told Portrait magazine.
She is seen here fielding questions during "The Hunger Games" National Mall Tour fan event at Mall of America in Bloomington, Minnesota, in 2012.
For someone in her early 20s, Lawrence seems to know who she is and what she wants out of her career. "There are actresses who build themselves, and then there are actresses who are built by others. I want to build myself,"
How adorable was she when she met Jack Nicholson after snagging her Best Actress Oscar
? Even though she was clearly blown away by meeting the legendary actor, Lawrence more than held her own. When Nicholson said "You look like an old girlfriend of mine," she quickly shot back, "Do I look like a new girlfriend?" Fabulous.
Doesn't this portrait during the 39th Annual People's Choice Awards in January 2013 just scream "Parrrrrrtttay!"
She's the only actress who could turn tripping while going up the stairs to accept an Academy Award into what looks like the perfect couture ad.
When her hair became fried after taking abuse in the back-to-back films she's starred in, matter-of-factly chopped it off. "I cut it earlier, and it grew to that awkward gross length, and I kept putting it back in a bun, and I was like, 'well, I don't want to do this,' so I just cut it off,"
When walking the red carpet at a "Hunger Games: Catching Fire" premiere in the UK, Lawrence stepped off to the side to comfort a young fan in a wheelchair. Although the video that caught the moment doesn't capture their verbal exchange, Lawrence's gentle and compassionate gestures speak volumes.
When some of the star's nude photos were leaked in a hacking incident that affected several celebrities in August 2013, Lawrence called the "scandal" what it was: "a sex crime." "It is a sexual violation," she told Vanity Fair. "The law needs to be changed, and we need to change. Just because I'm a public figure, just because I'm an actress, does not mean that I asked for this. It's my body, and it should be my choice, and the fact that it is not my choice is absolutely disgusting."
Lawrence would very much like for you to believe that she can't sing at all, and she tried to prove it in November with a wretched rendition of a holiday song on David Letterman's "Late Show." But in reality, Lawrence isn't half-bad. Her performance of "The Hanging Tree" from "The Hunger Games: Mockingjay -- Part I" debuted at No. 12 on Billboard's Hot 100 chart in December.
What we love about Jennifer Lawrence
1. She's crazy talented
2. She's hilarious
3. Hollywood loves her
4. She doesn't take it too seriously
5. She stands out in the crowd
6. She's open about body issues
7. She's Katniss!
8. She has great on-screen chemistry
9. She speaks her mind
10. She seems unaffected by her fame
11. She's a little bit goofy
12. Even a fall looks good on her
13. She's unafraid of change
14. She'll comfort a fan in a heartbeat
15. She'll call a spade a spade
16. She's humble