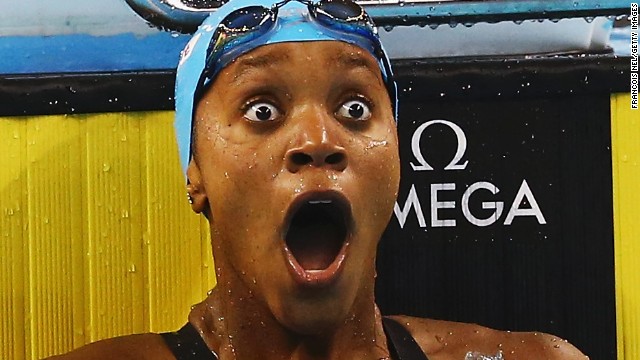 A look of disbelief is etched on the face of
Alia Atkinson after she claims gold in the women's 100m breaststroke
at the world short course swimming championships in Qatar. The win made her the first black woman swimmer to claim the world title. Click through the gallery for more female sports firsts:
Google
has honored American tennis legend Althea Gibson with one of its famous
doodles
on what would have been her 87th birthday, August 25. Gibson became the first person of color to win a Grand Slam event at the French Open in 1956. She went on to win at Wimbledon and the U.S. Open.
Mo'ne Davis
, 13, is the first girl to throw a shutout in the Little League World Series, the sixth to get a hit in World Series history and the first Little Leaguer make the cover of Sports Illustrated magazine.
A former point guard for California State Polytechnic University-Pomona, Violet Palmer became the first female NBA referee in 1997.
Former WNBA player Becky Hammon accepted a position as an assistant coach with the San Antonio Spurs in 2014, making her the first full-time, paid female assistant on an NBA coaching staff.
Sprinter Wilma Rudolph was the first U.S. woman to win three gold medals in one Olympics, during the 1960 Games in Rome.
Eri Yoshida, then 17, became the first woman to play professional baseball with men in Japan when she pitched in an independent league game in 2009.
American golfer Babe Didrikson Zaharias was the first woman to play in a PGA Tour event during 1938's Los Angeles Open.
In 1997, baseball player Ila Borders became the first woman to pitch in a regular-season professional game, for the St. Paul Saints.
Canadian Manon Rheaume became the first woman to play in a regular-season professional hockey game in 1992 when she suited up for for the Tampa Bay Lightning.
Before Danica Patrick, there was Janet Guthrie. Guthrie became the first woman to compete in the Indianapolis 500 and Daytona 500 back in 1977.
Toni Stone played shortstop for the Indianapolis Clowns of the National Negro Leagues. Pictured here circa 1950, Stone is believed to be the first women to suit up regularly for a professional baseball team.
Julie Krone became the first female jockey to win a Triple Crown race when she rode Colonial Affair to victory at the Belmont Stakes in 1993.
Shannon Eastin became first woman to officiate an NFL regular-season game in 2012.
Former Secretary of State Condoleezza Rice was one of the first two women admitted as a members to the Augusta National Golf Club in 2012.
Darla Moore, a South Carolina business executive, was granted membership to Augusta National Golf Club along with Rice.
Cammi Granato (pictured) and Angela James were the first women nominated to be inducted into the Hockey Hall of Fame in 2010.
Canada's Angela James, left, checks Germany's Elvira Saager during the Women's World Hockey Championships in Ottawa in 2010.
Negro League Newark Eagles baseball team owner Effa Manley poses with bats in the dugout in Ruppert Stadium in Newark, New Jersey, in 1948. Manley was the first woman elected and inducted to the Baseball Hall of Fame.
Basketball standout Ann Meyers Drysdale was the first woman to earn a full athletic scholarship from University of California-Los Angeles. She was offered a free-agent contract with the NBA's Indiana Pacers in 1979 -- unprecedented for a female player.
Women sports pioneers
Women sports pioneers
Women sports pioneers
Women sports pioneers
Women sports pioneers
Women sports pioneers
Women sports pioneers
Women sports pioneers
Women sports pioneers
Women sports pioneers
Women sports pioneers
Women sports pioneers
Women sports pioneers
Women sports pioneers
Women sports pioneers
Women sports pioneers
Women sports pioneers
Women sports pioneers
Women sports pioneers
Women sports pioneers