An end to the battle for the armrest?
updated 3:09 PM EST, Wed December 10, 2014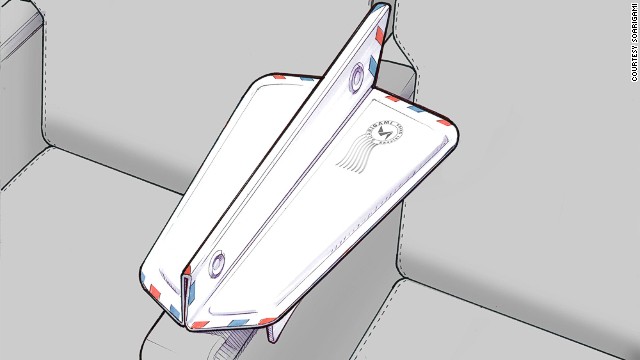 Protecting passengers from the horrors of human contact: the Soarigami armrest divider.
Soarigami has created a folksy "Annoying Passenger Anthem," complete with cartoon video, to promote its product.
Soarigami takes its cues from Japanese paper folding to create the armrest divider from a sheet of plastic.
The Soarigami says it hopes its invention will foster friendships instead of animosity, even though it could trigger unwanted conversations.
Another in-flight innovation, the Knee Defender, has been blamed for sparking in-flight hostilities.
Soarigami armrest divider
'Annoying Passenger Anthem'
Origami-inspired
Harmony in the skies
Knee defenders
STORY HIGHLIGHTS
Soarigami makers say its armrest divider can reduce in-flight annoyances
Origami-inspired device clips to any armrest and creates a shared space
Device, set to retail for about $30, is expected to go on sale in early 2015
(CNN) -- Could this device finally bring a peaceful end to the great arms race in the sky?
That's what the makers of Soarigami, a plastic divider that allows air passengers to comfortably share an armrest, are claiming.
The device, to go on sale for about $30 in early 2015, balances atop the existing armrest to create an extended leaning platform that prevents the horrors of actual physical contact.
Hostile elbow exchanges with fellow fliers are frequently listed as among the biggest annoyances of being crammed into an aircraft with other humans.
Soarigami's inventors, who've created a folksy "Annoying Passenger Anthem" complete with cartoon video to promote their product, say the device will foster friendships rather than animosity.
That'll set it apart from the recently introduced Knee Defender, which forced one flight to be diverted after it triggered an in-flight fight between two passengers in August. The gadget blocks the mechanism that allows seats to be reclined.
MORE: 20 most annoying things people do on planes
Paper plane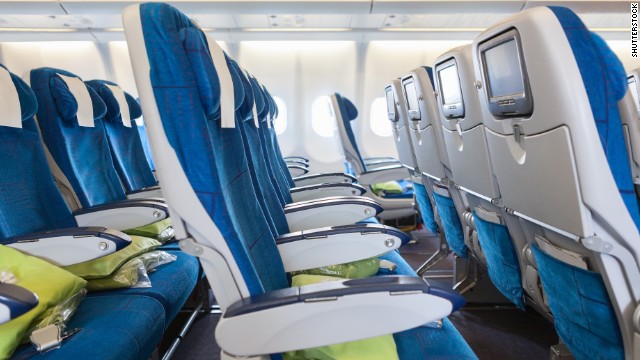 Jerkiness is often in the eye of the beholder, but there's certainly no shortage in the skies. What are the most annoying habits on airplanes? Click through the gallery of 20 top irritants.
You folded your suit coat nicely and placed your hat in the allotted overhead space. Too bad Bin Hog just mangled it all while shoving his suitcase, stroller and shopping bags into a space meant for one personal item.
Airplane movies: the opiate of the flying masses. Except when your hyperactive neighbor takes 30 minutes to decide between "Grown Ups 2" or something a little less cerebral. Such behavior earns "passengers who take too long to pick a movie" the number 19 spot on our "most annoying" list.
Coming in at spot 18 -- compulsive leg-shaking. The fidgety leg-shaker isn't all that common, but still annoying when encountered at altitude.
Annoying behavior number 17? Boarding ahead of group number. Most airlines have a system for getting hundreds of passengers aboard in the least amount of time. That's why we schlep on as part of Group A or B or C. Just because you drew the short straw on this one doesn't give you the right to pretend to be dyslexic.
What's more annoying than people rushing to board the plane? Babies crying. Are we really blaming babies for doing what babies do naturally? Sure, as long as they're your kids, and not ours.
"I'd learn some bladder control if I was in the window seat," runs the unspoken complaint. Number 15 on our list -- those who get huffy when you leave your seat.
"Hey, we just landed. ... can you hear me? ... we just landed ... I'm on the runway ... can you hear me now? ... We just landed ... " Annoying behavior number 14: Those who can't bear to wait to deplane before yacking on their cell phones.
We get it -- airlines have cut back on food service, forcing us all to bring our own snacks and meals onboard. But did you really have to clean out the back of your refrigerator? Bringing aboard stinky food isn't just annoying, it's gross too.
Hey, we're trying to read here. Number 12 on the rude behavior list: people who don't know how to use their inside voices on planes.
Coming in at number 11 -- elbow wars. Do you often find yourself elbowing someone else's arm off what should be a shared space? That's armrest hegemony. And it's annoying.
Praise God, the middle seat is empty! Til the guy next to you employs annoying behavior number 10 and lays claim to the no man's land of the middle seat with a book, coat or inflatable neck support.
Thanks for sharing your globules of diseased saliva. This lonely gentleman may have the only sensible approach to dealing with those who practice annoying behavior number nine -- germ sharing.
Bleep, bloop, blorp. Funny how some of the most irritating things on the planet can be called "games." Even more irritating are people who play them, on a plane, with the sound turned on.
"Sir, is that a ... carry-on?" Annoying behavior number seven: Wielding huge suitcases as carry-ons.
Here we've regressed to the time before the invention of the queue. Don't you just hate people who rush from the back of the plane in an attempt to disembark first?
Another annoying behavior that also falls into the gross category -- cutting fingernails inflight. Toenails are also trimmed at 30,000 feet, but that would have been a really offensive picture.
"Feet nudism" is a common complaint, earning it the number 4 spot on our list. Appalling side note: people who actually go to the bathroom on the airplane in their bare feet.
We've all encountered the toilet hogger. What are they doing in there, you wonder as you hover cross-legged by the door. Certainly not being considerate of other people.
Annoying travel behavior number two: recliners. Aviation engineers, listen up: No one likes the recline button! Time to reinvent the plane seat.
"He kicked someone's seat-back." Airplane Irritant No. 1 -- seat-back kicking -- invites a violent response.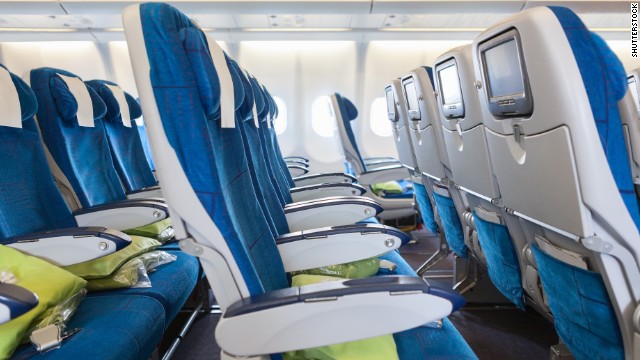 20 rudest things people do on planes
"While we do anticipate some travelers to have issues with sharing, we feel like this is a great conversation starter," says Soarigami spokesman Arthur Chang.
"Both users have an equal share, whereas other products have a winner and a loser."
When deployed, the Soarigami -- taking its name from Japanese words sora (sky) and gami (graceful) -- is styled to resemble a cheerful paper plane made out of an airmail envelope.
A future version will double as an iPad or cellphone carrying case.
As to when and how passengers should introduce the origami-inspired device to their armrest partners, Chang says there are no fixed rules.
"In terms of etiquette, we don't want to force people to behave one way or another. Our goal is to lighten the mood and make the skies funner and savvier."
However he acknowledges that by eliminating one problem, the Soarigami may create another: unwanted conversation.
Can the Soarigami end the battle for armrest hegemony? How would you react if the person next to you pulled one out? Leave a comment.
.